I have a thing for food that's styled for the season... like these super cute and easy to carve Jack-O'-Lantern, meat and rice stuffed peppers cooked in tomato sauce. Gluten free, tasty and way less messy than carving pumpkins!
Meat Stuffed Peppers
About this Recipe
This Is A Sponsored Post That Contains Affiliate Links
I used to just LOOOOVE Halloween growing up in Germany. Back when I was a teenager, I would make it my job to source the spookiest, Halloween-themed decor for my sister and I's annual Halloween party. One year my dad even rented out the basement of a bar for our party, which we felt soooo cool about! As you may know, Germans don't celebrate Halloween like Americans do. 15 years ago when I was planning these parties, it wasn't easy to find decor for Halloween, but I love me a good challenge! So I scraped together bones, fake blood, spider webs... and whatever else creepy I could get my hands on, and supplemented that by all sorts of DIY crafted decor. And then there is the most fun part: the spooky food.
For the simple transformation of today's German dish for Halloween, I carved bell peppers instead of pumpkins to create my little meat stuffed Jack-O'-Lanterns. Bonus points: these are waaaaay less messy and quicker to make than carving pumpkins. If you have kids, you will LOVE this fun little project that will entice them to eat their veggies. And since bell peppers are in season still, timing couldn't be more perfect.
Typically the peppers are stuffed with a mixture of ground beef and ground pork, which adds a better texture and flavor. However, feel free to also use one or the other, depending on personal preference. The meat is then seasoned with some paprika, salt pepper, herbs, garlic and onions, and turned into a more cohesive mixture by adding egg and just a little bit of rice. Once the peppers finish baking in a quick, broth-based tomato sauce, they are served with more rice, although I think some Gewürzte Pommes (seasoned French fries) would be a great side as well... but I never turn down fries!
Scroll on down for the recipe, now in printable version.
Jack-O'-Lantern Peppers Essentials
Drink Pairing:
POM-Apple Refresher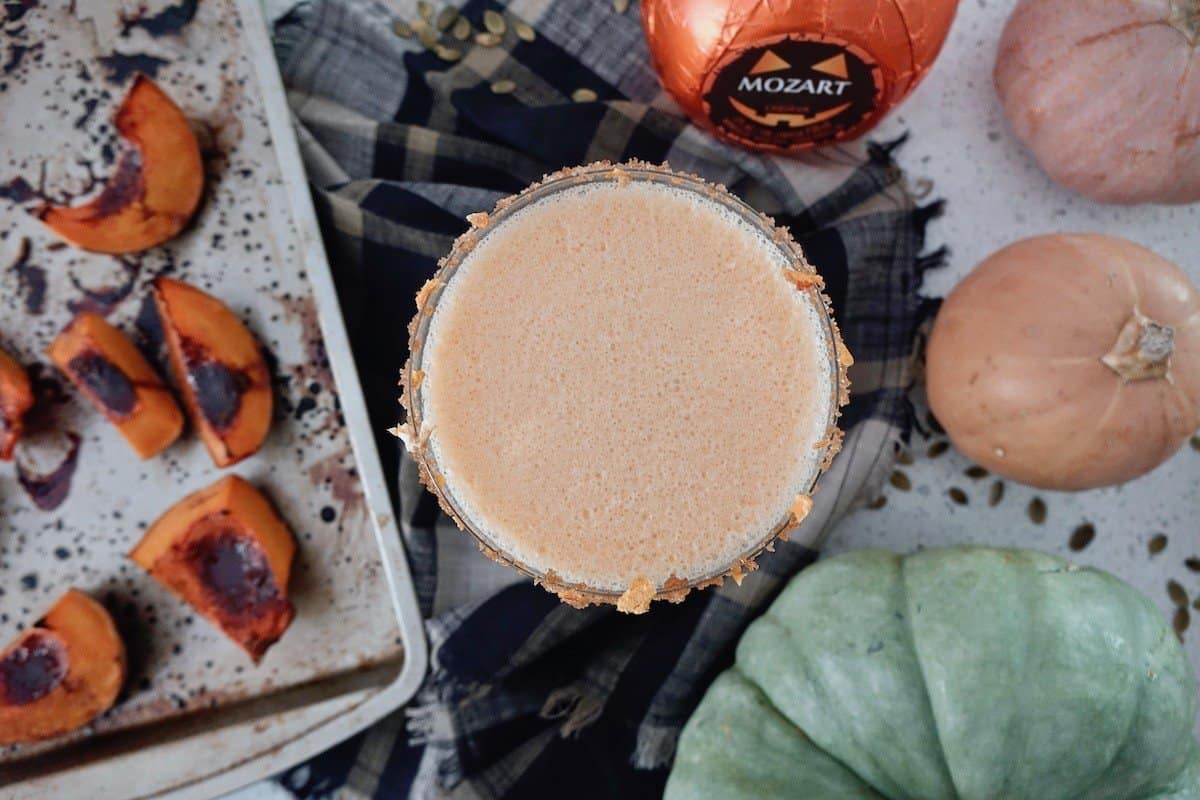 I love the combination of juicy pomegranate and apple for this very seasonal, Fall-forward cocktail. But not just that: to achieve an ultra-rich apple flavor, I used Schönauer Apfel, a German apple liqueur made from real German apples. Nothing but the best and nothing else. No sugar added (just those found naturally in apples), no fake colors or flavors. A German says it as it is, and this liqueur is no different. At 21 percent alcohol, it's a mixology staple, and one of the most popular liqueurs in Germany.
To make, simply stir together apple liqueur, vodka with crushed ice. Add in pomegranate juice and seltzer water. Serve with a thyme twig and some pomegranate seeds.
2 oz good vodka (such as Mamont)
2 oz Schönauer Apfel German apple liqueur
1 oz seltzer water
½ oz pomegranate juice
To find out where Schönauer Apfel is available in your area, fill out the short product finder form.
Prost!
more German Fall Recipes
Pumpkin Käsekuchen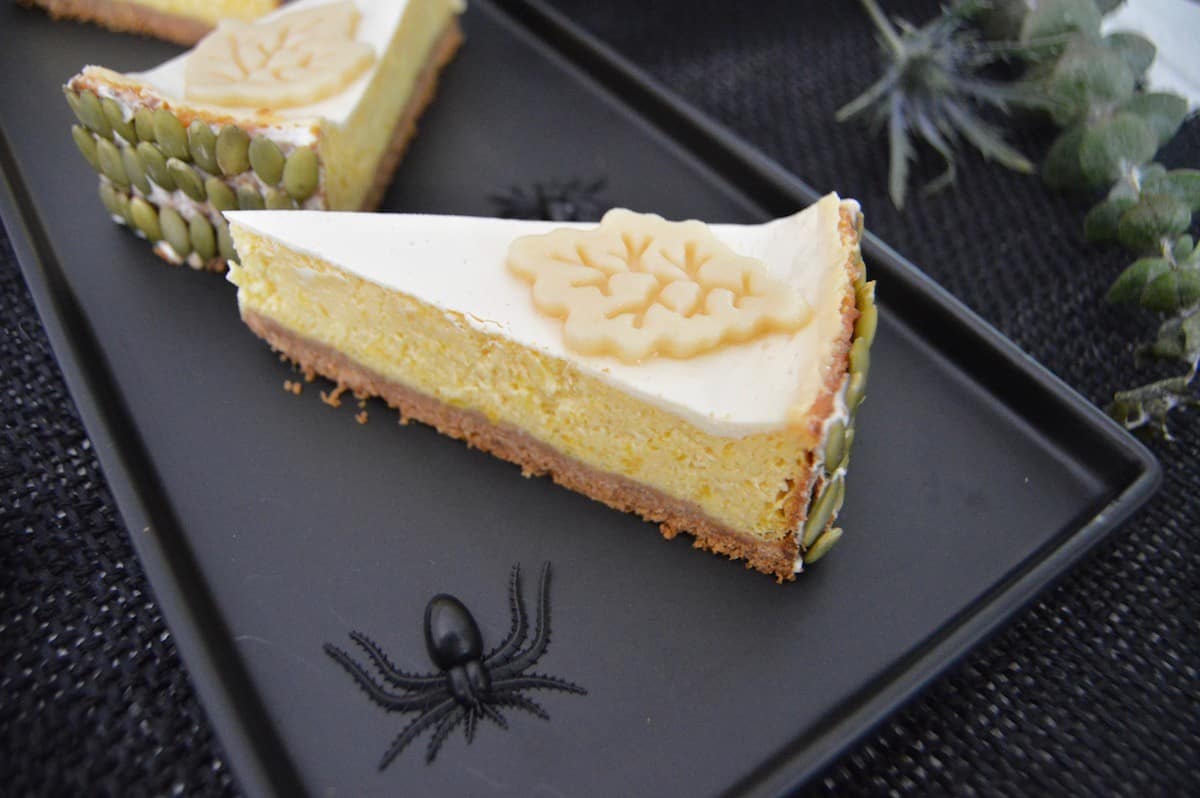 Spiced Plum Marzipan Tart
Riesling Soup
Next Up:
Rotwein-Birnen-Kuchen
You won't want to miss this German classic cake that I love SO MUCH: Red Wine Pear Cake is up next. Do you need to say more??  Make sure to subscribe to my blog now, so you're not missing out when this new post goes live!
Gefüllte Paprika: Jack-O'-Lantern Meat & Rice Stuffed Peppers
I have a thing for food that's styled for the season... like these super cute and easy to carve Jack-O'-Lantern, meat and rice stuffed peppers cooked in tomato sauce. Gluten free, tasty and way messier than carving pumpkins!
Ingredients
Stuffed Peppers
5

bell peppers

orange is ideal, but any color works

500

g

ground beef and ground pork, mixed

you can also use one or the other

1

small yellow onion

2

cloves garlic

2

teaspoon

paprika powder

100

g

rice

1

egg
Instructions
Preheat oven to 350 degrees Fahrenheit/180 degrees Celsius. Core and remove seeds of peppers, carve in faces if desired. Combine ground meat, rice, egg, chopped onion, garlic, salt, pepper, herbs and paprika and knead until combined and fill the bell peppers.

Melt the butter in a deep, oven-safe skillet (if you have one), add flour and saute in the skillet for a minute or two.

Add the broth gradually while whisking, then stir in the tomato paste and season with salt, pepper and some sugar.

Add the stuffed bell peppers to the sauce and bake for 30 to 40 minutes or until the beef is cooked through. Serve with rice.
Nutrition
Calories:
450
kcal
Carbohydrates:
35
g
Protein:
23
g
Fat:
24
g
Saturated Fat:
10
g
Cholesterol:
110
mg
Sodium:
776
mg
Potassium:
954
mg
Fiber:
5
g
Sugar:
11
g
Vitamin A:
5040
IU
Vitamin C:
161
mg
Calcium:
64
mg
Iron:
4
mg
I received compensation from Niche Import Co. in exchange for writing this post. Although this post is sponsored, all opinions, thoughts and recipes are my own. This post contains affiliate links, which means that I may be compensated if you click certain links.