Quarkbällchen are great plain, but not surpringly these quickly made German dout holes even better once you throw some Nutella in the batter and dip them in a fresh berry dip. Addictive!
Nutella Quarkbällchen
About this Recipe
This Is A Sponsored Post That Contains Affiliate Links
My repertoire of quark recipes is seemingly endless, which just happens to be great for you! I don't know if you've gotten into making your own quark yet (I linked a great tutorial by Anja of Our Gabled Home for you here), or if you have repeatedly sold Wünder Creamery out of their most delicious quark (by the way, if your local store does not sell Wünder yet, it's time for you to send in a request using this form), but QUARK must be one of THE German products that I miss the most!
Today's Quarkbällchen are a simple way to use up quark in a recipe. They're cute little German donut holes that are especially popular during Fastnacht season (the German carnival), but they're really great all year round and work as a treat any time of day! The plain version is just as great, but today I modified it to add Nutella into the batter-like dough, swirling some more in at the end for a decadent Nutella veining throughout. Believe me, it was a great decision! To make these Quarkbällchen even better, they're served with a super quick, fresh berry dip. I used strawberries, raspberries and blueberries for mine, but any of your favorite berries will do! It's the perfect summer treat without having to turn on your oven, and best of all, it's a super quick way to bring a special treat to the table since it takes only about 30 minutes to make these German Nutella donut holes from start to finish. They're perfect for breakfast, brunch with friends, picnics at the park, as a treat by the pool, you get it. Just make them!
Use code 'Sophie15' for 15 percent off your Wünder Creamery quark if you choose to buy it instead of make your own! It's just the most convenient for us, and their quark is so creamy and delicious! My favorite flavors besides plain are vanilla and coffee and my 2-year-old loves the blueberry flavor.
Scroll on down for the recipe, now in printable version.
Nutella Quarkbällchen Essentials
Drink Pairing:
Eierlikör Berry Shots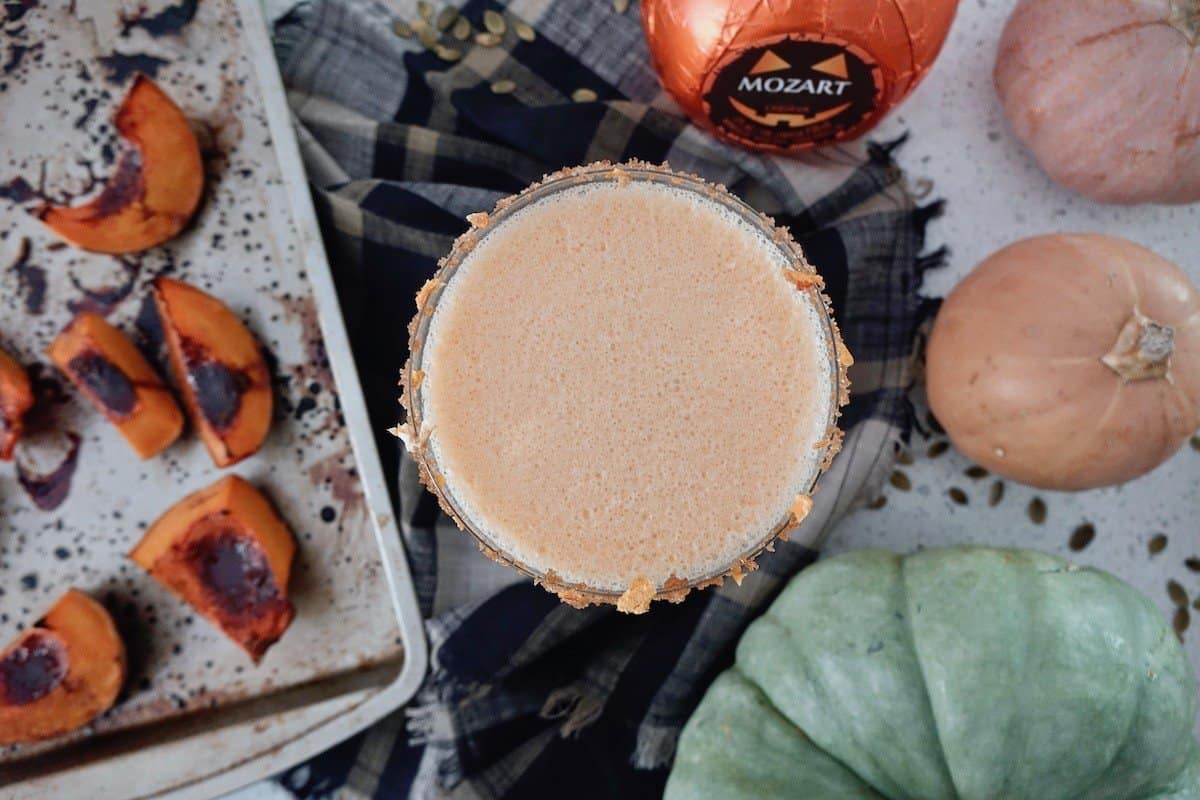 Yup, there is more pumpkin spice because if you're like men then there is no such thing as too much pumpkin spice. 🙂
Here a pumpkin spice martini using one of my all-time favorites: Austrian-made, creamy Pumpkin Spice Liqueur by the Mozart distillery. This simple cocktail will be perfect for dessert for the upcoming holidays and I promise you that every pumpkin spice and pumpkin pie fan will love this!
To make, simply shake together the following ingredients with some ice, then pour into a martini glass:
2 oz good vodka (such as Mamont)
To find out where Mozart Pumpkin Spice Liqueur (also available in Milk, White and Dark Chocolate as well as Strawberry Cream) is available in your area, fill out the short product finder form.
Prost!
more Easy German Baking Recipes
Marmor-kuchen
Amerikaner
Next Up:
Classic German Pasta Salad
Summer BBQ's are great because they move the heat source outside when all we're trying to do is just cool off inside. This German Pasta Salad is going to be a great companion for it! Make sure to subscribe to my blog now, so you're not missing out when this new German Pasta Salad post goes live!
German Nutella Quark Donut Holes with Berry Dip
Quarkbällchen are great plain, but not surpringly, these quickly made German donut holes are even better once you throw some Nutella in the batter and dip them in a fresh berry dip. Addictive!
Instructions
Using a whisk, combine all ingredients in a large bowl (except 50 grams of Nutella) to create a smooth, thick batter. 

Lastly, swirl in the remaining Nutella. This will create wonderful veining of Nutella throughout the Quarkbällchen.

Clip a candy thermometer to a pot, fill at least 3 inches with frying oil, and heat to correct frying temperature (350° to 375° F, 177° to 191° C)

Using two large spoons, work in batches and scoop out batter and drop into the hot oil. You'll want them to fit next to each other and reach the suface of the oil. I ended up cooking in 3 batches. Fry until golden brown, about 3 to 5 minutes.

Remove from oil using a steel skimmer and transfer to a plate covered with paper towel. Allow to cool before dusting in powdered sugar. 

To make the berry dip, wash and trim greenery off the berries (if applicable), then blend with the sugar and vanilla until smooth. Strain through a fine mesh sieve. Serve and guten Appetit!
Nutrition
Calories:
194
kcal
Carbohydrates:
30
g
Protein:
6
g
Fat:
6
g
Saturated Fat:
4
g
Trans Fat:
1
g
Cholesterol:
27
mg
Sodium:
21
mg
Potassium:
171
mg
Fiber:
2
g
Sugar:
12
g
Vitamin A:
52
IU
Vitamin C:
1
mg
Calcium:
57
mg
Iron:
2
mg
I received compensation from Wünder Creamery and Niche Import Co. in exchange for writing this post. Although this post is sponsored, all opinions, thoughts and recipes are my own. This post contains affiliate links, which means that I may be compensated if you click certain links.