Today's salad recipe packs some super foods like lentils and kale and dried cherries, then throws some spätzle in the mix! It's inspired by some of my favorite German ingredients coupled with my favorite salad by Chrissy Teigen.
Kale-Spätzle-Lentil Salad
About this Recipe
This Is A Sponsored Post That Contains Affiliate Links
 I really love everything about today's German-inspired salad recipe. Spätzle mit Linsen, which was one of my first ever recipe posts, is what was the original idea behind the salad, coupled with my favorite salad by Chrissy Teigen that I just can't get enough of. While this salad is vegetarian, it packs a whole 24 grams of protein and will keep you full with plenty of spätzle-induced carbs and 12 grams of fiber per serving. It also features so many super foods like kale, cherries and lentils that you can feel incredibly good about essentially eating a bowl of pasta. Oh man it's good! My Oma Sieghilde may be turning in her grave if she heard of me throwing Spätzle in a salad (especially with raw onions - not something she would endorse), but to me this is a cravings-worthy kind of salad!
This salad is best eaten freshly made. While the textures of the salad keep well if stored in the fridge overnight, the flavors really shine at room temperature. So if you have to refrigerate leftovers, make sure to bring them back to room temperature before enjoying.
And while the homemade Spätzle don't take much time to make and are well worth the extra effort and cleaning of things, it is acceptable to skip this step and instead call packaged dried Spätzle to help you out here. If you're going that route, use 200 grams or 7 ounces of dried Spätzle in lieu of the homemade Spätzle in the recipe below.
Scroll on down for the recipe, now in printable version.
Kale Salad Essentials
Drink Pairing:
Affentaler Pinot Noir
The rustic flavors of lentils and kale just scream for a balanced, light-bodied red wine to carry them into your mouth. If you haven't given German Pinot Noirs a try, this one by Affentaler from Germany's Baden region is a great place to start! It's a very fruit-forward wine with gentle sweetness and the cherry notes blend perfectly with the dried cherries in my salad.
To find out where Affentaler wines (they also make a great Riesling and Pinot Noir Rosé) is available in your area, fill out the short product finder form.
Zum Wohl!
More German Salad Recipes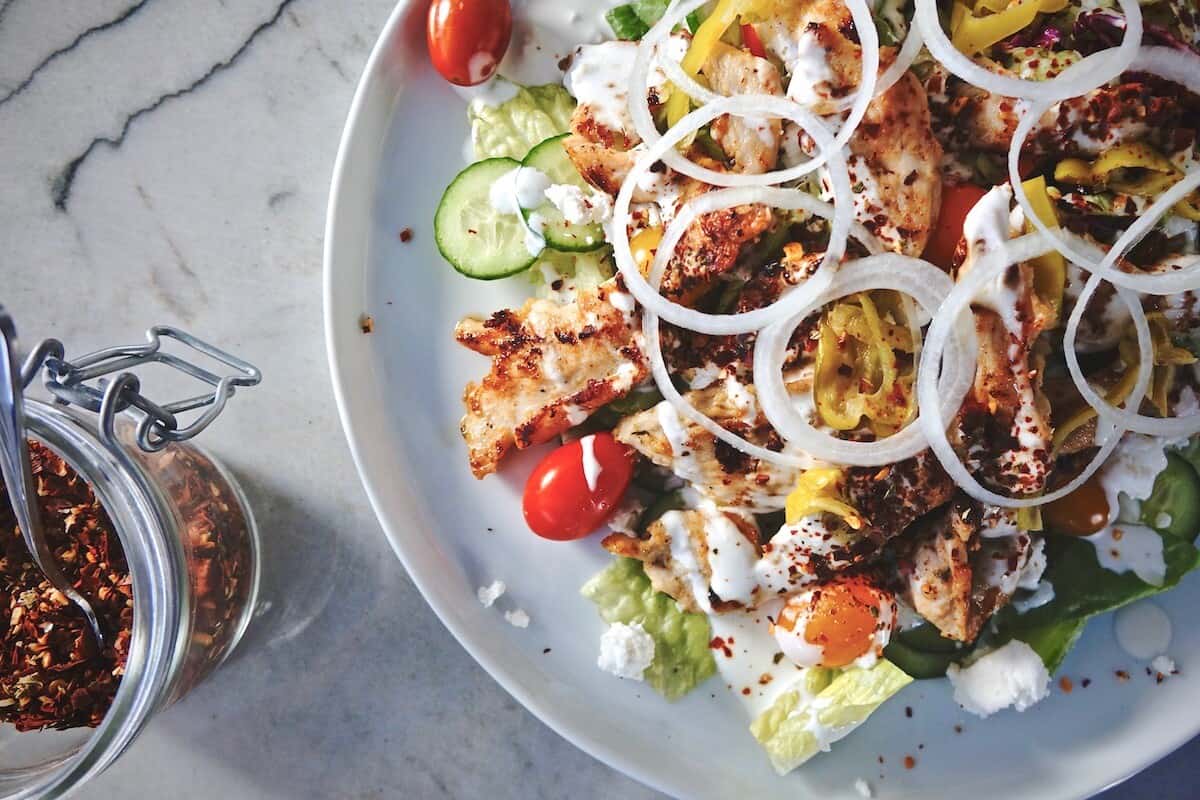 Ute's Pesto Pasta Salad
Fleischsalat
Next Up:
Rumtopf Tagebuch
Next up is one of the funnest projects ever and I hope you'll join me! I will teach you how to make a Rumtopf, that's German for 'rum pot' and a way to preserve summer fruit using rum and sugar. At the end of the year, you can then drink it, eat the fruit, bake with it. It's so good! I will keep this blog post updated once a month. Make sure to subscribe to my blog now, so you're not missing out when this new Rumtopf post goes live!
Kale Salad with Spätzle and Lentils
Today's salad recipe packs some super foods like lentils and kale and dried cherries, then throws some spätzle in the mix! It's inspired by some of my favorite German ingredients coupled with my favorite salad by Chrissy Teigen.
Ingredients
Spätzle
2

eggs

200

g

all-purpose flour

½

teaspoon

salt

⅛

teaspoon

ground nutmeg

freshly grated/ground is best

150

ml

milk

start with a little less, then add to achieve the perfect, thick and barely runny consistency

1

tablespoon

butter
Other Salad Ingredients
100

g

dry lentils

I used green lentils, but black lentils are also a good choice. Red are not recommended here as they break apart during cooking.

2

cloves

garlic

minced, use for lentils

1

tablespoon

olive oil

use for lentils

150

g

crumbled feta cheese

100

g

dried cherries

140

g

baby kale

50

g

sliced onion

red is great if you have it
Instructions
Make Spätzle
NOTE: You can skip this step and cook 200 g of dried spätzle according to the instructions on the package instead.

Whisk all the ingredients together. Bring a large pot of salted water to a boil. Either utilize a Spätzle press. I used my Westmark Spätzle press. It makes it so quick and easy!

Alternative Methos: drop them in the hot water using the cutting board and knife method. (Spread the batter onto a cutting board, with a large Santoku knife, fling pieces of batter into the water at high speed. Make sure you work in batches and stir the water occasionally to avoid the noodles from clumping up).

Let boil of about 2 minutes, then drain or remove from hot water using a skimmer. Drop some flakes of butter over the hot Spätzle and allow it to melt into the noodles. This will add incredible taste and will keep the noodles from sticking. You will not need to let the noodles cool down to use in the salad.
Cook Garlic Lentils
Heat 1 tablespoon of olive oil in a small pot, then add the minced garlic and cook until fragrant. Add some salt, the lentils and 250 ml/ one cup of water (I used green lentils. If you're using a different kind, the amount of water you need may vary), reduce to a slow simmer and cook for 25 minutes. You will not need to let the lentils cool down to use in the salad. I like to use mine warm.
Make Dressing
Whisk together all ingredients for the dressing, then season to taste with salt and pepper.
Construct the Salad
In a large bowl, toss together all salad ingredients with the dressing. If you must store leftovers (the texture of this salad will actually survive if stored in the fridge unlike many other salads that just fall apart), then I would recommend bringing the salad back to room temperature before serving. Otherwise the flavors tend to get lost.
Nutrition
Calories:
687
kcal
Carbohydrates:
82
g
Protein:
24
g
Fat:
29
g
Saturated Fat:
11
g
Trans Fat:
1
g
Cholesterol:
126
mg
Sodium:
817
mg
Potassium:
598
mg
Fiber:
12
g
Sugar:
20
g
Vitamin A:
4820
IU
Vitamin C:
45
mg
Calcium:
344
mg
Iron:
6
mg
I received compensation from Niche Import Co. in exchange for writing this post. Although this post is sponsored, all opinions, thoughts and recipes are my own. This post contains affiliate links, which means that I may be compensated if you click certain links.