If you're like me and always craving the tastiest, seasonal veggies, then this savory, flaky pumpkin strudel is made for you.
Kürbisstrudel
About this Recipe
This Is A Sponsored Post That Contains Affiliate Links
I just love this season and all things pumpkin spice that can get into my belly! I have to be honest: I haven't gotten off the couch much in these last 6 weeks since Eloïse was born, mainly taking in all the snuggles and being showered by all the spit up. BUT now that we have our new kitchen (pretty much) finished, I am starting to want to cook more and more again. And of course one of the first ever blog recipes postpartum would be something featuring some good ol' gourd: this über delicious, savory pumpkin strudel.
 For this recipe, I sauté grated pumpkin (you can really use any kind, or even use canned pumpkin and skip sautéing it) with the onion and parsley, then season it with salt, pepper and a pinch of cayenne (optional). I then mix it with the egg (the whites get fluffed up before folding in), flour and a couple of other ingredients and voilá, you have the filling. I make my own strudel dough (and while in Germany you can sometimes find it in the frozen foods section, I have never seen it over here), but if you would instead like to use puff pastry, that's not breaking the law (maybe bending it slightly ;-). This would save you time and create a really nice flaky alternative to a strudel crust.
However, if you want to make your own strudel dough, it's really not hard to make! And it' such a versatile way to bake a filling. Think chili strudel, spinach artichoke strudel, cheesecake strudel... does it have to end? 😉 Also, if you have a favorite strudel filling recipe, please share!!
Scroll on down for the recipe, now in printable version.
Kürbisstrudel Essentials
Drink Pairing:
Pumpkin Spice Shot
Yup, there is more pumpkin spice because if you're like men then there is no such thing as too much pumpkin spice. 🙂
Here a simple pumpkin spice shot using one of my all-time favorites: Austrian-made, creamy Pumpkin Spice Liqueur by the Mozart distillery. This simple shot will be perfect for dessert treat for the upcoming holidays and I promise you that every pumpkin spice and pumpkin pie fan will love this!
To make, simply combine vodka and pumpkin spice liqueur over ice, then top with the spiced whipped cream:
.75 oz good vodka (such as Mamont)
1 tablespoon whipped cream (sweeten with a bit of powdered sugar, then add cinnamon, clove and cardamom spices)
To find out where Mozart Pumpkin Spice Liqueur (also available in Milk, White and Dark Chocolate as well as Strawberry Cream) is available in your area, fill out the short product finder form.
Prost!
more German PUmpkin Recipes
Pumpkin Käsekuchen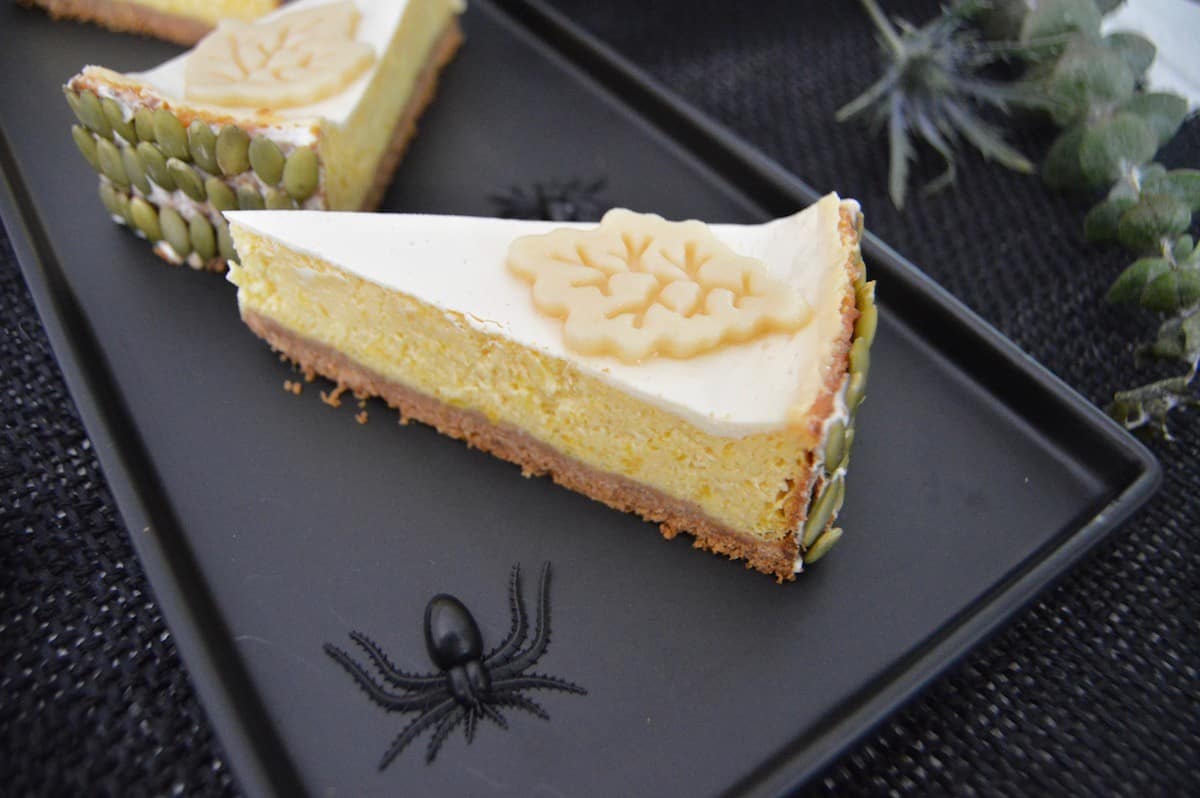 Käsekuchen Pumpkin Bread

Make This
Pumpkin Pretzel

Make This
Next Up:
Bratapfel Teilchen
For my next post, I'm in full on Christmas mode with baked apple pastries. Make sure to subscribe to my blog now, so you're not missing out when this new Bratapfel Teilchen post goes live!
Kürbisstrudel: Savory Pumpkin Strudel
If you're like me and always craving the tastiest, seasonal veggies, then this savory, flaky pumpkin strudel is made for you.
Ingredients
Strudel Dough
Pumpkin Strudel Filling
2

eggs

70

g

flour

200

g

sour cream

1

yellow onion

200

g

greek yogurt

I used 2%

500

g

pumpkin

I used a carnival squash

salt and pepper

1

tablespoon

fresh, chopped parsley

plus some extra for garnish
Instructions
Strudel Dough
Combine the strudel ingredients (except butter and nutmeg) and knead for a couple of minutes until you have a smoothm elastic dough. Place the dough ball in a bowl and pour sunflower oil over it to come up to half of the dough ball's height. Cover and let rest for 30 minutes at room temperature.

When ready to fill, spread out a clean linen towel on your countertop and dust it in flour. Remove the dough ball from the oil bath, roll it in flour to cover all sides, then using a rolling pin, roll it out to cover the entire towel. Cut it in half. Melt the nutmeg with the butter and salt, the brush one half of the strudel dough with some of the butter and place the other half on top. Cut the dough in half again. You will now have two strudel doughs to fill.
Strudel Pumpkin Filling
Wash, peel, deseed and grate the pumpkin or squash. Fine dice the onion. In a large skillet, heat 1 tablespoon of butter over medium heat, and sauté the onion with the chopped parsley until the onion is translucent. Add in the grated pumpkin and cook for a couple of minutes or until the pumpkin is softened. Season to taste with salt and pepper and a little cayenne pepper (optional). Set aside and allow to cool completely.

Combine the sour cream, greek yogurt and egg yolks and add in the cooked pumpkin mixture. Fold in the flour. Beat the egg whites and fold in as well.
Pumpkin Strudel Assembly
Add the filling to the middle of each rolled out strudel dough, tuck in the shorter sides, then roll the strudel and close the seam using some of the melted butter. Transfer to a baking sheet lined with parchment paper, seem side down. Brush with remaining butter. Bake at 355 degrees F (180 degrees C) for 45 minutes (conventional setting) or until the crust is starting to brown (may need to add some time). Serve with a salad (I made a simple cucumber salad).
Nutrition
Calories:
606
kcal
Carbohydrates:
75
g
Protein:
20
g
Fat:
25
g
Saturated Fat:
11
g
Cholesterol:
167
mg
Sodium:
358
mg
Potassium:
737
mg
Fiber:
3
g
Sugar:
8
g
Vitamin A:
11403
IU
Vitamin C:
15
mg
Calcium:
173
mg
Iron:
5
mg
I received compensation from Niche Import Co. in exchange for writing this post. Although this post is sponsored, all opinions, thoughts and recipes are my own. This post contains affiliate links, which means that I may be compensated if you click certain links.