I reinvented this German staple recipe for the Fall: Adding Pumpkin into the batter is a nutritious and on-point variation. These pumpkin spätzle make a great vegetarian meal or a fab side dish for the upcoming holidays.
Pumpkin Spätzle
About this Recipe
This Is A Sponsored Post That Contains Affiliate Links
I wasn't bluffing when I said I had more pumpkin up my sleeve. Let's be honest: even those of us that are starting to get fed up with pumpkin being EVERYWHERE, deep inside we all want it. I promise you that you'll want these pumpkin spätzle equally as much. They're simple and quick, make the PERFECT side dish for the upcoming holidays, or an equally wonderful vegetarian meal. Add some sautéed mushrooms and a sage butter sauce if serving as a main - see recipe instructions. SO YUM!
Spätzle are THE SIDE DISH in Germany. Served with Schnitzel, served with roasts, served on their own with lots of cheese... they're just that comforting, never-failing noodle side you can always rely on. Adding pumpkin to such a classic may seem a little wild to some of you, but I promise it just adds a subtle layer of sweet earthiness that's interesting and not overpowering. And what a great way to sneak some nutritious veggies into your pasta, and give these noodles a fun orange tint. I actually love adding different flavors to my spätzle (sautéed mushrooms and onions being one of my favorites). Please let this be an inspiration to you to experiment with adding anything you'd like to your next batch of spätzle batter. If you want to get serious about making spätzle, it may be time to invest in a good spätzle press like this one that my aunt Heidrun ordered me for Christmas one year. It makes the process super quick.
What are some of your favorite recipes using pumpkin? What are some German recipes you'd love to see on my blog? Please leave me a comment below with ideas and feedback! Happy cooking!
Scroll on down for the recipe, now in printable version.
PUmpkin SPätzle Essentials
Drink Pairing:
Pumpkin Ale with pumpkin spice sugar rim
You've been drinking pumpkin beer all wrong. My husband was raving about this very simple enhancement to any pumpkin beer. Next time you pop open a bottle of pumpkin beer, please take this 1 minute extra detour to create a pumpkin spice rim using the Austrian MOZART pumpkin spice cream liqueur for your beer. Your taste buds will thank you.
To make, simply prep two small, rimmed plates with MOZART pumpkin spice cream liqueur and cinnamon sugar (add together 2 parts sugar to 1 part cinnamon).
Dip the rim of a beer glass in liqueur, then in cinnamon sugar before pouring your pumpkin beer into the glass. Serve immediately. PROST!
To find out where Mozart Pumpkin Spice Liqueur (also available in Milk, White and Dark Chocolate as well as Strawberry Cream) is available in your area, fill out the short product finder form.
more German PUmpkin Recipes
Pumpkin Käsekuchen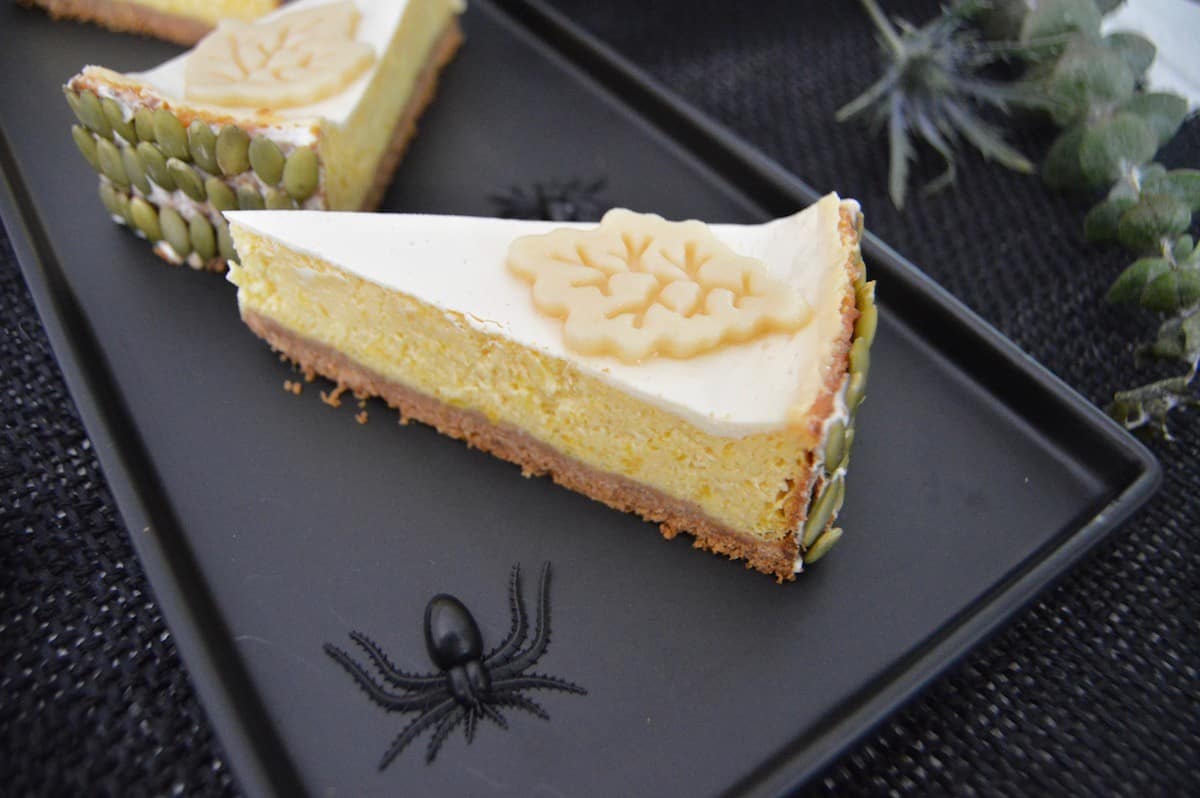 Pumpkin Pretze
Next Up:
MORE PUMPKIN!
I got one more! Fastnacht season starts on 11.11, so I couldn't help but create a special Berliner (German donut) recipe using pumpkin as well. Make sure to subscribe to my blog now, so you're not missing out when this new Pumpkin Berliner post goes live!
Pumpkin Spätzle: German Pumpkin Egg Noodles
I reinvented this German staple recipe for the Fall: Adding Pumpkin into the batter is a nutritious and on-point variation. These pumpkin spätzle make a great vegetarian meal or a fab side dish for the upcoming holidays.
Instructions
Combine all ingredients (except butter) and whisk for one minute until you get a smooth, elastic, sticky batter. You may need to add some milk.

Bring a large pot of salted water to a boil. Press the spätzle through the spätzle press and let them drop directly into the hot water. Boil for 3 minutes and remove with a skimmer. Transfer to a bowl and swirl in some of the butter. Work in batches until all your noodles are cooked.

Serve as a side dish or enjoy as a vegetarian meal sauteed in sage butter with mushrooms. For this variation, I like to cook my sage first until crisp (using 4 to 6 tablespoon of butter instead of 2 Tbsp), let them drain on a paper towel and add some salt. They turn into amazing sage chips to go on top! Then I cook some mushrooms in the sage butter and remove them, and finally I cook the spätzle in the butter until crisped. YUM!
Nutrition
Calories:
289
kcal
Carbohydrates:
42
g
Protein:
9
g
Fat:
9
g
Saturated Fat:
5
g
Cholesterol:
99
mg
Sodium:
384
mg
Potassium:
186
mg
Fiber:
2
g
Sugar:
2
g
Vitamin A:
6163
IU
Vitamin C:
2
mg
Calcium:
51
mg
Iron:
3
mg
I received compensation from Niche Import Co. in exchange for writing this post. Although this post is sponsored, all opinions, thoughts and recipes are my own. This post contains affiliate links, which means that I may be compensated if you click certain links.