I just had to sneak the star of all Fall recipes, pumpkin, into this comforting Fall version for Milchreis, German rice pudding. I added some maple syrup and homemade pumpkin spice for extra warming flavors.
Pumpkin Spice Milchreis
About this Recipe
This Is A Sponsored Post That Contains Affiliate Links
It's #pumpkinspiceeverything season yet again. How could I possibly sit out on creating a warming recipe using pumpkin spice? Well I couldn't. I love Milchreis plain as well. It's the German rice pudding that I grew up eating almost on the daily. In Germany you can buy it ready to eat in the dairy isle, available in many different flavors. However, I have never seen a pumpkin spice Milchreis sold before!
Making Milchreis from scratch also lets you control the quality of your ingredients better (real vanilla bean, anyone??), but also gives you the option to make this dish whatever you would like it to be. You could also make this recipe dairy-free by using plant-based milk instead of the cow's milk if desired.
For today's Fall version I added roasted, spiced pumpkin and pure maple syrup, which (I think) makes Milchreis even better. This naturally gluten free snack is so easy to whip up, you'll want to add this recipe to your list of staple recipes.
Scroll on down for the recipe, now in printable version.
PUmpkin Spice Milchreis Essentials
Drink Pairing:
Pumpkin Spice Martini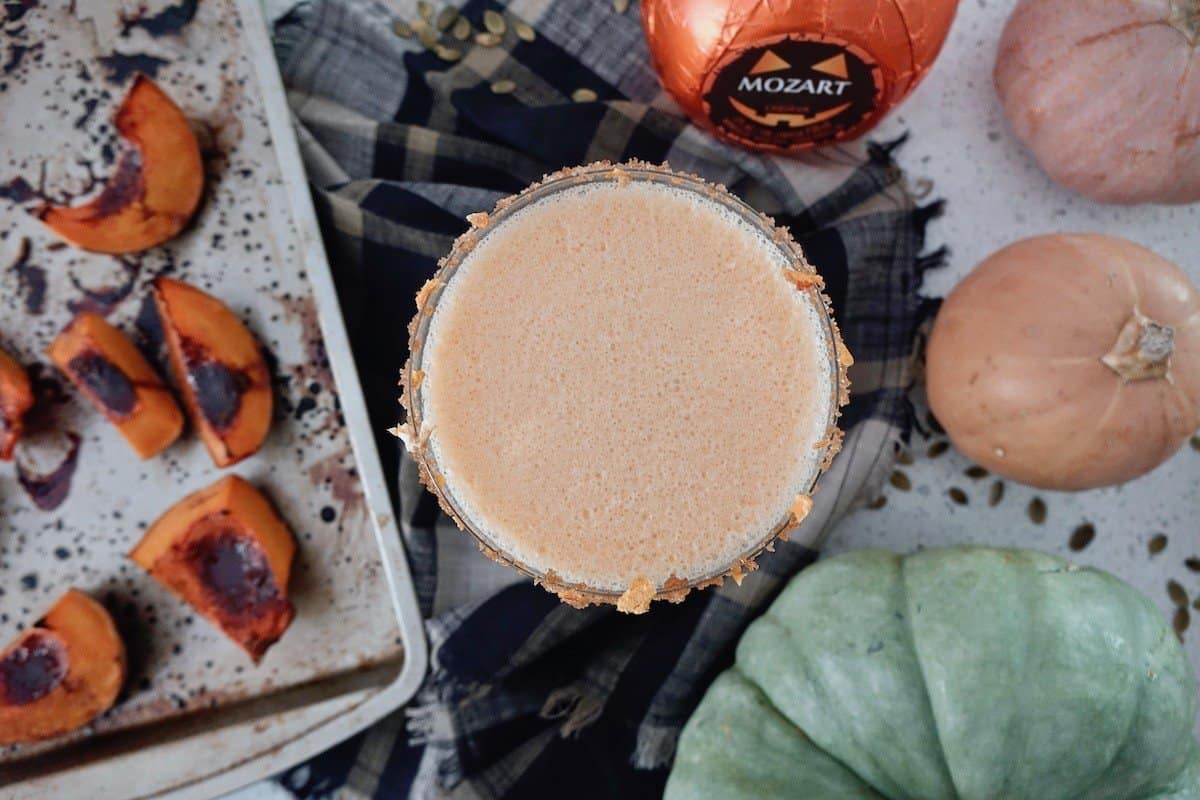 Yup, there is more pumpkin spice because if you're like men then there is no such thing as too much pumpkin spice. 🙂
Here a pumpkin spice martini using one of my all-time favorites: Austrian-made, creamy Pumpkin Spice Liqueur by the Mozart distillery. This simple cocktail will be perfect for dessert for the upcoming holidays and I promise you that every pumpkin spice and pumpkin pie fan will love this!
To make, simply shake together the following ingredients with some ice, then pour into a martini glass:
2 oz good vodka (such as Mamont)
To find out where Mozart Pumpkin Spice Liqueur (also available in Milk, White and Dark Chocolate as well as Strawberry Cream) is available in your area, fill out the short product finder form.
Prost!
more German PUmpkin Recipes
Pumpkin Käsekuchen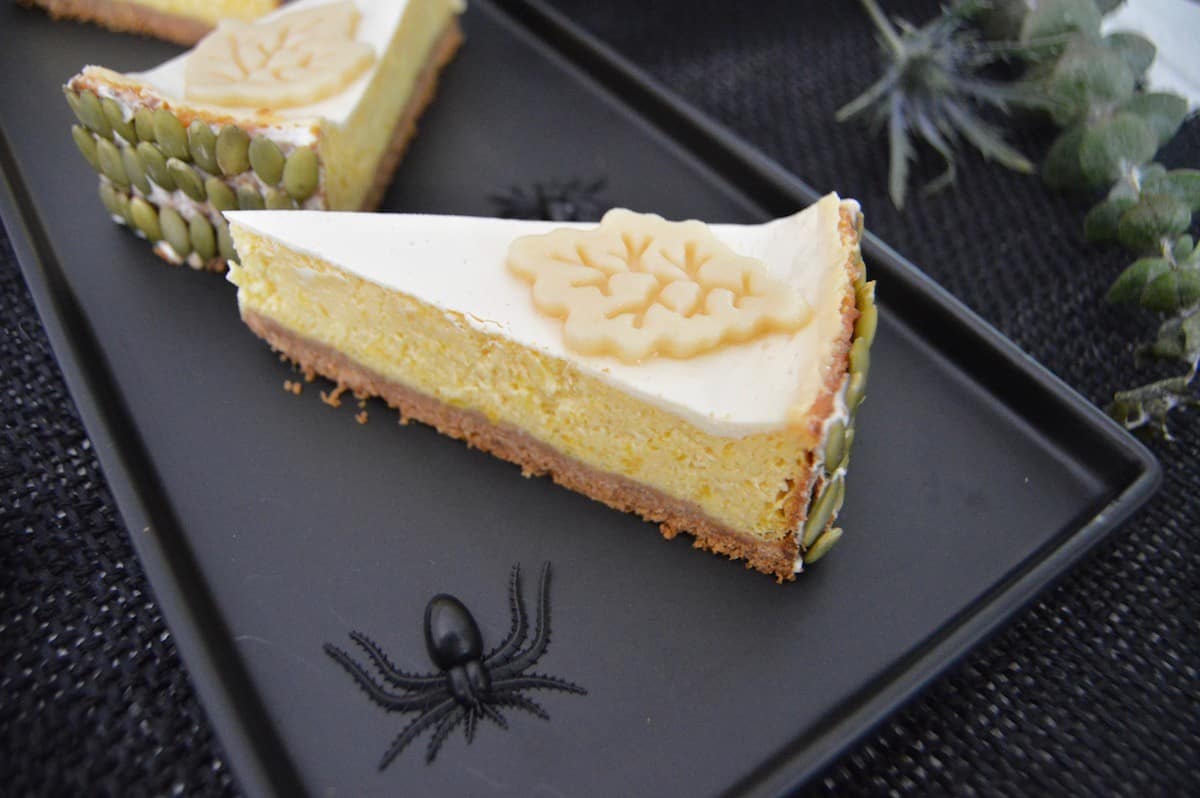 Käsekuchen Pumpkin Bread
Pumpkin Pretzel
Next Up:
Jack-O'-Lantern Beef-Stuffed Peppers
Growing up in Germany, I was always a huge fan of Halloween and used to host Halloween parties as a teenager. Next up are the cutest, carved and stuffed peppers and you'll want to bookmark this recipe for Halloween. Make sure to subscribe to my blog now, so you're not missing out when this new German Stuffed Peppers post goes live!
Pumpkin Spice Milchreis
Pumpkin Spice is everywhere! Try this Fall-appropriate, gluten free German Milchreis recipe with roasted, spiced pumpkin and enjoy it as a meal, snack or even dessert.
Ingredients
Milchreis
3

cups

milk

whole, 2%, or substitute plant-based milk for a dairy free alternative

8

oz

round-grain rice

for example Arborio rice used for making risotto

4

tablespoon

pure maple syrup

1

Tbsp

butter

1

vanilla bean

halve and scrape out the seeds, use both pod and seedshalf and scrape out the seeds, use both pod and seeds
Instructions
Preheat oven to 400 degrees Fahrenheit/ 205 degrees Celsius. Cut the pumpkin in half, remove the inside and seeds using a spoon, cut into chunks and rub with oil. Combine all spices and sugar and sprinkle or rub over pumpkin pieces. Spread them out on a baking sheet and bake for about 25 to 30 minutes or until tender when pierced with a fork. Remove from oven and allow to cool.

When the pumpkin has cooled enough to handle with your hands, peel off the skin with your fingers, and mash up or puree about one cup of the pumpkin chunks.

For the Milchreis, on medium high heat, melt butter in a large pot, then add the rice and stir for 1 to 2 minutes. Add the room temperature (!) milk, maple syrup, and vanilla seeds and pods, combine with a wooden spoon and while stirring, bring to a boil. Pay extra attention to not letting anything burn.

Set to low and cover with a lid. Let steep for 15 minutes, stir and add in the pumpkin puree, cover with the lid and continue steeping for an additional 15 minutes. Serve topped with peeled pumpkin, cut into bite sized pieces and garnish with pumpkin seeds. Milchreis can be eaten warm or cold (I prefer to eat mine warm!).
Nutrition
Calories:
241
kcal
Carbohydrates:
39
g
Protein:
5
g
Fat:
7
g
Saturated Fat:
3
g
Cholesterol:
13
mg
Sodium:
61
mg
Potassium:
192
mg
Fiber:
1
g
Sugar:
14
g
Vitamin A:
203
IU
Calcium:
139
mg
Iron:
1
mg
I received compensation from Niche Import Co. in exchange for writing this post. Although this post is sponsored, all opinions, thoughts and recipes are my own. This post contains affiliate links, which means that I may be compensated if you click certain links.