Poppy seed filling is amazing when rolled up in Quark-Öl Teig and topped with almond streusel! Try this simple yet delicious German coffee cake and imagine yourself at a café in Germany.
Quark-Öl Mohnkuchen
About this Recipe
This Is A Sponsored Post That Contains Affiliate Links
Hello from Germany! I finally made it back home after 22 months of not being able to see my family and it feels so good to finally be able to hug them again, eat Spaghetti Eis together and stroll through the city centers of Trier and Saarbrücken. It almost feels like I was never gone. I've really loved being able to eat all of the Brot, Brötchen, Teilchen and Kuchen from local bakeries. One of my absolute favorites is anything with a good Mohnfüllung, a German poppy seed filling. It's juicy, it's nutty, it's perfect. You can buy larger quantities of poppy seeds online, which makes it a little cheaper than buying individual jars of poppy seeds in the store. The filling gets prepared a day in advance, so that the poppy seeds soak up the liquid in the filling and make it more of a paste. It's best to grind the poppy seeds, which can be achieved with a good food processor, but whole poppy seeds will work as well. If using whole, I would cook the poppy seeds a bit longer to achieve a thicker paste before allowing it to cool down.
You will only need half of the filling for this recipe. You can freeze leftover filling for later use as well. I love making Mohnschnecken, using my favorite American cinnamon roll recipe and substituting the filling for this Mohnfüllung recipe. Make sure to give that a try! You would also make a Hefezopf with poppy seed filling.
If you have never tried Quark-Öl Teig, it should make it on your must try list! It's such a simple, fool-proof dough that is prepared quickly and results in a fluffy, flavorful dough. The key is to use great quality ingredients like Wünder Creamery quark, which is a German-style quark made from grass-fed milk. You can buy large, plain tubs from Wünder as well, which ends up being more cost effective. What's even more cost effective is to buy it locally. If your store doesn't carry Wünder yet, make sure to submit a product request form via this link! The more of these Wünder Creamery receives, the more likely Wünder will arrive at your local store. If you can only buy online, use code 'SOPHIE15' at checkout for 15 percent off your quark order.
Are you a poppy seed fan? What are your favorite recipes with poppy seeds? Please leave me a comment on the bottom.
Scroll on down for the recipe, now in printable version.
Mohnkuchen Essentials
Drink Pairing:
Indian summer Cocktail
I am not typically a bourbon fan, but when I created this simple summer cocktail inspired by our finished tropical planter box at home, I started warming up to it! I used the Honey Bourbon version of Bärenjäger in this drink, which gives it a subtle bourbon flavor. The apricot jam and lemon juice help to lighten up this drink with refreshing, summery sweetness. The fresh sage leaves bring a nice, herbal note.
To make, simply shake together the following ingredients with some ice, strain into a glass filled with ice and garnish with a lemon wedge and a couple of fresh sage leaves.
 good vodka (such as Koskenkorva)
½ ounce Bärenjäger Honey Bourbon (a German honey and bourbon liqueur)
fresh sage leaves and lemon wedges for garnish
To find out where Bärenjäger (also available in just Honey) is available in your area, fill out the short product finder form.
more German Coffee Cake Recipes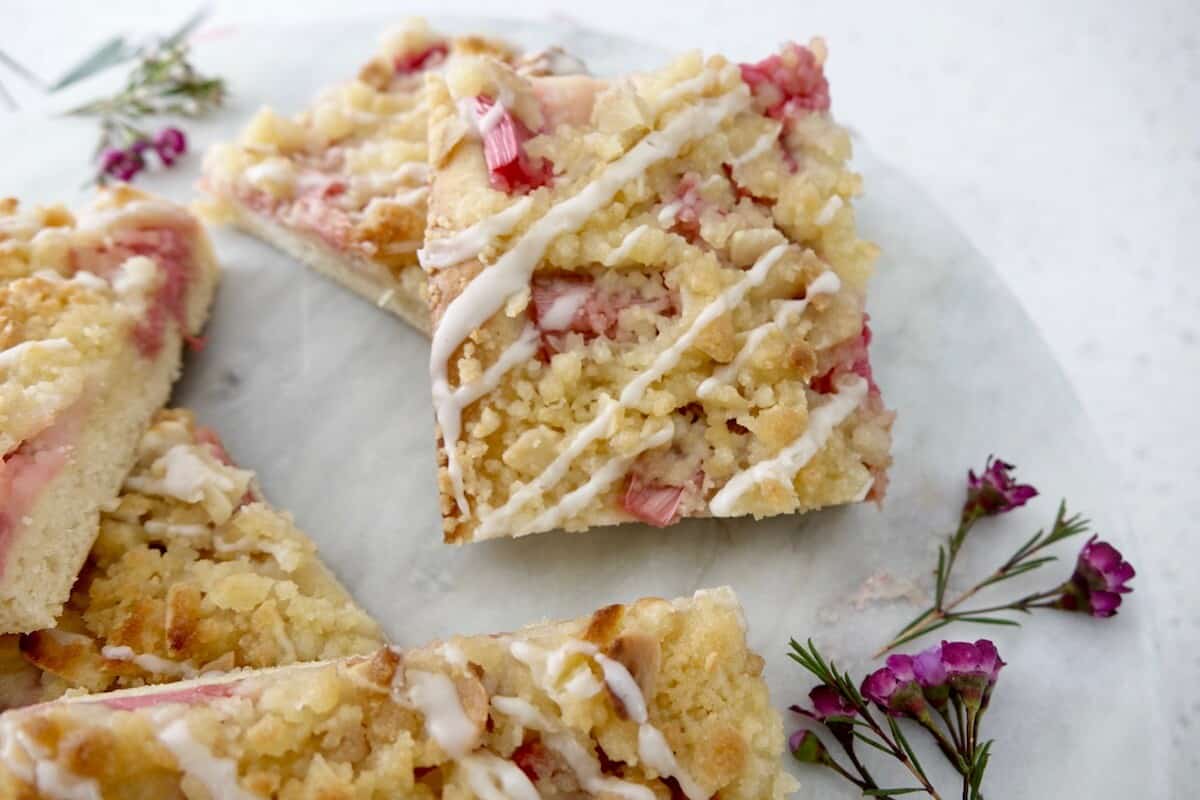 Aprikosen Quark Kuchen
Apfelkuchen
Next Up:
Pineapple Upside Down Käsekuchen
Summer is around the corner, so a summery version of a Käsekuchen popped in my head, combining an American classic with a German classic. Make sure to subscribe to my blog now, so you're not missing out when this new Käsekuchen post goes live!
Mohnkuchen mit Quark-Öl Teig: German Poppy Seed Cake
Poppy seed filling is amazing when rolled up in Quark-Öl Teig and topped with almond streusel! Try this simple yet delicious German coffee cake and imagine yourself at a café in Germany.
Instructions
Prepare the Poppy Seed Filling
Combine milk, butter and sugar and bring to a boil while stirring occasionally, so the milk doesn't burn.

Add the poppy seeds (best to use ground, so they're more absorbent, but whole work as well if you have the extra time to let them soak). Stir until combined and continue boiling until the mass has thickened, about 10 minutes. Remove from heat and allow to cool completely.

Once cooled, beat in the eggs and lemon peel. Transfer to the fridge to soak overnight. This is important as the poppy seeds need time to absorb the liquid. You can keep the filling in the fridge for a few days before using. You will only need to use half of the filling for the recipe. You could freeze the other half after soaking or use it to make poppy seed rolls or a second cake. The filling is also great in a braided yeast dough loaf.
Make the Quark-Öl Dough
The main ingredients in Quark-Öl dough are quark and oil. Let's get started. Combine all ingredients and knead until you end up with a smooth dough, a few minutes. You can do this by hand or with the help of a mixer. You may need to add a bit more flour.

Roll out the dough on a floured surface to a rectangle shape the length of your loaf pan and the width of about ⅔ of the length. Add the rested poppy seed filling (you only need half of the filling for this recipe) and spread onto the rolled out dough. Now carefully roll up the cake.

Prep a loaf pan with butter, then carefully transfer the filled and rolled up dough to the loaf pan.
Make the Streusel Topping
Combine all ingredients (I just use my hands) until you get a crumbly dough. Whisk the egg and brush onto the top of the dough. Evenly distribute the streusel over the top.
Bake Your Mohnkuchen
Preheat your oven to 200° C/390° F. Place the loaf pan on the middle rack and bake for about 45 minutes (cover with foil for the last 10 mins of baking, so the streusel doesn't get too dark).

Dust with powdered sugar before slicing and serving.
Nutrition
Calories:
382
kcal
Carbohydrates:
41
g
Protein:
9
g
Fat:
21
g
Saturated Fat:
6
g
Trans Fat:
1
g
Cholesterol:
75
mg
Sodium:
89
mg
Potassium:
220
mg
Fiber:
3
g
Sugar:
16
g
Vitamin A:
296
IU
Vitamin C:
1
mg
Calcium:
222
mg
Iron:
3
mg
I received compensation from Wünder Quark  and Niche Import Co. in exchange for writing this post. Although this post is sponsored, all opinions, thoughts and recipes are my own. This post contains affiliate links, which means that I may be compensated if you click certain links.