Strawberry-Rhubarb Windbeutel: German Mini Cream Puffs
I said cream puffs. But don't fall asleep yet. These Windbeutel, or German mini cream puffs, are not your everyday kind of cream puff. The Pâte À Choux is made using White Chocolate Cream Liqueur, the whipped cream uses Strawberry Cream Liqueur, plus did I mention the strawberry-rhubarb compote? Total game changer!
Servings:
12
Ready In:
60 mins
Calories:
150
Good For:
Coffee
Windbeutel
About this Recipe
This Is A Sponsored Post That Contains Affiliate Links
Come with me on a brief walk down Memory Lane: after a Saturday afternoon of shopping, my mom and I stroll through Trier's historical Fußgängerzone (pedestrian zone), and find ourselves craving a good Latte Macchiato to help us gain back some energy. But that void can't be filled by just any Latte Macchiato. The best ones are served in a nice, relaxing setting, and with some kind of miniature treat on the side - the kind you don't come to expect because you didn't order it. Often that little treat is just a packaged cookie (Butterspekulatius or Spritzgebäck are often the choice - both German cookies popular not just during Christmas time). Sometimes you get lucky and find a chocolate covered coffee bean. Other times you hit the jackpot when a tiny, bite-sized Windbeutel (German cream puff) appears on your saucer and you hold your breath for a millisecond trying to contain your excitement (but seriously, anyone else?). Those little Windbeutel are the whole reason why my mom and I often chose to have a Latte Macchiato at Louisiana, an American-style restaurant at Trier's Kornmarkt, where there is plenty of outside seating at the several restaurants and excellent people watching.
This exact memory inspired me for today's Windbeutel post. But I couldn't just bring you any kind of Windbeutel, right? Today's creation has plenty of Austrian MOZART cream liqueur integrated for richness and taste: there is White Chocolate Cream Liqueur in the Pâte à Choux and Strawberry Cream Liqueur in the whipped cream (find out where MOZART is available near you). I also added another fun, little surprise for that extra wow factor: homemade rhubarb strawberry compote that's extremely easy to make (this recipe makes about 3 cups), and your leftover compote will be perfect on top of some plain, Greek yogurt or quark or please go crazy and have it on some French Toast! These cream puffs also freeze incredibly well. Simply let sit out at room temperature for about 15 minutes or so before enjoying (I actually really love it when there is still a little bit of frozen whipped cream in the center). Enough talk, scroll on down for the recipe!
Ingredients For Windbeutel
Pâte À Choux:
2 oz (60 ml) water
2 oz (60 ml) Mozart White Chocolate Cream liqueur (check here for availability)
2 tablespoon (28 g) butter
½ c + 2 tablespoon (75 g) flour
2 tablespoon (15 g) cornstarch
2 eggs (on the smaller side)
1 tsp baking powder
Frosting:
Rhubarb-Strawberry Compote:
17.5 oz (500 g) rhubarb
juice of ½ lemon
5 Tbsp sugar
5.3 oz (150 g) strawberries
HELPFUL TIPS:
Consistency: When making your Pâte À Choux, pay close attention to the consistency of the dough when adding your eggs and baking powder. You don't want your dough too soft, so it will run out of your piping bag without you having to push it out at least some, but you don't want it too dense, either. You nay need to add less or more egg to achieve the right consistency.
Leftovers: These Windbeutel freeze beautifully. When ready to enjoy, simply allow to sit out on the counter for about 15 minutes.
More German Rhubarb & Strawberry Recipes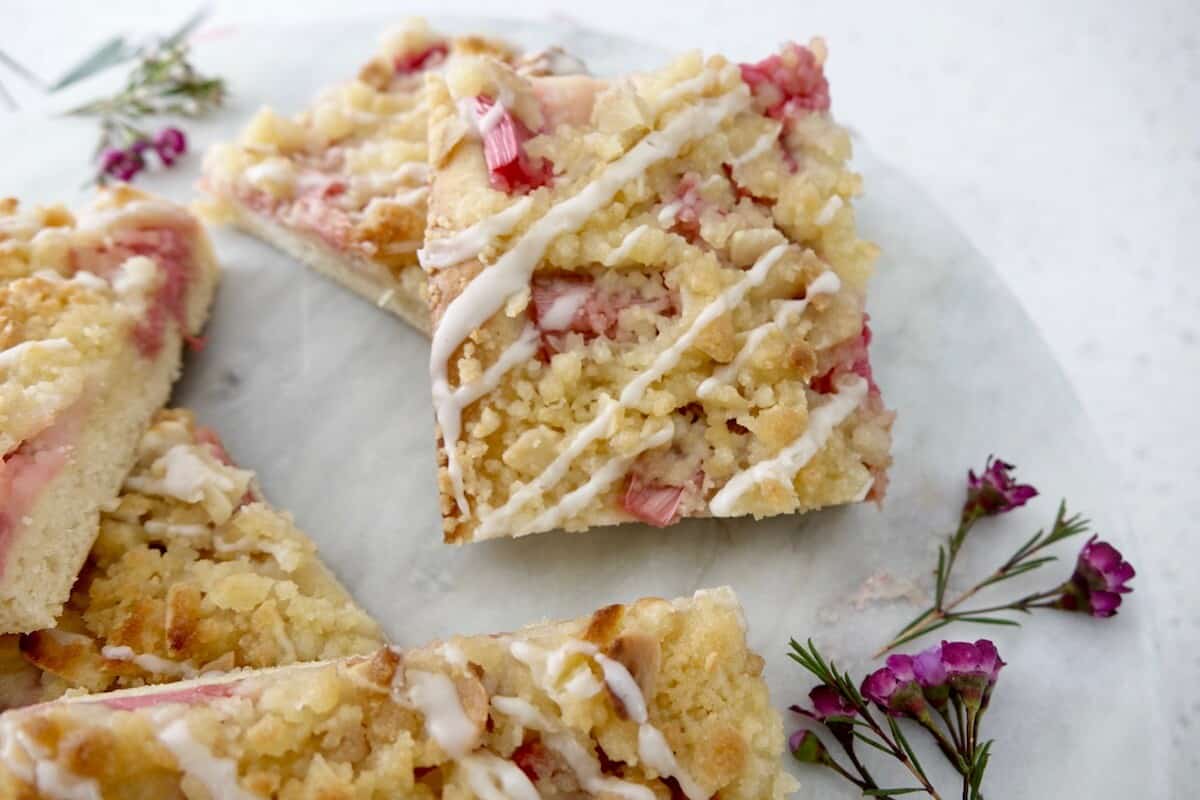 Erdbeerkranz
Strawberry Yogurt Cake
Windbeutel Essentials
Windbeutel Step By Step Instructions
Step 1
To make your compote, trim, peel and cut the rhubarb into ½ inch thick slices and transfer to a large pot. Cover in sugar and let sit for 1 to 2 hours for the juices to extract. In the meantime, trim your strawberries and cut into quarters or pieces. Add lemon juice, bring to a boil and cook for 5 minutes while stirring occasionally.
Step 2
In the meantime, trim your strawberries and cut into quarters or pieces. Remove from heat, stir in the strawberries and let steep for 30 minutes with the lid on. Then transfer to a bowl to cool down (you can put it in the fridge to speed things up).
Step 3
To make your pâte à choux, preheat your oven to 390 Fahrenheit (200 Celsius, standard setting). Combine water, liqueur and butter in a medium sized pot, and allow butter to melt over medium high heat. Using a wooden spoon or spatula, add the flour. The dough will thicken. Once combined, stir for another minute over heat, then transfer to a bowl.
Step 4
Add the baking powder and the eggs one at a time, making sure to watch out for the right consistency. You want the dough to stay thick enough to pipe. Prep a larger decorating bag with a large star tip and fill the bag with the dough (I set the bag inside a tall mug to help me fill it).
Step 5
On a baking sheet lined with parchment paper, pipe on 12 to 14 little, round Windbeutel, leaving at least 2 inches between each puff as they will expand to double or even triple their size. For a shiny finish, gently brush on an egg wash (simply whisk an egg) before baking. Bake for about 20 minutes on the middle rack.
Step 6
Once finished baking, remove and cut the puffs in half. Allow to cool completely. In the meantime, combine the whipping cream, powdered sugar and vanilla and whisk until stiff. Fold in the Strawberry cream liqueur. Arrange the puffs (I like to pipe on my whipped cream) and enjoy with a good cup of coffee or a Latte Macchiato. 😉
Next Up:
Salad with Riesling-Apricot-Chicken
I love using wine for cooking! For my next recipe, I marinated some chicken breasts in Riesling and apricot before grilling and adding to a colorful salad - light and perfect for Spring and Summer. Make sure to subscribe to my blog now, so you're not missing out when my new posts goes live!
I received compensation from Niche Import Co. in exchange for writing this post. Although this post is sponsored, all opinions, thoughts and recipes are my own. This post contains affiliate links, which means that I may be compensated if you click certain links.