Scenic Italian views and tastes from the Amalfi Coast
After leaving Basel behind, where my cousin Anna got married (read more here), we continued our journey to Naples, Italy, to refuel for a few days under the hot sun. We had our headquarters in Ravello, Italy, up on the hill from Amalfi, where we stayed at Hotel Graal. The hotel was comparatively affordable, especially after staying in Basel and Iceland! The amenities were good and the panoramic views from our balcony in our room were breathtaking.
For our first lunch, the hotel staff recommended the Garden Restaurant next door, which also boasts with amazing views and welcomed us with relaxing lounge music - now we knew we were on vacation. We sat in the upper bar section and shared a hot panini and flavorful Caprese salad, which were both delicious. The Amalfi coast is famous for fresh tomatoes bursting with flavor, homemade buffalo mozzarella, as well as its lemons (also used for a local specialty, limoncello, a lemon liqueur often enjoyed after dinner). For dinner, we decided on Trattoria da Cumpa' Cosimo, a little restaurant recommended to us by another local - and it was very, very good!
The next day, the beach was calling, so we walked down from Ravello to Amalfi (if you're looking for a great calf workout, this is it!). The water was stunningly clear and a gorgeous blue-green color (aka my kind of water!). For €35, we rented chairs, towels and an umbrella at a beach-side bar called Stella Maris that had some great drinks and pretty great pizza as well!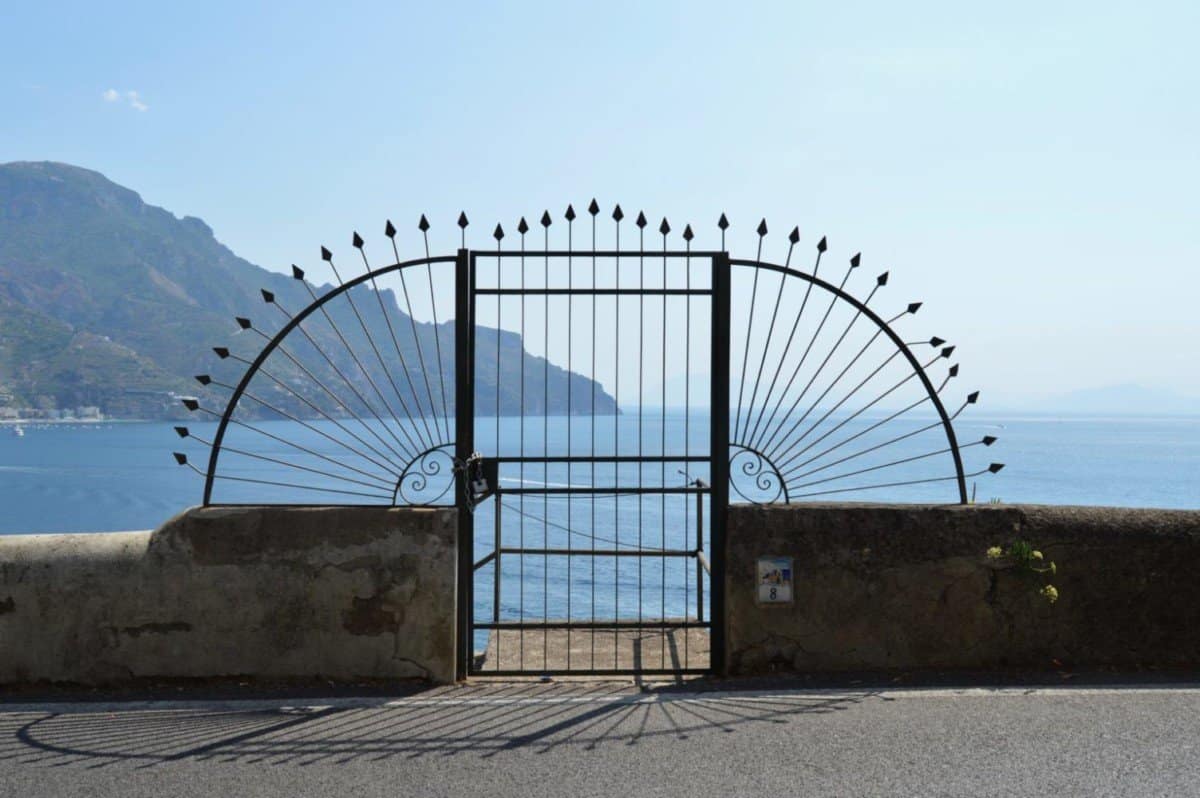 The gorgeous island of Capri was on our agenda for day 3. This time we did not walk down to Amalfi to catch the ferry to Capri, but instead chose to take the bus for 1.30 Euro single fare per person (tickets can be purchased at the hotel or local tabacchi shops). The ferry itself was about 40 Euros a person for the round trip (tickets need to be purchased from a ticket counter at the pier where the ferry leaves from, although you can also purchase online); it took about 1 hour and 20 minutes each way (it stops once in Positano, which is a great place to go if you're looking for more nightlife; we didn't make it here, but first looked into staying here, then decided on the "quiet" Ravello since the rest of our trip was pretty hectic).
The best part about Capri was our 2-hour private boat trip we booked spontaneously while walking along the harbor. Our 2 tour guides showed us many breathtaking crevices of the island that can't be reached other than by boat. We got to swim into the blue grotto and one of our guides was happy to accompany us - an amazing experience!
Day three we spent laying by the pool for a few hours where we met some new friends from London that got married in Ravello the year before (by the way, many British and American tourists here, I hardly "heard" any German being spoken), and later we all ate dinner at Villa Maria, which was stunning, the food amazing (no photos unfortunately - it was too dark), although my husband and I agreed that the staff was a bit rude considering the higher prices would assume even better than usual service. Okay, it could have been because we arrived a bit late that night and pretty much were the last ones to leave? 😉
On the last day, we took a deep dive into Ravello and explored its sights including Villa Cimbrone and its beautiful gardens; unfortunately the Amalfi coast has experienced some of the longest dry periods lately, causing many fires in the region and making this luscious garden look very thirsty. We stopped by a few local stores for some shopping including Pascal's ceramics where we picked up some artwork and a Christmas ornament (Julia Roberts has bought some ceramic artwork here as well!) and a sandal store in the main square, where we watched my new sandals being hand made after I got to pick out the colors for the leather accents. With a sad eye, we enjoyed our last lunch at Mimi's pizzeria, which has the best pizza I had on our trip thus far and half liters of house wine for 6 Euros and 50 cents! We also picked up some limoncello there to take home with us.
Let me note that saying goodbye was not easy and we could have easily spent a few extra days under the Italian sun, but we already look forward to our next trip to Italy and I look forward to cooking at our home in Kansas again! 😀
So please stay tuned for some amazing new German recipes to come soon and subscribe below! Also, I picked up a new dirndl while I was in Germany, so be looking out for some fresh, new photos coming soon! 🙂
---