Continuing our Journey through Europe
Leaving Reykjavík behind (read more about the Icelandic experiences we made here), we hopped on the next plane to take us to Paris, France, and then Basel, Switzerland; each city we stayed in for only 2 days. I know, this sounds exhausting... but to be honest, it's been pretty exciting in the contrary.
Stop 1: Paris, France
Growing up about a 4-hour-drive from Paris, I've gotten plenty of opportunities to visit this beautiful city of love, but each time I go, I am happy to discover new angles, try new foods and practice my French a bit more. We stayed at a truly funky boutique hotel near Place de Madeleine called Idol Hotel Paris, where each room is decorated to represent a different funk theme. Ours was called "Give me the night." 😀 I definitely recommend staying here!
The first day we managed to sleep in late, making up sleep the night before because of an early flight, so we decided on crêpes for brunch at Crêperie Framboise after trying a few other restaurants that were closed for summer break, and it turned out to be an excellent choice! The lunch deal included a savory crêpe (or galette) and a sweet crêpe, as well as a glass of cidre (French apple wine) - delicious!
We then made it up to the second floor of the Eiffel tower, by foot! If you're able to walk it, I would totally recommend it. It only took us about 10 to 15 minutes to reach the second floor, it's cheap (7 Euro per person) and you cut the wait time in half (plus, we got a good amount of extra steps in to count towards the 11 miles we walked that day!). The view was amazing, and we rewarded ourselves with 2 glasses of champagne and 2 macarons to enjoy the view from the Eiffel tower with (11 Euro per person).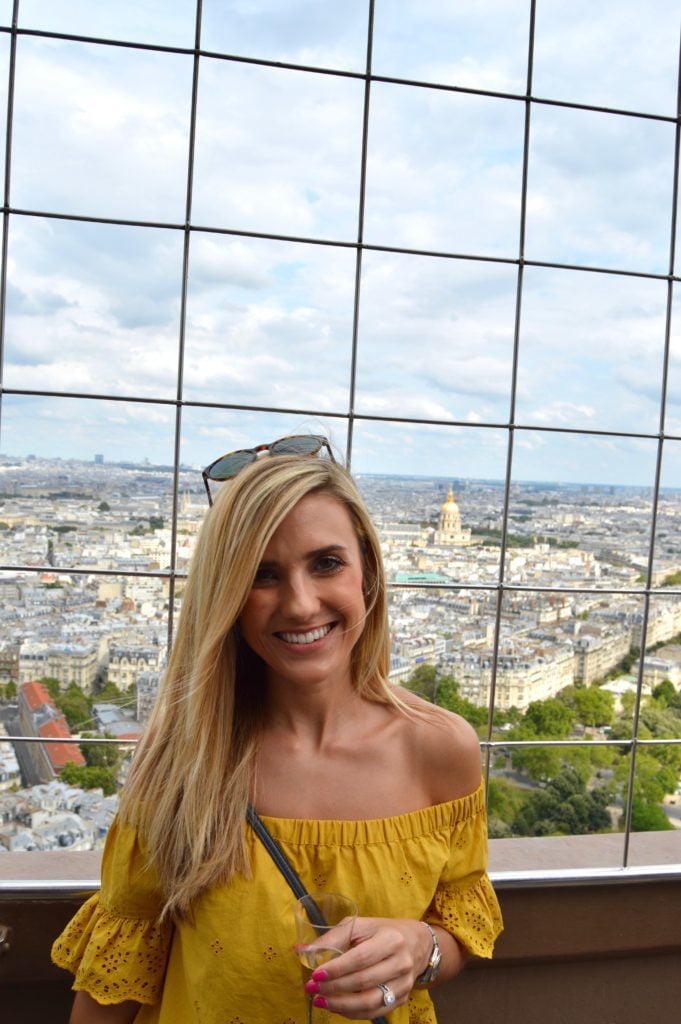 After some shopping, we then found a cute, little brasserie named "Café Mademoiselle," and it was not too far from our hotel. Amongst other things, we ordered a Thai-style steak tartare, which was lightly seared on the outside, as well as a little trio of desserts (crème brûlée, chocolate mousse, fruit salad and espresso). Yum!
Stop 2: Basel, Switzerland
Our journey continued by train to Basel, which we reached after 3 hours, 2 beers and a shared Croque Monsieur (French-style, baked ham and cheese sandwich) from the train's bistro. After meeting my mom in the foyer of the hotel called Motel 1. It's (by the way) not a motel at all, but actually a modern-style, affordable hotel in the heart of the city and with a great breakfast! The hotel fare also comes with a local public transportation pass, which gets you to the main train station, the Basel airport, and really anywhere you'd want to go to explore the city.
From the hotel, we then left to explore the city by foot, crossing the beautiful Rhein river, to reach the riverside restaurants and bars.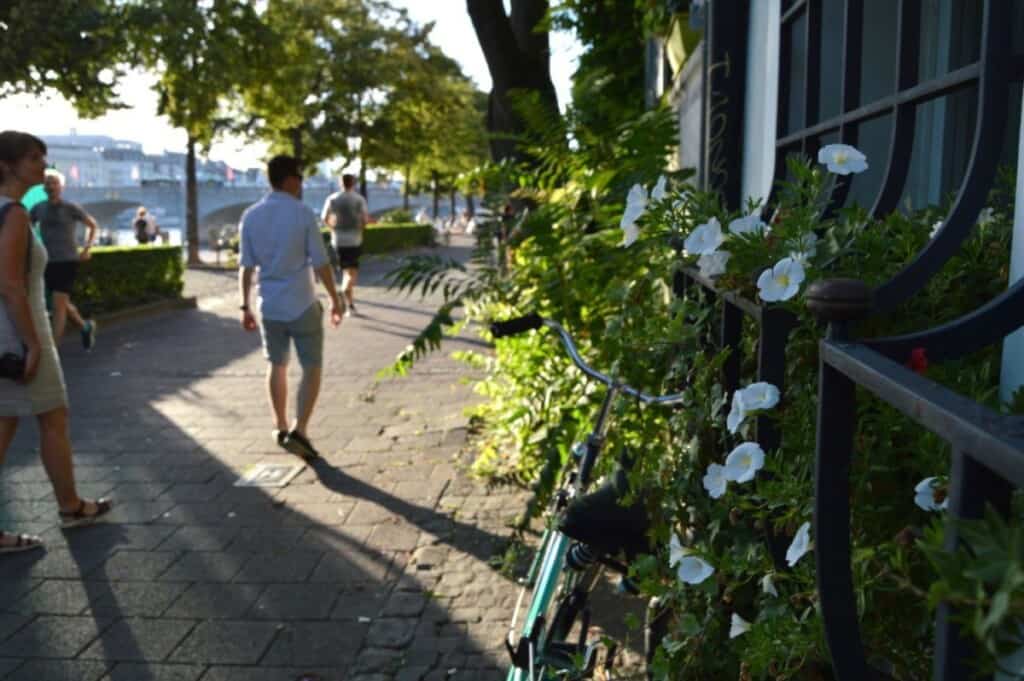 After inspecting several menus at restaurants around, we decided to settle for KaBar, which served tapas for an extremely reasonable price, so we tried some falafel, parma ham, salami, hummus and other snacks that fed 4 people for 50 Swiss franks - much cheaper than anything else around!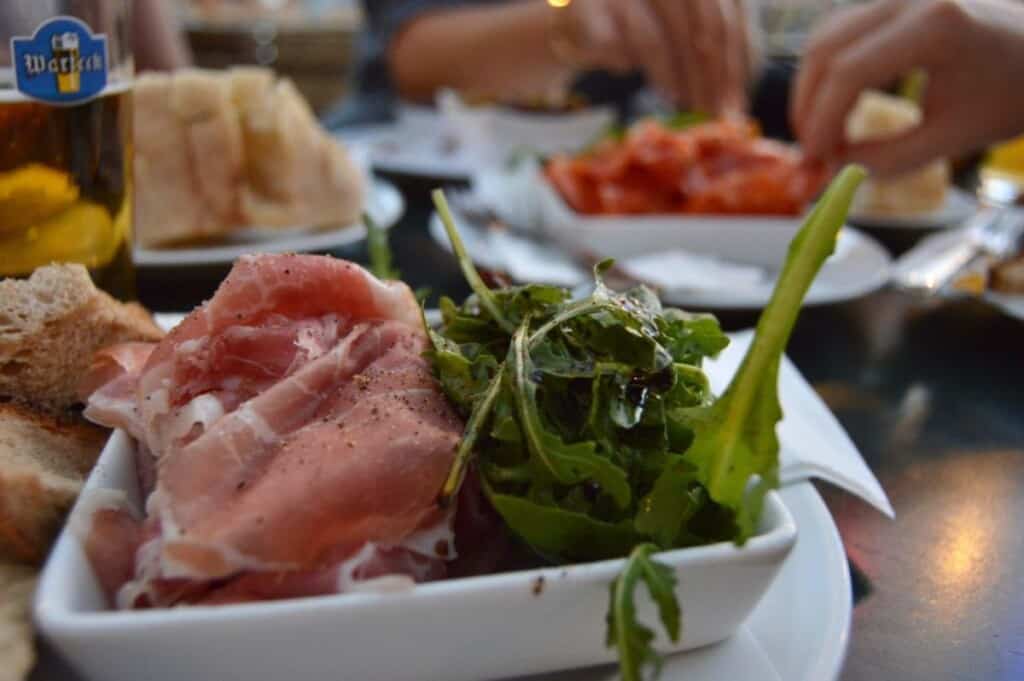 The next day we went floating down the Rhein river! It's a popular thing to do in Basel during the warm summer months. You pack all of your belongings inside a waterproof bag that you then secure at the end, and with the air that's trapped inside doubles as a floatation device - genius! And even better - it's free! Unfortunately a storm hit us within 10 minutes of starting our float trip, but after the worst passed, we quickly jumped back in and continued.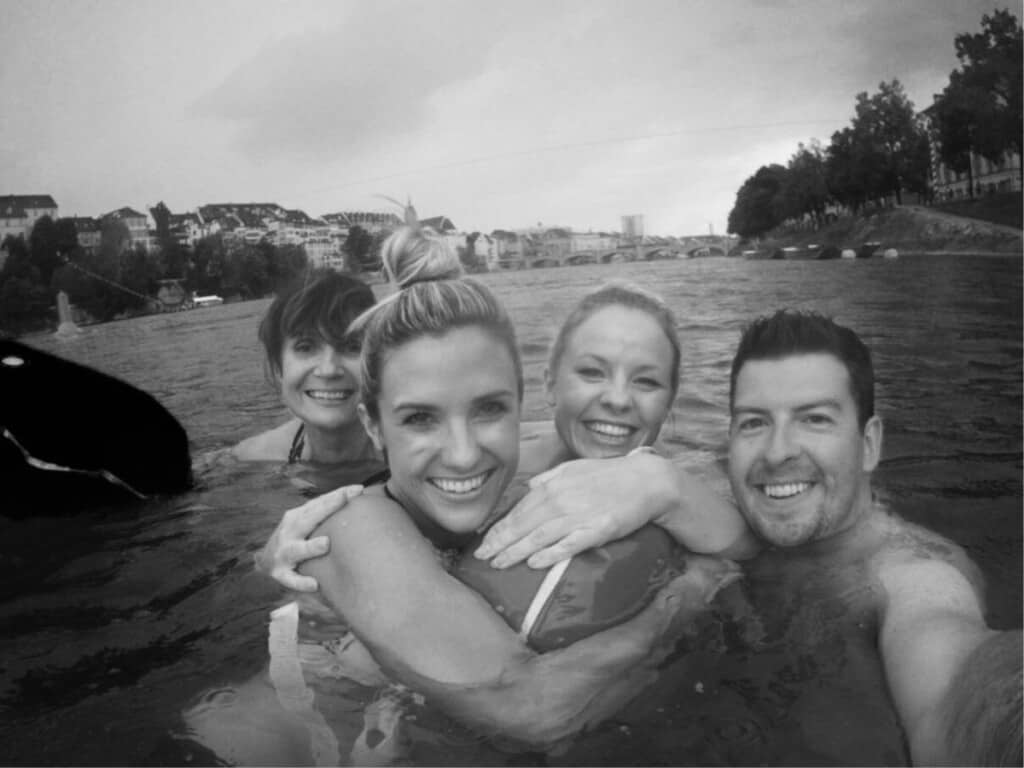 Up next: the Amalfi Coast in Italy! Stay tuned and please subscribe below for more German food and travel experiences to follow! ????
---