I recently reworked this German Apple Cake recipe to make it EASY for you to have an authentically German, made-from-scratch cake that tastes AMAZING! Topped with a cookie-like streusel topping, this German apple crumble cake (Apfelkuchen in German) is an award-winning dessert and a must-have at your Kaffee-und-Kuchen bar.
Easy German Apple Cake
About this Recipe
This Is A Sponsored Post That Contains Affiliate Links
What Is German Apple Cake?
I've been on a quest for the perfect German Apple Cake recipe for quite some time now. Of course, there are many ways you could make an Apfelkuchen or German apple cake, but more often than not it's baked on a baking sheet as a sheet cake using a light crust, mingled with tons of fresh apples, and topped with crumbly streusel topping! It's an easy German way to eat a ton of apples and it's especially delicious when topped with some homemade vanilla whipped cream and enjoyed with a cup of hot coffee as so many Germans do. And that's exactly what I was going for today (and may I say it's pretty perfect!).
So I dumped 5 sliced Granny Smith apples onto the muffin-like cake base from my gedeckter Apfelkuchen and topped it with the cookie-like streusel topping (with an added hint of cinnamon) from my apricot cake recipe. Born was an easy, made-from-scratch German apple cake. To make this cake even more perfect, I served it with cloud-like spoonfuls of fresh whipped cream with just a tad of sweetness and warming hints of vanilla. It's super quick to make in about an hour including the baking time, which comes in handy when that craving for something German hits.
What is Streusel?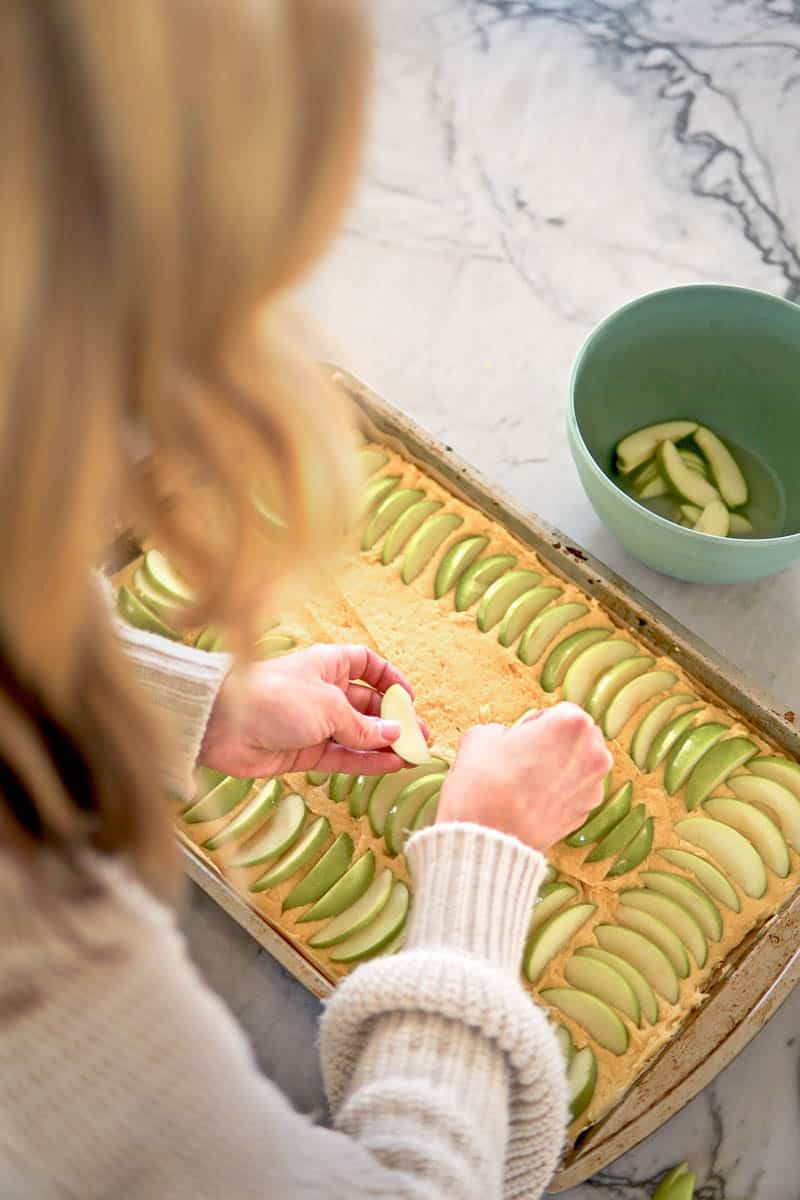 Streusel translates from German to crumbles and that's exactly what they are. Cookie-like crumbs of goodness made from flour, butter, sugar (and in my case a little salt, sliced almonds, and some cinnamon). A streusel topping is not just perfect to top off this German Apple Cake, but they find their way onto many German (and it turns out American) sweet, baked goods like cake, sweet bread, muffins, and even pies. I kept the amount of streusel light for this recipe, only adding streusel between my rows of apples. If you know that you would like to cover the whole apple crumb cake with streusel, you can easily double the streusel portion of this recipe.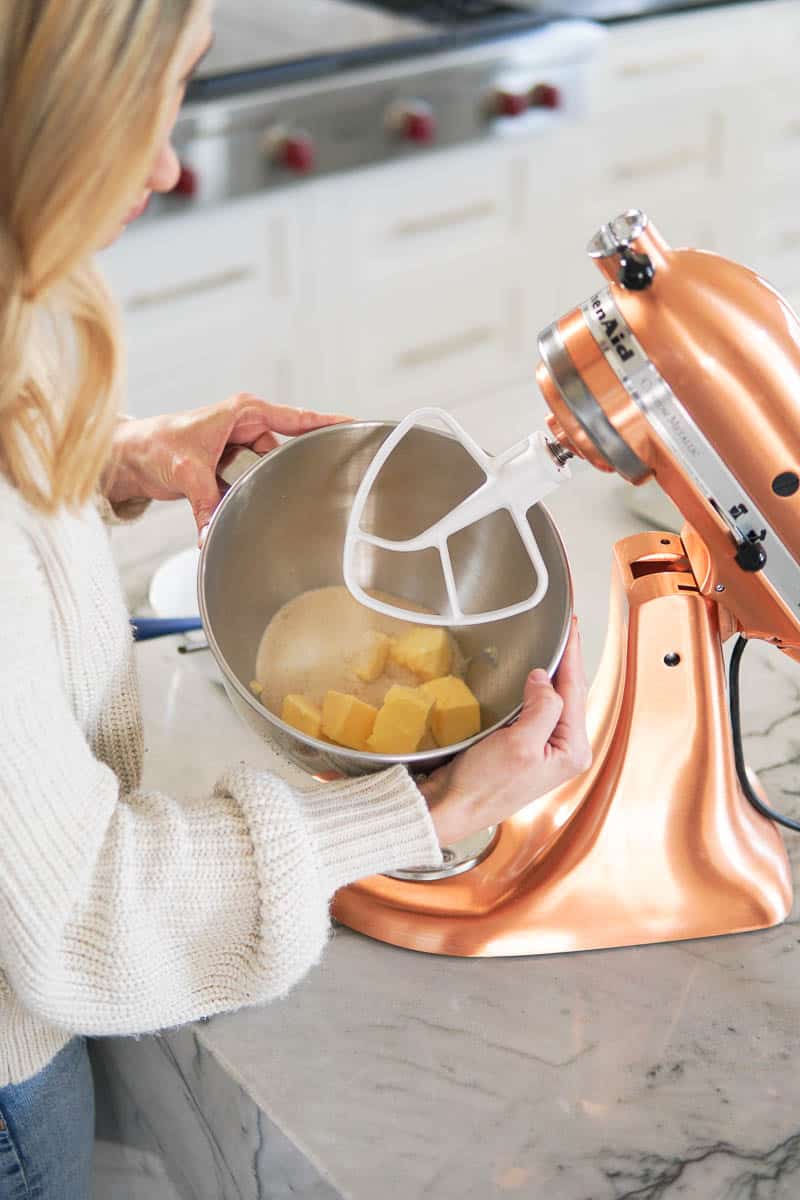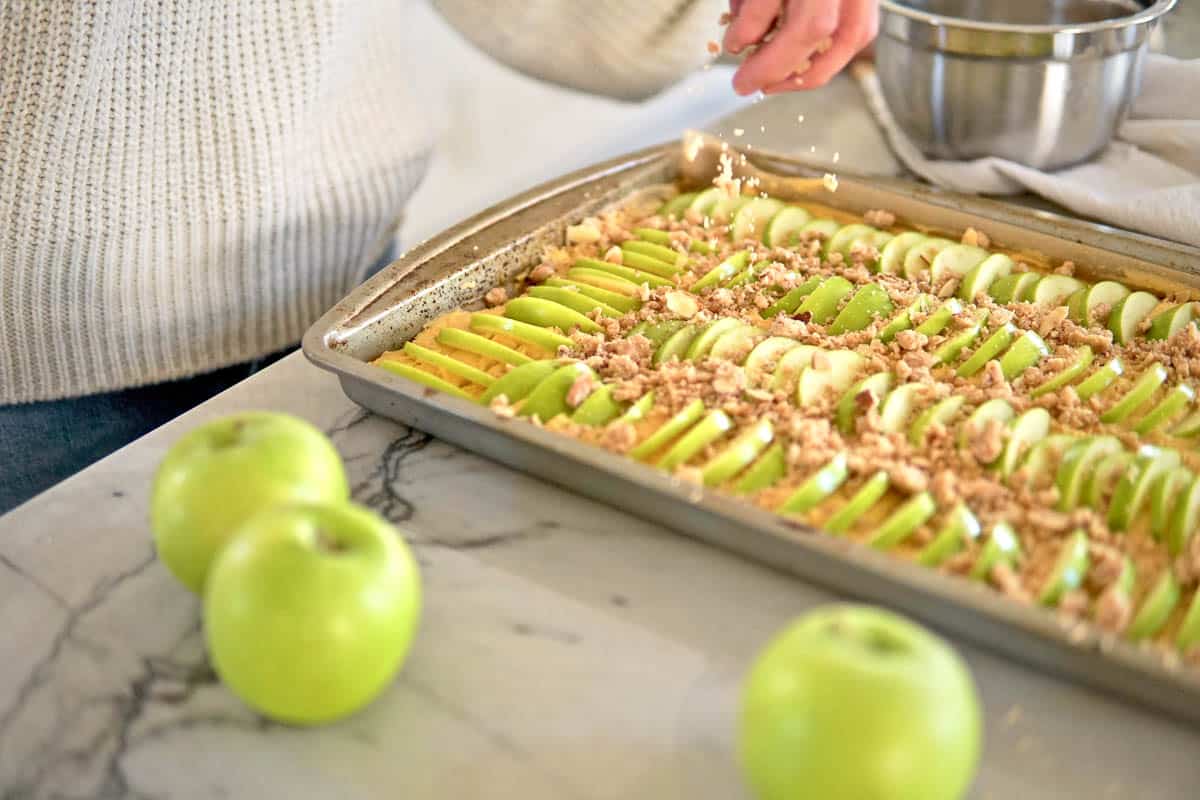 What are the best apples for apple cake?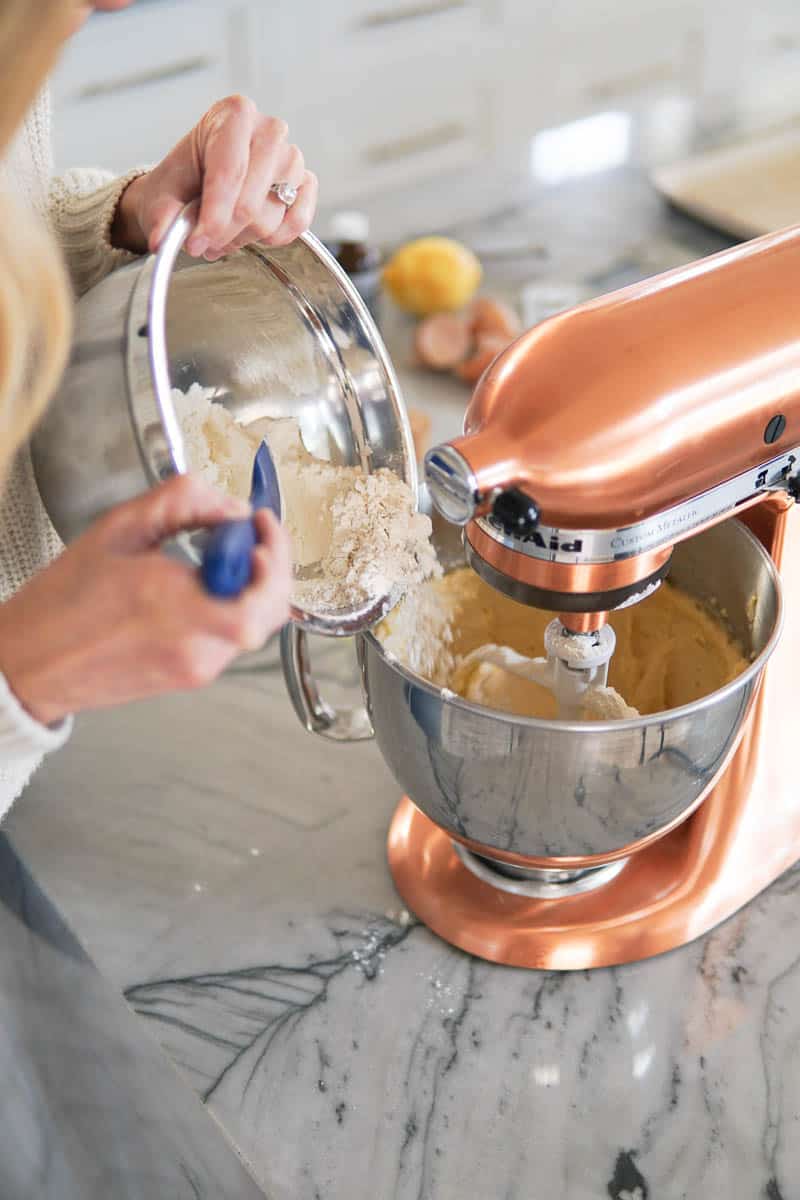 I love using Granny Smith apples for German apple cake for their tartness. German cakes in general aren't as sweet as American cakes, so if you know you would like more sweetness without adding more sugar, you could easily use a sweeter apple in this recipe instead (Gala apples are great for baking as well!). Other apple varieties that are great for baking are Jonagold, Honeycrisp, Braeburn, and Pink Lady.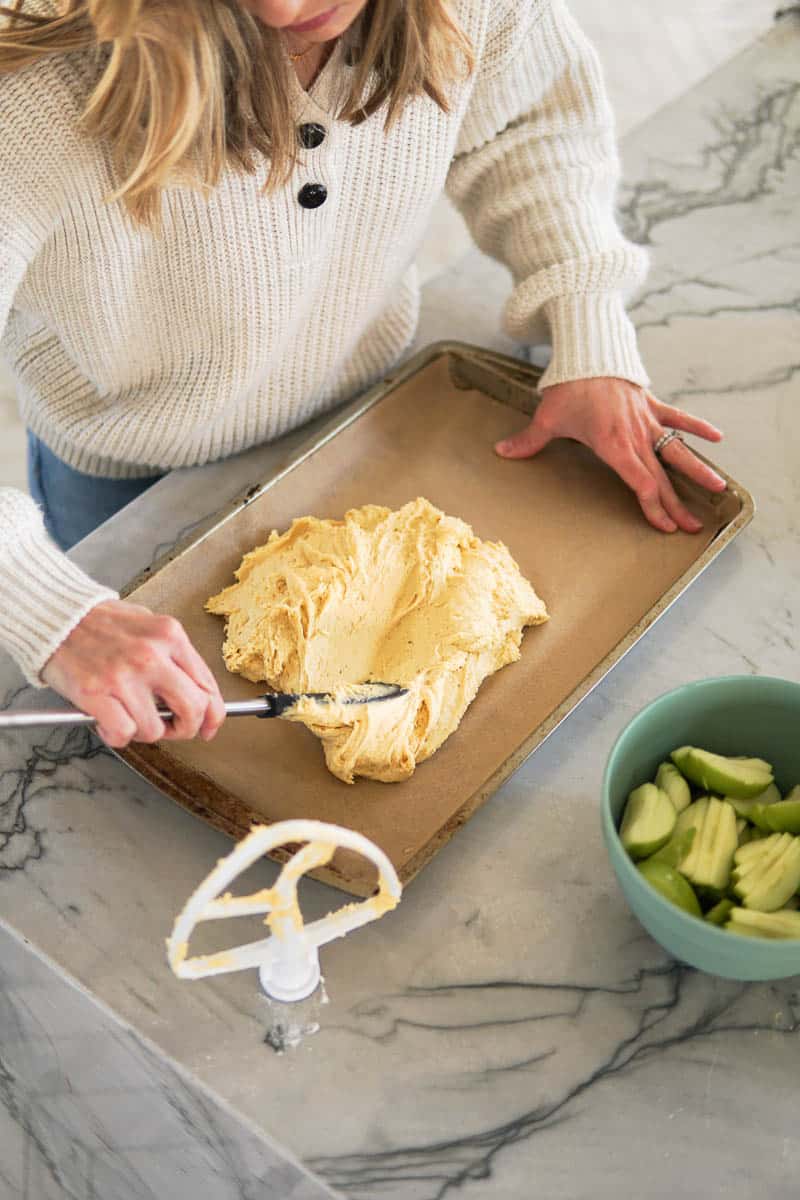 Does German apple cake need to be refrigerated?

You do not need to refrigerate this German apple cake and it will keep fine covered up with plastic wrap at room temperature (or in a cake storage container like this one). However, if you don't plan to eat within 2 to 3 days after baking it, you could refrigerate it for up to 6 days. If you refrigerate Apfelkuchen, I recommend reheating in a microwave for a few seconds to bring back the fluffy texture (and who doesn't love to recreate that fresh-out-the-oven warm apple cake?).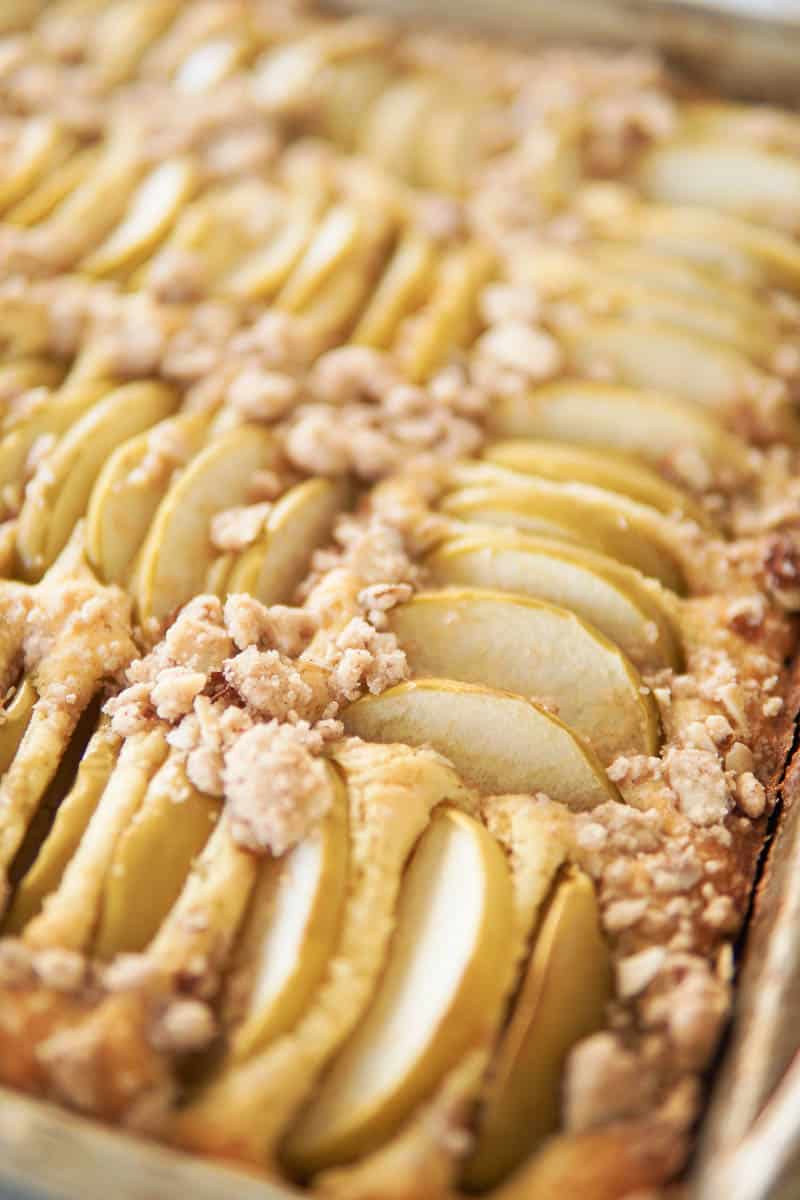 Can apple Kuchen be frozen?
German apple Kuchen also freezes well, so in case you don't want to share your leftover cake with anyone (I hear ya!!), simply slice the cake after baking, store it in your freezer in freezer-safe containers or reusable freezer-safe bags. That way you're always prepared to have a little something sweet to go along with your afternoon coffee. Simply pull a few slices out when you haven't had time to bake and allow to thaw at room temperature for 2 to 3 hours, then warm in the microwave for a few seconds to bring back the fluffy cake texture. So lecker!
My Favorite Apfelkuchen Tools
More Kuchen
Gedeckter Apfelkuchen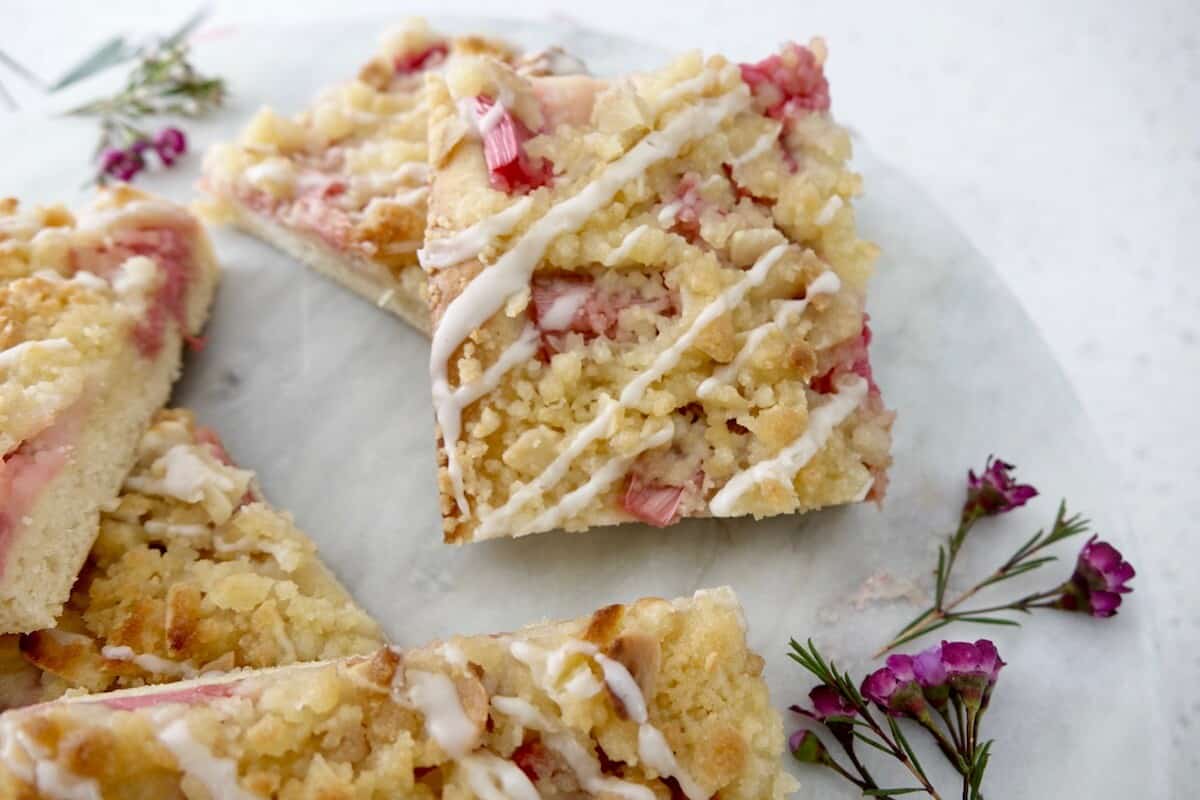 Himbeer Käsekuchen
EASY German Apple Cake (Apfelkuchen)
I recently reworked this German Apple Cake recipe to make it EASY for you to have an authentically German, made-from-scratch cake that tastes AMAZING! Topped with a cookie-like streusel topping, this German apple cake is an award-winning dessert and a must-have at your Kaffee-und-Kuchen bar.
Ingredients
German Apple Cake Batter
250

grams

butter

250

grams

sugar

4

eggs

1

lemon

zest for the batter and juice for the apple slices

½

teaspoon

salt

400

grams

all-purpose flour

4

teaspoons

baking powder

¼

cup

milk

5

apples

I am a lover of all things tart! I love using Granny Smith because of how well they balance the sweetness from the streusel. You could use any apple you like in this cake! Gala is a great option for an apple that's a bit sweeter.
Streusel Topping
60

grams

all-purpose flour

40

grams

butter

cold and cut into pieces

30

grams

sugar

30

grams

sliced almonds

My secret weapon to amazing streusel! They give a little extra crunch and a subtle nutty flavor.

1

teaspoon

cinnamon

OMG! Don't skip adding cinnamon! This is the perfect finishing touch for these streusel and they will make your house smell buttery-cinnamony-amazing!
Instructions
Preheat oven to 340° Fahrenheit (170° Celsius).

Prep a 17 by 11 inch baking pan with parchment paper on the bottom. Butter the sides.

For the Apfelkuchen batter, mix butter and sugar until creamy (about 5 minutes). Gradually add in the eggs, lemon zest (reserving the juice for the apples) and salt. Sift together flour and baking powder and mix in with the batter. Add in the milk to achieve a smooth consistency. Spread evenly onto the prepped baking sheet.

250 grams butter,

250 grams sugar,

4 eggs,

1 lemon,

½ teaspoon salt,

400 grams all-purpose flour,

4 teaspoons baking powder,

¼ cup milk

For the German apple cake topping, prep your apples by washing, cutting them in quarters and removing the core. I don't peel mine, but you can feel free to peel yours if you'd like. Cut your apples into ½ inch thick slices (about 1 cm thick). Cover in apple juice to keep them from turning brown. Arrange in rows by slicking them into the batter.

For the streusel, first start by beating together flour, almonds, butter, sugar and cinnamon with an electric mixer. Then briefly work the dough with your hands, forming your streusel. Keep in a cool place until ready to use.

60 grams all-purpose flour,

40 grams butter,

30 grams sugar,

30 grams sliced almonds,

1 teaspoon cinnamon

Evenly distribute the streusel topping over the apples. If you would like to keep your neat rows of apples more visible, you can stick with only adding the streusel topping between my rows of apple slices. That's what I did and it looks so lovely!

Bake for 35 minutes on the middle rack. Remove from oven and allow to cool for 5 minutes before slicing and serving with some freshly whipped cream (I add a little vanilla extract and powdered sugar to mine). Guten Appetit!
Notes
Tip: You may also turn on your broiler for a minute or two towards the end to add an extra tan to the streusel.
Nutrition
Calories:
364
kcal
Carbohydrates:
49
g
Protein:
5
g
Fat:
17
g
Saturated Fat:
10
g
Polyunsaturated Fat:
1
g
Monounsaturated Fat:
5
g
Trans Fat:
1
g
Cholesterol:
80
mg
Sodium:
222
mg
Potassium:
241
mg
Fiber:
3
g
Sugar:
24
g
Vitamin A:
551
IU
Vitamin C:
6
mg
Calcium:
74
mg
Iron:
2
mg
This post contains affiliate links, which means that I may be compensated if you click certain links.