Berliner, Krapfen, Kreppel, Pfannkuchen.. there are many words to describe the perfection that a German donut is! Fluffy, fried until crisp on the outside, drenched in powdered sugar and usually filled with jam. Let me teach you how to make donuts, the German way!
This Is A Sponsored Post That Contains Affiliate Links
Why Are German Donuts Called Berliner
Well, they're not JUST called Berliner, depending on where in Germany you live! German donuts also go by Krapfen, Kreppel, or Pfannkuchen and there are probably a few more variations I forget to mention here! Yes, Berliner German donuts are one of the most argued about German foods out there. Everybody in Germany has a strong opinion on what these fried dough balls should be called, and nobody actually really knows why they have so many different names. Where I grew up in Trier, Berliner is what you hear most, although Krapfen and Mutzen are popular, too. The ladder two types I remember representing closer to donut hole sized donuts. Oddly enough, in Berlin itself, Berliner are called 'Pfannkuchen,' or 'pancakes' in German. According to a legend, the original Berliner donut is fried in a deep skillet over a fire. Aha! So that's how the pancake was born! To make things even more confusing, the people from Berlin call pancakes Eierkuchen or 'egg cakes.' Is your mind blown yet?
Berliner, the Popular Baked Good For Carnival
Carnival is THE season for eating German donuts, as filling up on all the fatty and sugary foods (and alcohol) right before fasting season is a popular thing to do. On a sad note, it looks like most carnival celebrations are going to again be canceled this year. Though I think that the tradition of eating deep-fried dough balls coated in powdered sugar will never be canceled!
Berliner Just Like From A German Bakery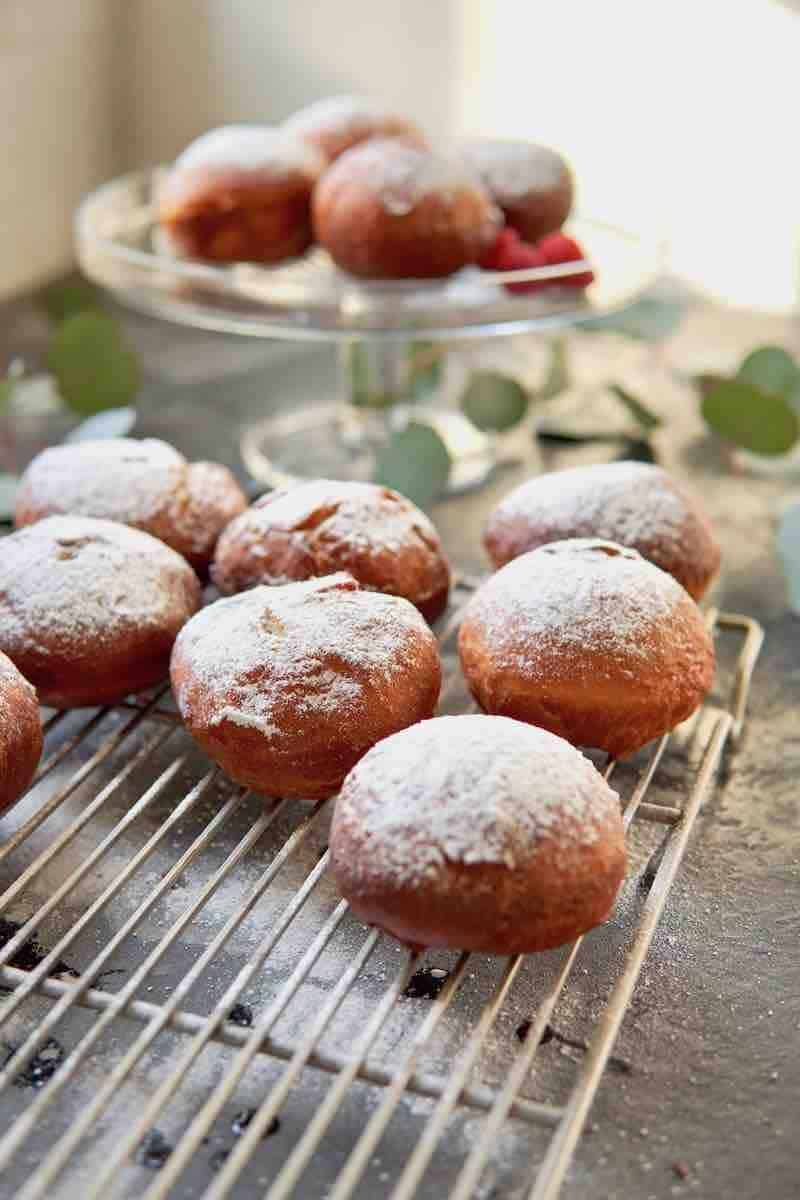 Just in case you're not lucky enough to live in Germany and find a Berliner/Krapfen/Kreppel/Pfannkuchen at the bakery around the corner (how I wish!), I am giving you the classic Berliner recipe here! This addictive, jam-filled donut recipe is surprisingly simple and delicious! I have made it over and over again and it's always passed the test! The most popular jam fillings are raspberry and apricot jam, but chocolate hazelnut spread and vanilla pudding are great German donut fillings, too. And then there is my favorite, Pflaumenmus aka plum butter. Try them all and then please tag me in your creations on Instagram or Facebook! I'd love to share in on your donut/Berliner experiments!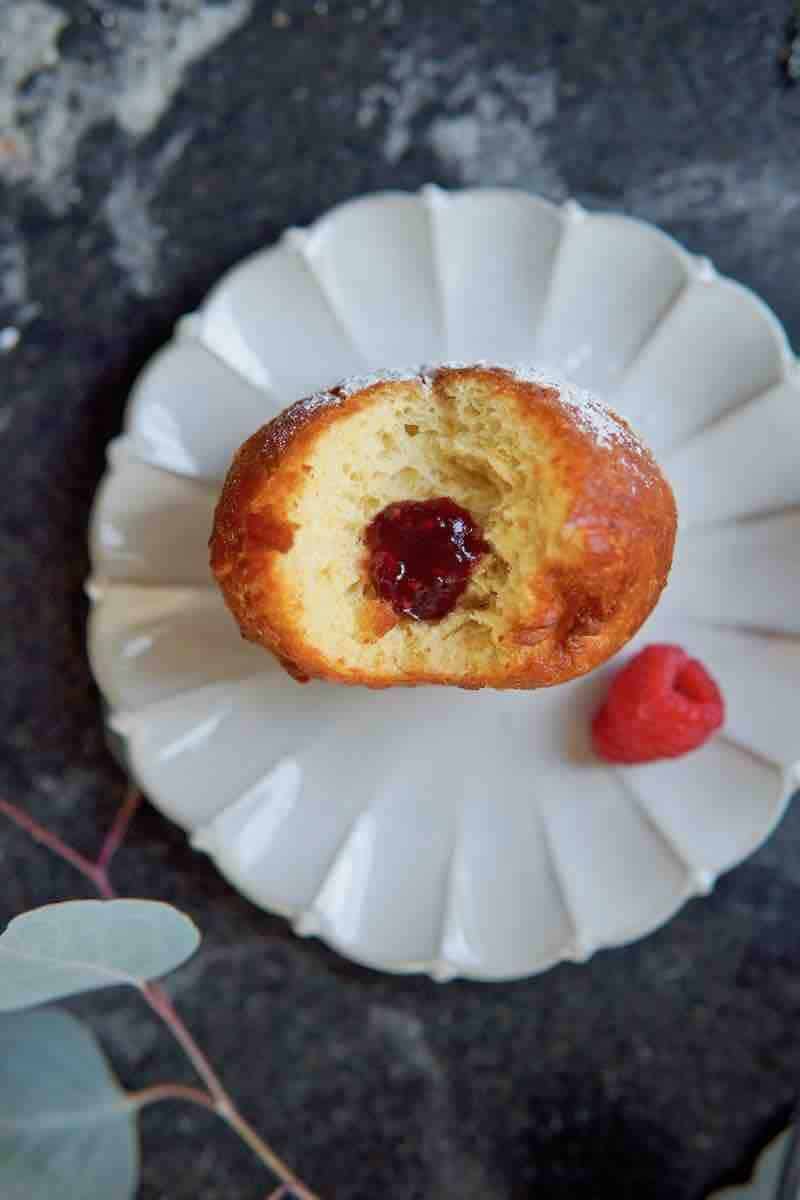 How to Make Homemade Donuts?
There are a couple of items I recommend you have to prepare your very own batch of donuts, especially if you don't own a deep fryer (I don't have one nor do I really need another largeish appliance in my life). All you need are a frying thermometer and some oil with a high smoke point like safflower oil, peanut oil, or avocado oil, the first being the most affordable of the options. I simple strain my used oil back into the bottle after it's cooled and label it frying oil. Then I reuse it a couple of times before tossing it.
I also love this fun shaker I use for powdered sugar (my daughter Zoë calls it 'snow'). I also love adding a dusting of powdered sugar on pancakes and waffles and having this shaker makes that super easy.
And finally, to make sure that the action of filling your Berliner goes smoothly, decorating bags and filling tips are going to be your best friends. I would suggest that you use fillings that don't have chunks in them, as they tend to get stuck in the narrow filling tip. You may end up with a strawberry jam murder scene in your kitchen if you don't take this one to heart. Pressing fillings through a small strainer will help to remove any large chunks.
How to Keep Donuts Fresh?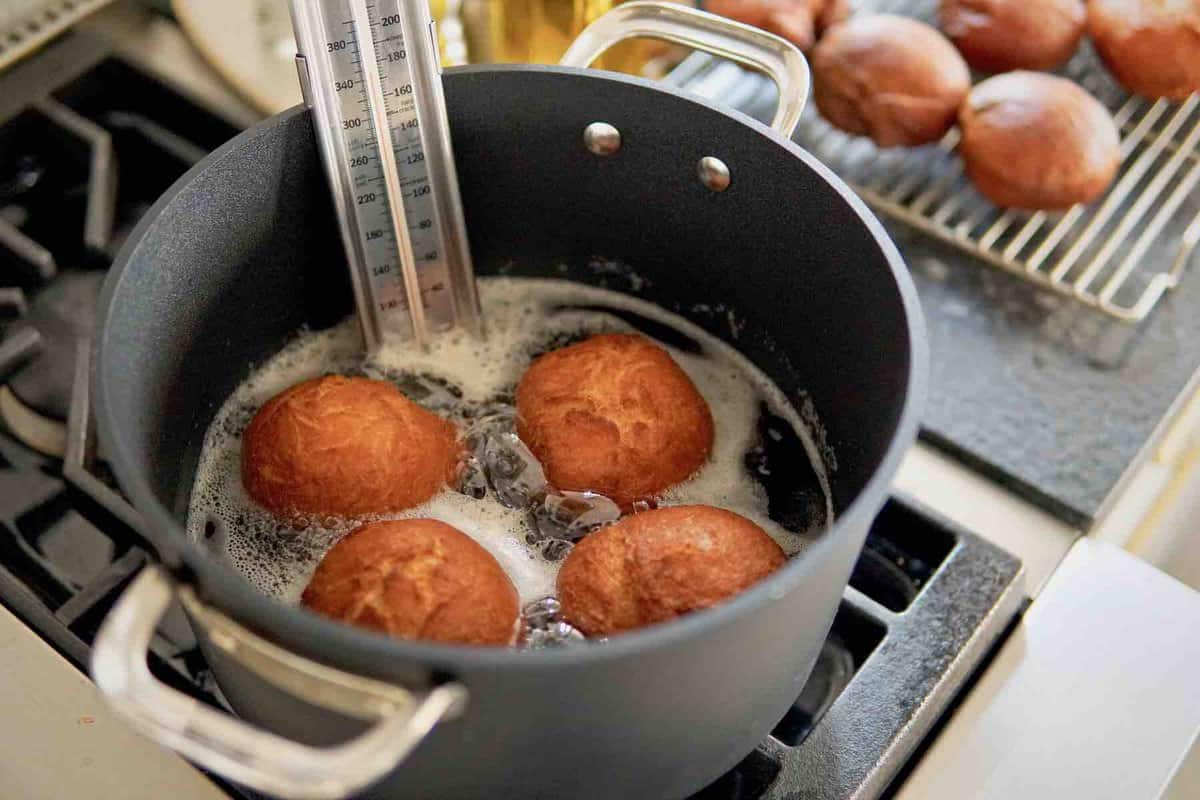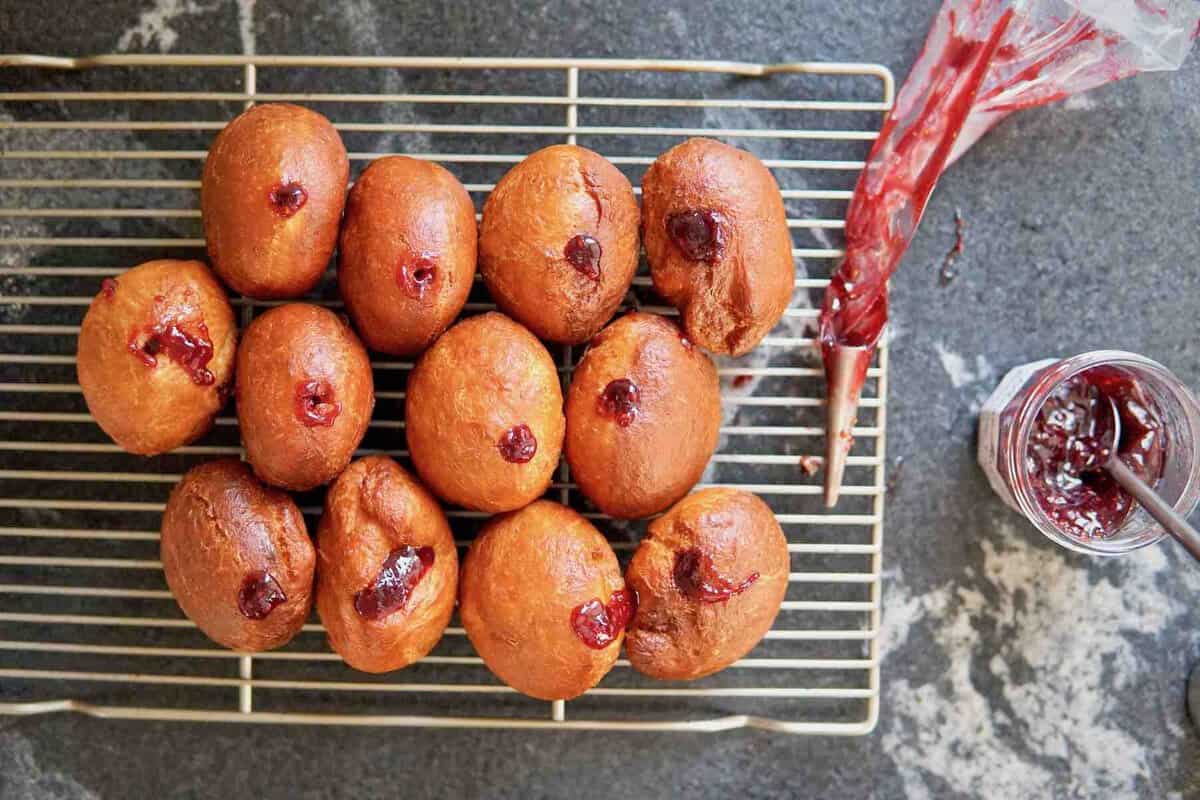 I simply like to store any leftover donuts on a covered cake stand. You can either buy a cake stand complete with a dome, which also looks so beautiful on your kitchen countertop or simply buy a standalone dome to cover any platter. Lastly, covering a platter with reusable wrap will work. I always store my Berliner at room temperature and they keep well for about a day (if they last that long!).
Berliner Vs. Donut
People often wonder what makes a German donut different from an American donut. Both donuts are made from yeast-raised doughs, although Berliner donuts are shaped into balls (no holes) before deep-frying, whereas American donuts are cut out from a rolled-out dough. American donuts also have the middles cut out, which are then fried to make donut holes. The American donut is glazed, whereas German donuts or Berliner are powdered sugar coated and traditionally filled with jam. Feeling better about the differences now? Both are delicious in their own way!
Okay, I'm done with instructions and such! Have a great time making and eating these German donuts and don't forget to leave me a rating and a comment if you make the recipe! I'd so love that!
Also, check out my Pumpkin Berliner recipe and my recipe for Quarkkrapfen /Quarkbällchen. The ladder does not use yeast in the dough and is quicker to make!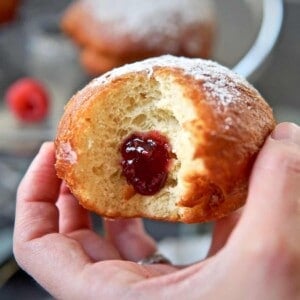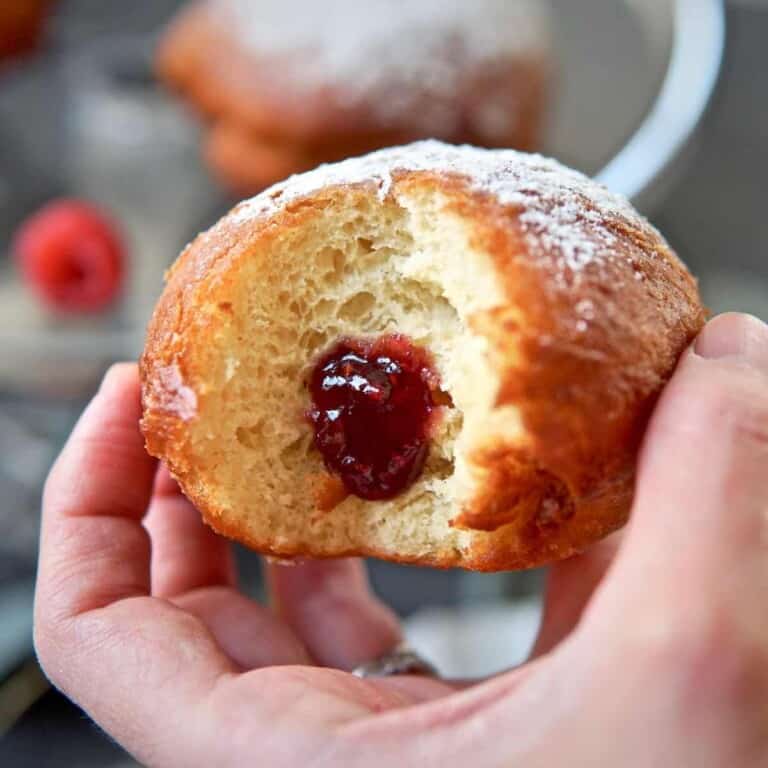 Berliner: The Classic German Donut
Berliner, Krapfen, Kreppel, Pfannkuchen... there are way too many words to describe the perfection that a German donut is. Fluffy, deep-fried, powdered sugar drenched and usually filled with jam!
Nutrition
Calories:
322
kcal
Carbohydrates:
51
g
Protein:
6
g
Fat:
10
g
Saturated Fat:
6
g
Trans Fat:
1
g
Cholesterol:
78
mg
Sodium:
78
mg
Potassium:
94
mg
Fiber:
1
g
Sugar:
16
g
Vitamin A:
245
IU
Vitamin C:
1
mg
Calcium:
42
mg
Iron:
2
mg