These little quark donut holes or Quarkbällchen can be found anywhere in Germany where Fastnacht, Fasching or carnival is found. The recipe is very simple and quick and I promise these won't last long!
 Quarkbällchen
About this Recipe
This Is A Sponsored Post That Contains Affiliate Links
Quarkbällchen at German Carnival
It's about to be Fastnacht season once again. It's when kids and adults alike have a good enough excuse to dress up for 4 days in a row and go crazy. Where I am from in Germany (Trier), this is a big deal. Everyone is off work and a lot of people are never sober during those 4 days, which may sound a bit scary. Afterward, on Ash Wednesday, they beg to have their sinful partying forgiven. The marathon partying a little too much for me anymore, but can be fun if you're single and your liver can handle it. I'd now rather be the person taking her kids to parades and such. The best thing about Fasching by far are the German donuts, and they go by many names. In Trier, they call them Quarkbällchen (the larger ones made with yeast go by Krapfen or Berliner - check out my recipes for Berliner here!).
A Note On Quark
Quarkbällchen use Quark in the batter as suggested by its name. Quark is a popular German dairy that's somewhere in between Greek yogurt and sour cream, although really it's none of those things. Quark is not easy to find at stores and is pretty pricy, so I have sometimes substituted whole milk Greek yogurt, fat-free sour cream, and a newer discovery, Farmers Cheese. Depending on the consistency of your quark or substitute, you may need to add milk to your batter to make it more workable (see recipe). You could also make Quark from scratch, which takes some time, but is worth it if you love it. I am still experimenting with a repeatable recipe and will post it once I have it figured out. In the meantime, there are many recipes for homemade Quark already out there that you can attempt to try.
What Oil To Use For Deep Frying?
It's important to use a high smoke point oil for deep-frying, like peanut oil, avocado oil or safflower oil. If you're deep-frying without a deep fryer, you will need an inexpensive frying thermometer to make sure your oil stays in the correct temperature range (that's the method I use because I refuse to buy another large appliance). If your oil is too hot, it will burn your Quarkkrapfen and if it's not hot enough, the oil won't seal the outside and soak through (gross) AND your Quarkbällchen may come out raw in the center (even grosser). The right temperature ranges for this recipe are 350 to 375 F or 177 to 191 C. Deep-frying, when done right, is not any more unhealthy than pan-sautéing. You just need to pay attention to using the right temperatures.
How to Keep Donuts Fresh?
I simply like to store any leftover donuts on a covered cake stand. You can either buy a cake stand complete with a dome, which also looks so beautiful on your kitchen countertop or simply buy a standalone dome to cover any platter. Lastly, covering a platter with reusable wrap will work. I always store any of my homemade donuts at room temperature and they keep well for about a day (if they last that long!). They can be recrisped in the oven at 350 degrees Fahrenheit or 180 degrees Celsius for about 5 minutes.
Deep-Frying Is Not Scary
I used to be scared, too. If you have a gas burner like I do, and deep-frying over an open flame rightfully freaks you out, briefly turn the gas to low or off when you're adding or removing your donuts. You'll also ideally leave a good amount of room to the rim of the pot, so the oil doesn't risk bubbling over the top. Bottom line is that you'll be fine and you need to just practice deep-frying (and deep breaths) to become more confident in it. If this makes you feel better, I have never had issues in the years I have deep-fried without a deep fryer! If you're really scared and you don't have a problem committing to yet another appliance in your kitchen, buying a deep-fryer is surely the safest option and they're not that expensive.
What Do I Need to Make Donuts?
You won't believe how easy and quick they are to make! You will need a couple of staple tools you should probably have in your kitchen anyways, such as:
If you're wanting to fill your donut holes with jam or Nutella, a filling tip and decorating bag comes in handy. I made a blueberry dipping sauce this time by boiling fresh blueberries with a bit of water and sugar until syrupy.
Quarkbällchen & Kleiner Feigling
There is nothing more popular than taking little shots with you for Fastnacht to warm you up and share with friends while spending hours outside commenting from bar to bar or hanging out at the parade. The Kleiner Feigling shots in individual bottles accomplish just that. You can pick up a sleeve of 10 to share with you and your friends at the next party.
Find out where they're available near you, so you can be ready next time you need them.
Quarkbällchen Essentials
More Donut Recipes
Classic Berliner
Zitronen-Berliner
Pumpkin Berliner
Next Up:
More German Recipes
It's a new year and a new opportunity to get better at cooking and baking ALL the German things! There are so many amazing German recipes coming this month like classic Käsefondue, Apfelkuchen and Elsässer Flammkuchen! Make sure to subscribe to my blog now, so you're not missing out when new German recipes go live!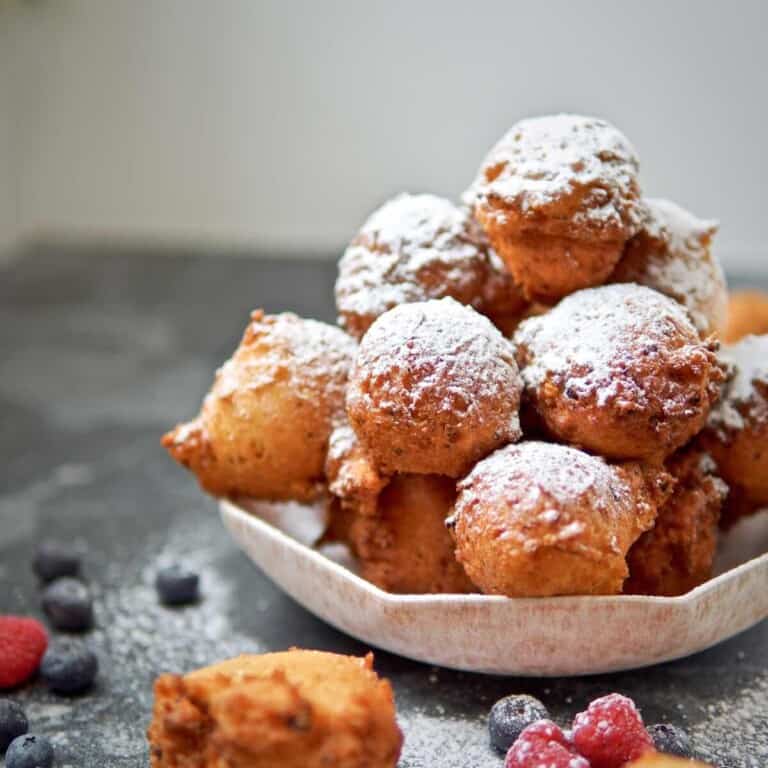 Easy Donut Hole Recipe (Quarkbällchen)
Quarkbällchen are THE German Donut Holes and a Carnival Donut Recipe staple! They're made with quark, which makes them nice and airy and they come together so quickly, you'll make Quarkbällchen over and over again!
Ingredients
3

eggs

100

grams

sugar

2

teaspoons

pure vanilla extract

250

grams

quark

if you're having a hard time finding quark, you could substitute for farmer's cheese or 5% greek yogurt

100

milliliters

milk

can use any kind of milk

375

grams

all purpose flour

16

grams

baking powder

pinch salt

oil for frying

Make sure to use a high smoke point oil. Peanut oil and avocado oil are my go-to's and to me, result in the best taste (vegetable oil works fine as well).
Instructions
Using a whisk, combine all ingredients (except milk) in a large bowl to create a smooth, thick batter. If needed, add some milk (this really depends on the consistency of the quark or quark substitute you're adding). The batter should be thick and you should be able to barely stir it.

Clip a candy thermometer to a pot, fill at least 3 inches with frying oil, and heat to correct frying temperature (350° to 375° Fahrenheit, 177° to 191° Celsius).

Using two large spoons, scoop out the batter and drop it into the hot oil. Work in batches. You want enough room for the Quarkbällchen to be able to swim on the surface. Fry until golden brown, about 3 to 5 minutes.

Remove from oil using a steel skimmer and transfer to a plate covered with a paper towel or a cooling rack. Allow cooling before dusting with powdered sugar.

If filling, prep a pastry bag with a filling tip and your favorite jam or Nutella. Another option would be to make a delicious and easy berry dipping sauce. I like to combine fresh or frozen berries with a little water and sugar, and let them simmer for a few minutes until thickened. YUM!
Nutrition
Calories:
154
kcal
Carbohydrates:
26
g
Protein:
6
g
Fat:
3
g
Saturated Fat:
1
g
Polyunsaturated Fat:
1
g
Monounsaturated Fat:
1
g
Trans Fat:
1
g
Cholesterol:
31
mg
Sodium:
22
mg
Potassium:
147
mg
Fiber:
1
g
Sugar:
7
g
Vitamin A:
55
IU
Calcium:
59
mg
Iron:
1
mg
I received compensation from Marussia Beverages in exchange for writing this post. Although this post is sponsored, all opinions, thoughts and recipes are my own. This post contains affiliate links, which means that I may be compensated if you click certain links.