These homemade German pretzels are GOLD! Make authentic, soft Brezeln with confidence that taste just like from a German bakery and will impress everyone!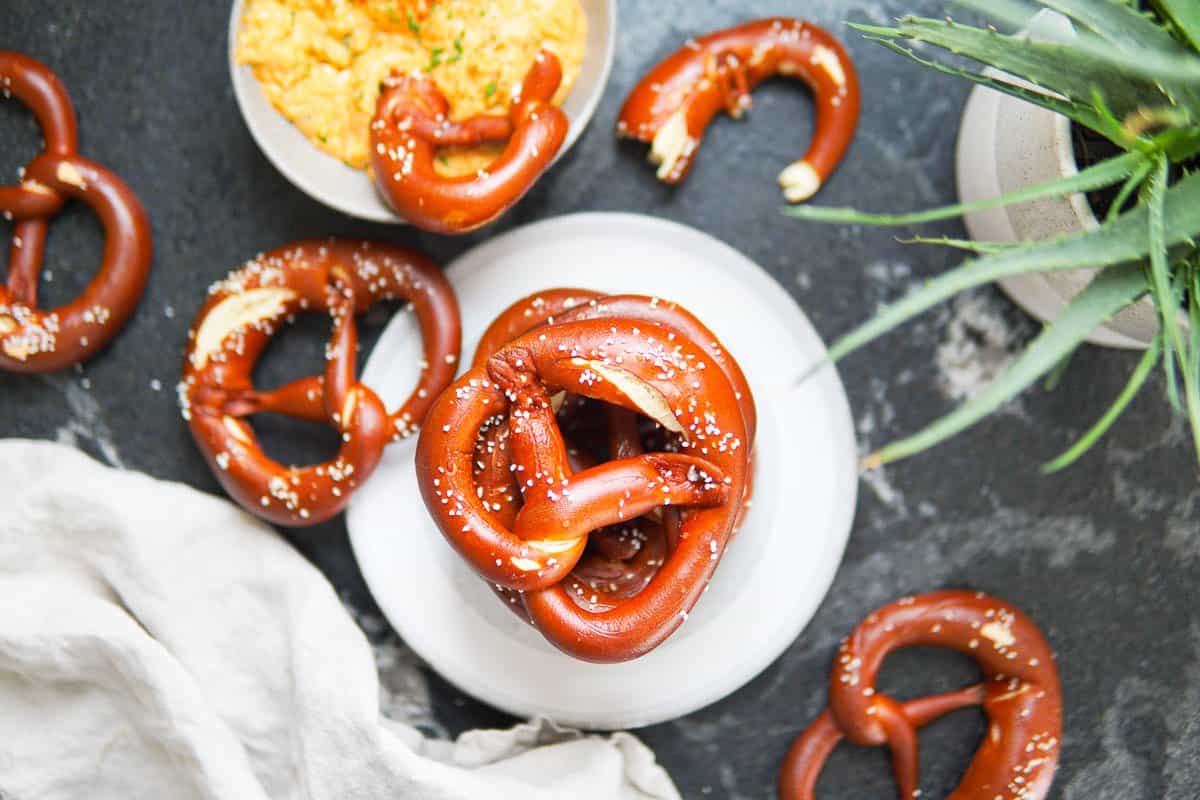 What Makes Them German?
German pretzels are proofed for a short time before they are par-frozen to better be able to handle them for dipping in lye. This recipe is foolproof and gives these Brezeln that perfect texture. They're soft and chewy with hints of crunch on the outside in the thinner areas. Real pretzels are not brushed with butter and they are lightly sprinkled with pretzel salt after shaping them and before baking. In America, pretzels are often thick dough pieces with hardly any holes to poke through and they're brushed with (fake) butter after baking, then heavily sprinkled with salt (I see a heart attack waiting). Once you try my recipe, you will never go to Auntie Annie's again (is my hope!). Try them with Obatzda, an authentic Bavarian cheese spread and a German beer with a shot of real German honey liqueur by Bärenjäger (find out where it's available).
Find out how to shape a pretzel by watching this short video I created for you!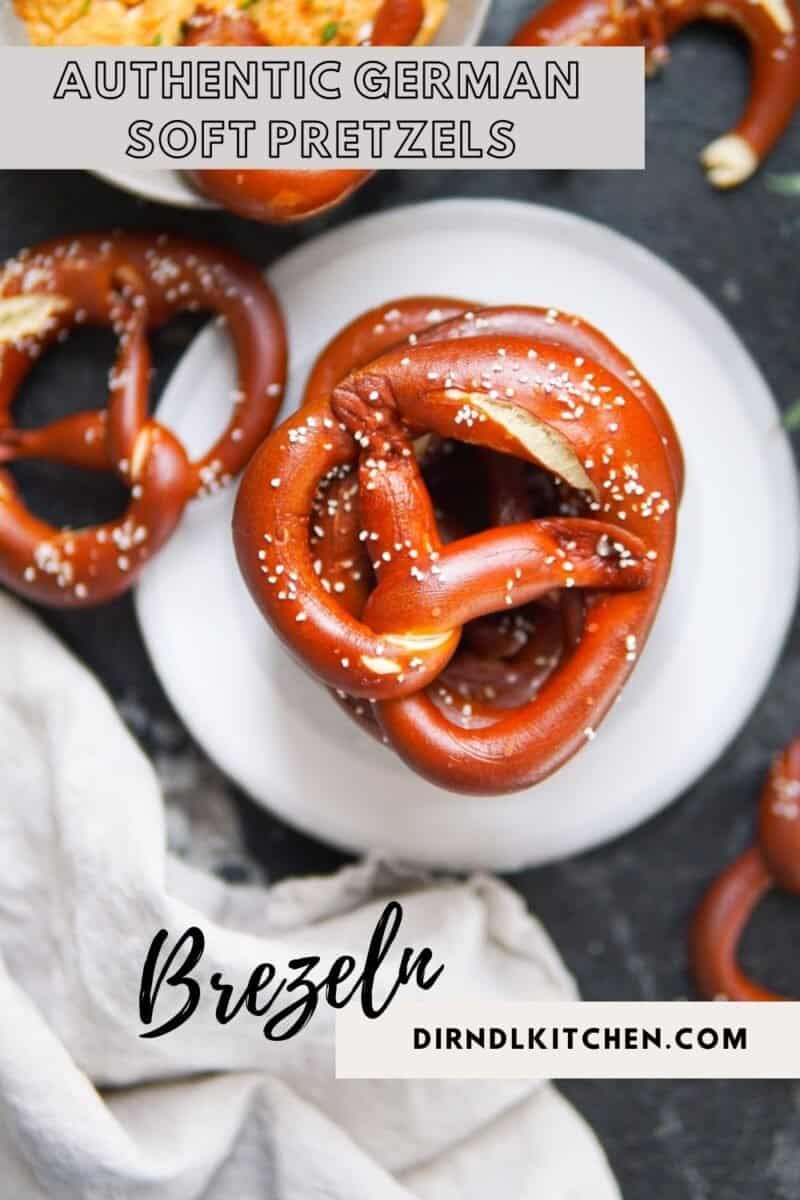 If You Love Pretzels, Try the Following Recipes
Martinsbrezeln. I grew up with these for St. Martin's Day on November 11th. They're sweet German pretzels that are soft and perfect with a cup of coffee.
Pretzel Beer Bubble Bread. This pull-apart pretzel bread with beer in the recipe is perfect for a party!
Schinken-Käse Brezelstangen. Pretzel sticks with cheese and bacon. They are addictive and they are the ones from the German chain 'Ditsch.'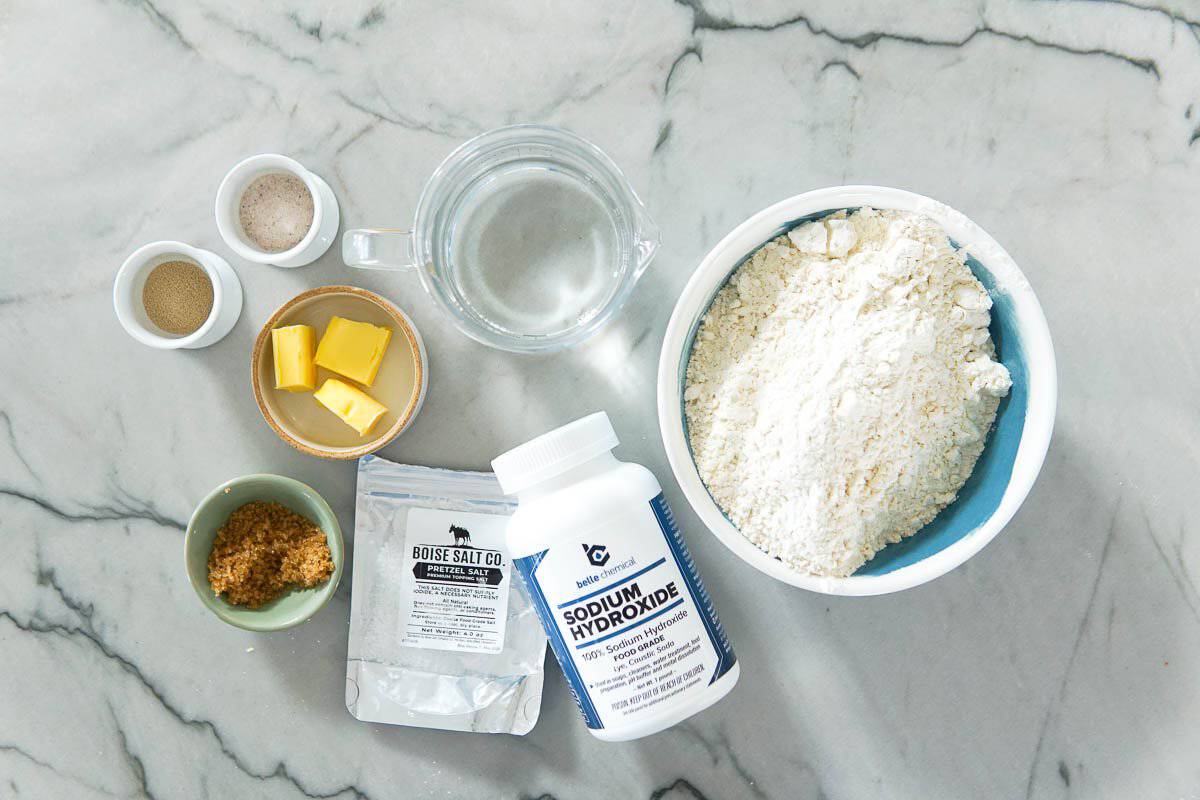 Ingredient Notes
All-Purpose Flour. Yes, just plain flour. You could use bread flour instead, but it's not necessary!
Brown Sugar. Light or dark brown sugar works fine.
Butter. Make sure it's at room temperature. I heat it in the microwave for a couple of seconds.
Sea Salt. I use this ancient sea salt for all my cooking and baking, as it has more trace minerals than regular sea salt.
Active-Dry Yeast. Make sure to store to seal it and store it in the fridge, so it doesn't go bad.
Food-Grade Lye. Here is the kind I use and it makes ALL THE DIFFERENCE when making authentic, homemade pretzels. I like that it comes in a container with a child-proof lid. Make sure to store it safely and away from children. We keep ours with our meds.
Pretzel Salt. This is an inexpensive way to give your Brezn that authentic look as if you had purchased them at a German bakery! Sprinkle lightly. Use coarse kosher salt if you can't get pretzel salt.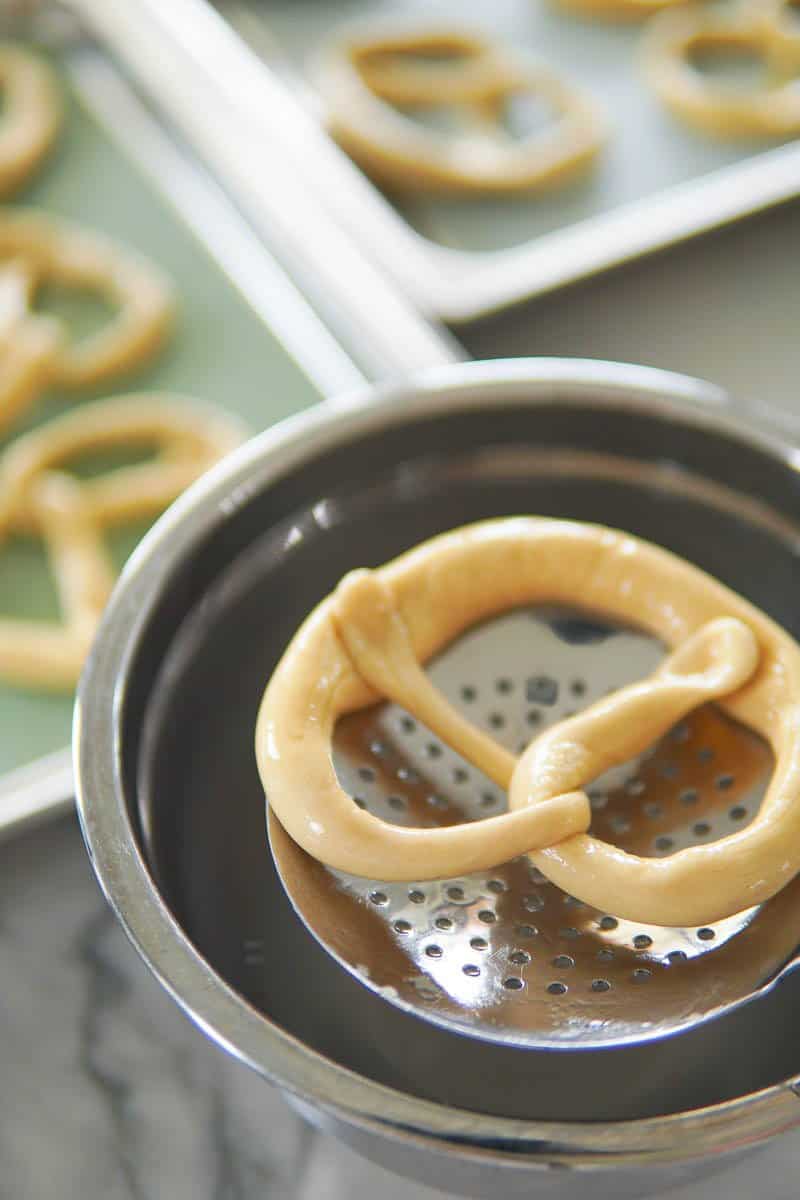 Tools Notes
Steel Skimmer. This is an essential tool for when dipping your Brezeln in the lye solution. I use mine ALL THE TIME, for making spätzle and homemade Berliner and Quarkbällchen especially.
Steel Bowls. You'll need them for kneading the dough and for dipping the pretzels in your lye solution.
Pastry Brush. (only if making a large pretzel instead of small pretzels)
Baking Sheets. You'll need 2 large baking sheet for one recipe of these pretzels.
Silicone Baking Mats (or Parchment Paper). Baking Mats work so well in making German pretzels. The dough will often stick during proofing and baking when using parchment paper, but it will not stick to silicone baking mats. They're also more environmentally friendly as you can use them for years to come. I use mine all the time!
Kitchen Scale. I recommend you have a kitchen scale that is able to show you weight in grams (this one even measures to 1/10 of a gram). This will make German cooking much easier in the future, too! The metric system rocks! I also included imperial system measurements in my recipe (use the toggle to change from metric).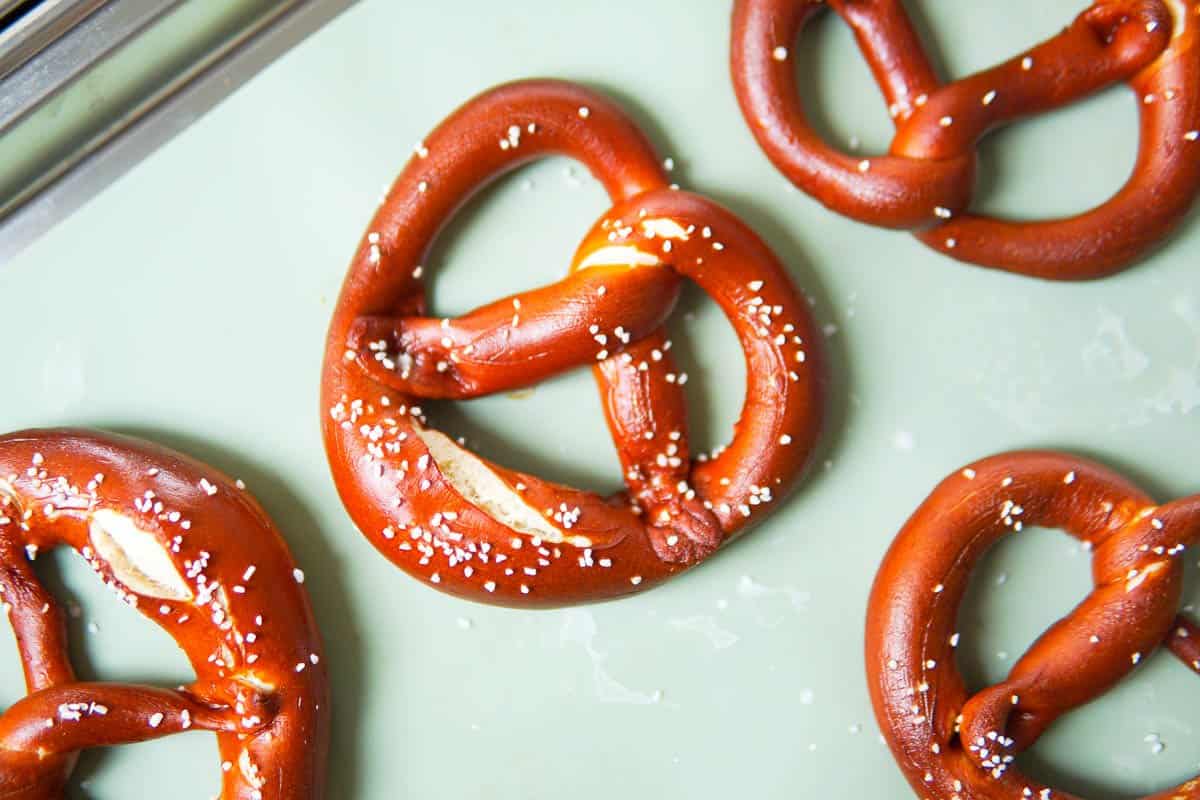 Lye Is A Must
Some people think lye is unsafe to use. So I felt the need to preface that there is NOTHING to be scared about when using real lye if you follow my tips to a tee! Because only lye will give you that authentic flavor, texture and look that real German pretzels have. There are some popular recipes out there using baking soda instead of lye (I included notes in my recipe as well), but you will NEVER achieve an authentic taste going that direction. So buy yourself some lye now and keep it safe and out of reach from any children to give yourself peace of mind (for example, we store it where you would store medications). Order it today and have it on hand for when you make pretzels next. I promise you won't be disappointed!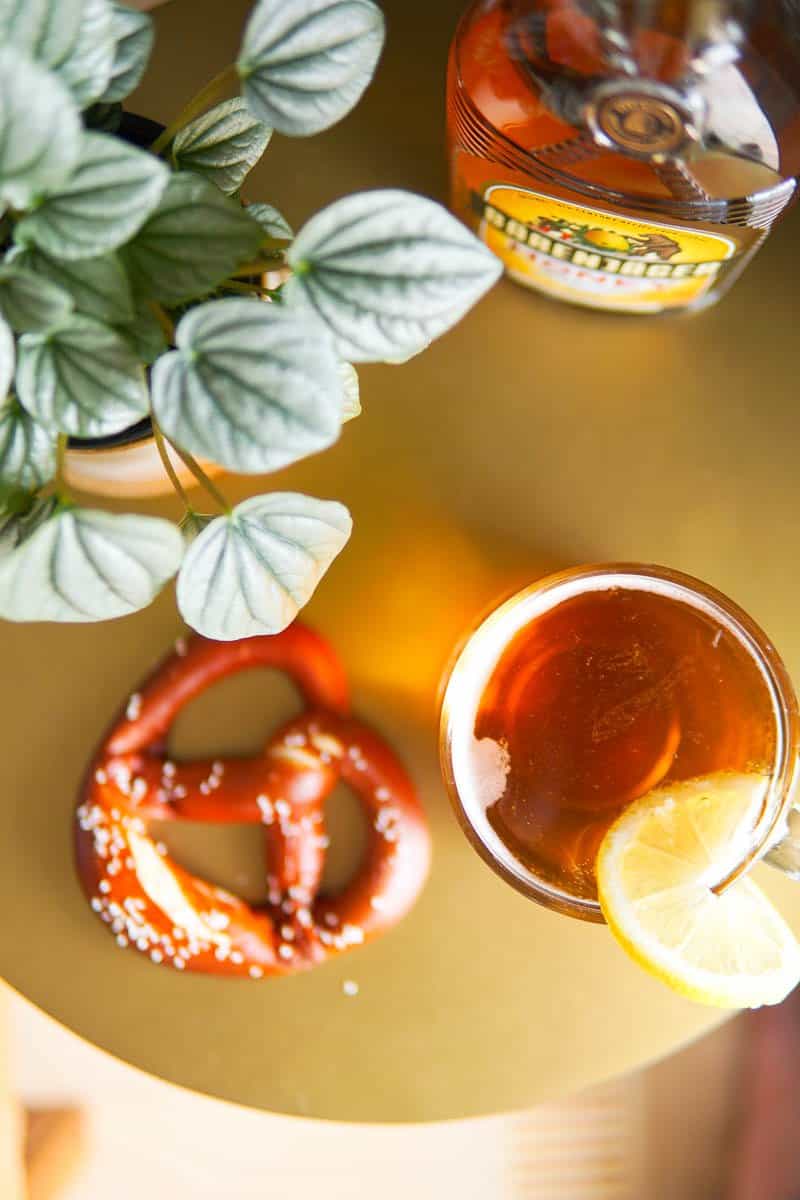 Can I Make German Pretzels Without Lye?
Yes, it's possible. Although don't expect the same, authentic taste. If using baking soda, follow this article from the New York Times and bake the baking soda on a baking sheet covered with foil for an hour at 250 to 300 degrees Fahrenheit. This makes it more alkaline and closer to a PH value of lye. This way the pretzels will taste more authentic without the use of lye (although not quite as authentic as using real lye).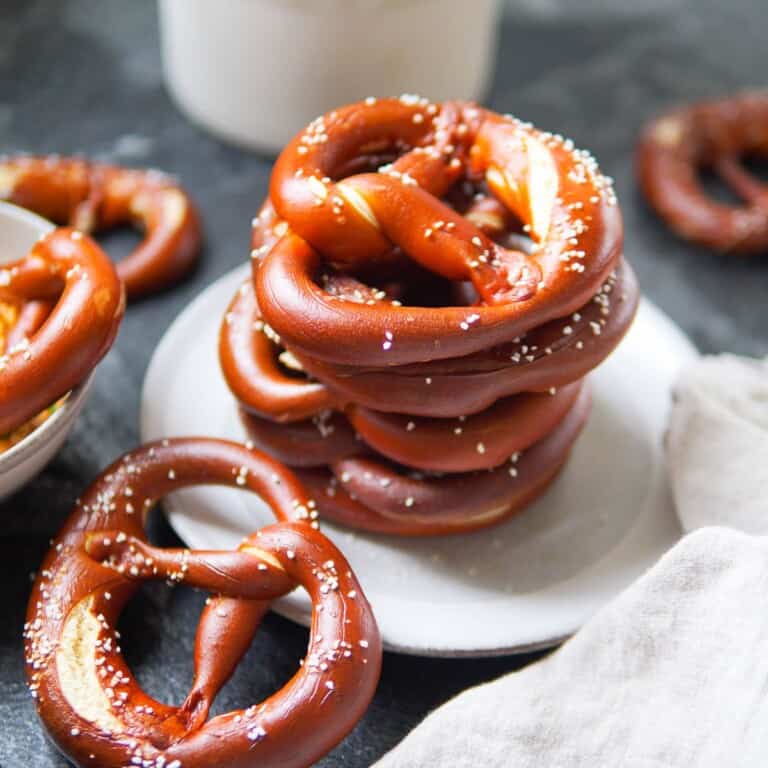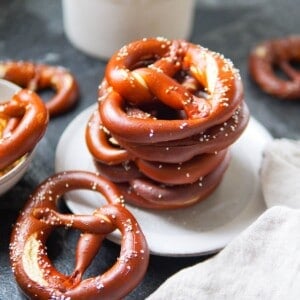 Homemade Soft German Pretzels (Brezeln)
These pretzels are GOLD! Make authentic German soft Brezeln with confidence that taste just like from a German bakery and will impress everyone! They use real lye and that is NOTHING to be scared of!
Ingredients
Lye Solution
12

grams

food-grade lye

I am using a food-grade lye with a concentration of 100%. Your solution should have no more than 4% lye. You could also use baking soda instead of lye. See notes below.

300

milliliters

water

COLD water
Topping
pretzel salt

Kosher salt can be substituted, although pretzel salt makes your pretzels really authentic (and look like they came from a German bakery) and it's inexpensive!
Instructions
Stir together the Luke warm (barely warm) water, brown sugar and yeast and allow to bubble up, this should take 5 minutes. If it's not getting bubbly, your water may have been too hot or your yeast is bad. You'll have to repeat this step.

15 grams brown sugar,

4 grams active dry yeast,

275 milliliters water

Sift together the flour and salt, and add in the butter and the bubbly yeast mixture. Knead the dough on the low setting for 8 to 10 minutes using the dough hook.

500 grams all-purpose flour,

10 grams sea salt,

30 grams butter

Cover the dough with a piece of wax paper (or a clean linen towel) and let it rest for 5 minutes. This is to help prevent a skin from forming. Start weighing out 80 gram (2.8 ounces) pieces of dough. Alternatively, if you don't have a kitchen scale, you could shape the dough into a long, even thickness log and divide into 10 equal pieces. Roll each piece of dough into little hot dog bun shapes. Let them cuddle against each other and cover them with wax paper (or a clean linen towel) to again prevent a skin from developing on the surface of the dough. No need to let them rest.

Now it's time to shape your pretzels. I recorded a short video for you for this step. No flouring the surface is needed. In fact, if your hands ever get to dry, keep some olive oil close to oil your hands with. You will have both hands on hot dog bun shaped pretzel dough with the long side horizontal towards your body. You will start pulling dough with your thumbs towards the ends of the dough piece, making the ends tapered, while keeping a bigger "belly" in the middle of the dough piece, about 2.5 feet in length (75 cm). You will then cross over the ends at the middle and attach them to the belly. Make sure you stretch them out a little bit before you let them rest. It's probably best to just watch the video on this one!

Transfer the pretzels on sheets of wax paper or silicone baking mats, cover with a clean linen towel, and let them rest and develop for about 30 minutes. Then stretch each pretzel out a little more after the dough has relaxed. Refrigerate or freeze them for 30 minutes (I freeze mine). This makes them a lot easier to handle and won't make them stick to the wax paper when removing them to dip them into the lye solution.

Prepare your lye solution in a well-ventilated area (like standing under a vent hood set to high or ideally being outside) because of potential fumes. I also recommend wearing a cloth or medical grade face mask and rubber gloves to be extra safe (luckily everyone should have these at home by now). Add the premeasured lye (it comes in dry granules) into COLD water, not the over way around. At this point, I like to step to the side for about 10 to 15 seconds to let potential fumes evaporate. Then carefully combine with a whisk until the solution is clear. Now dip the par-frozen pretzels using a steel skimmer (you could also use two forks) for 5 to 10 seconds each before transferring them using your skimmer onto a baking sheet covered with parchment paper or a silicone baking mat (I have found the baking mats work better in releasing the pretzels after baking, so it may be time to invest in some). 

12 grams food-grade lye,

300 milliliters water

You can cut the 'belly' or the fat part of the pretzels to let them intentionally expand there. In Bavaria however, you will allow your pretzels to crack open wherever they wish and NOT make a cut. To make your cut, take a small, sharp knife and cut along the belly to enable it to rise during the baking. Then sprinkle with the pretzel salt (some people only like their bellies sprinkled, but you can sprinkle the whole pretzel). You could also add shredded cheese or seeds onto the pretzels instead of the pretzel salt (if adding seeds, I like to dip the pretzel in the seeds instead of sprinkling them on). Pumpkin seeds are my favorite seeds to add.

Bake at 355° Fahrenheit or 180° Celsius (convection/Umluft setting) for about 12 minutes or until golden brown (I like to rotate them after 6 minutes. Allow to cool for a few minutes before enjoying on their own, with butter or Obatzda, a Bavarian cheese spread that I love so much!
Notes
No Lye? Use baking soda instead. Dissolve ⅔ cup of the baked baking soda in 2 cups of water for your dipping solution. To get a more authentic pretzel taste, bake your baking soda before preparing the solution. On a baking sheet covered with foil, evenly sprinkle on the baking soda and bake for an hour at 300 degrees Fahrenheit (150 degrees Celsius), making it more alkaline and closer to a PH value of lye. Then proceed with making the solution.
Preparing a bunch of pretzels for Oktoberfest or a party? Follow all steps up to the point of sparkling them with salt and baking them. Instead freeze the lye-dipped (and belly-cut if doing that) pretzels. I first let them freeze on the baking sheet, and then transfer them to a freezer-safe container or bag. Once ready to bake, briefly spray or run through cold water, then sprinkle with salt and bake according to instructions.
Want large pretzels?

Divide the entire dough by 3 and brush on the lye solution (brush twice) using a pastry brush instead of dipping the pretzels. They may bake for just a couple minutes longer. Make sure to still rotate the baking sheet in your oven about 6 minutes into baking.

Like Lighter Colored Pretzels? I dip my pretzels for just 5 to 10 seconds in a 4% lye solution (4 grams of lye per 100 ml of cold water). If you would like lighter colored pretzels, you have two choices. Either dip your pretzels for a shorter period of time or go with a more diluted solution.
Need a bun?? My pretzel rolls (Laugenbrötchen) recipe is perfect for sandwiches, burgers and you can even shape them into hot dog buns and use them for hot dogs and Bratwurst!
Nutrition
Calories:
211
kcal
Carbohydrates:
40
g
Protein:
5
g
Fat:
3
g
Saturated Fat:
2
g
Polyunsaturated Fat:
1
g
Monounsaturated Fat:
1
g
Trans Fat:
1
g
Cholesterol:
6
mg
Sodium:
410
mg
Potassium:
60
mg
Fiber:
1
g
Sugar:
2
g
Vitamin A:
75
IU
Vitamin C:
1
mg
Calcium:
11
mg
Iron:
2
mg