Authentic pretzel buns are a variation of my super popular traditional German pretzels, but shaped like rolls instead. These quick, soft pretzel rolls made with lye are perfect as dinner rolls, pretzel sandwiches or pretzel burgers. Or check out my pretzel hot dog buns (perfect from bratwurst too)! I know you'll love them as they give you that authentic Laugenbrötchen taste just like from a German bakery!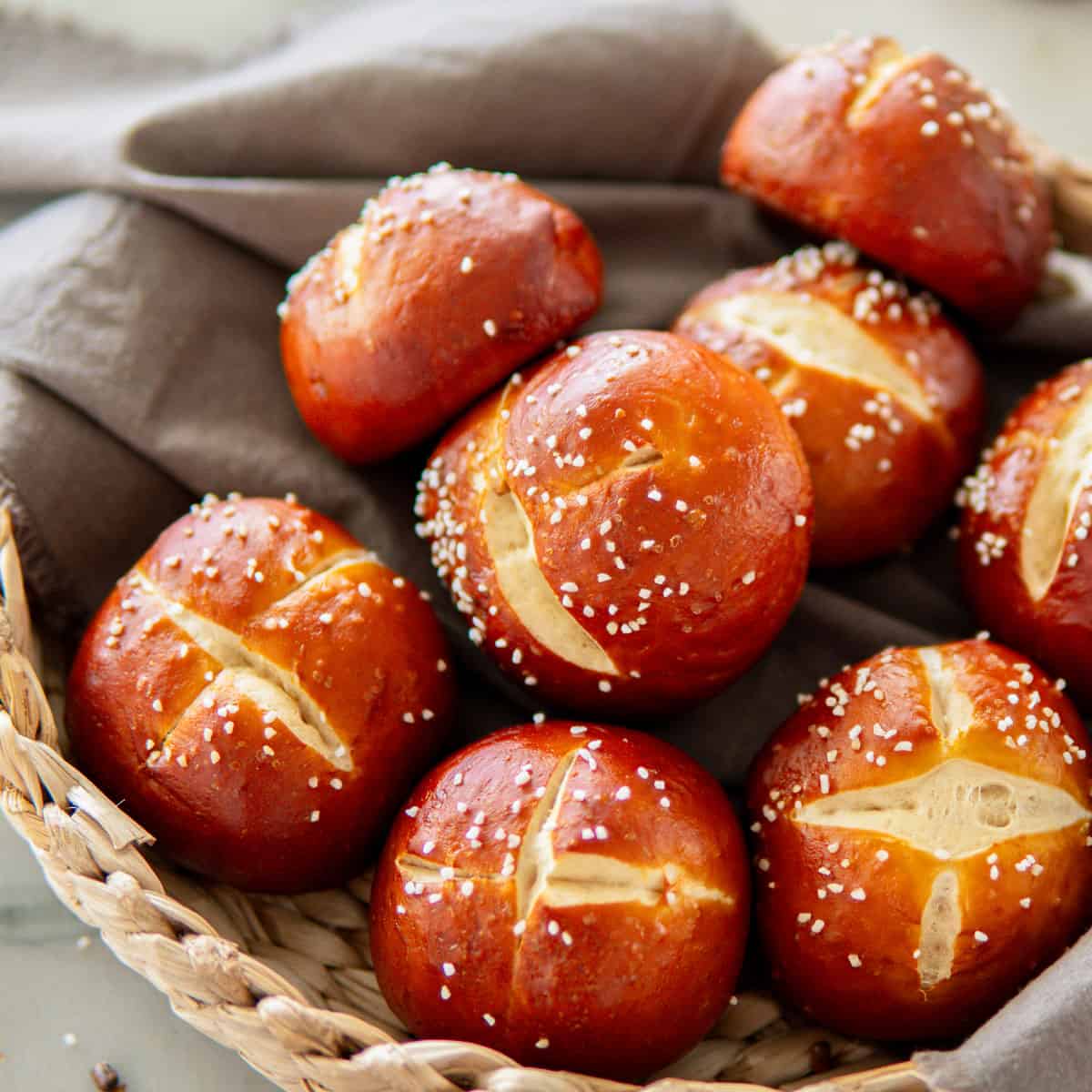 How to make pretzel buns
Making German pretzel rolls is much easier than making traditional pretzels! Instead of shaping pretzel shapes, you shape rolls, which saves you time and possible frustration. You're welcome. Follow my easy recipe and simple step-by-step instructions to make the best pretzel rolls you've ever had!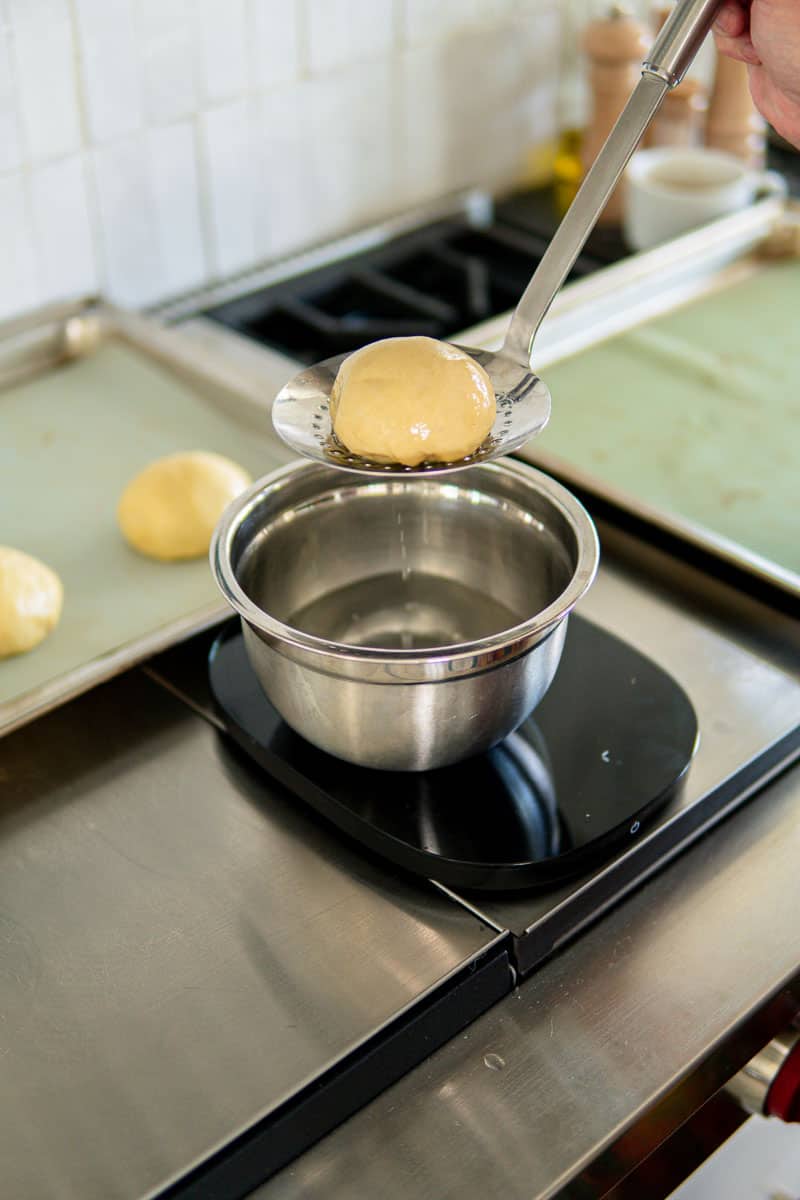 Start by making a simple yeast-based dough, shaping your rolls, then letting them rise. Now it's time to dip them in the lye solution. Using lye for your pretzel rolls guarantees they will taste authentic and German (as compared to using baking soda). No worries, I shared all of my tips for using real lye for you in the recipe card below. Carefully cut an X into the tops of the rolls, sprinkle them with pretzel salt, and bake them.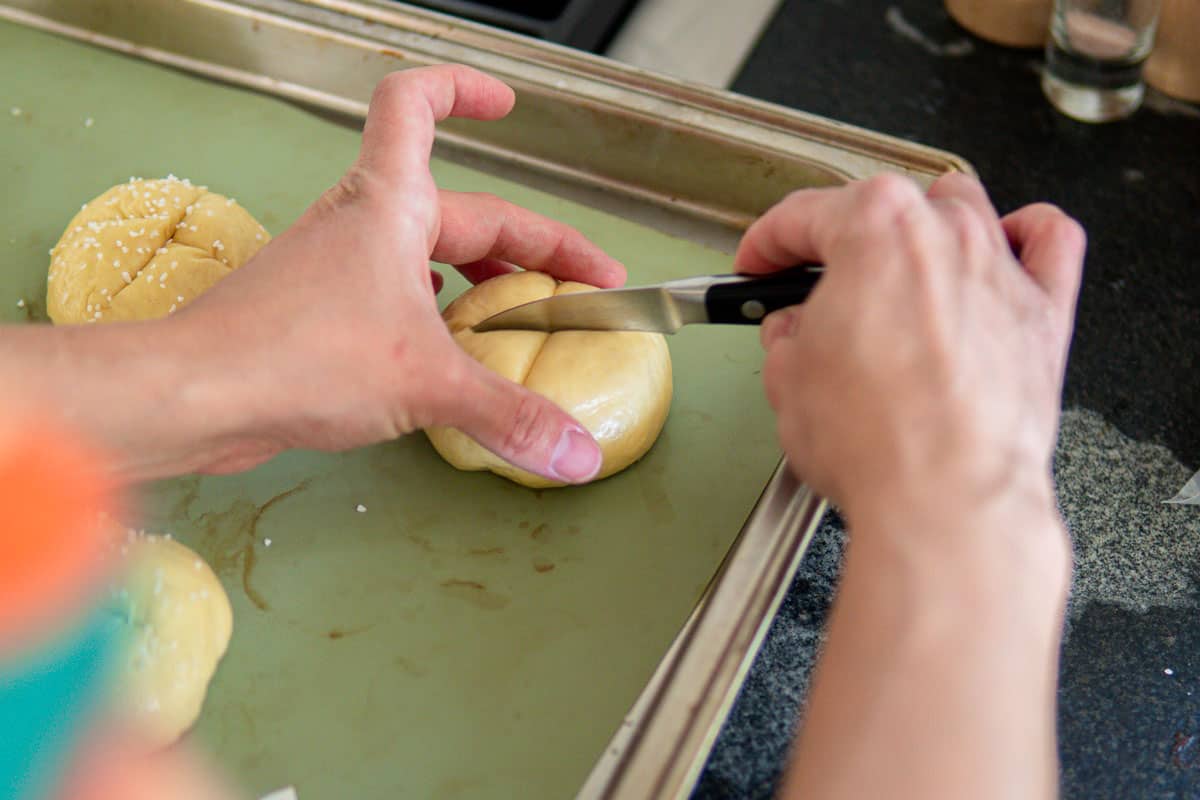 I like using Laugenbrötchen for an authentic German breakfast, sandwiches, burgers, and hot dogs. For the most authentic German combination, top them with authentic German-style meats from the German butcher Schaller & Weber, based in New York City. I love their patés (Leberwurst) and deli-style meats including their sliced Fleischwurst (bologna), salami, and ham.
Ingredients
You don't need many ingredients for making authentic homemade pretzel buns at home. But a couple of them aren't staple ingredients, so order them now to have them on hand when you're ready.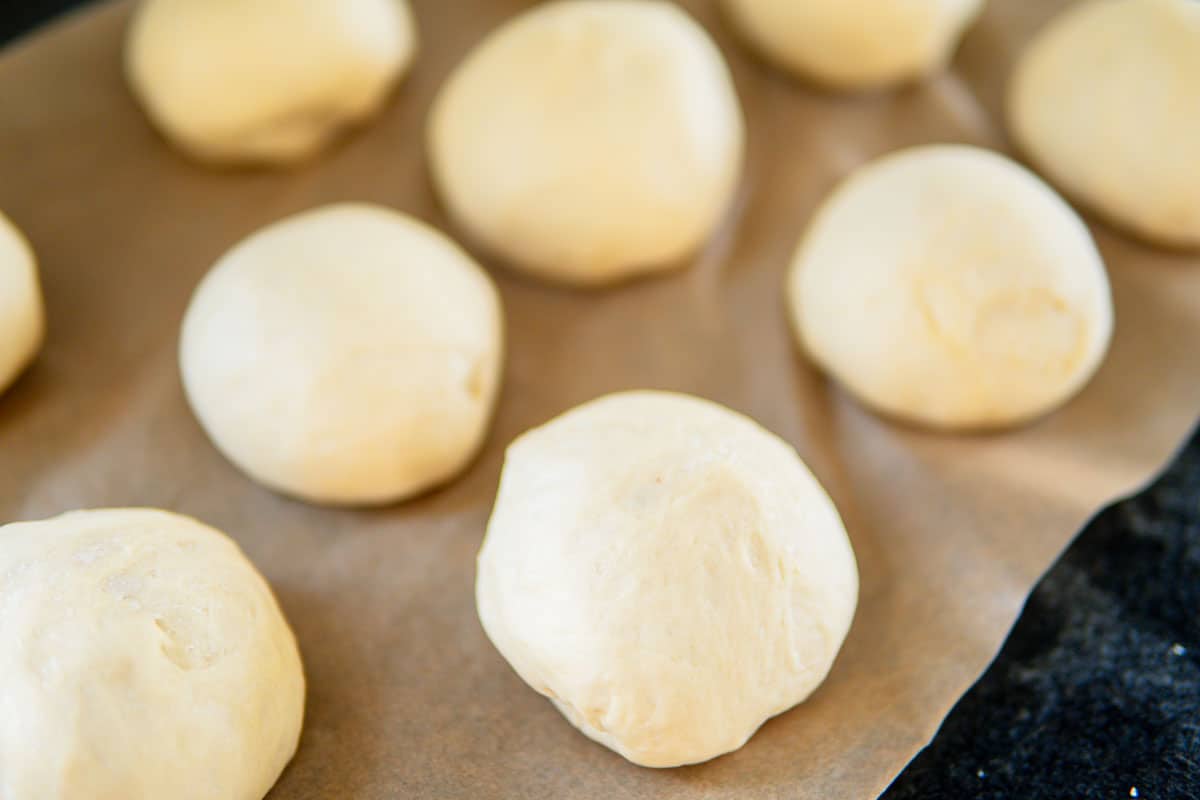 Flour. I use all-purpose flour for this recipe and it works great.
Brown Sugar. You can use regular sugar if you don't have brown sugar on hand.
Butter. I use salted, grass-fed butter.
Sea Salt. This kind goes in the dough.
Yeast. This helps the rolls rise and become soft and fluffy. I use active-dry yeast and keep it in the fridge.
Lye. I buy this food-grade lye that comes in a child-proof container. Store it in a safe place, where kids don't get to it (I keep it with my medications).
Pretzel Salt. Pretzel salt gives it the authentic German pretzel look. Kosher salt will work too but looks a bit different.
How to store pretzel rolls
Homemade pretzel rolls taste best when they are fresh. However, if for some reason you have leftovers or would like to work ahead and prep them in advance, here are some tips.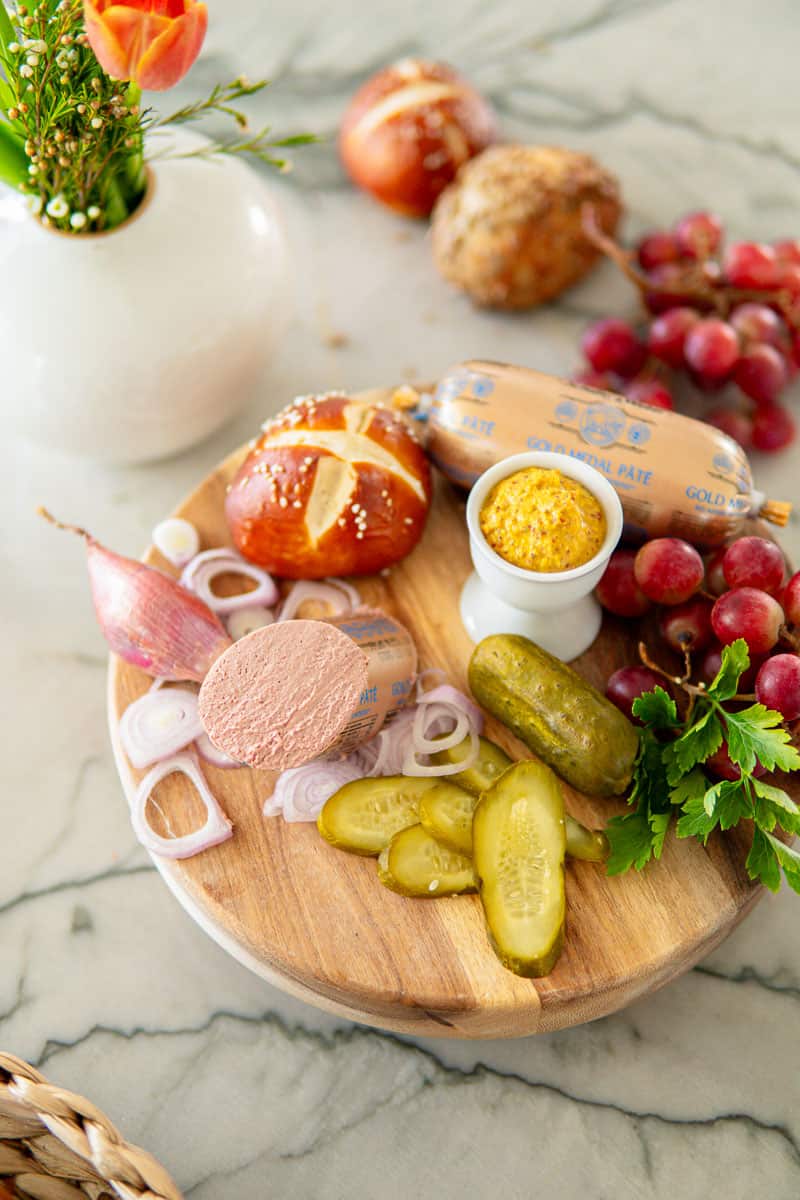 Store any leftover rolls in an airtight container (I even keep mine in the fridge) for a couple of days. When ready to use, run under cold water, sprinkle with a little more pretzel salt, and bake for a few minutes or until the crust comes back to life.
If preparing a batch ahead of time, follow all steps up to the point of sprinkling them with salt and baking them. Instead, freeze the lye-dipped pretzel buns. I first let them freeze on the baking sheet, and then transfer them to a freezer-safe container or bag. Once ready to bake, briefly spray or run through cold water, then sprinkle with pretzel salt and bake according to instructions.
Video
Watch this short video showing you how to make homemade soft German pretzel rolls.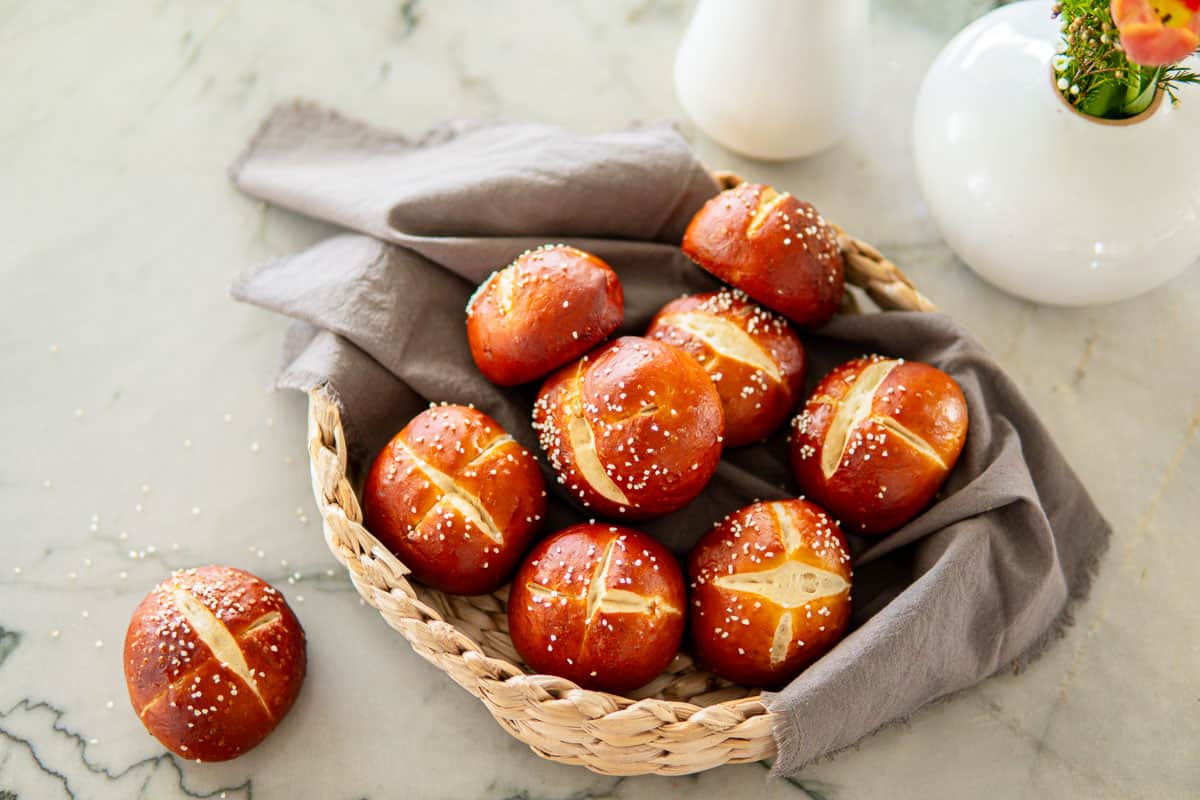 If you love my Laugenbrötchen (pretzel buns), also check out my recipes for authentic German pretzels, pretzel beer bubble bread, and Obatzda (a Bavarian cheese spread/dip).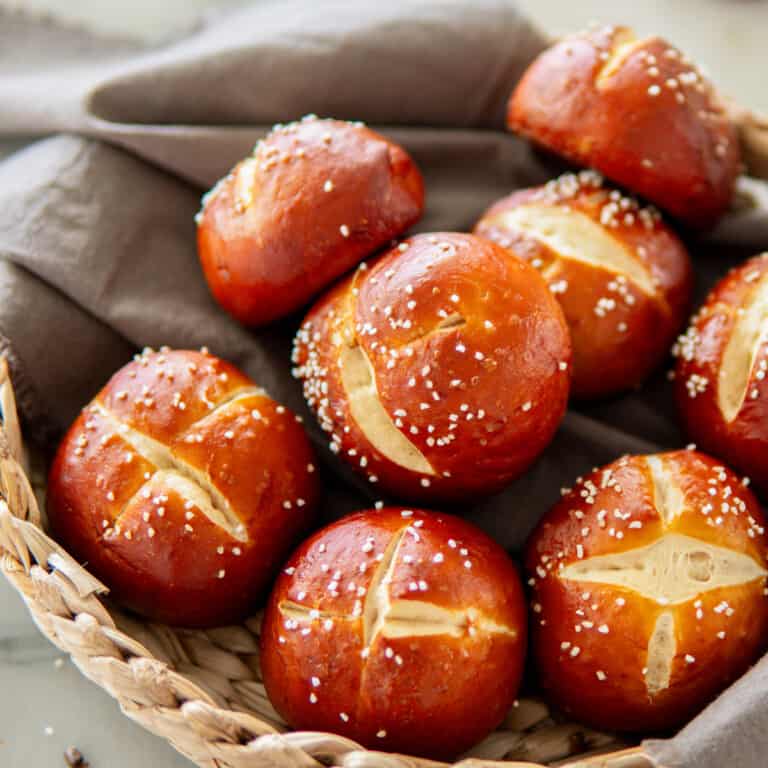 Homemade Soft German Pretzel Buns (Laugenbrötchen)
Authentic pretzel buns are a variation of my super popular authentic German pretzels, but shaped like rolls instead. These quick, soft pretzel rolls made with lye are perfect as dinner rolls, for pretzel sandwiches or pretzel burgers, and can be made into pretzel hot dog buns as well. I know you'll love them as they give you that authentic Laugenbrötchen taste just like from a German bakery!
Equipment
steel skimmer

or food-grade rubber gloves, for handling the pretzel buns
Ingredients
Lye Solution
12

grams

food-grade lye

I am using a food-grade lye with a concentration of 100%. Your solution should have no more than 4% lye. You could also use baking soda instead of lye. See notes below.

300

milliliters

water

COLD water
Topping
pretzel salt

Kosher salt can be substituted, although pretzel salt makes your pretzels really authentic (and look like they came from a German bakery) and it's inexpensive!
Instructions
Stir together the Luke warm (barely warm) water, brown sugar and yeast and allow to bubble up, this should take 5 minutes. If it's not getting bubbly, your water may have been too hot or your yeast is bad. You'll have to repeat this step.

15 grams brown sugar,

7 grams active dry yeast,

275 milliliters water

Sift together the flour and salt, and add in the butter and the bubbly yeast mixture. Knead the dough on the low setting for 8 to 10 minutes using the dough hook.

500 grams all-purpose flour,

10 grams sea salt,

30 grams butter

Cover the dough with a piece of wax paper (or a clean linen towel) and let it rest for 5 minutes. This is to help prevent a skin from forming. Start weighing out 100 gram (3.5 ounces) pieces of dough. Alternatively, if you don't have a kitchen scale, you could shape the dough into a long, even thickness log and divide into 8 equal pieces. Shape each piece of dough into little ball shapes.

Transfer the pretzel buns onto sheets of wax paper or silicone baking mats, cover with a clean linen towel, and let them rest and develop for about 60 minutes.

Prepare your lye solution in a well-ventilated area (like standing under a vent hood set to high or ideally being outside) because of potential fumes. I also recommend wearing a cloth or medical grade face mask and rubber gloves to be extra safe (luckily everyone should have these at home by now). Add the premeasured lye (it comes in dry granules) into COLD water, not the over way around. At this point, I like to step to the side for about 10 to 15 seconds to let potential fumes evaporate. Then carefully combine with a whisk until the solution is clear. Now dip the pretzel buns using a steel skimmer (you could also use two large spoons) for 5 to 10 seconds each before transferring them using your skimmer onto a baking sheet covered with parchment paper or a silicone baking mat (I have found the baking mats work better in releasing the pretzel rolls after baking, so it may be time to invest in some). 

12 grams food-grade lye,

300 milliliters water

Bake at 355° Fahrenheit or 180° Celsius (convection/Umluft setting) for about 12 minutes or until golden brown (I like to rotate them after 6 minutes. Allow to cool for a few minutes before enjoying on their own, with butter or Obatzda, a Bavarian cheese spread that I love so much!
Notes
No Lye? Use baking soda instead. Dissolve ⅔ cup of the baked baking soda in 2 cups of water for your dipping solution. To get a more authentic pretzel taste, bake your baking soda before preparing the solution. On a baking sheet covered with foil, evenly sprinkle on the baking soda and bake for an hour at 300 degrees Fahrenheit (150 degrees Celsius), making it more alkaline and closer to a PH value of lye. Then proceed with making the solution.
Like Lighter Colored Pretzels? I dip my pretzels for just 5 to 10 seconds in a 4% lye solution (4 grams of lye per 100 ml of cold water). If you would like lighter colored pretzels, you have two choices. Either dip your pretzels for a shorter period of time or go with a more diluted solution.
Nutrition
Calories:
264
kcal
Carbohydrates:
50
g
Protein:
7
g
Fat:
4
g
Saturated Fat:
2
g
Polyunsaturated Fat:
0.4
g
Monounsaturated Fat:
1
g
Trans Fat:
0.1
g
Cholesterol:
8
mg
Sodium:
514
mg
Potassium:
79
mg
Fiber:
2
g
Sugar:
2
g
Vitamin A:
94
IU
Vitamin C:
0.003
mg
Calcium:
15
mg
Iron:
3
mg