I perfected this recipe over 4 tries, making this the best classic German pasta salad I know! Save this creamy Nudelsalat recipe for your next grill fest.
Nudelsalat
About this Recipe
This Is A Sponsored Post That Contains Affiliate Links
I made German pasta salad way too many times in these last couple of months, but it was all to find out for you how to best combine American ingredients to bring me the taste of a classic German pasta salat. So here is the best Nudelsalat! I tested out different veggies, added to the dressing ingredients, refined and tuned. I also used thinly sliced Mortadella (a type of Italian pork bologna) instead of Fleischwurst before and that worked beautifully as well. However, if you want real Fleischwurst like the one I used in today's recipe, you can buy it online as well! Ultimately, I can't get enough of the creaminess in this salad, which is achieved by making your own creamy salad dressing, which (don't freak out) includes the making of your own mayo! Believe me, it's so simple and quick, you'll wonder why you've never made it yourself before. Or maybe you have and you just found another way to use homemade mayo. 🙂
Either way, this German pasta salad is the perfect party companion, a crowd pleaser, a summertime favorite, a pasta lover's dream. I actually made it for Eloïse's christening last month in Germany and everybody loved it! Adding the onion was my mom's idea and it was a great addition! I can't wait to make and make it again and hope you'll make it with me!
I also had fun making my first ever cooking video, making today's pasta salad, and there will be more to come! Also, they'll get better I'm sure! 🙂
It was all inspired by my brand new TikTok account, which I just started this week! Give me a follow and laugh with me about all things German.
Scroll on down for the recipe, now in printable version.
Nudelsalat Essentials
Drink Pairing:
Pumpkin Spice Martini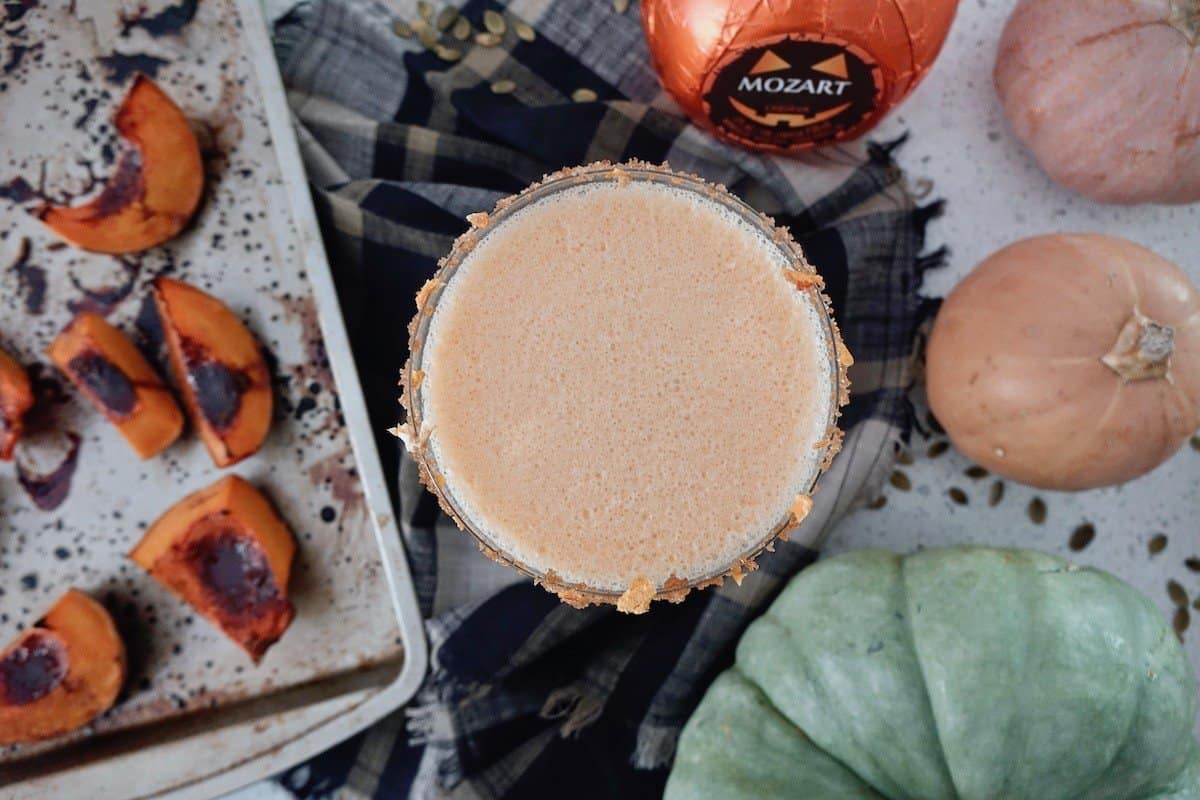 Yup, there is more pumpkin spice because if you're like men then there is no such thing as too much pumpkin spice. 🙂
Here a pumpkin spice martini using one of my all-time favorites: Austrian-made, creamy Pumpkin Spice Liqueur by the Mozart distillery. This simple cocktail will be perfect for dessert for the upcoming holidays and I promise you that every pumpkin spice and pumpkin pie fan will love this!
To make, simply shake together the following ingredients with some ice, then pour into a martini glass:
2 oz good vodka (such as Mamont)
To find out where Mozart Pumpkin Spice Liqueur (also available in Milk, White and Dark Chocolate as well as Strawberry Cream) is available in your area, fill out the short product finder form.
Prost!
more German Salad Recipes
Bavarian Potato Salad
Oma's Creamy Potato Salad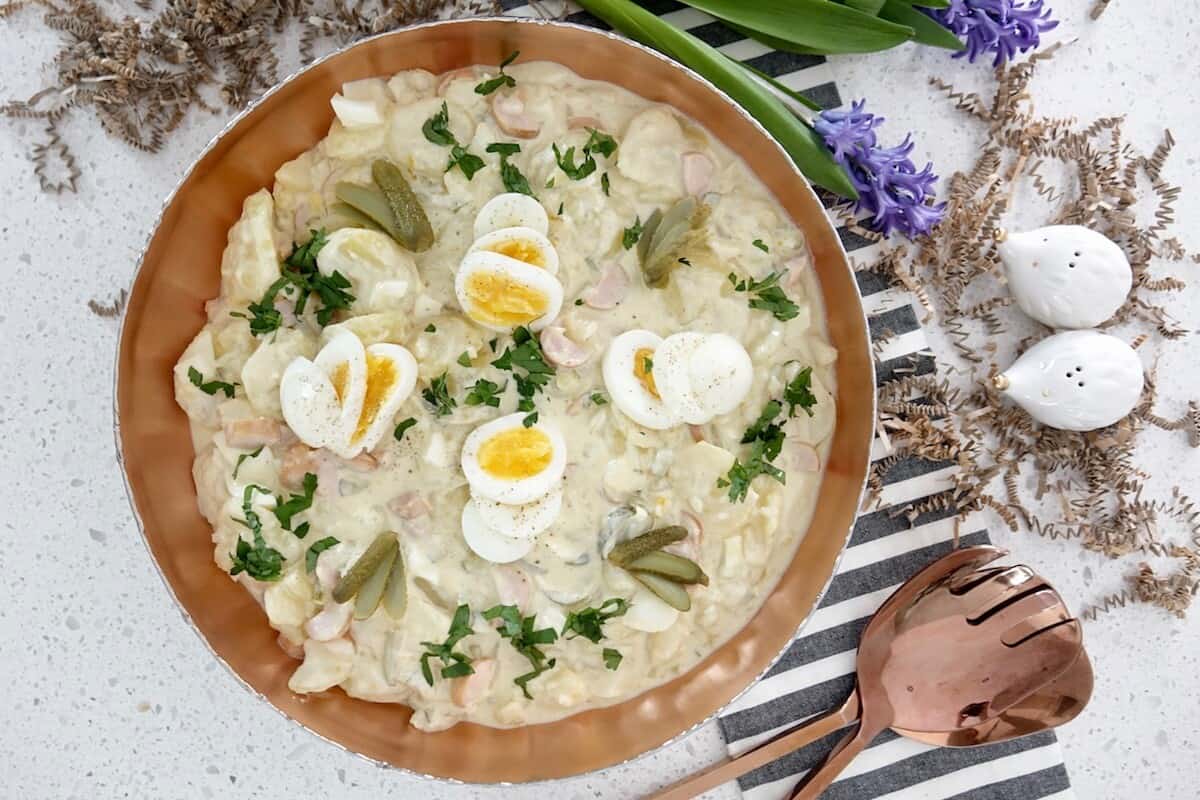 Next Up:
Peach-Quark Strudel
I can't ever get enough strudel in my life. Make sure to subscribe to my blog now, so you're not missing out when this new summer-inspired quark and peach strudel post goes live!
Nudelsalat: Classic German Pasta Salad
This is my 4th time making this simple, but super delicious German pasta salad. I changed up little things here and there and I'm proud to say that it's pretty much perfect now. Great for BBQ's.
Ingredients
500

g

fussili pasta

200

g

peas

frozen or fresh

200

g

Fleischwurst

pork bologna, you can get it at German specialty stores or substitute mortadella or even fully cooked pork hot dogs

150

g

yellow corn

canned

4

eggs

3

bell peppers

3

spring onions
Instructions
Boil The Eggs & Pasta
Carefully place 4 eggs in boiling water and cook for 10 minutes. Run cold water over them while peeling. Cut up for the salad. If you'd like some for garnish, boil a couple of extra eggs. In the meantime, cook pasta according to packaging instructions.
Make The Dressing
Combine mustard, egg yolk and vinegar and whisk together. Then slowly add the avocado oil a bit at a time while whisking. The sauce will begin to thicken. Whisk in dill pickle juice, Greek yogurt, honey and season with salt, pepper and paprika powder.
Assemble The Salad
Combine all ingredients in a large bowl. Garnish with more eggs and fresh chopped parsley or chives (optional).
Nutrition
Calories:
466
kcal
Carbohydrates:
56
g
Protein:
17
g
Fat:
19
g
Saturated Fat:
4
g
Polyunsaturated Fat:
3
g
Monounsaturated Fat:
10
g
Trans Fat:
1
g
Cholesterol:
98
mg
Sodium:
292
mg
Potassium:
408
mg
Fiber:
5
g
Sugar:
6
g
Vitamin A:
1446
IU
Vitamin C:
54
mg
Calcium:
68
mg
Iron:
2
mg
I received compensation from Niche Import Co. in exchange for writing this post. Although this post is sponsored, all opinions, thoughts and recipes are my own. This post contains affiliate links, which means that I may be compensated if you click certain links.