This creamy pasta salad recipe is packed with peas, peppers, corn, noodles, eggs, and delicious German-style bologna, then held together by a creamy, tangy homemade dressing using my secret ingredient! I have perfected it over several years and everybody (including the kids) always loves it!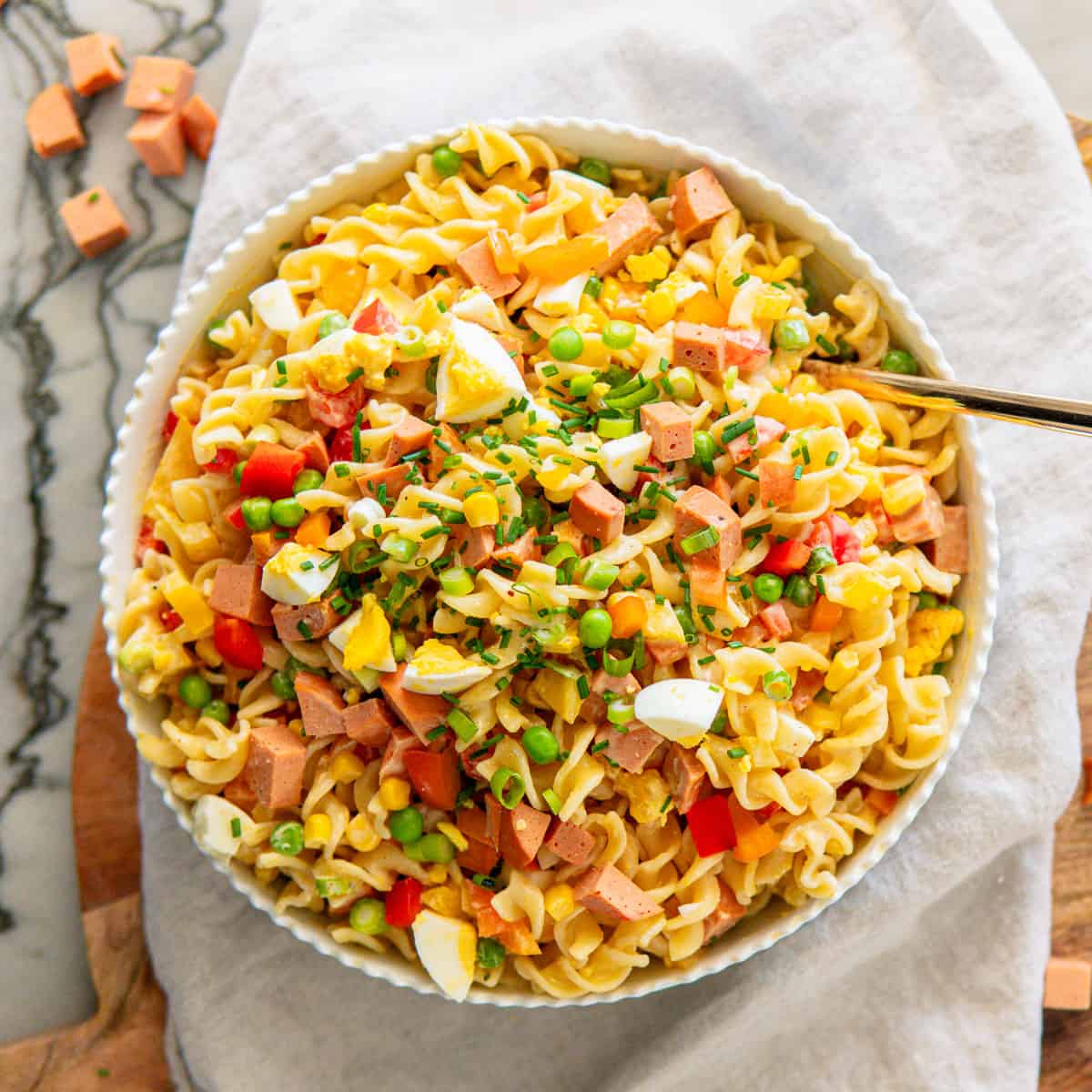 Germans LOVE cold pasta salad for backyard grill outings, so save this classic German Nudelsalat recipe and serve with some Currywurst (grilled bratwurst with curry ketchup sauce) or Schwenkbraten (grilled German pork chops from the Saarland region). My Oma's creamy potato salad and this Bavarian oil-and-vinegar based potato salad are also favorites!
How to make creamy pasta salad
I have pasta salad coming out of my ears! But testing this German Nudelsalat recipe over and over again is what it took to fine-tune and perfect this recipe. I tried to mimic the classic German pasta salad as much as possible, using ingredients that are readily available in the USA.
I tested out different veggies in this creamy pasta salad and the ultimate combination for me was using different colored bell peppers, peas (frozen work great!), corn (use canned to make it easy), plenty of boiled eggs AND an authentic-tasting German bologna called Fleischwurst there.
This post is sponsored by Schaller & Weber, a high-quality German butcher in New York City.
I love the Fleischwurst (bologna) by the German-style butcher Schaller & Weber out of New York City. Both sliced bologna (uncured) and ring bologna work well for this pasta salad, and the best part is that it can be shipped to you!
As for the pasta, I love using fusilli or corkscrew pasta, as it has lots of little spirals for the pasta salad dressing, eggs, veggies, and bologna to stick to.
Nudelsalat Dressing
I can't get enough of the creaminess in this pasta salad, which is achieved by making your own creamy pasta salad dressing, which (don't freak out) includes the making of your mayo! Making homemade mayo is so simple and quick, you'll wonder why you've never made it before. Or maybe you have and you just found another way to use homemade mayo!
This German pasta salad is the perfect party companion, a crowd pleaser, a pasta lover's dream, and just goes great with a backyard BBQ. Adding the green onion was my mom's idea when I made it for her in Germany, and it was a great idea! I can't wait to make it again and hope you'll bookmark this Nudelsalat recipe to make it with me soon!
Cold pasta salad ingredients
Overall, this creamy pasta salad is super simple to make and just requires a bit of chopping and whisking. Listen to your favorite music or podcast while making Nudelsalat and the time will fly by in no time!
Pasta. I like using corkscrew pasta of Fusili for this one, to get all that sauce and all those salad ingredients nesting into those pretty spirals.
Peas. Use fresh, frozen, or even canned peas (I usually use frozen peas). No need to cook them.
Fleischwurst (German-style pork bologna). Ring bologna is more popular to use for pasta salad in Germany, but you can use this amazing sliced bologna as well. Both are available to ship by the German-style butcher Schaller & Weber and the quality is the best I have been able to find in the United States! You can also use fully-cooked pork hot dogs.
Yellow corn. I use the canned kind. No need to cook it.
Eggs. Don't be shy about using eggs. I cook extra eggs to use as a garnish and you'll use egg yolk in the mayo-like dressing.
Bell peppers. The tricolor bell pepper pack!
Spring onions. They provide a milder flavor than regular onions and the kids don't mind them as much.
Mustard. I use Dijon mustard for the dressing.
Vinegar. The neutral-tasting white wine vinegar gives this pasta salad a great, tangy flavor.
Avocado oil. Or any other flavor-neutral oil.
Greek yogurt. You could also use regular yogurt, but Greek yogurt packs extra protein.
Honey. For a touch of balanced sweetness.
Pickle juice. This one's an insider tip and my secret ingredient for this pasta salad! I add some dill pickle juice for extra tang and flavor. You can use juice from any of the German dill pickles OR another favorite is using Grillo's garlic dill pickle juice (also great in Bloody Marys).
Paprika powder. Germans love using it, so you'll find it in all kinds of German recipes.
Serve this Nudelsalat with some German-style Bratwurst and your favorite beer!
Video
Wondering just how easy it is to make creamy pasta salad at home? Then watch this short video.
Stay in touch by subscribing to my weekly email newsletter with lots more German recipe inspiration!
Creamy Pasta Salad Recipe (Nudelsalat)
This creamy pasta salad recipe is packed with peas, peppers, corn, noodles, eggs, and delicious German-style bologna, then held together by a creamy, tangy homemade dressing using my secret ingredient! I have perfected it over several years and everybody (including the kids) always loves it!
Ingredients
500

g

fusilli pasta

I love the spiral shape for holding onto all the dressing and salad ingredients!

200

g

peas

frozen or fresh

200

g

bologna

I love using this German-style bologna from the NYC-based butcher Schaller & Weber for authentic taste

150

g

yellow corn

canned

4

eggs

plus more for garnish (optional)

3

bell peppers

I use a variety of colors

3

spring onions
Instructions
Boil the eggs & pasta
Carefully place 4 eggs in boiling water and cook for 10 minutes (if you'd like more eggs for garnish, then boil a couple more). Run cold water over them while peeling. Cut up for the salad.

In the meantime, cook pasta according to packaging instructions.
Make the dressing
Combine mustard, egg yolk and vinegar and whisk together. Then slowly add the avocado oil a bit at a time while whisking. The sauce will begin to thicken. Whisk in dill pickle juice, Greek yogurt, honey and season with salt, pepper and paprika powder.
Prep other ingredients
Wash, trim and cut up the bell peppers and spring onions. Rinse any canned vegetables.
Notes
Switch out ingredients. While I have tested the combination of the vegetables added to this creamy pasta salad over and over again, you can totally switch out certain ingredients if you would like.
You can even use crisp-cooked bacon lardons instead of the German-style bologna I used in this salad.
You can also use different pasta shapes like penne, elbow or bowtie pasta if you'd like.
Leftovers. Keep leftover pasta salad in an airtight container in your fridge for up to 3 days.
Nutrition
Calories:
466
kcal
Carbohydrates:
56
g
Protein:
17
g
Fat:
19
g
Saturated Fat:
4
g
Polyunsaturated Fat:
3
g
Monounsaturated Fat:
10
g
Trans Fat:
1
g
Cholesterol:
98
mg
Sodium:
292
mg
Potassium:
408
mg
Fiber:
5
g
Sugar:
6
g
Vitamin A:
1446
IU
Vitamin C:
54
mg
Calcium:
68
mg
Iron:
2
mg