Currywurst is a German street food that's a must try when visiting Germany (just like Döner Kebab), but it's easy to make at home as well! I will show you how to make your own super flavorful curry sauce using a few simple, quality ingredients and just 20 minutes of your time!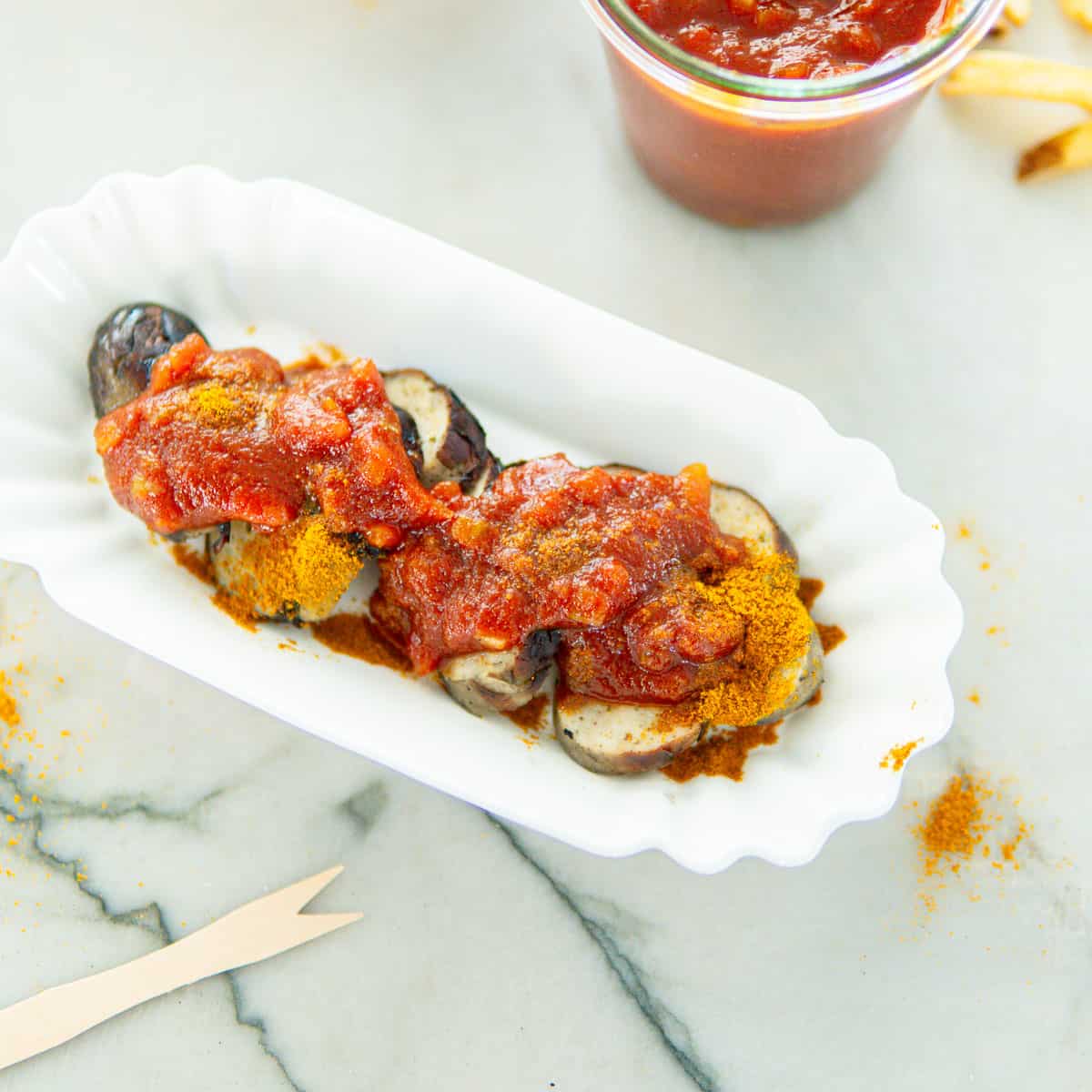 What Is Currywurst?
Currywurst is one of Germany's most popular street foods consisting of grilled Bratwurst topped with a curry ketchup sauce and sprinkled with curry powder. Around 800 million of them per year find their way into bellies in Germany, and many of them into mine whenever I go visit.
Berlin has several Currywurst specific restaurants that battle each other for the spiciest Currywurst in town. When I visit my dad in Saarbrücken, I always hit up the local Currywurst restaurant that serves many fun variations (with goat cheese or Schwenkbraten-style) of this addictive German staple
How To Make Curry Ketchup
Making the curry ketchup sauce for Currywurst is easy! All you need are a few simple, quality ingredients like ketchup, onions, balsamic vinegar, soy sauce, honey and of course, curry powder.
The sauce is prepared on the stove in less than 20 minutes while you cook your Bratwurst. You can adjust the heat level by adding more or less cayenne powder.
Feeling a little creative? Add some goat cheese drizzled with honey when serving and top with rosemary (inspired by a Saarbrücken Currywurst restaurant I LOVE). Currywurst is traditionally served with fries and on the go.
Where Is Currywurst From
Currywurst was invented in Germany's capital Berlin in the postwar era. Ketchup was poured over Bratwurst, then topped with curry powder, for a simplified version of this recipe.
When my mom still lived there, I always made sure to get in a fair amount of Currywurst. These days, Currywurst is so high in demand in Germany, that even the German car brand Volkswagen makes more Currywurst than cars.
Video
Check out this short video, showing you how you can make your own authentic Currywurst at home.
Ingredient Notes
I always try to source my ingredients locally as much as possible. For this recipe, I shopped from vendors at the Overland Park Farmers' Market.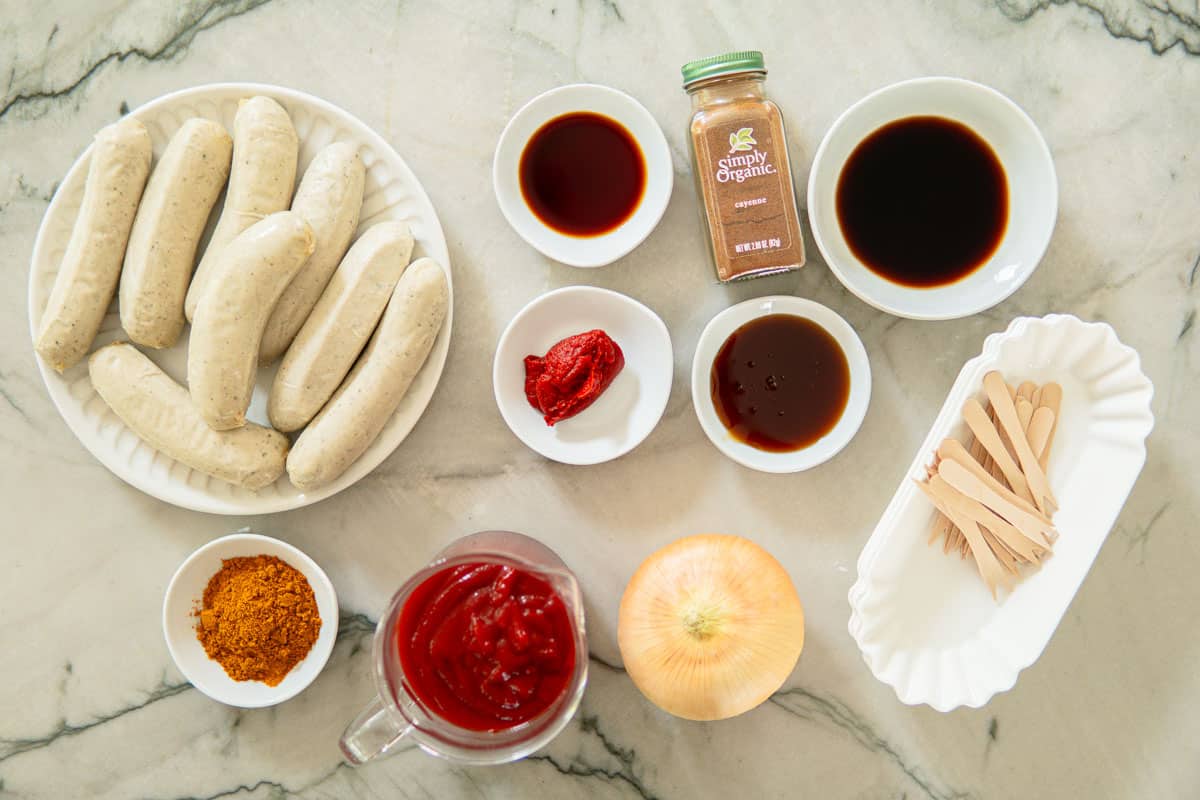 Cayenne Powder. This is the final touch you will add to your currywurst sauce. Add more or less depending on which heat level you would like to achieve. I bought an organic, flaked cayenne pepper from Pat and Rachel's Gardens, but you can also use cayenne powder.
Onions. Yellow onions is what you want to use. You'll peel and small dice them before sauteeing them until translucent.
Balsamic vinegar. This one may be a surprising ingredient for you, but it adds a tremendous amount of flavor. Use dark balsamic vinegar, which is aged and has more of a syrupy consistency. It also adds sweetness. I am using a locally sourced balsamic vinegar from Modena, Italy, purchased at the Tasteful Olive.
Honey. I don't use sugar in my recipe, but instead sweetness is added with local honey like this one from beekeepers.com.
Soy sauce. I bet you didn't guess this ingredient. Soy sauce adds to the exotic taste and ups the salt level. You'll use just a dash.
Tomato Paste. You'll add some to the sauteed onion to bring out the flavor of the paste before adding your ketchup and other ingredients.
Love Currywurst? Then also try my Pommesgewürz (French fry seasoning), Bratkaroffeln (German fried potatoes) and authentic German pretzel recipe!
Homemade Currywurst
Currywurst is a German street food that's a must try when visiting Germany (just like Döner Kebab), but it's easy to make at home as well! I will show you how to make your own super flavorful curry sauce using a few simple, quality ingredients and not a lot of time.
Equipment
Ceramic Plates

Wooden forks
Ingredients
12

links

Bratwurst

see ingredient notes in blog post for what type of Bratwurst will work well.

1

Tablespoon

olive oil

for sautéing onions

2

yellow onions

finely diced. Use onions that are on the smaller side, or one large yellow onion.

1

Tablespoon

tomato paste

500

grams

ketchup

3

Tablespoons

dark balsamic vinegar

2

Tablespoons

honey

1

dash

soy sauce

2

Tablespoons

mild curry powder

cayenne pepper

add this spice according to your desired heat level
Instructions
Grill or griddle your Bratwurst until cooked through (160° Fahrenheit or 71° Celsius internal temperature).

Over medium heat, sautée diced onion in some olive oil until glossy and see-through. You do not want to brown the onions.

1 Tablespoon olive oil,

2 yellow onions

Add about 1 tablespoons of tomato paste and stir until fragrant. Add about 2 tablespoons of water and stir until the paste dissolved.

1 Tablespoon tomato paste

Add ketchup, vinegar and honey and stir. Add soy sauce and curry powder. Finally, season with cayenne pepper to taste. This is where the heat comes in. Use less cayenne for a mild heat and more for a spicy Currywurst.

500 grams ketchup,

3 Tablespoons dark balsamic vinegar,

2 Tablespoons honey,

1 dash soy sauce,

2 Tablespoons mild curry powder,

cayenne pepper

Slice your Bratwurst in bite-sized pieces, pour curry ketchup sauce over the top and sprinkle with curry powder.

Serve on these adorable ceramic plates with these cute little wooden forks and French fries (and dip them in mayo if you want to be really German).
Notes
Currywurst variations
There is a little Currywurst restaurant in Saarbrücken. where my dad lives, that I love. They have a few different Currywurst variations that I love.
One is served with goat cheese, honey and fresh thyme that always stands out.
My other favorite is served Schwenkbraten-style with sautéed onions and fresh parsley (the sausage itself is made including spices typically found in Schwenkbraten - a German grilled pork chop).
Nutrition
Calories:
361
kcal
Carbohydrates:
20
g
Protein:
13
g
Fat:
26
g
Saturated Fat:
9
g
Polyunsaturated Fat:
2
g
Monounsaturated Fat:
13
g
Cholesterol:
63
mg
Sodium:
1115
mg
Potassium:
475
mg
Fiber:
1
g
Sugar:
13
g
Vitamin A:
249
IU
Vitamin C:
3
mg
Calcium:
41
mg
Iron:
1
mg