This grilled pork chop recipe is addicting! The dry-rub marinated pork is a specialty from Germany's Saarland region, where my dad lives. It's the number one thing to hit the grill there during summertime.
Best Grilled Pork Chops
The secret to making the best, tender, and juicy grilled pork chops is to marinate them for 12 to 24 hours, then grill them to the perfect temperature (160 degrees Fahrenheit or 71 degrees Celsius). The easiest way to know when your pork chop is done is by using a good meat thermometer. This instant-read thermometer has become our go-to (even celebrity chefs love it!). This German Schwenkbraten recipe from Germany's Saarland region is MY FAVORITE way to eat pork chops. It consists of a special dry-rub marinade, and lots of onions, and is traditionally cooked on a special kind of swaying grill (Schwenkgrill), although a regular grill works just fine. Grilling over charcoal or wood versus an electric grill gives the best flavor.
Grilling Pork Chops (On A Schwenkgrill)
Grilling the perfect pork chops is easier than you think! We usually grill over charcoal (wood is also a great alternative) and make sure coals are glowing and evenly distributed before putting the meat on the grill. A Schwenkgrill (a type of grill that's popular in Germany) allows you to circulate the grill over your heat source.
It works by having a stationary tripod with a retractable grill attached that can sway freely. This way you're not ending up with any hot or cold spots and your Grillgut (grilled goods) cook evenly. You can also control heat levels by moving the grill up or down.
Achieve a quick char by starting closer, then cook the meat to temperature by moving the grill up. I think it's pretty genius, so we built one for our backyard using this tripod with a grill over our firepit.
How Long to Grill Pork Chops
Pork chops typically take about 20 minutes to cook to the perfect temperature on a grill, but it all depends on the thickness of the meat and the temperature of the meat before hitting the grill.
The best way to make sure your pork chop is grilled to perfection (that's 160 degrees Fahrenheit or 71 degrees Celsius for this recipe) is by testing with an instant-read thermometer. This way it's quick to test a few different spots and make sure your entire chop is cooked thoroughly.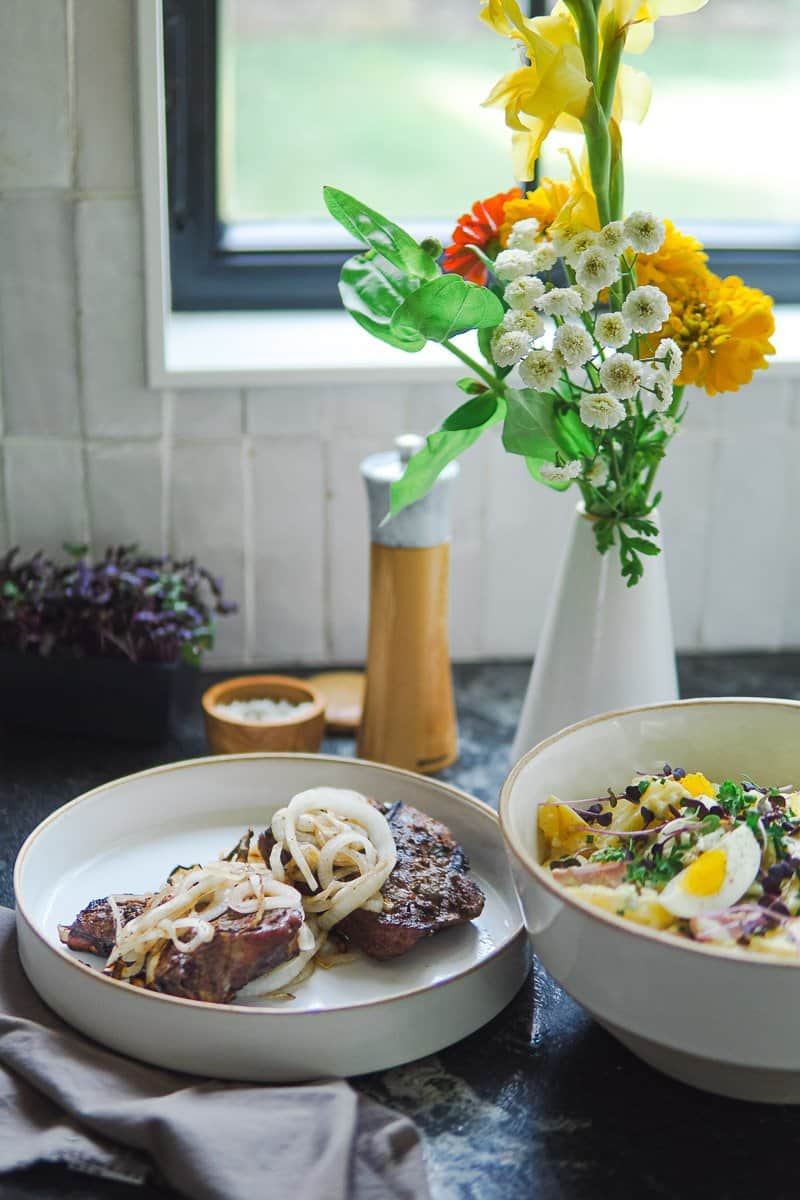 Pork Chop Marinade
This pork chop marinade is simple and so good! I am using a dry-rub made from rather unusual spices you don't normally see being used during summer. I look at it like this: it helps you use up those spices otherwise reserved for wintertime!
The marinade consists of some rather unusual spices like whole juniper berries, ground allspice, ground cloves, and paprika. While it sounds like it would taste like Christmas, it doesn't at all and is SO GOOD!
The onion slices marinate with the spiced, raw pork and I love grilling them alongside the pork chops in a nifty veggie basket. We built our own Schwenkgrill from this super inexpensive tripod with a retractable grill that simply goes over an open fire or a firepit.
How Long Do You Marinate Pork Chops?
Ideally, you marinate pork chops for 12 to 24 hours in the fridge, so the flavors can soak into the meat and help make it tender and juicy. That being said, I have also marinated the meat for as little as 1 to 2 hours when I wasn't planning, and it was still delicious!
Besides a handful of spices that create the dry rub for the pork, I also throw raw onion slices into the mix. They help flavor the pork and are great grilled and served with cooked pork.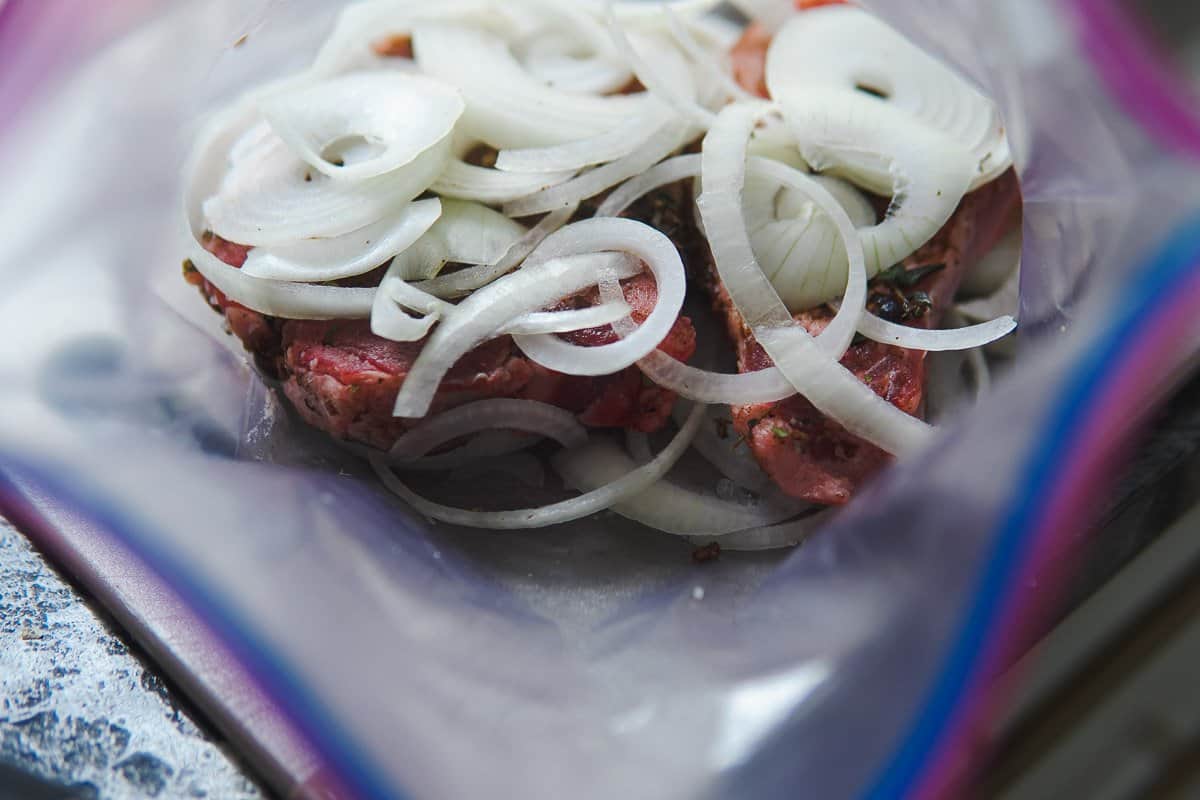 Tips for Grilled Pork Chops
The best tip I can give is to use a great meat thermometer when trying to decide if your pork is cooked to the right temperature (160 degrees Fahrenheit or 71 degrees Celsius). This one is the best one I have ever owned and it gives you instant results.
If using a Schwenkgrill (the traditional type of German tripod grill), then adjusting for heat by lowering and lifting the grill gives you great control. I start low to get a char, then move up to let the meat cook to temperature. You'll end up with juicy and tender pork chops every time.
German-Style Pork Chops
What makes this grilled pork chops recipe German are the special dry-rub ingredients in the marinade, the onions, and the way that they are cooked. For cooking Schwenkbraten, you usually use a Schwenkgrill (also called a Schwenker). Here is a fun fact.
The Schwenkbraten (German pork steak), the Schwenkgrill (swaying grill) and the Schwenkmeister (swaying grill master) can all be referred to as 'Schwenker.' So just go with that and you're right. And being right is something all Germans love. During summertime in Trier and Saarbrücken (the areas where my family lives in Germany), Schwenkbraten is the number one thing to hit the grill. I used pork chops, but meat from the neck would be more traditional. I love this pork marinade and recipe so much, that I even used this recipe to cook marinated pork tenderloin bites on top of a raclette grill!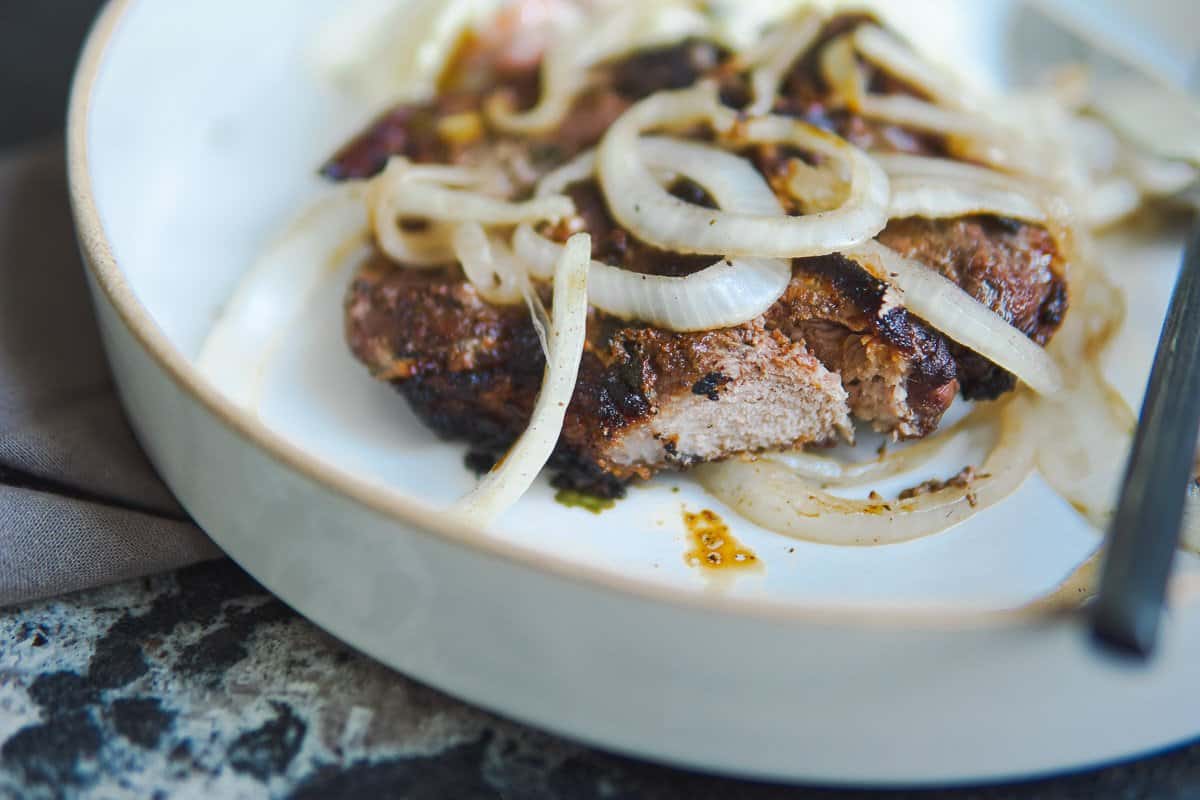 Schwenkbraten Sides
After cooking the Schwenkbraten, I like to eat it with some curry ketchup (probably the most popular condiment in Germany after mustard) or a simple, creamy garlic sauce as described in my summer raclette recipe. Typical sides include some rustic bread and potato salad (pick between an oil and vinegar-based Bavarian potato salad or my grandma's creamy potato salad – both different and delicious!). More of a fries fan? Try my famous German fry seasoning (also works great as an all-purpose seasoning)!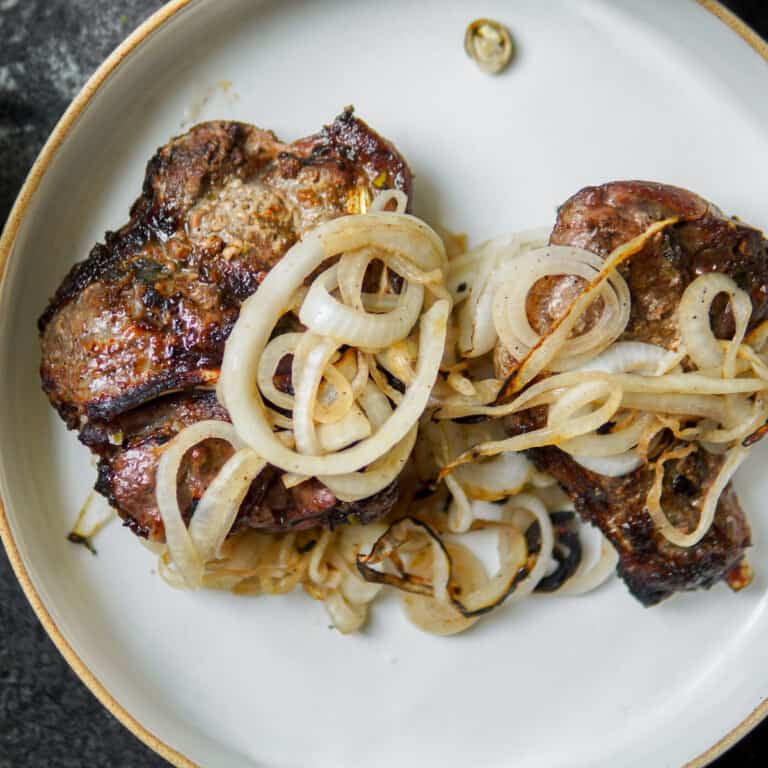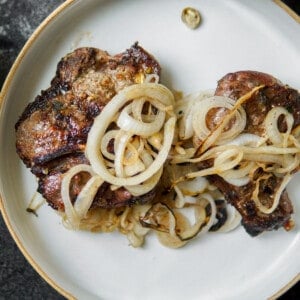 German Grilled Pork Chops (Authentic Schwenkbraten)
This grilled pork chop recipe is addicting! The dry-rub marinated pork is a specialty from Germany's Saarland region, where my dad lives. It's the number one thing to hit the grill there during summertime.
Equipment
Mortar and Pestle

Tripod with Adjustable Grill

Fire pit

Veggie Grill Tray

instant-read thermometer

grilling tool set
Instructions
Rub plenty of salt onto the pork. Mix together the remaining spices and garlic. Rub dry-rub marinade into both sides of the meat.

2 onions,

salt pepper,

½ teaspoon dried thyme,

½ Tablespoon dried oregano,

2 garlic cloves,

2 dried bay leaves,

½ teaspoon ground cloves,

8 juniper berries,

½ teaspoon ground allspice,

4 thick-cut pork chops

In a large bowl or in a gallon-sized freezer bag, alternate between the onion slices and spiced, raw pork, finishing with the onion slices. Cover and allow to marinade in the fridge for 12 to 24 hours, or up to 3 days.

Cook the meat on a charcoal or a wood-burning grill (traditionally a swinging grill called a Schwenkgrill or Schwenker) until the internal temperature reaches 160 degrees Fahrenheit (about 20 minutes for a thick-cut meat).

Allow to rest for 5 minutes before serving.

Serve with rustic slices of bread (baguette is great!), potato salad (choose between Bavarian style or my grandma's creamy style here), and either a cool glass of beer or a crisp rosé.
Notes
No Schwenkgrill or Schwenker? It's the special swinging grill used to cook this meat (and all sorts of other grilled goods!). Then of course you 
Nutrition
Calories:
236
kcal
Carbohydrates:
7
g
Protein:
30
g
Fat:
9
g
Saturated Fat:
3
g
Polyunsaturated Fat:
1
g
Monounsaturated Fat:
4
g
Trans Fat:
1
g
Cholesterol:
90
mg
Sodium:
68
mg
Potassium:
600
mg
Fiber:
1
g
Sugar:
2
g
Vitamin A:
27
IU
Vitamin C:
5
mg
Calcium:
41
mg
Iron:
1
mg