I have been making this authentic, hot German potato salad for YEARS. It's my Oktoberfest go-to salad from Bavaria, and it's perfect for grilling and holiday dinners (served warm or cold). Thick-cut potato slices mingle with onion, crispy bacon, apples, pickles, and chives in a tangy, vinegar and oil-based dressing. Perfect with homemade pretzels and Obatzda!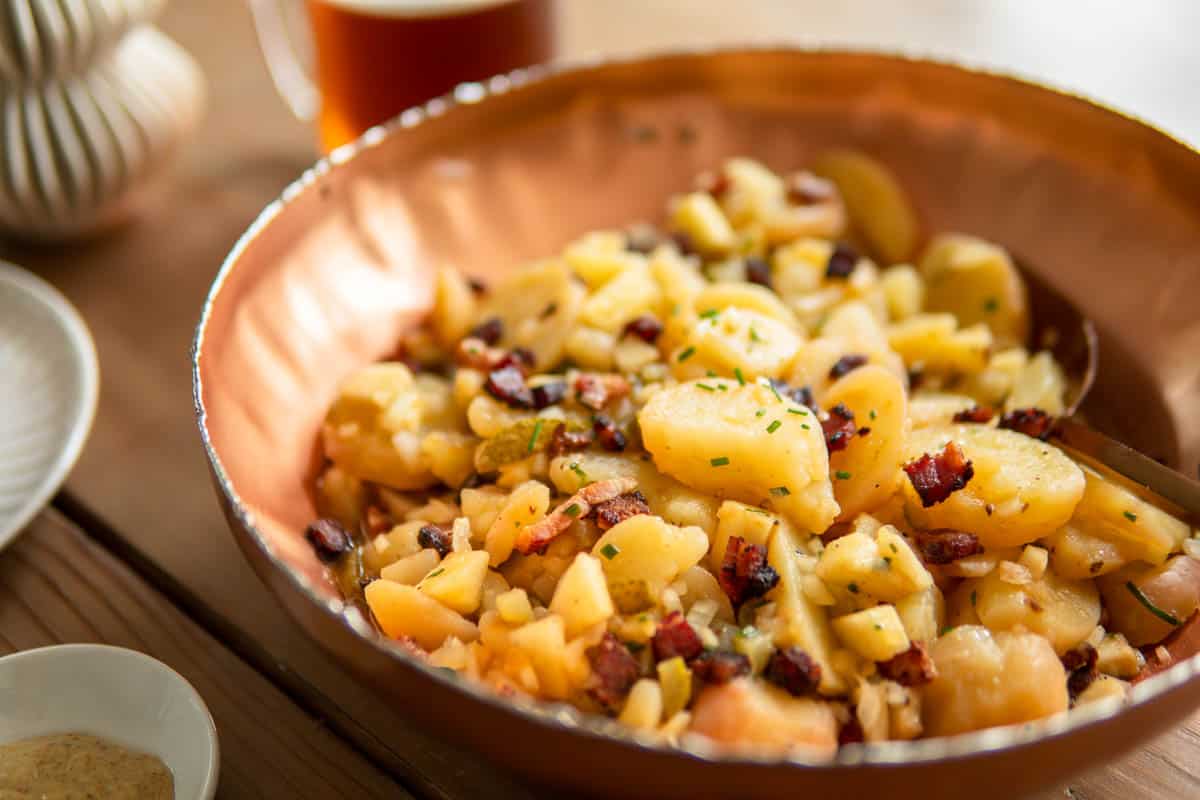 What Is German Potato Salad?
Germans LOVE their potatoes, so I am sure it does not surprise you that almost every German family has their very own potato salad recipe! Such as this creamy potato salad that my Oma Sieghilde always made with eggs and Wiener sausages. But just like most Americans think most Germans wear Dirndl dresses and Lederhosen, the most well-known German potato salad in the United States is by far a Bavarian potato salad.
This recipe has been my go-to for Oktoberfest-themed parties FOR YEARS, and it's perfect when paired with anything grilled (like Bratwurst or this German pork specialty called Schwenkbraten). What's nice about this hearty potato salad is that it saves time! The waxy potatoes (I use gold or red) are peeled right after boiling, then tossed with chopped onions, pickles, chives, apples and crisped bacon in a tangy, warm dressing made from oil, vinegar, broth, mustard, and just a little sugar. It can either be served hot right away (how I prefer it) or once it's cooled.
This gives you lots of flexibility when making it. Running short on time? This is your easy, go-to potato salad. Preparing food in advance for some outdoor grilling or the holidays? This salad is a great option! Fun side fact, German potato salad is often served for Christmas Eve dinner with Wiener sausages.
Ingredients
Here are the must-have ingredients that go in my warm German potato salad.
Potatoes. Make sure you're using the waxy kind like gold or red potatoes. Mealy potatoes like Russet are not recommended as they don't keep their shape well. I also leave the skin on when boiling, then peel them right after boiling. I think this improves the flavor, plus you'll end up with more nutrients in your potatoes!
Onions. I typically use yellow onions, which is the most common onion you'll use for German cooking.
Bacon. I LOVE the meat-counter bacon options from Whole Foods. Their bacon is made in-house and thick-cut and has incredible flavor! I cut it into lardons (little strips) or dice it before cooking, or you could cook it first, then crumble it apart.
Apples. I like using a sweeter apple like Gala to counteract the tanginess from the vinegar in the dressing. The apples also add a fantastic crunch and interesting texture to this potato salad.
Pickles. I have used anything from cornichons (Whole Foods brand is my favorite) to German barrel pickles (available at World Market) to Grillo's dill and garlic pickle chips (I buy a big jar at Costco)
Vinegar. Apple cider vinegar is what you'll use. As an alternative, you could use white wine vinegar.
Oil. I like using a good olive oil or avocado oil in this dressing.
Mustard. Dijon mustard is my go-to for cooking, but if you can get your hands on some German mustard, that's great as well. Use a mild or medium mustard that's not spicy.
Sugar. Just a little bit to balance out the vinegar.
Chives. This one's my number one herb for this salad. You could also add fresh parsley and dill if you would like, but I only add chives.
Tools
You don't need a ton of tools to make German potato salad, but there are a few basics you should probably have in your kitchen that will help make your life easier.
Good pots and pans. To make this recipe, you need a saucepan for heating the warm dressing, a saute pan for crisping the bacon and a large stockpot for boiling your potatoes. I love this 5-layer nonstick and super lightweight pots and pans set made in Saarbrücken, Germany. The pots and pans heat up evenly and are the easiest to clean!
Good Knives. Like these German kitchen knives I cut myself with in the making of this salad! I've had them for years and they are still perfect. This Japanese-style knife is my favorite for slicing and dicing veggies and herbs and this curved paring and peeling knife is great for removing the potato peels after boiling and for cutting up your apples.
A generous cutting board. I love this enormous wood cutting board that has a juice groove on one side and serves as a flat display board on the other. It's perfect for cutting up all the potatoes, onions, apples for this salad.
How-To Video
Watch this short video to get you familiarized with the basic steps to make my warm German potato salad that's so popular in Bavaria. And please don't cut the tip of your finger off like I did. If you haven't yet, also check out my creamy German potato salad recipe!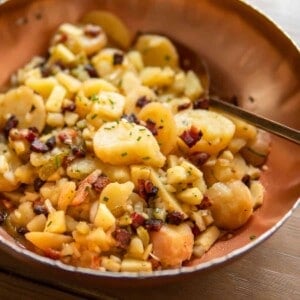 Authentic German Potato Salad (Bavarian Version)
I have been making this authentic, hot German potato salad for YEARS. It's my Oktoberfest go-to salad from Bavaria, and it's perfect for grilling and holiday dinners (served warm or cold). Thick-cut potato slices mingle with onion, crispy bacon, apples, pickles, and chives in a tangy, vinegar and oil-based dressing.
Ingredients
Salad
1

kilogram

waxy potatoes

such as gold or red potatoes

4

large pickles

I love using the barrel pickles from Hengstenberg (linked), but also love using Whole Foods brand cornichons (use about 20) and even Grillo's dill and garlic pickle slices. So good!

1

yellow onion

medium size

2

apples

medium size (I use Gala, but feel free to use any apple you like)

4

slices

thick-cut bacon

I love using the blackberry serrano bacon from the Whole Foods meat counter.

1

Tablespoon

sliced chives

plus more for garnish
Instructions
Boil potatoes with skin on in salted water. Let cool until ready to handle, then peel and slice into ½ inch (1 cm) thick slices.

Medium dice the pickles and onion.

4 large pickles,

1 yellow onion

Remove the core of the apples, then medium dice the apples (I leave the skin on). Drizzle with a little apple cider vinegar to keep the apples from turning brown.

Finely chop the chives and combine all above ingredients in a large salad bowl.

1 Tablespoon sliced chives

Medium dice the thick-cut, raw bacon, then cook in a skillet over medium heat until crispy. Reserve the bacon grease for another project and drain the cooked bacon on a paper towel covered plate.

In a saucepan, combine the chicken broth, apple cider vinegar, mustard, olive oil, sugar, salt and pepper. Whisk together and bring to a boil, allowing the sugar to dissolve. Pour over salad ingredients and stir until combined. Allow to sit for about 30 minutes.

250 milliliters chicken broth,

100 milliliters apple cider vinegar,

1 teaspoon Dijon mustard,

75 milliliters olive oil,

1 tablespoon sugar,

2 teaspoons salt,

1 teaspoon freshly ground pepper

Top with the bacon and stir together. Garnish with more chives. This salad is perfect for grilling, holiday dinners or to serve alongside Bratwurst, homemade pretzels and Obatzda for an Oktoberfest party.
Notes
Serving Size. Serves 10 as a side dish or 4 as a main dish.
Leftovers. There probably won't be any leftovers, but if you happen to have some, you can keep them in a sealed container in the fridge for up to 5 days.
Now bookmark this recipe and make it! It's the perfect side dish to go with homemade pretzels and Obatzda for your Oktoberfest party or with grilled sausages and a Brötchenrad for when you're out grilling. Germans also like to serve their family potato salad with Wiener sausages for an easy Christmas Eve dinner. That being said, every German household has their own potato salad recipe. While this warm potato salad is a version more commonly known to Americans, also check out my Oma's creamy potato salad recipe. It's SO GOOD, made with boiled eggs, diced Wiener sausages in a creamy mayo-and-broth-based dressing.
Nutrition
Calories:
226
kcal
Carbohydrates:
24
g
Protein:
4
g
Fat:
13
g
Saturated Fat:
3
g
Polyunsaturated Fat:
2
g
Monounsaturated Fat:
8
g
Trans Fat:
1
g
Cholesterol:
10
mg
Sodium:
888
mg
Potassium:
584
mg
Fiber:
3
g
Sugar:
7
g
Vitamin A:
95
IU
Vitamin C:
12
mg
Calcium:
33
mg
Iron:
1
mg