This chunky applesauce wins in flavor thanks to its subtle spice notes. It comes together in just about 15 minutes and is the perfect topping for my Kartoffelpuffer (German potato pancakes), quark pancakes, Ghackets mit Hörnli (a Swiss noodle dish) and more.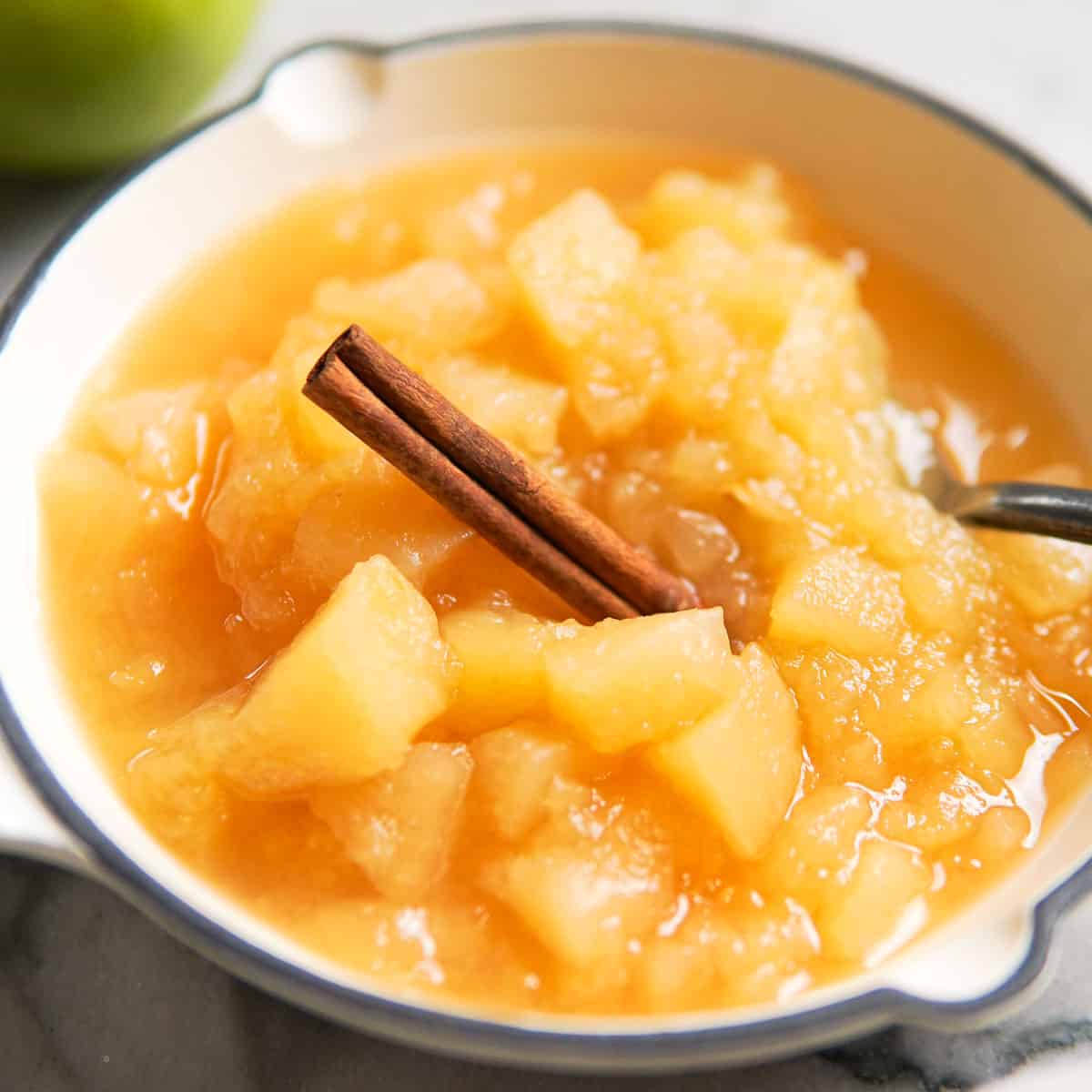 Ingredients
The ingredients I use in my chunky applesauce are few, but important.
Apples. You can use any kind of apples you like (for sweeter apples, you can choose to add less sugar). I like using Granny Smith apples or a mixture of different apples for my chunky apple sauce. Perfect for making good use of all of those apples you picked at the apple orchard!
Lemon Juice. I like using fresh lemon juice. It keeps the apples from turning brown aka oxidizing, but also balances the sweetness of your apple sauce. This is the best tip for ensuring a tart and sweet apple sauce.
Spices. My apple sauce has some spices, but they are not overpowering. They include a cinnamon stick, cardamom and vanilla extract. I like to add the vanilla at the end to preserve all the delicate flavor notes.
Brown sugar. I use brown sugar in my apple sauce, which gives it a slight caramelized flavor.
Salt. A pinch of salt really goes a long way in bringing out the sweetness of the sauce. Try it!
How to make it
Take a sigh of relief because making chunky applesauce at home is so much easier than you think!
Prep apples
Prep your apples first by peeling them, quartering them and cutting them into chunks. Immediately top them with the lemon juice to keep them from oxidizing and turning brown.
Cook apples
Add your spices, water and sugar (I use brown sugar) and cook the apples with a little water for 10 minutes.
Puree apples
To keep the apple sauce chunky, I only puree about half of the apples using my favorite ever immersion blender (it's cordless and I use it for everything from pureeing my soups to smoothies). You can of course choose to puree all of your apples to make a smooth apple sauce.
I also like to stir in vanilla extract at the end, which gives the apple sauce the perfect warm flavor. Serve your apple sauce warm or cold.
How to store homemade apple sauce
If you went apple picking or just have kids at home that LOVE this chunky applesauce, this recipe is for you.
This recipe keeps in the fridge for 3 days, in the freezer for 6 months. Preserve it in a jar and it stays good for one year.
What to eat with chunky applesauce
You asked the right person! Germans love applesauce a whole bunch and I have a few favorites I'd like to suggest you make.
Homemade Chunky Apple Sauce
Equipment
Immersion Blender

This one is a must have tool in my book and I LOVE that it's cordless! Have used this one for a couple of years now and would not go back.
Instructions
Peel, core and chop apples into medium sized pieces. Immeditely toss in the lemon juice.

¾ kg apples,

½ tablespoon fresh lemon juice

Combine with water, spices, salt and brown sugar in a medium sized pot and bring to a boil.

2 tablespoon brown sugar,

1 cinnamon stick,

¼ teaspoon ground cardamom,

1 pinch salt,

100 ml water

Once boiling, stir, cover with a lid, and cook on medium for 10 minutes, stirring occasionally.

½ teaspoon pure vanilla extract
Nutrition
Calories:
124
kcal
Carbohydrates:
33
g
Protein:
1
g
Fat:
0.3
g
Saturated Fat:
0.1
g
Polyunsaturated Fat:
0.1
g
Monounsaturated Fat:
0.02
g
Sodium:
15
mg
Potassium:
216
mg
Fiber:
5
g
Sugar:
25
g
Vitamin A:
103
IU
Vitamin C:
9
mg
Calcium:
23
mg
Iron:
0.3
mg