My Oma loved us so much, she'd make us homemade Kartoffelpuffer, German potato pancakes, whenever we would want them! They're so good and bring up the best of memories eating them hot out of the pan at her kitchen table.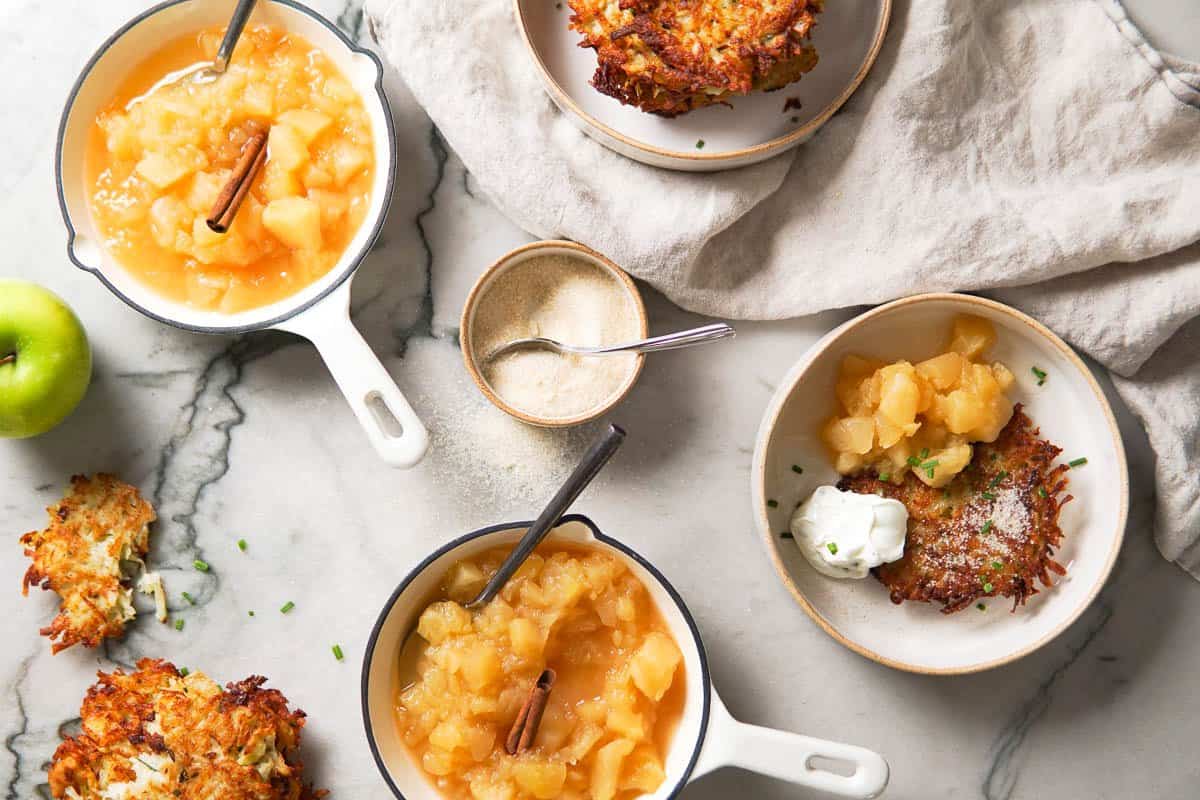 What are Kartoffelpuffer?
Kartoffelpuffer (pronounced Kah-toff-el-puh-fah) are German potato pancakes that are pan-fried and made from a dough consisting of (finely) grated potatoes, grated or finely chopped onion, flour, eggs, finely chopped chives, salt and pepper. They're also commonly called Reibekuchen and in the town where I went to grade school, they had a potato fest every year!
As you can see, my mom brain messed up here and grated the potatoes on the large hole of my box grater. Next time I make these, I will be sure to post new photos. So please, when you make authentic German potato pancakes, grate them on the fine or medium hole of a box grater. If you have a large food processor with a small shredding disk (I admire you), you could also use it instead. I only recently got a food processor and we never had one growing up in Germany.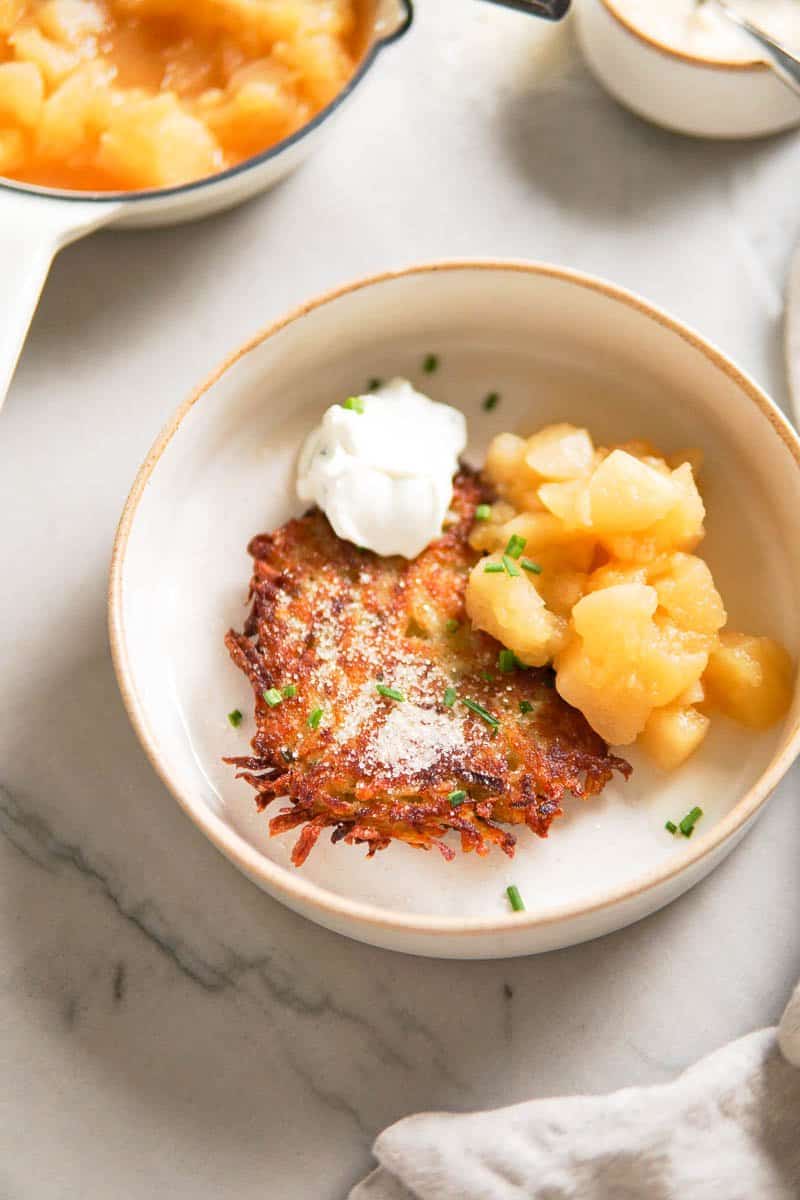 The Best Memories
German potato pancakes bring back fond memories of lunches with my Oma Sieghilde, who passed away 6 years ago. Growing up, my sister and I used to spend most afternoons at her house, where she would have a warm lunch ready for us when we got out of school. One of my favorite meals she used to make for us were her homemade Kartoffelpuffer. Grating enough potatoes to feed everyone was a lot of work, yet she usually always granted us our wishes when it came to what my sister and I wanted to eat at her house. And oftentimes, we'd get a chance to help her prepare lunch. Oma Sieghilde's potato pancakes were always sprinkled with sugar and served with applesauce. I love my homemade, chunky applesauce, which is so quick to make! That same town my Oma lived in even hosts an annual potato fest (Krompernfest) and they call these pancakes 'Kromperschnietscha' there.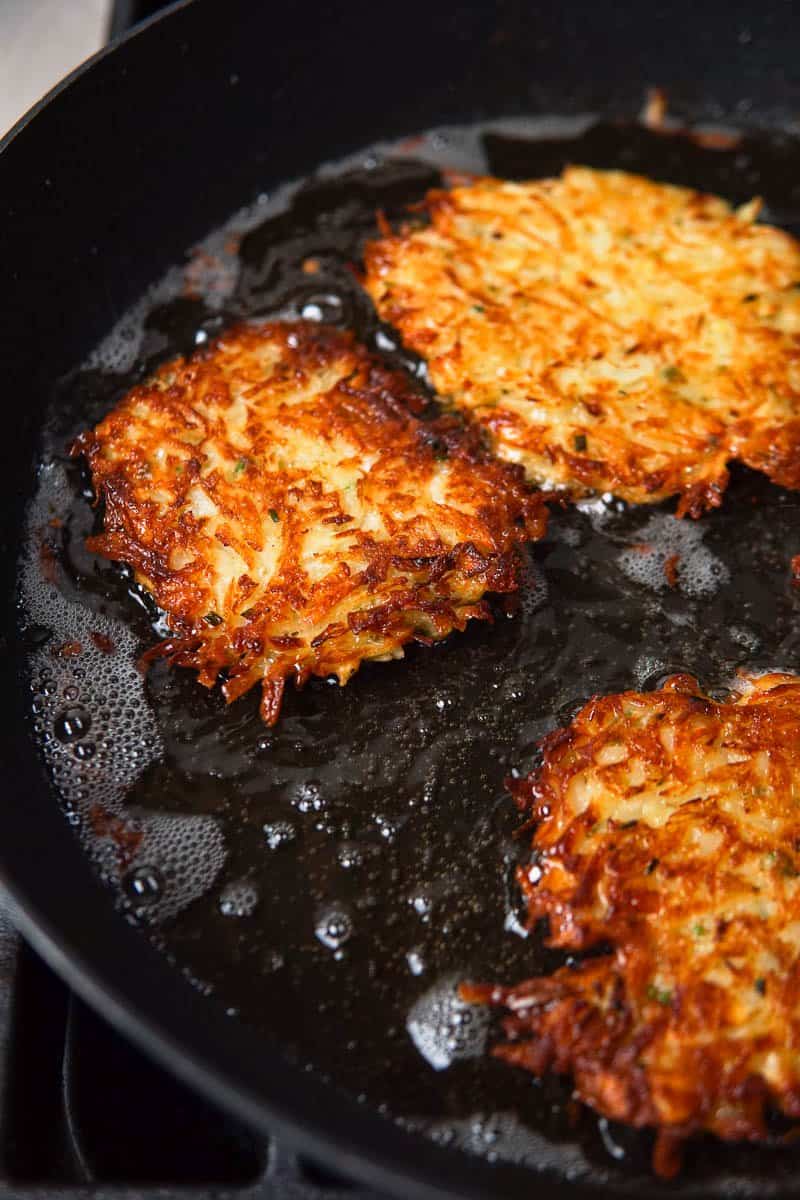 How To Make Them
What's super important is to get out as much of the potato liquid as possible before making the dough. Yes, potatoes (even the starchier kinds like Russet and Idaho) retain a ton of liquid. You'll notice that if you let the liquid sit, some of the starches will collect at the bottom of the bowl with the liquids. You could pour off the liquid and add those back to the dough. The best way to drain liquids is by either wringing the dough in a clean linen towel or pressing it into a fine-mesh sieve with a bowl beneath it. I have also heard of people using a salad spinner before and it just sounds genius, so I will need to try that sometime! Draining your liquids will ensure that your pancakes will fry up to be crispy and perfect! You'll also use plenty of oil, so that your Kartoffelpuffer will be swimming in it. This helps to cook them more evenly.
If you need some more visuals, watch this short video I posted to YouTube.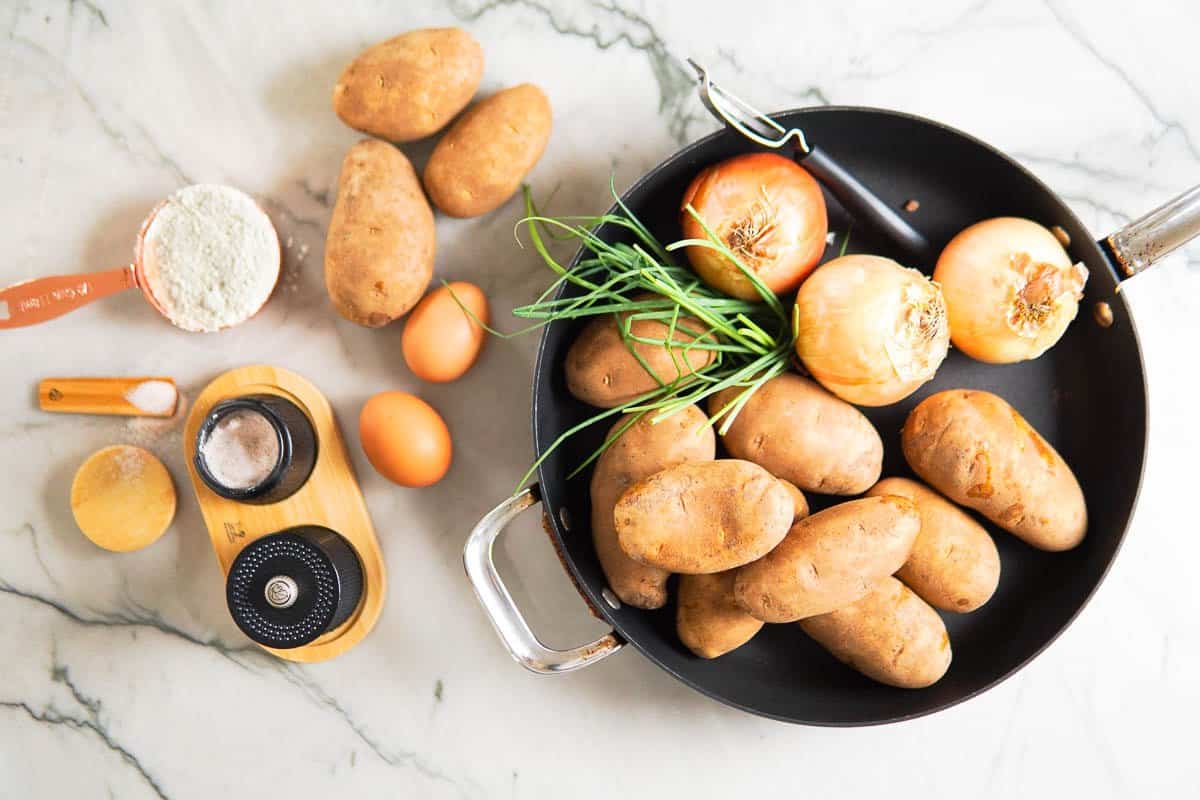 Can I Bake Potato Pancakes?
Yes! Alternatively to frying them in a ton of oil, you could prep a baking sheet with a high-heat cooking oil, heat the pan at 425° Fahrenheit (220° Celsius), then add the potato pancakes and bake for about 20 minutes, flipping once 10 minutes into baking.
What to Serve with Reibekuchen?
There are many roads to happiness, and so as another bite of Reibekuchen (another German word for Kartoffelpuffer) makes it to your mouth, consider garnishing it with any of the following. On a side note, we always grew up eating ours with a sprinkle of sugar, applesauce and a little quark dip (or sour cream).
A sprinkle of sugar. A little goes a long way!
Applesauce. You have try my chunky, homemade apple sauce! So easy and the kids love it!
Quark dip. Since quark is hard to find, I serve mine with a dip made of equal parts Greek yogurt and sour cream, some fresh chopped chives and salt. So simple and so good!
Herb salt
Strawberry jam
Smoked salmon
Shredded parsnip salad
Grafschafter Goldsaft (a German sugar beet syrup)
Let me know if I forgot to list any of the many ways to serve Kartoffelpuffer and which way you enjoy the most! Other German potato recipes I LOVE are Schupfnudeln, Oma's creamy potato salad and my famous seasoning for fries.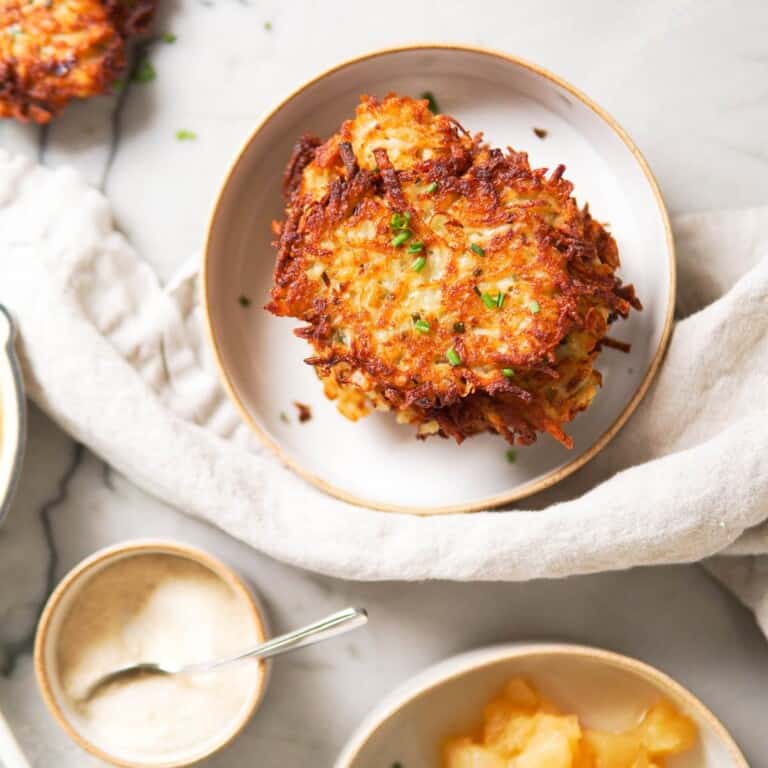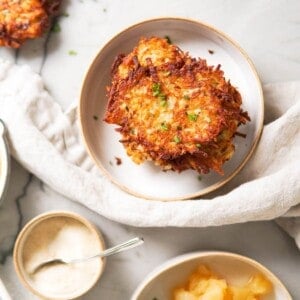 German Potato Pancakes (Kartoffelpuffer)
My Oma loved us so much, she'd make us homemade Kartoffelpuffer, German potato pancakes, whenever we would want them! They're so good and bring up the best of memories eating them hot out of the pan at her kitchen table.
Equipment
Large Frying Pan

Slotted Turner

Potato Peeler
Ingredients
12

large, starchy potatoes

I use Russet or Idaho in the US

3

large yellow onions

½

cup

all-purpose flour

2

eggs

¼

finely chopped chives

Plant some in your garden now! They naturally come back every year without having to replant!

salt & pepper

high heat oil for pan-frying

I use avocado oil and you'll probably need about 2 cups of it

sugar for sprinkling
Instructions
Peel the potatoes and onions. Grate the potatoes and onions with a medium to fine size of your grater and drain as much water as you can either wringing the grated potatoes out with a using a thin linen kitchen towel or by pressing into a fine mesh sieve with a bowl beneath it. Catch the liquids and let them sit. Potato starch will collect on the bottom (like a white, thick paste) and you can add that back to the potatoes.

12 large, starchy potatoes,

3 large yellow onions

Add a good amount of salt and a little less pepper to season. Add eggs, flour and chives and knead together.

½ cup all-purpose flour,

2 eggs,

¼ finely chopped chives,

salt & pepper

Add oil to a large frying pan and fry pan over medium high heat. Cook potato pancakes in batches by spooning pancake-sized amounts in the pan and pressing it down to make it flat. Cook for a few minutes on each side or until golden brown and crispy. Transfer to paper towels to drain excess oil.

high heat oil for pan-frying

Serve immediately or keep warm in a 150° Fahrenheit (65° Celsius) oven until ready to serve.

When ready to serve, sprinkle with sugar and serve with applesauce (I love my super easy, homemade chunky applesauce with a hint of spice) and a little sour cream with added chopped chives and salt. This is how my Oma Sieghilde would serve it to us when we were kids, but I described other serving suggestions in the notes below.
Notes
Other ways to serve Kartoffelpuffer:
with herb salt
with strawberry jam
with smoked salmon
with shredded parsnip salad
plum jelly
Grafschafter Goldsaft (sugar beet syrup)
Schwarzbrot (dark bread)
Nutrition
Calories:
417
kcal
Carbohydrates:
90
g
Protein:
13
g
Fat:
2
g
Saturated Fat:
1
g
Polyunsaturated Fat:
1
g
Monounsaturated Fat:
1
g
Trans Fat:
1
g
Cholesterol:
55
mg
Sodium:
45
mg
Potassium:
1888
mg
Fiber:
7
g
Sugar:
5
g
Vitamin A:
86
IU
Vitamin C:
28
mg
Calcium:
78
mg
Iron:
5
mg