This pretzel beer bubble bread is easy to make, will be a guaranteed showstopper at your next Oktoberfest party and beyond, and is so incredibly addictive! Tear off a mini roll, dip in Obatzda Bavarian cheese spread and try to stop.
Mini pull-apart pretzel rolls
If you have a weakness for pretzels like I do, this pretty pull-apart mini pretzel roll loaf just begs to be made by you! It's so cute and the perfect casual food for an Oktoberfest or Super Bowl party, an appetizer for dinner with friends. And if you are hungry for even more pretzel recipes, you have to try my famous classic pretzels, sweet German pretzels called Martinsbrezeln and my Ditsch copycat ham and cheese pretzels. But back to today's recipe. I almost ate the entire loaf by myself instead of sharing it with others like I had intended on doing. So yes, it's addictive and here is your warning.
Tools
Also, you may want to make sure you have a precise kitchen scale for this recipe. It will help make the 15 gram portions of pretzel balls so much faster and will ensure they all look uniform and perfect... BECAUSE if you go through the trouble to shape roughly 50 balls of dough, why wouldn't you want for them to all look perfect?
Other tools you will need are some good stainless steel bowls, a whisk for the lye and a pastry brush for applying your lye and egg wash.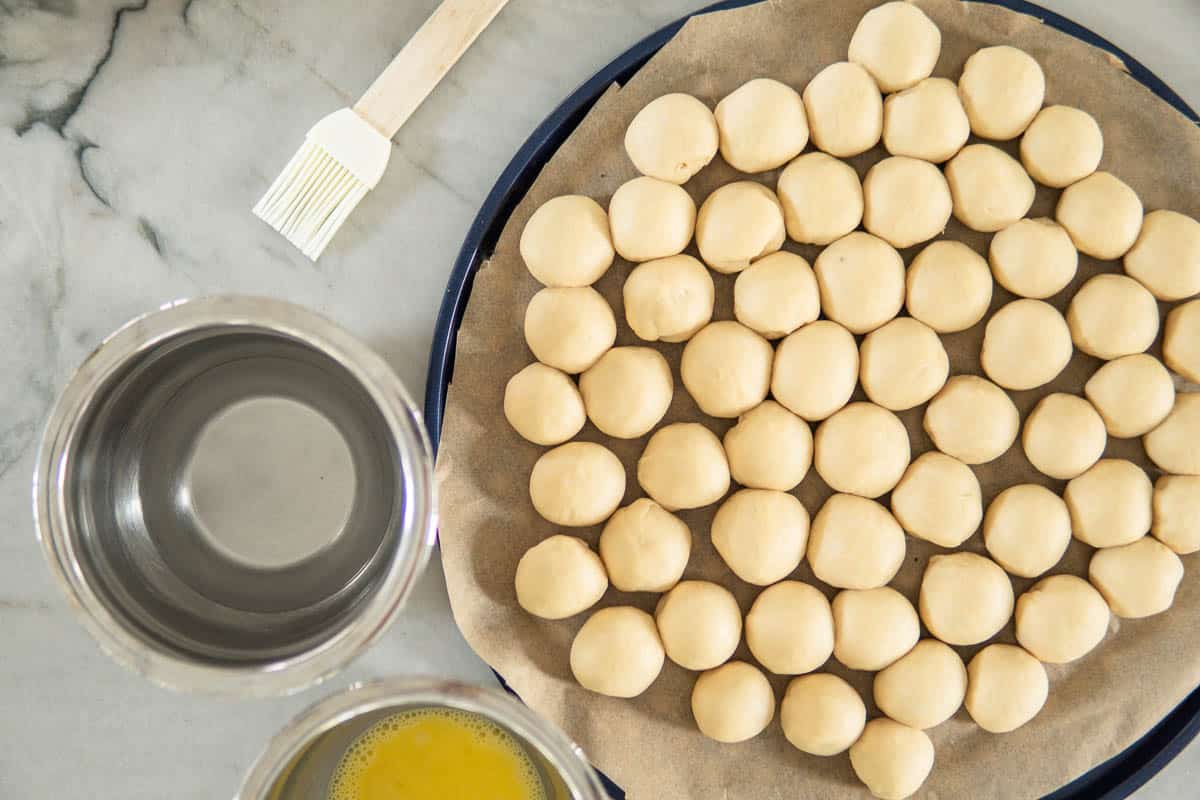 Ingredients
PLEASE don't be scared of the whole 'using real lye for pretzels thing.' It's not as scary as it may sound. Your pretzels will taste so much more authentic! Just make sure you store the lye in a safe spot where your kids can't get to it. Also don't forget that final sprinkle of pretzel salt because what is a pretzel without salt?
Other than that, you will need pretty common ingredients like flour, brown sugar, salt, butter and beer (I used a Paulaner Märzen for mine).
Video
Need more convincing that you need to make this irresistible pretzel beer bubble bread RIGHT NOW (I usually make it for myself and eat it in PJ's, although sometimes I will share). Watch this 25-second video!
Now get to shaping those balls! Your guests and mainly yourself will thank you for this very shareable showstopper. Other pretzel recipes you should try are my classic homemade pretzels, chocolate chip pretzels, Martinsbrezeln and MORE! Guten Appetit!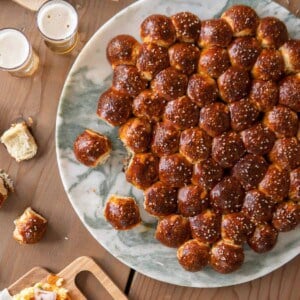 Pretzel Beer Bubble Bread
This pretzel beer bubble bread is easy to make, will be a guaranteed showstopper at your next Oktoberfest party, football watching party, holiday feast and beyond, and is so incredibly addictive! Tear off a mini roll, dip it in some Obatzda and try to stop. (I like to eat it for no good reason at all, preferably in PJ's.)
Ingredients
Pretzel Bier Bubble Bread Dough
Other
1

egg yolk

2

tablespoon

milk or cream
Instructions
Use room temperature beer. Add in the yeast and let rest for about 10 minutes. The yeast should start to bubble.

330 ml Oktoberfest beer,

1 pouch active dry yeast

Combine all ingredients and knead for about 10 minutes until you have a smooth, elastic dough. Cover with a kitchen towel and allow to rise in a warm spot for about 1 hour or until doubled in size.

530 g all-purpose flour,

30 g brown sugar,

50 g butter (room temperature),

1 teaspoon salt

Preheat oven to 355° Fahrenheit on the convection setting (180° Celsius). Prep a 12-inch (30 cm) round baking sheet with parchment paper or even better, a silicone baking mat. It prevents the lye-brushed dough from sticking after baking.

Using your kitchen scale, divide the dough into 15 gram portions and form each into a small ball. Arrange them on the baking sheet, so that they're touching each other. Cover and allow to rise another 15 minutes.

Combine the COLD water and lye by slowly whisking the lye into the water. It's best to do this outside or under a vent hood turned to high. Stir until the solution is no longer cloudy. Whisk together the egg yolk and milk or cream. Brush the bread with the lye solution first (I brush it on TWICE to get a darker result) and then with the egg solution before sprinkling with pretzel salt.

100 ml water,

5 g lye,

1 egg yolk,

2 tablespoon milk or cream,

pretzel salt

Bake for about 25 minutes, rotating in your oven once midway through the baking time. Allow to cool on a wire rack and enjoy with some Obatzda Bavarian cheese spread and beer! Prost
Notes
Leftovers? How did that happen? But seriously, if you do, freeze the whole thing. When ready to eat, run some cold water over the rolls, then reheat in your oven at 300 degrees for about 10 minutes or until crisp again on the outside.
Want Lighter Pretzel Buns? Don't brush the lye solution on twice like I do, but only once.
Make Ahead? Freeze the whole loaf after brushing with lye. When ready to bake, simply brush with water, top with the pretzel salt, then bake according to instructions (leave out while the oven preheats). This is the perfect time-saving tip when making this pretzel bread for a party or the holidays.
Nutrition
Serving:
120
g
Calories:
310
kcal
Carbohydrates:
52
g
Protein:
7
g
Fat:
7
g