These is the BEST German sugar pretzel recipe! They are fluffy on the inside, with an irresistible butter flavor and a light crunch on the outside. I have worked at perfecting this recipe FOR YEARS and make it every year for our small Saint Martin's Day celebration complete with a small fire and a lantern walk.
A little
German sweet pretzel

background

Because this Martinsbrezeln aka German sweet pretzel recipe is addictive! But here is the long answer. The Martinsbrezel was THE baked good passed out to kids at the Martinsfeuer where I grew up in Germany (Trier and surrounding areas), but other sweet baked goods in different shapes are also popular in the celebration of Saint Martin. The Martinsbrezel and Sankt Martin go together so well because of the benevolence represented in both the pretzel and Sankt Martin, who saved a man from freezing to death by giving him his red cape.

Another popular baked good for Martinstag is a Stutenkerl, which I know from Nikolaustag (St Nick's Day) on December 6th! Using white flour in baked goods used to be a luxurious thing to do as it takes extra steps to refine the flour and therefore wasn't as commonly available. Thus baked goods made from white flour were typically only baked for special occasions like in celebration of Sankt Martin, and often in the shape of pretzels.
What Is Saint Martin's Day?
November 11th is when Martinstag (Saint Martin's Day) is celebrated in Germany, marking the end of the harvest season. St Martin's Day was my favorite Fall holiday growing up in Germany, especially since Halloween wasn't celebrated in Germany when I grew up there. The lanterns we crafted in school, the songs we sang with our friends while lighting up the town with our lanterns, and finally the pretzels we ate at the large bonfire, everything about it was just magical to me. Saint Martin himself is known for his love for children and the poor. On the night of November 11th, German children walk in processions with lanterns they made in school, led by a man on a horse who is dressed like Saint Martin.
The procession leads through town to a large bonfire, where Martinsbrezeln aka these German sugar pretzels are passed out to the children for free. I remember Martinstag very vividly, and always enjoyed singing the Saint Martin's Day songs while walking with my lantern. The sweet reward at the end, the Martinsbrezel, was the best part. Clearly, it may be difficult for you to find a lantern procession in the United States, but if you have kids that like to be involved in the kitchen, why not try to make these pretzels together as a family and enjoy them as a delicious snack. I promise everyone will LOVE these German sugar pretzels! Since having our own kids, we now make these Martinsbrezeln every year and share them with friends and their kids.
How to Make Pretzels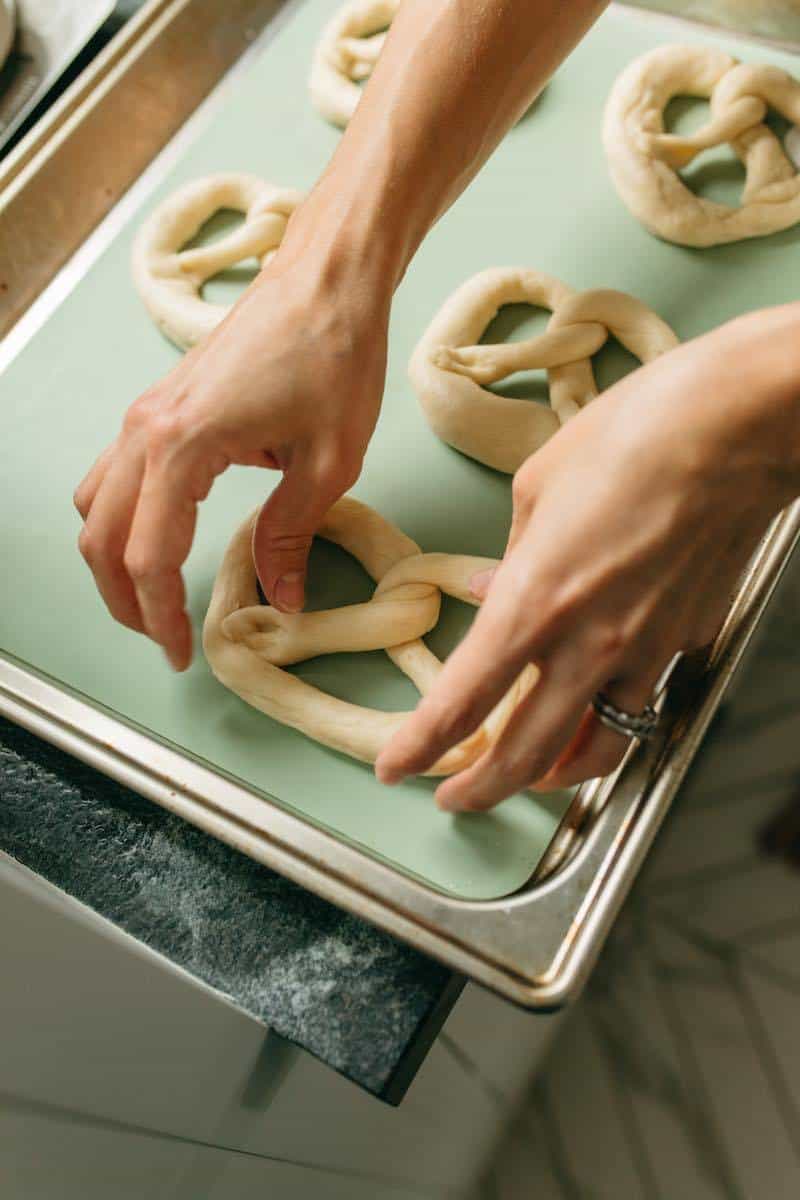 Pretzels are really pretty easy to make once you get the hang of it! I have confidence in you! And I am sure if you have kids in your family, they would have a blast, too. Here are the basic steps, but PLEASE skip ahead and just watch the video below a few times to help you understand how to shape a pretzel! The first step is to roll each dough ball in a long log (about 20 inches long) with a 'belly' aka a thicker portion in the middle and tapered ends.
You'll then leave the belly on your work surface and cross over the middle section twice while holding onto the tapered ends. Finally, you'll press the ends on the belly. You can either leave the ends facing up or down, your choice. It's probably easiest to watch the short Martinsbrezel video below recorded by Convivial Productions, which includes a short section on shaping pretzels!
Ingredients
The number one ingredient that stands out to me in a Martinsbrezel is sour cream! It should also be noted that sour cream is not an ingredient in the common lye-dipped pretzel. There is also quite a bit more sugar in a Martinsbrezel! But believe me, while this pretzel is not health food, it is soul food, and all the butter, sour cream, and sugar are all very much needed.
I actually recently tested some more Martinsbrezel recipes and ended up adding even more butter to my old recipe because they tasted SO MUCH BETTER! There is no lye involved in this recipe, which gives savory pretzels their distinct taste and can sound intimidating to work with (although it's really not that bad if you follow my clear instructions. And the results are so worth it!).
Here the simple list of ingredients you will need to make German sugar pretzels:
All-purpose flour

. No need for any specialty flours.

Sugar

. Just regular cane sugar.

Butter

. I use salted grass-fed butter I buy at Costco because I bake so much!
Sour cream. Use the full fat kind.
Yeast. I keep a large container of active dry yeast in the fridge when I bought it in bulk from Costco one time.
Milk. I used whole milk, but any other kind will work as well.
More butter. For brushing on the pretzels before baking AND after baking.
More sugar. For rolling the top of the pretzels in after baking - this is a MUST.
Who Invented Pretzels?
The 'who' is not so easy to determine because crazy enough, Brezeln or pretzels have been around for over a thousand years! Some argue that pretzels were invented by a monk, who was inspired by the way the other monks crossed their arms when praying. This story seems to be the most plausible to me because the way the monks crossed their arms and touched their shoulders for prayer looks just like a pretzel! The word pretzel is also derived from the Latin word 'Braccchium,' which stands for arm in English. This Latin word transitioned from old German to Brezitella, Precita, and Brezin to finally Brezeln in today's German.
There are other stories giving Bavarians (where Brezeln are Brezen) and Swabians credit for the invention of the pretzel, but I won't go into those too much. Bottom line is: let's just eat German sugar pretzels and have a good time! I'll promise you'll love making this fun German pretzel recipe, whether you make them with or without kids! Also, make sure to check out my interview and blog feature with Convivial Productions! It was so fun to have them in my home to photograph my Martinsbrezeln and share with them a few tidbits about why I started my German food and recipe blog.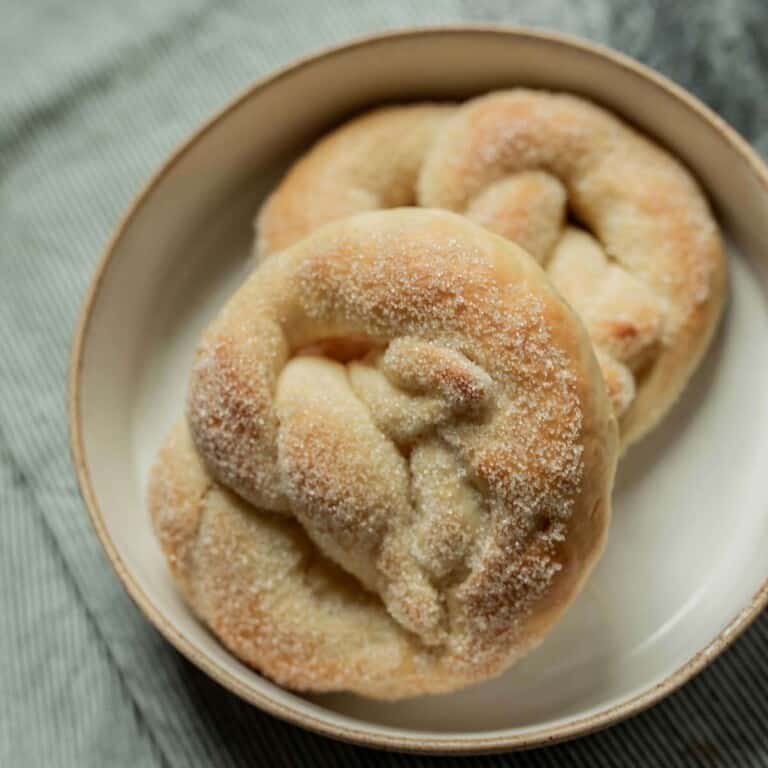 German Sweet Pretzel Recipe (Martinsbrezeln)
This Martinsbrezeln recipe makes the best German sweet pretzels I have ever had! They will be loved by everyone, adults and kids alike. These sweet pretzels bring up fond memories of standing by a large bonfire (Martinsfeuer) with my lantern while eating this pretzel.
Ingredients
Martinsbrezeln Dough
500

grams

all-purpose flour

7

grams

active dry yeast

1 small pouch

150

milliliters

milk

lukewarm; I used whole milk, but you can use whichever milk you have handy

75

grams

sugar

150

grams

sour cream

whole fat sour cream

75

grams

butter

room temperature
Martinsbrezeln Topping
30

grams

butter

100

grams

sugar

for rolling the pretzels
Instructions
In a small bowl, combine warm milk, yeast, and sugar. Let stand for 10 minutes. Using the bowl for a stand mixer, combine the yeast mixture and all remaining dough ingredients and knead with the dough hook for about 5 minutes.

500 grams all-purpose flour,

7 grams active dry yeast,

150 milliliters milk,

75 grams sugar,

150 grams sour cream,

75 grams butter

You should end up with a smooth bowl that doesn't stick to the sides of the bowl. Cover with a clean kitchen towel and allow the dough to proof in a warm place for 45 minutes to an hour or until doubled in size.

Dust your hands in flour and divide the dough into 8 pieces (about 120 g or 4.2 oz each - a kitchen scale comes in handy here). Form each dough piece into a long log shape, tapering towards the ends, and shape your pretzels (make sure to watch the pretzel shaping video for help with this if needed!)

Transfer the pretzels to baking sheets covered with parchment paper, cover with a clean kitchen towel, and allow to proof for another 30 minutes. In the meantime, preheat the oven to 390 degrees Fahrenheit (conventional setting)

For the topping, melt 1 tablespoon butter and brush onto the pretzels. Bake in preheated oven for about 15 to 20 minutes or until light brown. While the pretzels are baking, melt the remaining butter and place ½ cup of sugar in a shallow dish.

30 grams butter,

100 grams sugar

Immediately after baking, brush the top of the pretzels with the butter (2 pretzels at a time at most because the butter dries quickly), then dip in the sugar. Allow cooling for a few minutes before enjoying.
Nutrition
Calories:
433
kcal
Carbohydrates:
65
g
Protein:
8
g
Fat:
16
g
Saturated Fat:
9
g
Polyunsaturated Fat:
1
g
Monounsaturated Fat:
4
g
Trans Fat:
1
g
Cholesterol:
40
mg
Sodium:
119
mg
Potassium:
130
mg
Fiber:
2
g
Sugar:
17
g
Vitamin A:
475
IU
Vitamin C:
1
mg
Calcium:
55
mg
Iron:
3
mg