Germans love a good German potato salad recipe with Würstchen (Wiener sausages) on Christmas Eve. Kartoffelsalat mit Würstchen is a simple, stress-free meal that can be made ahead of time and that everybody loves!
What Food Do Germans Eat On Christmas Eve?
Besides the more modern versions of making Fondue or Raclette on Christmas Eve, there is also a simpler, more traditional German Christmas Eve recipe (and this one's in fact preferred by my Opa Elmar): Kartoffelsalat mit Würstchen!
It's an easy German potato salad recipe served with warmed Wiener sausages. The potato salad is usually just whatever kind the family prefers.
The German Potato Salad My Family Loves
My Oma Sieghilde used to make hers in a
creamy mayo-pickle juice-broth dressing with
lots of boiled eggs
small diced onion
pickles
& pieces of Wiener sausages (I used bacon instead this time)
I stayed pretty true to her recipe, except I switched out the sausages for crisped bacon pieces since Wiener sausages are already served with sausages. It's SO GOOD! Of course you can choose to make whichever kind of potato salad your family prefers, which helps to make this meal so fun! Making this German potato salad is stress-free because it can be made ahead of time, so that all that's left to do is to warm the sausages in warm water. And kids love it, too! My Opa preferred grilled Bratwurst instead of Wiener Würstchen, so that's certainly an acceptable substitution.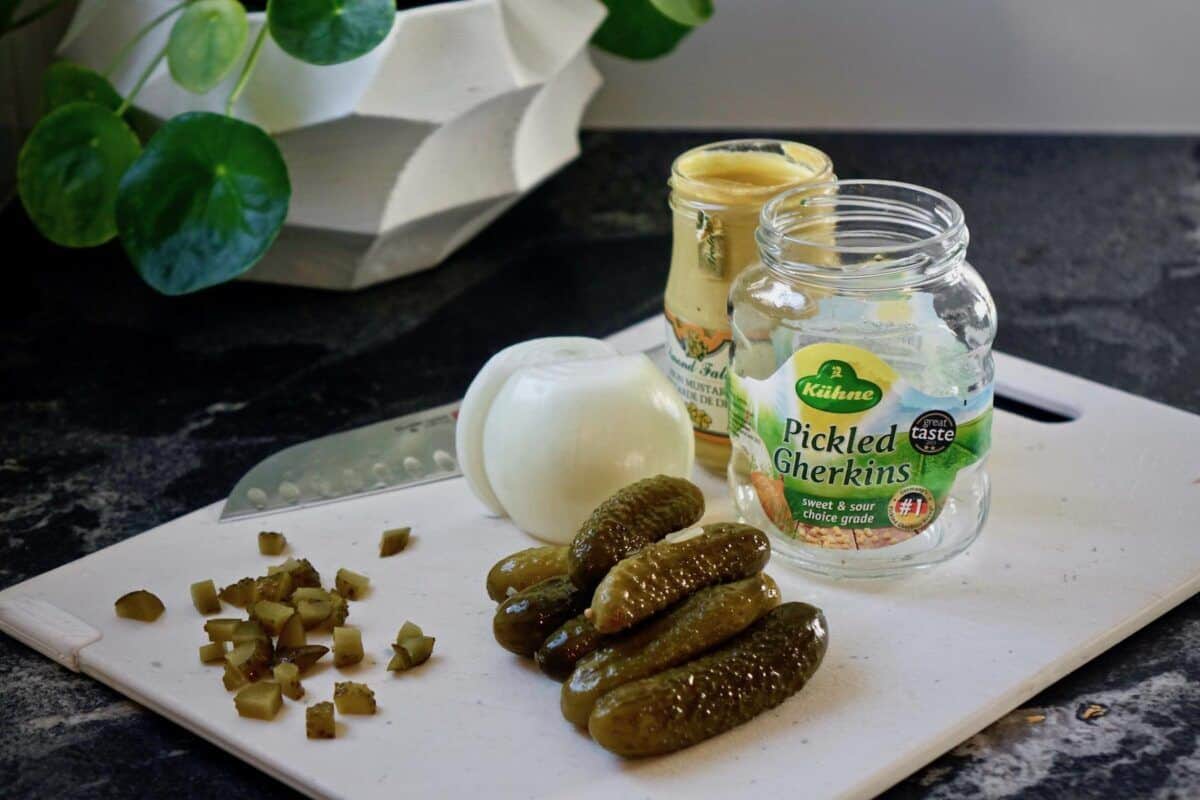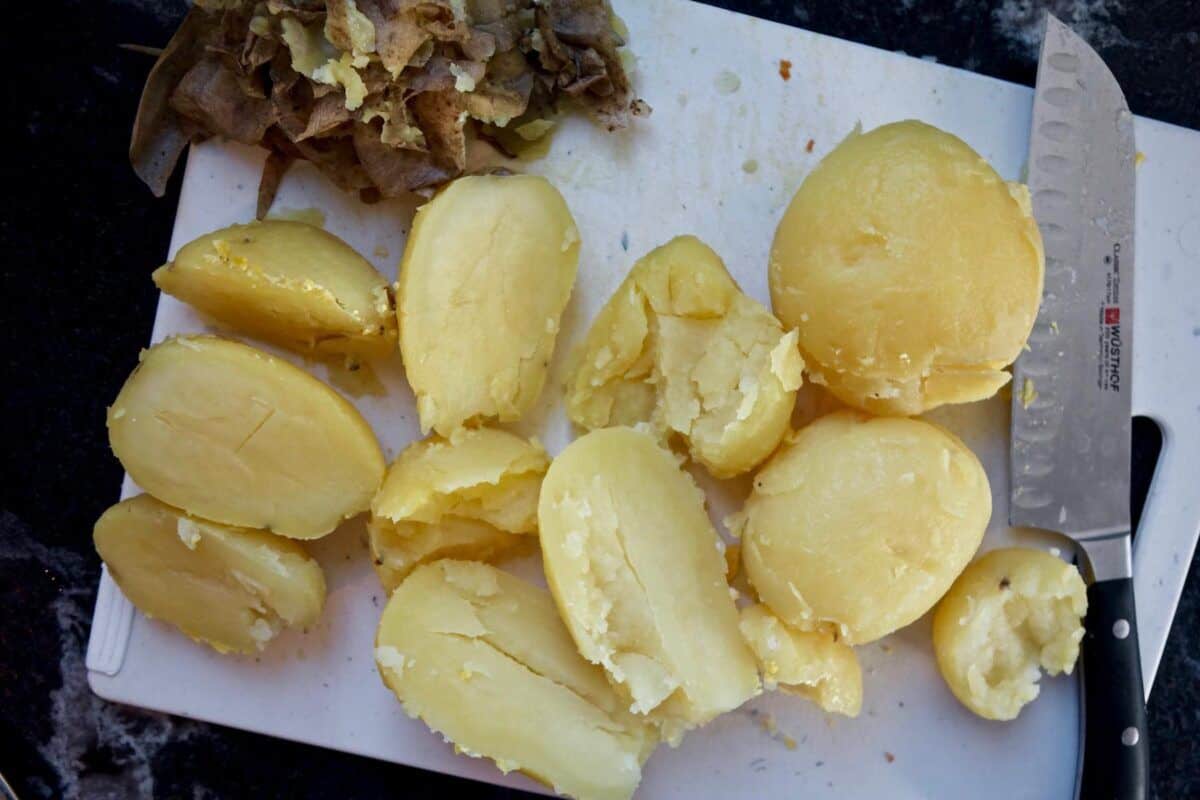 Intro to German Christmas Traditions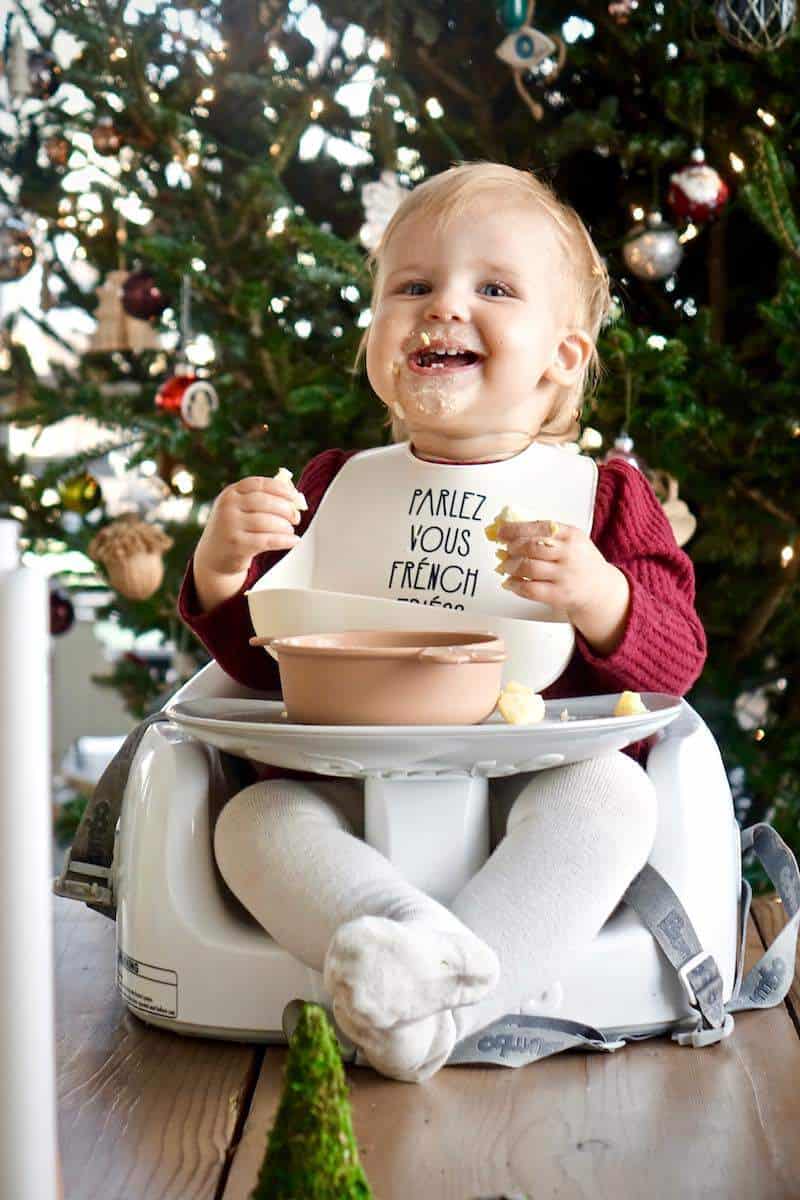 Christmas Eve, unlike in America, is Germany's biggest Christmas celebration and the first of the 3 Christmas holidays. Growing up in Germany, Christmas Eve was always my favorite holiday. Not just because of the presents (it often actually felt like torture having to wait until after dinner to open them), but because of the magic of the twinkling Christmas lights in the evening coupled with the coziness of being all inside on a cold Winter's Day with close family. We dress up, eat a special meal together and spend time by the Christmas tree while exchanging presents and watch the kids play with their new toys. The kids receive larger presents, while adults typically just receive a few smaller ones.
Even more German Recipes
Christmas is over. So what's next? All sorts of amazing German Recipes! Make sure to subscribe to my blog now, so you're getting a weekly update of what kinds of German meals we are cooking and what else we're up to as a German-American family living in Kansas City.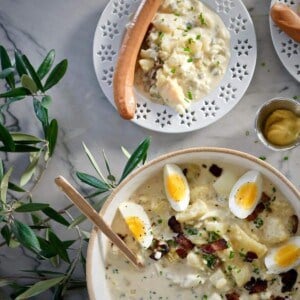 German Potato Salad with Würstchen
Germans love a good German potato salad recipe with Wiener sausages on Christmas Eve. Kartoffelsalat mit Würstchen is a simple, stress-free meal that can be made ahead of time and that everybody loves!
Ingredients
Salad Ingredients
2

kilograms

waxy potatoes

like gold potatoes

150

grams

red onion

100

grams

thick-cut bacon

200

grams

dill pickles

large pickles, I linked the German pickles I use

5

eggs

plus more for garnish
Other
chopped parsley, more boiled eggs, sliced pickles

for garnish

8

Wiener sausages

I buy mine at a local German butcher, but you can also find them online.
Instructions
Boil potatoes, skin on, ideally the day before preparing the salad. Then peel, leaving the potatoes whole, and keep cool and covered until ready to put together the salad.

Boil your eggs (use instructions above for medium-boiled eggs, making sure to boil a few additional eggs for garnish). Let them cool and dice.

Medium dice the pickles and Wiener sausages.

Combine everything in a medium-sized bowl.

Slice the potatoes into about ¼ inch thick slices and combine them in a bowl with the small diced onion.

To make the dressing, in a medium-sized pot, combine broth, pickle juice, mustard and bring to a boil. Add salt, pepper and sugar to taste (it should not be too sour or else grandma gets mad!).

Let cool slightly, then pour over potato-onion mixture and let marinate for 10 minutes before folding in the mayo.

Combine with the diced pickles, eggs, and crisped bacon pieces. Keep cool in the fridge, and garnish before serving with more eggs, pickles, and parsley before serving.

Warm the Wiener sausages in a large pot of cold water, then warm them, but do not let them boil.

Serve family-style and enjoy! Guten Appetit!
Nutrition
Calories:
608
kcal
Carbohydrates:
53
g
Protein:
15
g
Fat:
38
g
Saturated Fat:
9
g
Polyunsaturated Fat:
16
g
Monounsaturated Fat:
12
g
Trans Fat:
1
g
Cholesterol:
144
mg
Sodium:
1287
mg
Potassium:
1327
mg
Fiber:
5
g
Sugar:
5
g
Vitamin A:
344
IU
Vitamin C:
23
mg
Calcium:
70
mg
Iron:
4
mg