These bacon-cheese pretzel sticks are authentically dipped in a real lye solution, then topped with diced bacon and gruyère cheese before baking. They're an addictive treat as a snack or to enjoy alongside a German dinner.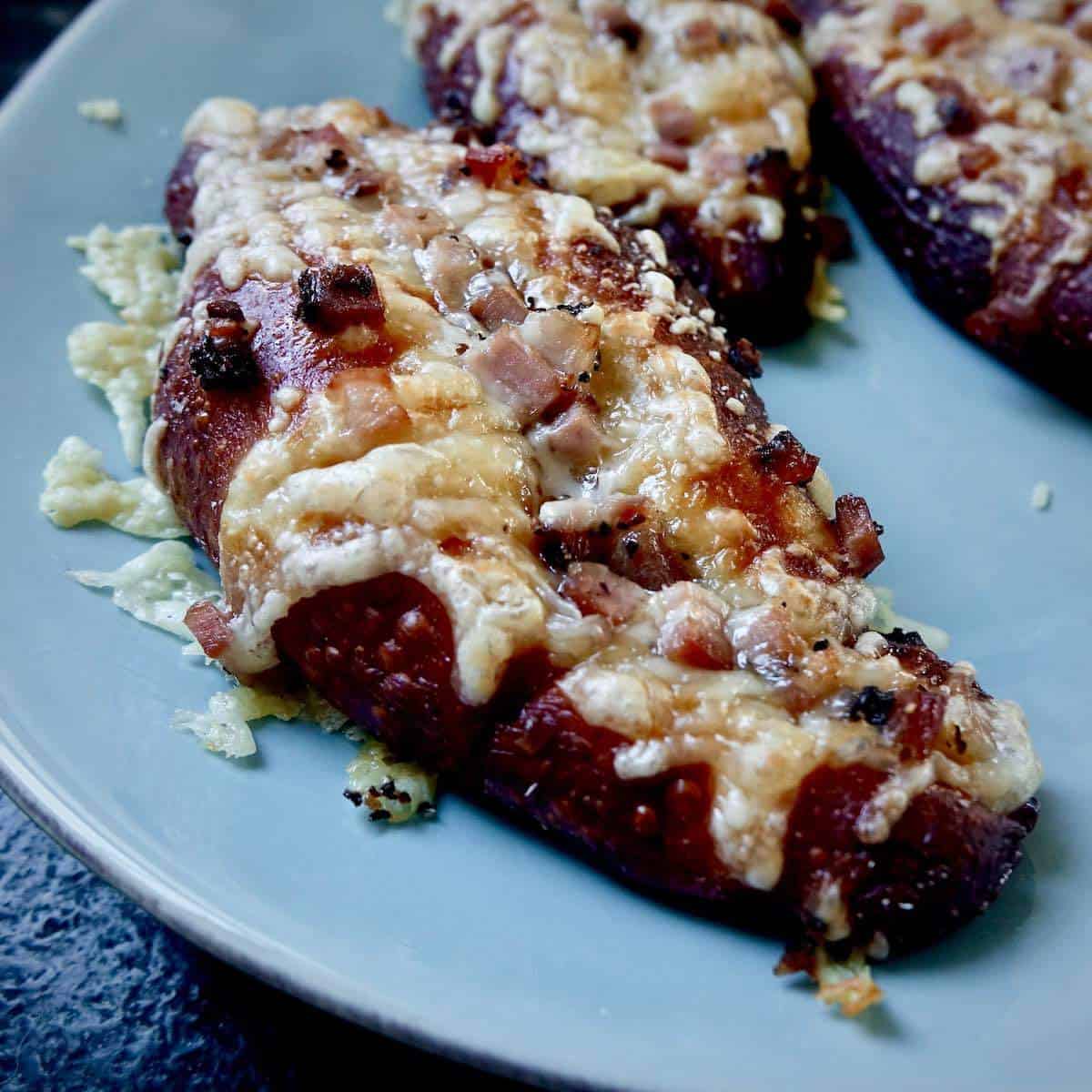 How to make bacon-cheese pretzels
My favorite pretzel treat at Ditsch is a double pretzel stick covered in cheese and smoked, cured ham called Katenschinken, which is basically trimmed bacon. It's the perfect combination of pretzel, crusty cheese edges and gooey cheese middle and salty bacon.
So I decided: craving no more! Let me make a copycat version of Ditsch's Schinken-Käse Brezelstangen! These pretzel sticks are so addictive, you'll want to eat them all in one sitting. However, if you do have any left over, they're perfect again the next day when you follow my reheating instructions!
Get creative and add even more or completely different toppings (I'll add some onions next time for sure), use a cheese other than gruyère (smoked gouda would be really good!), and even leave the bacon off for a vegetarian version!
You could either serve these for savory breakfast, a quick lunch, snack or along with a grilled dinner (maybe cut them up for dinner or make single sticks). You get the point. These bacon-cheese pretzel sticks are great ANY time of day! 😀 So what are you waiting for? It's time to get to making these!
Fast food in Germany and America
We all know about American fast food. It's the kind you drive through. The only drive throughs that exist in Germany are for American fast food restaurants after all (okay and the car wash). It seems funny now, but as kids, I didn't mind them at all. It was so fun to drive through somewhere, talk to a machine about what I want to eat, and then magically receive those things at the next window. My kids don't get nearly as excited about drive throughs.
German fast food however you pick up at train stations and various points scattered throughout the city centers and pedestrian zones. It's the food you pick up while quite literally on the run.
One of my very favorite German fast foods are Döner invented in Berlin (and you should make Döner yourself! They're phenomenal!).
One of my other favorite places for German fast food is called Ditsch (go ahead, visit their website and drool) and serves pretzels 100 or so different ways like pretzel croissants, pretzel bites and pretzel pizzas. And again, these Brezelstangen (pretzel sticks) with bacon and cheese are my favorite! So try them and let me know how much you love them in a comment below.
Also try my homemade classic pretzels, the most popular recipe on my blog!
Make sure to subscribe to my blog now for weekly emails with more German recipe inspiration.
Schinken-Käse Brezelstangen: Bacon-Cheese Pretzel Sticks
These 'Ditsch' copycat recipe, double pretzel sticks are dipped in a real lye solution, then topped with trimmed, diced bacon and gruyère cheese before baking. They're the perfect treat to go with a cocktail or on the side with dinner (or is dinner really the side here?).
Ingredients
Lye Solution
500

ml

cold water

20

g

lye
Pretzel Toppings
100

g

gruyère cheese

shredded - gouda or just simple Swiss cheese would work great, or even white cheddar!

150

g

bacon

trimmed off any excess fat
Instructions
To make your pretzel dough, combine brown sugar, dry yeast and warm water and allow to sit for 5 minutes until the yeast starts to activate and bubble. In a large bowl, combine sifted flour, salt, room temperature butter (heat for a few seconds in microwave if too cold) with the yeast mixture. Knead for 8 to 10 minutes or until you achieve a smooth, elastic dough. Cover the bowl with plastic wrap or a damp towel and place in a warm spot. Allow to rise for 1 to 2 hours or until doubled in size. You can also prepare the dough the night before and keep it in the fridge.

When ready to start working with the dough, preheat your oven to 420 degrees Fahrenheit or 220 degrees Celsius. Prep two baking sheets with parchment paper. Place your dough on a flour dusted surface and divide it up into 16 equal pieces (easiest to use a kitchen scale if you have one). The roll each piece out to 15 inch long logs, tapering towards both ends. Place 2 logs next to each other on the parchment paper covered baking sheets to make 8 double log pretzel sticks (view photo). Cover and allow to rest in a warm spot for 20 minutes.

Prepare your lye solution by carefully whisking the lye into the cold water, not the other way around. Carefull and ideally wearing rubber gloves and a steel skimmer, submerge one pretzel stick at a time in the lye solution for about 10 seconds, then place on a baking sheet lined with parchment paper. Top with the shredded cheese and small diced, trimmed bacon. Bake for 20 to 25 minutes on the middle rack. Serve warm or cooled.

Store leftovers in your fridge in tupperware or a plastic bag for up to 3 days. When ready to reheat, run some water of the pretzel sticks, then bake for 5 to 8 minutes at 350 degrees Fahrenheit.
Nutrition
Calories:
394
kcal
Carbohydrates:
50
g
Protein:
13
g
Fat:
15
g
Saturated Fat:
7
g
Trans Fat:
1
g
Cholesterol:
34
mg
Sodium:
681
mg
Potassium:
126
mg
Fiber:
2
g
Sugar:
2
g
Vitamin A:
219
IU
Vitamin C:
1
mg
Calcium:
141
mg
Iron:
3
mg