Wanna kick things up a notch with an AUSTRIAN (you read that right) inspired meat and cheese board? It's called a Brettljause (also Jausenbrettl) there and is similar to Abendbrot, but those homemade Austrian spreads are the best!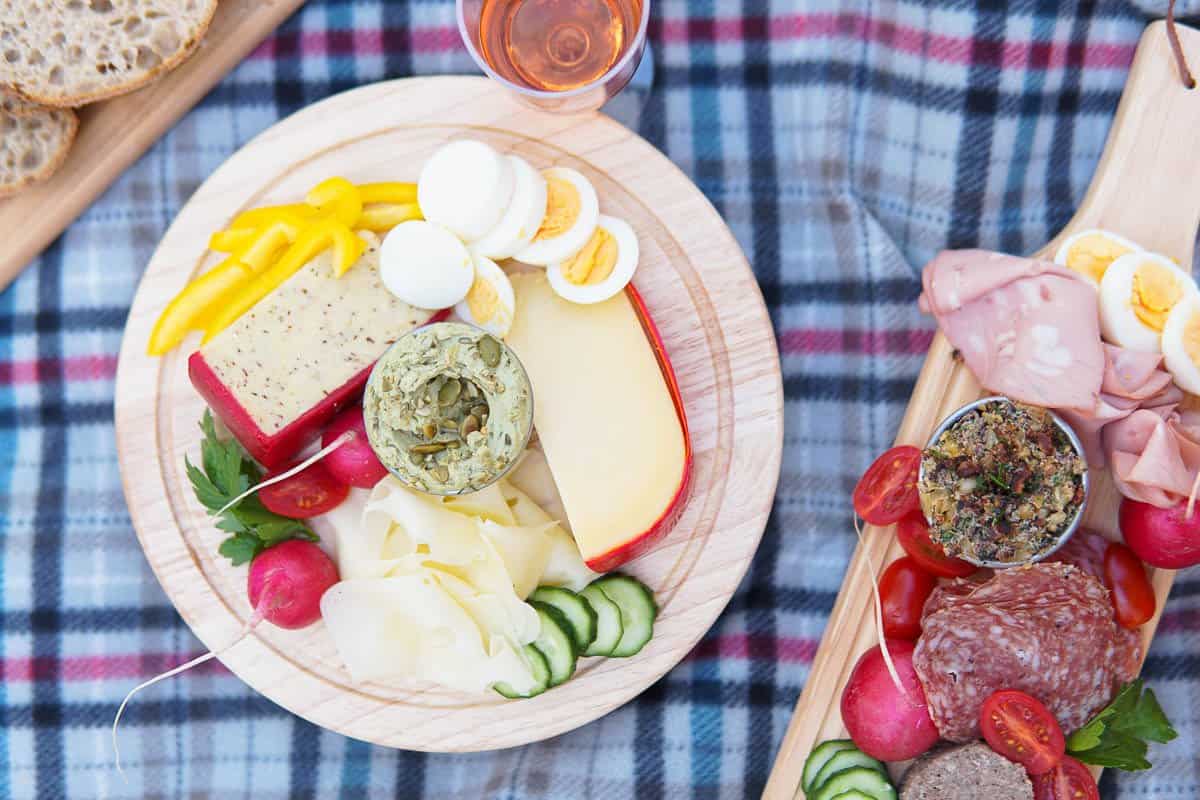 This Is A Sponsored Post That Contains Affiliate Links
Charcuterie and Cheese Boards in Austria
Continuing my Austrian-inspired recipe series (I previously posted Fädlesuppe (a pancake broth soup) and Wiener Apfelstrudel (Vienna apple strudel), the Brettljause or Jausenbrettl is another cozy meal to enjoy while surrounded by snow in the mountains. Or simply to share with friends or family at home, in your backyard, or at a park as part of a picnic as I did! Simply put, a Brettljause is an Austrian meat and cheese board traditionally served either as a snack or for dinner. It integrates a couple of very special Austrian dips. And you'll definitely want the recipes for those! They are so unique, addicting and good!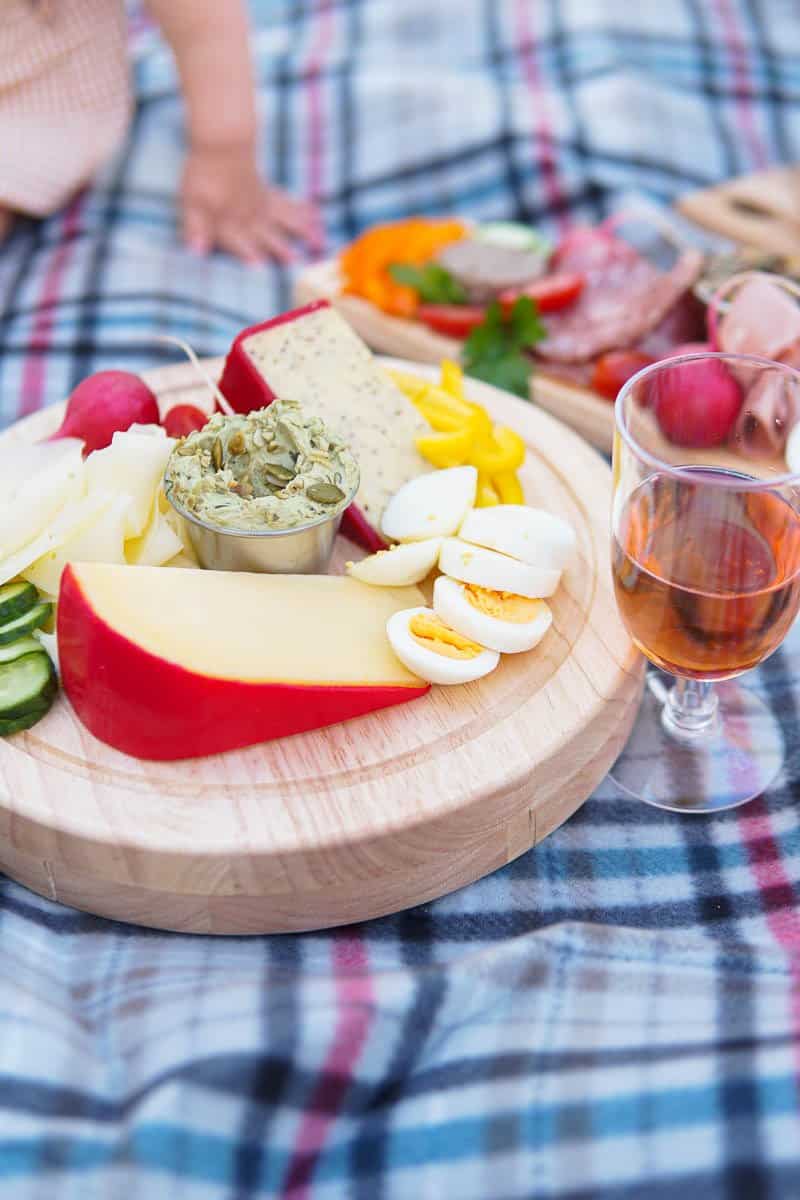 What Is Brettljause?
A Brettljause or Jausenbrettl is an Austrian meat and cheese plate. And it is featuring some rather (to Americans) unusual spreads and toppings than what you would normally recognize on a charcuterie and cheese board. Let me take you through the process. First I select and slice some European cheeses. I went with a Dutch Gouda (the kids' favorite because it's so mild), an English mustard cheese, and the Norwegian Jarlsberg cheese, which is mild and nutty in flavor. I made a separate board with charcuterie including prosciutto ham, mortadella and paté. Then I finished everything off with a couple of homemade, Austrian spreads. A bacon spread and a pumpkin spread to be exact. They're addicting! And finally, lots and lots (like half the board) of raw, cut-up veggies for toppings. I served it with rustic country sourdough bread from the Kansas City local Ibis Bakery. This was a perfect Friday night meal enjoyed with some Rosé wine picked up on our recent trip to Portland, Oregon.
Jausenbrettl Versus Abendbrot
Traditionally you finish the day with a cold dinner in Germany, consisting of sliced bread, meats and cheeses, and maybe some tea to help digestion – this is called Abendbrot and is how we ate dinner at my grandma's house in case my parents were running late from work to pick up my sister and I. Lunch is traditionally the only warm meal of the day, but the modern German way however often reverses lunch and dinner traditions, preferring cold sandwiches for lunch and a warm dinner in the evenings. Preparing this Brettljause reminded me of evenings spent at my grandma's house (although my plating is much more elaborate than what we could eat at grandma's). Every time I bake a loaf of sourdough these days, I serve up 'Abendbrot' (the German word for Brettljause) for dinner. Jason, my husband calls it 'charcuterie' as in "What, we're having charcuterie for dinner again?" So cute. I love him.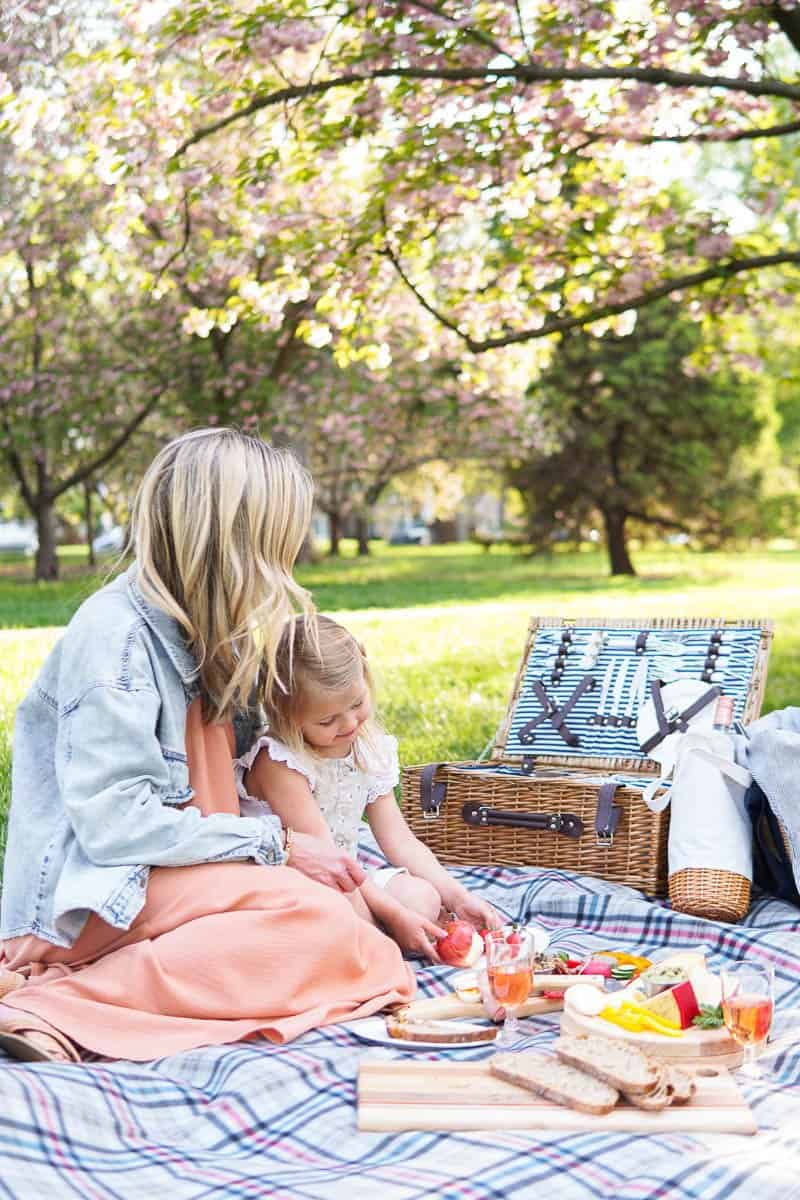 What Makes Brettljause Austrian?
First of all, who doesn't enjoy saying the word "Brettljause?!!" It's pronounced "Brett-l-yow-suh" or something along those lines! It's hard to get the German "R" pronunciation across in text, so make sure to watch my short video on how to put together the board (I'll post here and on Instagram it once it's live), and turn up the sound.
A Brettljause also usually features sliced cheeses, unlike cubed cheeses or whole cheeses that you have to cut on your own. Now I went ahead and had Whole Foods slice the Jaarlsberg for me at the deli counter. I did leave the other cheeses whole, so I was able to showcase the awesome cheeseboard with integrated cheese knives from Picnic Time! I also LOVE Picnic Time's picnic baskets (some even come with serveware!), extra large picnic blanket, wine cooler tote (I could go on and on!). They're beautiful and fantastic quality! But back to the sliced cheeses. Sliced cheeses, sliced meats, and unique spreads can conveniently be arranged on your sliced bread, then topped with lots and lots of raw veggie options such as cucumbers, radishes, bell pepper, and tomatoes. You can also add pickles, onions, fresh horseradish, and sliced egg, giving you endless combination options!
Meats And Cheeses Used For Brettljause
Jarlsberg. This is a mild, nutty tasting Norwegian cheese.
Young Dutch Gouda. The kids love it! It's very mild and creamy.
Somerdale Red Dragon with Mustard Seed. It's my husband's favorite and a flavorful, English cheddar.
Prosciutto di Parma. I love buying mine at Costco because the quality and quantity is great!
Country Paté or Leberwurst. I used the Whole Foods brand as there are no added nitrites or nitrates.
Mortadella. I found it prepackaged at Whole Foods.
Kürbiskernaufstich. Austrian pumpkin seed cream cheese spread that uses Austrian pumpkin seed oil. We love using it for super flavorful salad dressings as well (see recipe card below)
Grammelaufstrich. An Austrian bacon spread (see recipe card below)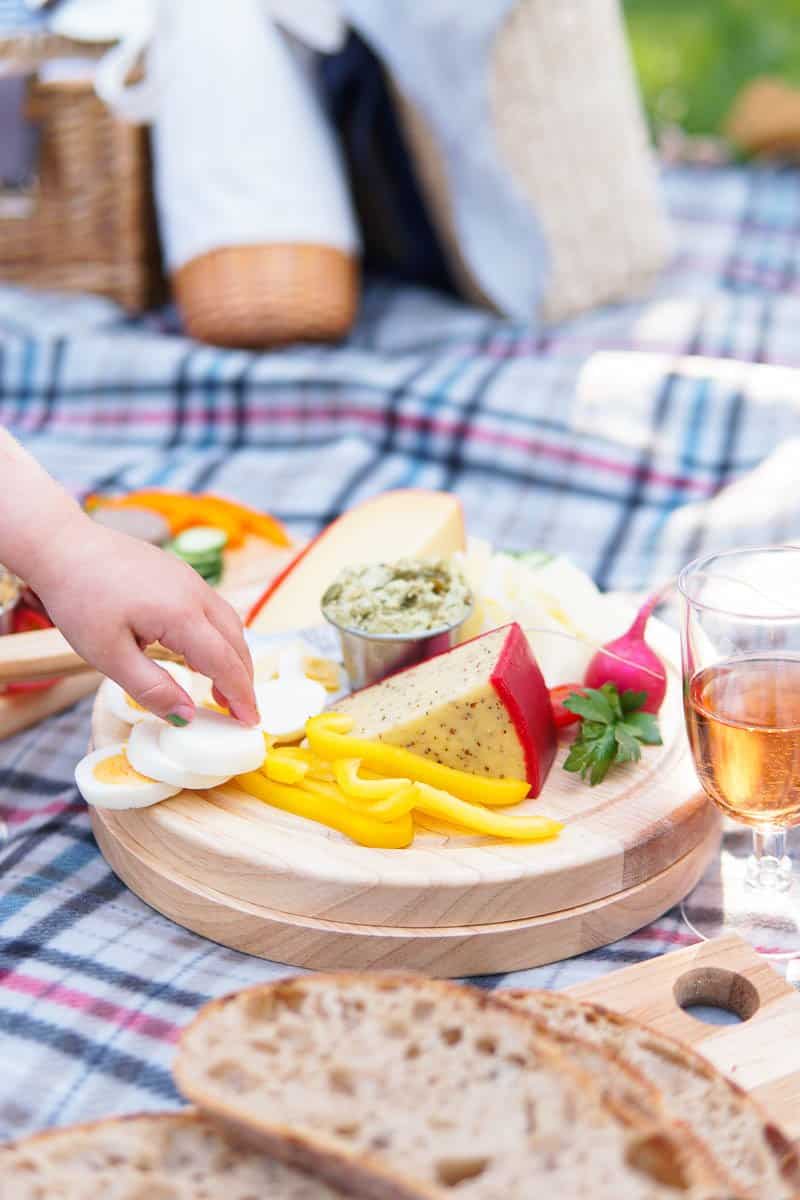 Some Other Austrian Recipes To Try
Fädlesuppe

 – a light, but hearty broth with pancake strips – it's sure to warm you up!

Wiener Apfelstrudel

 – the original Vienna apple strudel, served warm with vanilla ice cream and whipped cream!

Germknödel

 – fill yours with plum compote and serve with vanilla sauce for a more authentic, steamed dumpling!
Sponsored Content and Affiliate Links Disclosure
I received compensation from Picnic Time in exchange for writing this post. Although this post is sponsored, all opinions, thoughts, and recipes are my own. This post contains affiliate links, which means that I may be compensated if you click certain links.
Austrian Meat and Cheese Board (Brettljause)
Simply put, a Brettljause is a meat and cheese board, which integrates a couple of very special Austrian dips. And you'll definitely want the recipes for those! They are so unique, addicting and good!
Ingredients
Pumpkin Seed Spread (Kürbiskernaufstrich)
226

grams

full-fat cream cheese

one package, room temperature

4

Tablespoons

pumpkin seed oil

use the real Austrian kind! It makes a difference! I linked it for you.

1

garlic clove

finely minced or grated

1

handful

raw pumpkin seeds

Tip: before chopping, dry roast them in the pan for a couple of minutes to add extra, nutty flavor!

salt and pepper to taste
Bacon Spread (Grammelaufstrich)
250

grams

uncooked bacon

roughly chopped before cooking

1

small

yellow onion

3

garlic cloves

1

Tablespoon

dijon mustard

2

Tablespoons

chopped, fresh parsley

salt and pepper to taste
Other Things Needed For A Brettljause
sliced cheeses and meats

Check out my notes below for which meats and cheeses I used

sliced raw veggies

like bell peppers, cucumbers, radishes, small tomatoes

slices pickles and eggs

totally optional, but so good!

horseradish

optional
Instructions
Pumpkin Seed Spread (Kürbiskernaufstrich)
This is so easy! Dry roast the pumpkin seeds in a pan over medium heat if you have a few extra minutes. This step is worth it as it really helps to bring out the nutty flavor in the seeds!

1 handful raw pumpkin seeds

226 grams full-fat cream cheese,

4 Tablespoons pumpkin seed oil,

1 garlic clove,

salt and pepper to taste
Bacon Spread (Grammelaufstrich)
In a pan, add ¼ c of water and the chopped up bacon. Start rendering the grease at medium heat. Adding the water helps to prevent the bacon from burning too fast, leaving you with the desired, lighter colored grease.

Cook bacon slowly until crispy and brown, then strain it, capturing the grease in a small bowl. Put bowl with grease in freezer for a few minutes to speed up the hardening process if you're low on time.

Finely chop the cooked bacon along with the onion and garlic, then transfer to a bowl with the parsley.

3 garlic cloves,

2 Tablespoons chopped, fresh parsley,

1 small yellow onion

Combine the grease with mustard until smooth, then add it to the onion-bacon mixture. Combine and season with salt and pepper to taste.

1 Tablespoon dijon mustard,

salt and pepper to taste
Assemble the Brettljause
Arrange the dips, meats, cheeses, veggies and any other condiments on one or two serving boards (depending on size), open a bottle of wine and enjoy!

sliced raw veggies,

slices pickles and eggs,

horseradish,

sliced cheeses and meats
Notes
Meats, Cheeses, Vegetables and Garnishes are not taken into account for the nutritional values.
A Note On Meats and Cheeses:
Jarlsberg – mild, nutty tasting Norwegian cheese

a young Dutch Gouda – a mild, creamy cheese that the kids love

Somerdale Red Dragon with Mustard Seed – a flavorful, English cheddar

prosciutto di Parma (I love buying mine at Costco)

Country Paté or Leberwurst (I used the Whole Foods brand as there are no added nitrites or nitrates)

Mortadella (I found it prepackaged at Whole Foods)

Kürbiskernaufstich: Austrian pumpkin seed cream cheese spread – see the recipe card

Grammelaufstrich: Austrian bacon spread – see the recipe card
Nutrition
Calories:
328
kcal
Carbohydrates:
3
g
Protein:
4
g
Fat:
33
g
Saturated Fat:
14
g
Polyunsaturated Fat:
8
g
Monounsaturated Fat:
9
g
Cholesterol:
57
mg
Sodium:
178
mg
Potassium:
80
mg
Fiber:
1
g
Sugar:
2
g
Vitamin A:
759
IU
Vitamin C:
1
mg
Calcium:
56
mg
Iron:
1
mg