This authentic Kaiserschmarrn will send you straight to Vienna! These fluffy Austrian pancakes are the super light and delicious pancakes I grew up with and they're super quick to make!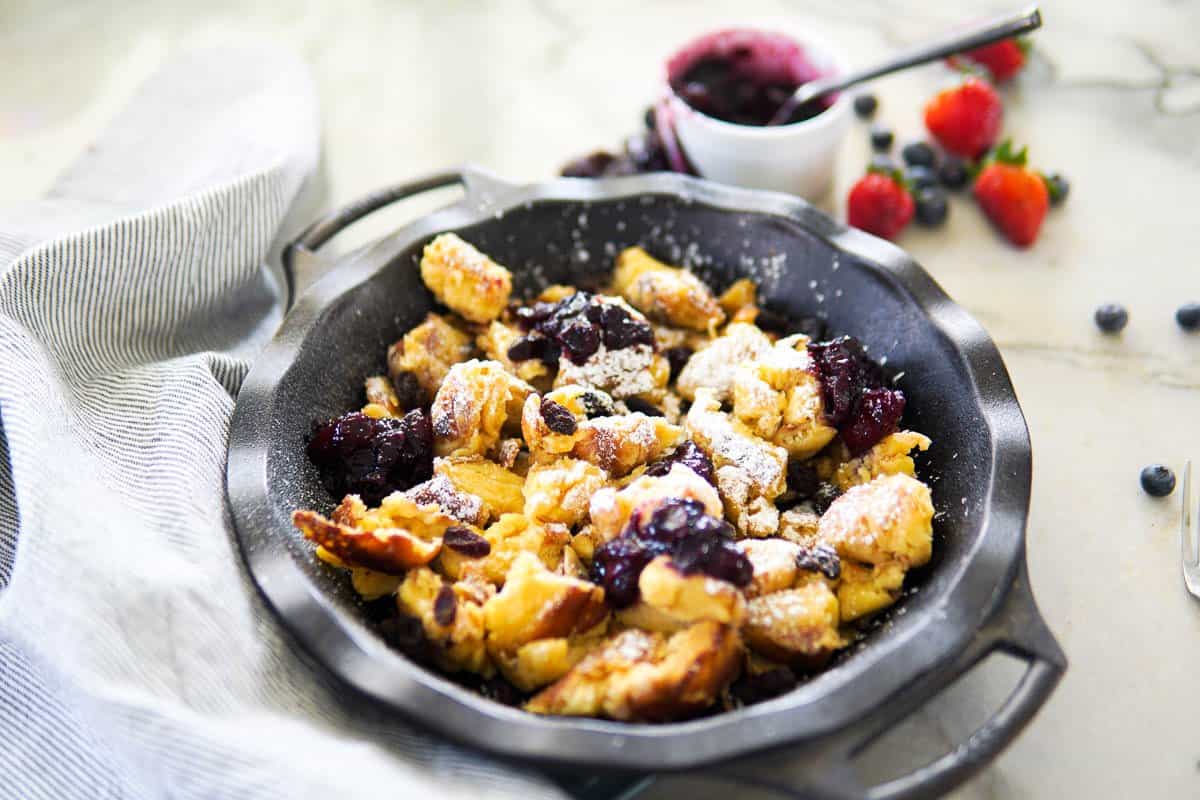 What is Kaiserschmarrn?
Kaiserschmarrn or Kaiserschmarren is an authentic, Austrian, torn pancake. It is not just very popular for après-ski when skiing in Austria, but also throughout Germany. It can be served at any time of day, but tends to be most popular as breakfast or dessert!
The German pronunciation would go something like this: Kah-y-zah-shmah-n! Say it with determination and vigor! 'Kaiser' in German means emperor and 'Schmarrn' or 'Schmarren' means 'nonsense.' More about the story behind its existence below (it's a wild meal!).
Austrian Torn Pancakes
What makes this pancake different from your common pancake is that it is not seeking the perfect round shape as you would expect. Kaiserschmarren is wild and messy and it's intentionally torn into bite-sized pieces during the cooking process.
This imperfect pancake probably freaks some of you out and you're thinking "so ein Schmarrn!" meaning 'what nonsense!' (In that cake, please check out my other round pancake recipes for a classic German pancake, German yeast-raised pancakes and German potato pancakes).
But the more peasant-like this meal looks (usually even served straight from your cast iron pan), the more confident you should feel about making it! This means that when I broke a pancake growing up in Germany, I immediately said that I made Kaiserschmarrn and got away with it. Pretty genius, right? Feel free to use that trick for your good as well.
Toppings
Top off your Kaiserschmarrn with a generous dusting of powdered sugar and raisins. The raisins can be soaked in 160 proof Austrian STROH rum and are then folded into the almost finished pancake. Find out where the iconic STROH rum is available here.
When sharing mine with the kids, I leave out the rum and add plain raisins instead. You can also leave them out completely.
Then finish it off with plum butter (which is most traditional) or apple sauce or the berry compote I served with mine. You'll be making this over and over again, I promise!
The Secret Is Beaten Egg Whites
Another big difference is that these fluffy pancake pillows get away without the use of baking powder. That's because you're taking an extra step to separate and beat the egg whites until stiff, then gently folding them in with the other ingredients. This creates a light and airy batter that will swim and caramelize in the buttery pan before it's quartered, flipped and broken into pancake shreds.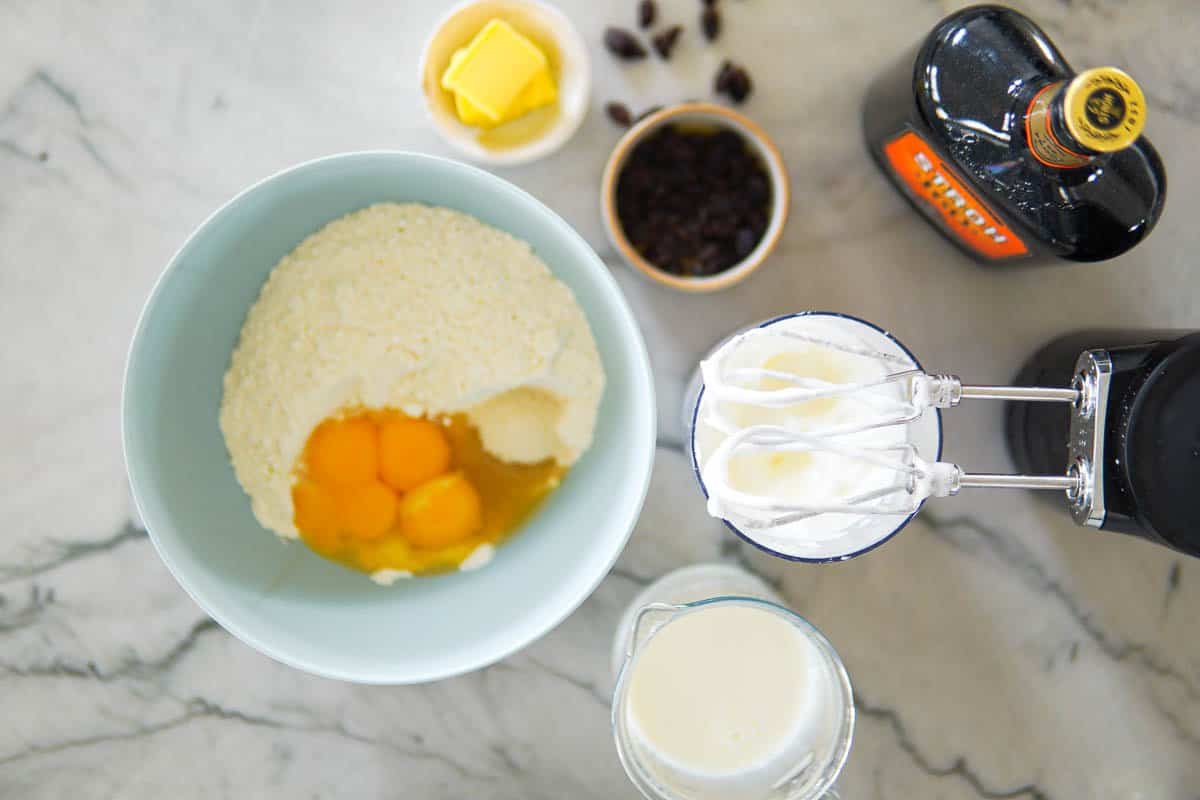 About Kaiser Frank Joseph I
There are many stories explaining how the popular Kaiserschmarrn came to be, but everybody seems to agree that Kaiser Franz Joseph I has a whole lot to do with it. The story I like the most is that Franz wanted to create a special meal for his wife Sissy. His cooks came up with this pancake meal, but he ended up liking it more than she did, so it was named Kaiserschmarrn.
What Tools Do I Need?
Hand-held mixer for beating the egg white until stiff, then beating the remaining ingredients in a separate bowl. I love this cordless one!
Rubber spatula for folding the beaten egg white into the batter. This one's a favorite!
Slotted Turner for breaking your pancake apart aka scrambling it. I love this one!
Cast Iron Pan is nice to have for cooking AND serving. This cast iron pie pan is so pretty! If using, cut the recipe in half.
Powdered Sugar Shaker for dusting after cooking them. We use it all the time at home for dusting cakes, cookies and pancakes as well.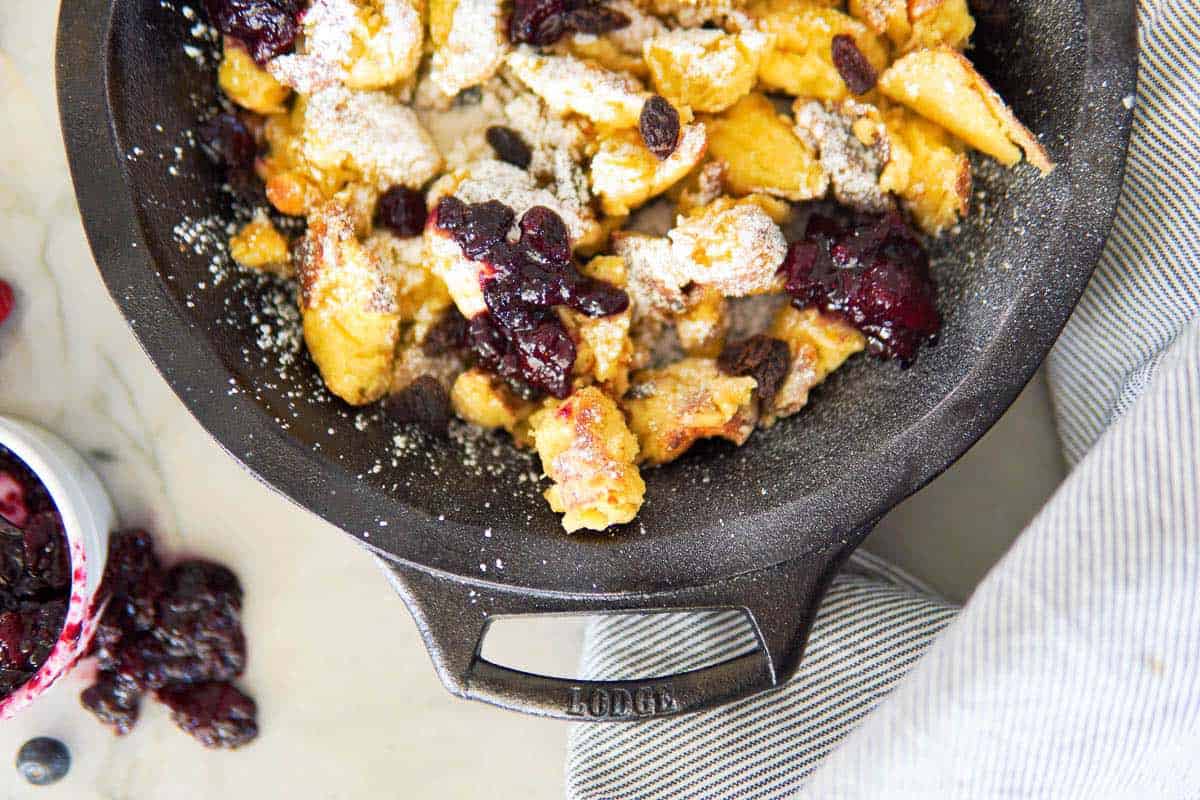 More German Pancake Recipes
In a pancake mood? Also check out my popular German Potato Pancakes (I love serving mine with homemade chunky applesauce and sour cream). These German yeast-raised pancakes are a recipe from my cousin in Germany and outstanding! Finally, these fluffy German pancakes are a great way to start into the weekend. I like topping mine with jam and dusting them with powdered sugar.
Kaiserschmarrn is often on the menu at Oktoberfest, and would be the perfect food to make for a brunch-style Oktoberfest party (and don't forget the Bavarian breakfast with Weisswurst).
Kaiserschmarrn (Austrian Pancakes)
This authentic Kaiserschmarrn will send you straight to Vienna! These fluffy Austrian pancakes are the super light and delicious pancakes I grew up with and they're super quick to make!
Ingredients
Kaiserschmarrn Ingredients
Instructions
If using raisins soaked in rum, combine the two now and allow to soak for a few minutes while preparing the batter.

30 grams raisins,

30 milliliters rum

If making a berry compote, combine berries, sugar and vanilla in a sauce pan and gradually heat on low until breaking apart and simmering. You may need to add some water if the liquids get too low.

250 grams mixed berries,

40 grams sugar,

½ teaspoon pure vanilla extract

Using an electric mixer, whisk the egg whites and pinch of salt until stiff, set aside.

4 egg whites,

1 pinch salt

Using the same electric mixer (no need to wash the whisks), beat together flour, sugar, salt, egg yolks and milk until combined.

4 egg yolks,

300 milliliters milk,

1 teaspoon pure vanilla extract,

300 grams all-purpose flour,

30 grams sugar

Now fold the egg whites in with the remaining batter.

Heat a large cast iron pan on medium low heat until hot. Add the butter until barely melted, then immediately add in the batter and cook for about 1 minute.

"Cut" into quarters with your slotted turner or flat edge spatula and carefully turn over the quarters. The top will be very runny and things will get very messy. Breathe and know this is okay! Continue to cook on the other side for 1 to 2 minutes.

If using rum-soaked raisins, drain any excess rum now.

Start cutting into more and more smaller, irregularly shaped pieces using your slotted turner and cook for 5 more minutes (add raisins after 4 minutes, if using). Serve on a plate with compote, applesauce or plum butter and dust with powdered sugar. Guten Appetit!
Nutrition
Calories:
799
kcal
Carbohydrates:
124
g
Protein:
25
g
Fat:
23
g
Saturated Fat:
11
g
Polyunsaturated Fat:
2
g
Monounsaturated Fat:
7
g
Trans Fat:
1
g
Cholesterol:
306
mg
Sodium:
226
mg
Potassium:
517
mg
Fiber:
6
g
Sugar:
36
g
Vitamin A:
880
IU
Vitamin C:
3
mg
Calcium:
187
mg
Iron:
6
mg