Oktoberfest food is what every German food craving individual wants to eat in the months of September and October (aka Oktoberfest season). Over the last 8 years, I have shared authentic German recipes while wearing dirndls (the authentic dress worn at Oktoberfest).
Here some of the MANY amazing Oktoberfest recipes popular at the world's biggest Volksfest.
Around 6 million visitors travel to Bavaria's capital of Munich for Oktoberfest from all over the world. But you don't need to travel to München to eat the amazing food. Just make my Oktoberfest recipes, close your eyes, and imagine yourself at the "Wiesn."
It's time to realize that Oktoberfest in Munich is really just a giant fair with a large Farris wheel, rides, and LOADS of beer. And now you understand why Octoberfest food is what it is. It's German fair food, Bavaria style. And it's SO GOOD!
Some of my favorite Oktoberfest recipes (and the most popular ones at Oktoberfest in Munich) include:
We'll go into detail on each Oktoberfest food item next, so you can make them at home for your very own Oktoberfest party!
It will be a delicious, fun food ride on a rollercoaster at the Munich Oktoberfest.
Pretzels (Brezeln or Brezen)
Probably the most iconic food item eaten at Oktoberfest is Bavarian pretzels. The main difference between a Bavarian pretzel and a pretzel is the following.
The 'belly' aka the fat part of the pretzel is NOT cut on Bavarian pretzels. They are allowed to crack open and expand in the oven wherever they wish to expand. In Bavaria, pretzels are also called Brezen (or the even shorter version Brezn) instead of Brezeln.
Learn to make authentic pretzels (made with real lye instead of baking soda). To make large Oktoberfest Brezeln (like the one shown above), divide the dough up into 3 (instead of baking 10 small pretzels).
Obatzda (Bavarian cheese spread)
Obatzda is a super simple and delicious Bavarian cheese spread made from camembert cheese (and other basic ingredients).
It's often served alongside pretzels or as a spread with freshly baked bread for a 'kalte Brotzeit' (a 'cold bread time' similar to my Brettljause, an Austrian meat and cheese board).
Whole chickens called Wiesnhendl
A Wiesnhendl is a whole roasted chicken that is one of the most popular Oktoberfest food items! You can either order a whole or a half chicken.
Depending on whether you plan to eat it on its own or eat it with sides, it serves 2 to 4 people. I like serving my Wiesnhendl with a pretzel and some Bavarian potato salad (or a simple cucumber salad).
You can also eat roasted ox at Oktoberfest, another popular meat option.
Vegetarian and vegan food is becoming more popular at Oktoberfest as well.
Bavarian potato salad
Although this German warm potato salad from Bavaria is typically served as a side dish, it deserves its own mention because it's so good!
The potatoes (and other salad ingredients) are marinated in a broth, oil, and vinegar-based dressing, and then topped off with crisp bacon. You can eat it warm or cold by the way (it's typically not served warm in Germany).
Käsespätzle (German cheese spätzle)
Käsespätzle are the most amazing, cheesy German egg noodles, topped with crisp onions. They are becoming increasingly popular at Oktoberfest.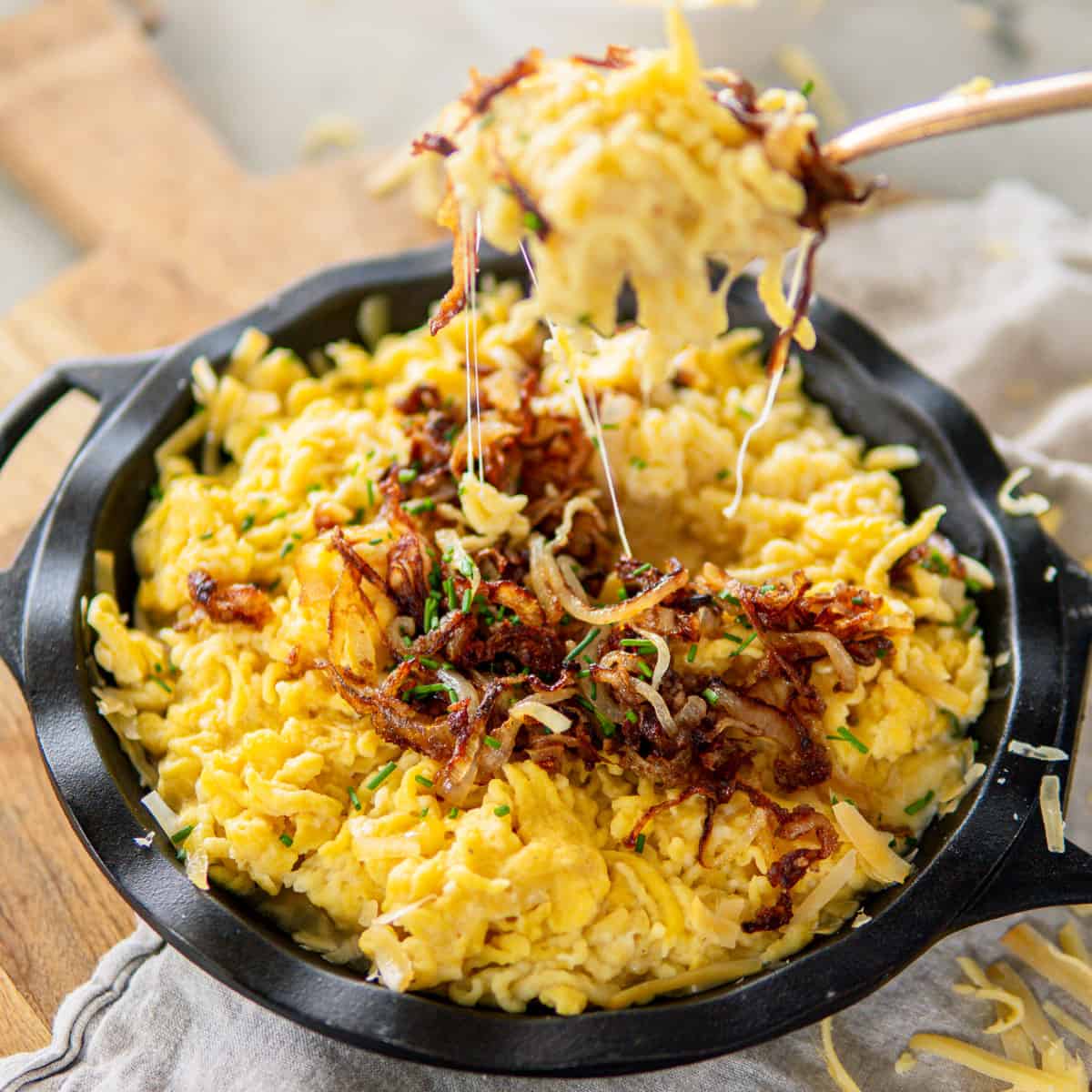 Generally, vegetarian Oktoberfest food options like cheese spätzle and higher quality, organic food options are in higher demand.
Bratwurst & Weißwurst
German sausages like Bratwurst will always be a popular option at Oktoberfest, especially served in a roll while walking the Wiesn. Pretzel hot dog buns are not commonly used for eating Bratwurst in Germany, but they are so good that you must try them! When ordering Bratwurst in a tent at Oktoberfest, it is often served with cooked sauerkraut (check out my sauerkraut recipe here).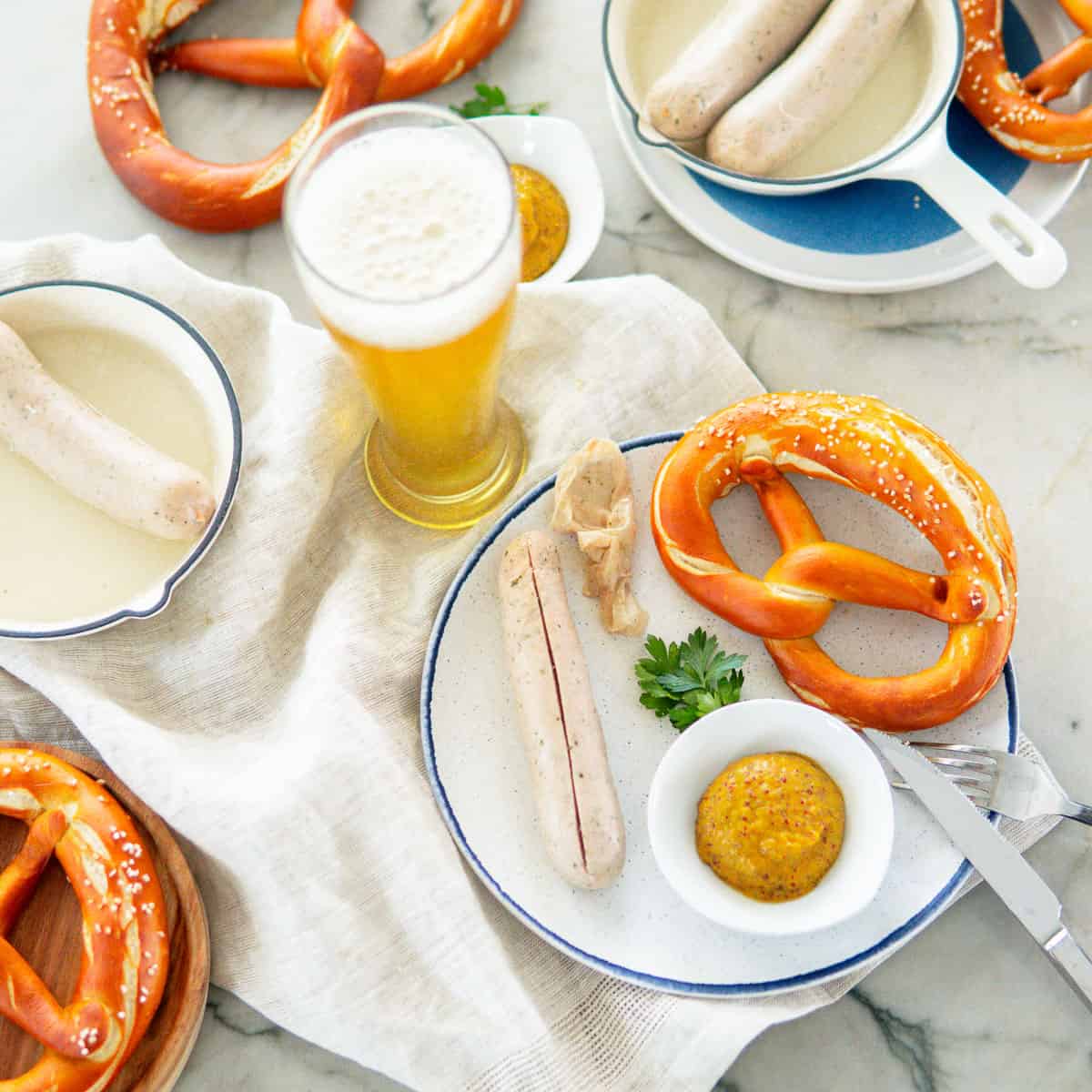 Weisswurst is typically served between 10 a.m. and noon as a second breakfast. It takes a little more effort to eat, so it's easier to eat it sitting down, for example in a Wiesn tent. See my Weisswurst post on how to cook it, how to eat it, and what to eat it with (there are rules to it all).
Flammkuchen (a German bacon and onion flatbread also called tarte flambée in France)
Not only Oktoberfest-goers love Flammkuchen. I love it enough that I have 5 different recipes for you! The classic Flammkuchen version (Elsässer Flammkuchen) is super simple combining sour cream, bacon, onion, and an all-time favorite food. There is no yeast in the crust and you can easily have it in the oven within less than 30 minutes of starting to make it.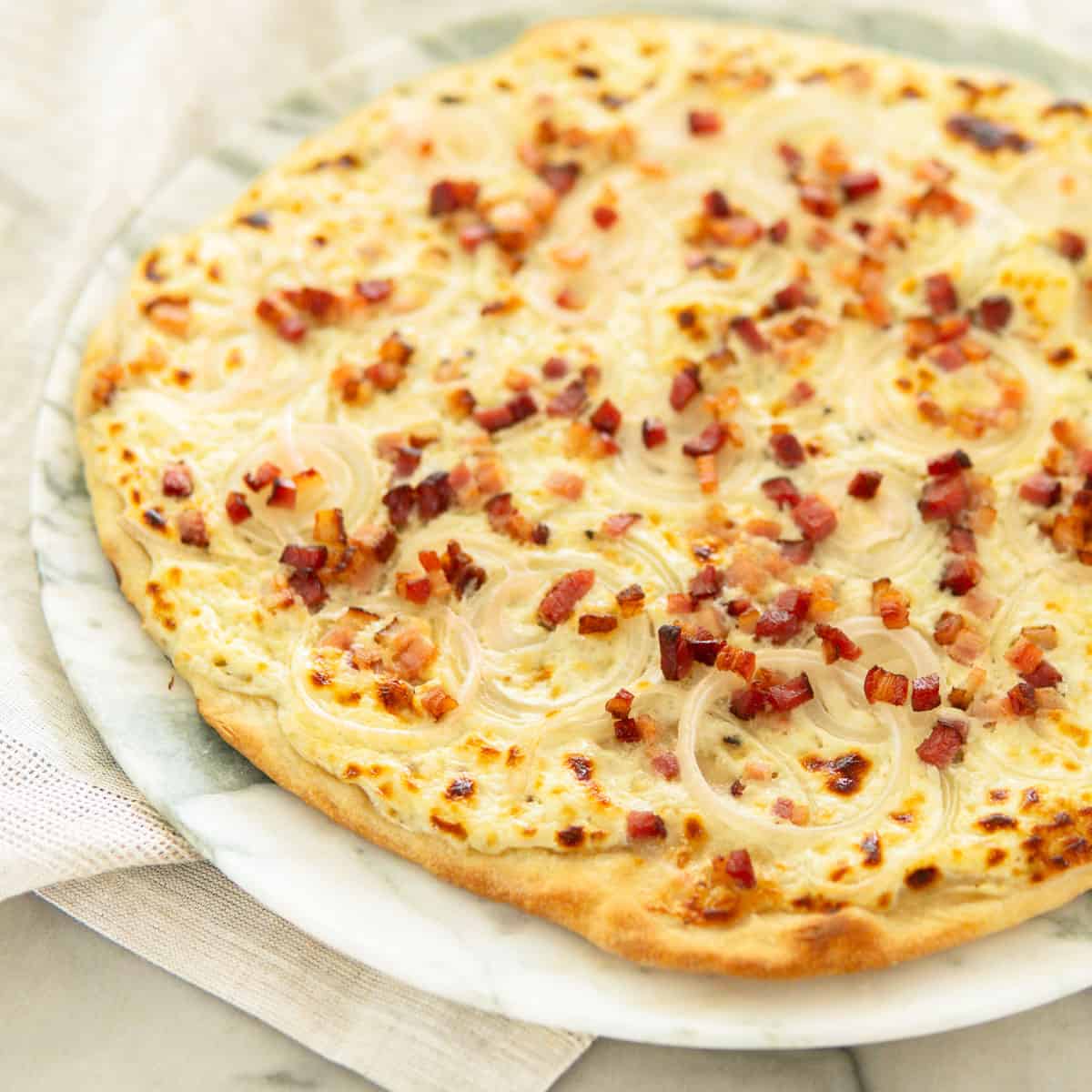 In Germany, you can find Flammkuchen on the menu at most Biergarten, at Christmas markets, and of course Oktoberfest and other Volksfests.
Schupfnudeln (potato noodles and sauerkraut)
Sauerkraut also goes great with potatoes. These Schupfnudeln are noodle-like potato dumplings that are first boiled, then browned in a skillet with bacon and sauerkraut.
They are so good and often make it onto different menus at the Oktoberfest tents. Leave off the bacon to have another vegetarian option.
Another great vegetarian Oktoberfest food option featuring potatoes are Kartoffelpuffer (also called Reibekuchen).
Dampfnudeln (steamed sweet dumplings)
Dampfnudeln are just one of the many 'sweet meals' you can eat at Oktoberfest.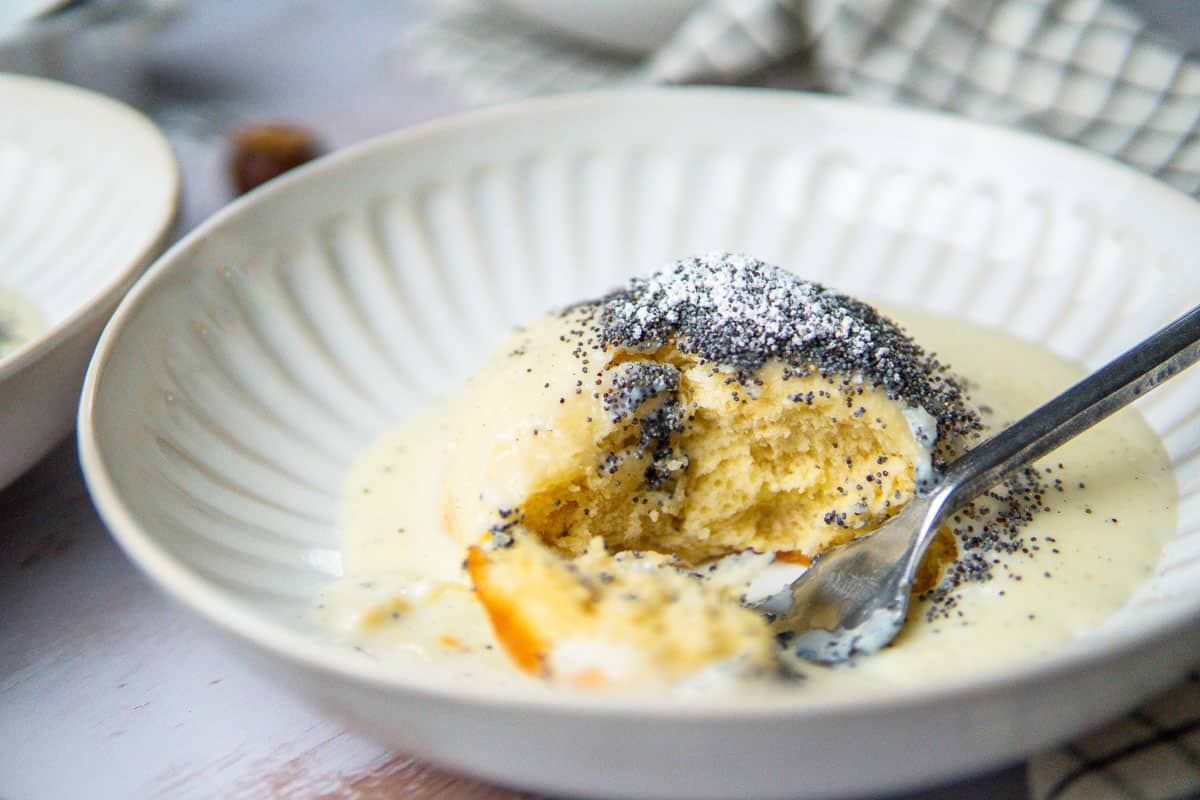 They are the most amazing fluffy rolls with a caramelized bottom, and covered in the most delicious vanilla sauce. Germans will eat them as a small meal or snack.
Other sweet meals at Oktoberfest
Besides candied nuts, Apfelstrudel and Kaiserschmarrn also must make my favorites list of sweet Oktoberfest foods! Both are technically Austrian, but they are super popular foods in Germany as well. I love both so much.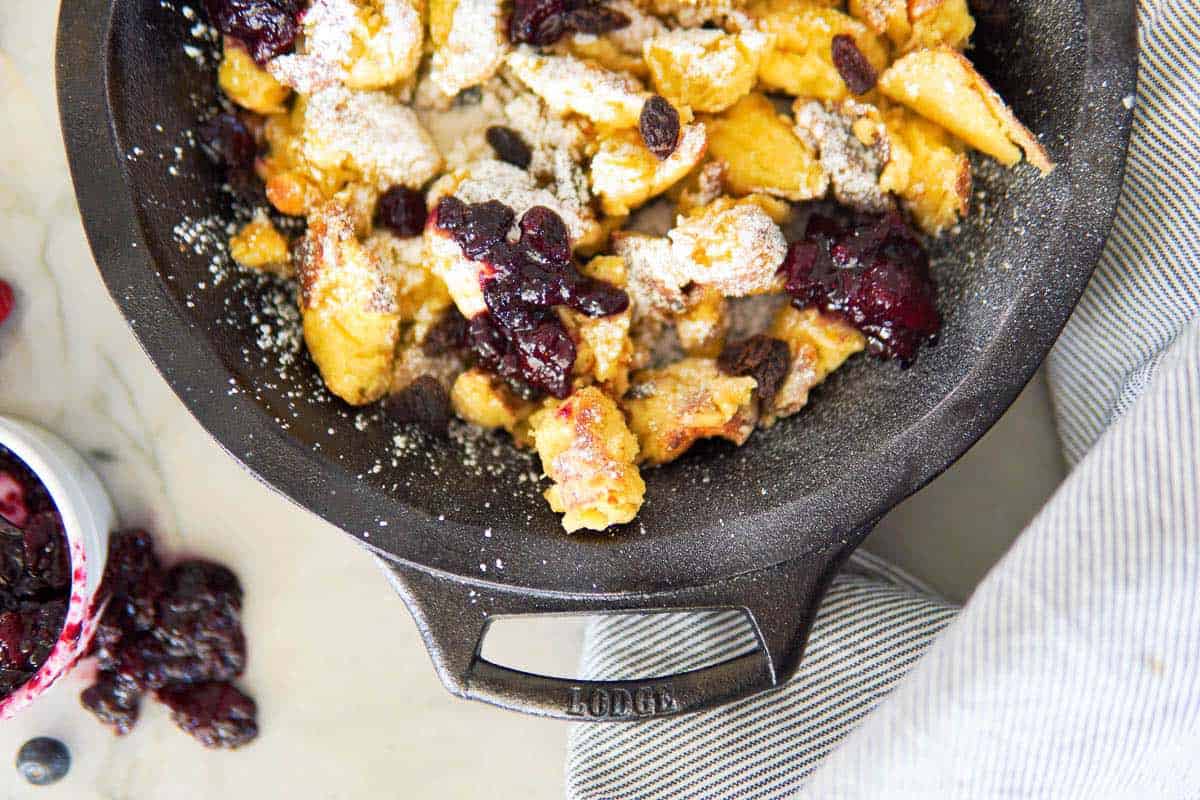 Kaiserschmarrn is an Austrian-style torn pancake that I love eating with rum-soaked raisins and fruit compote. Just wow and perfect for an Oktoberfest-themed brunch too (served with some Weisswurst of course).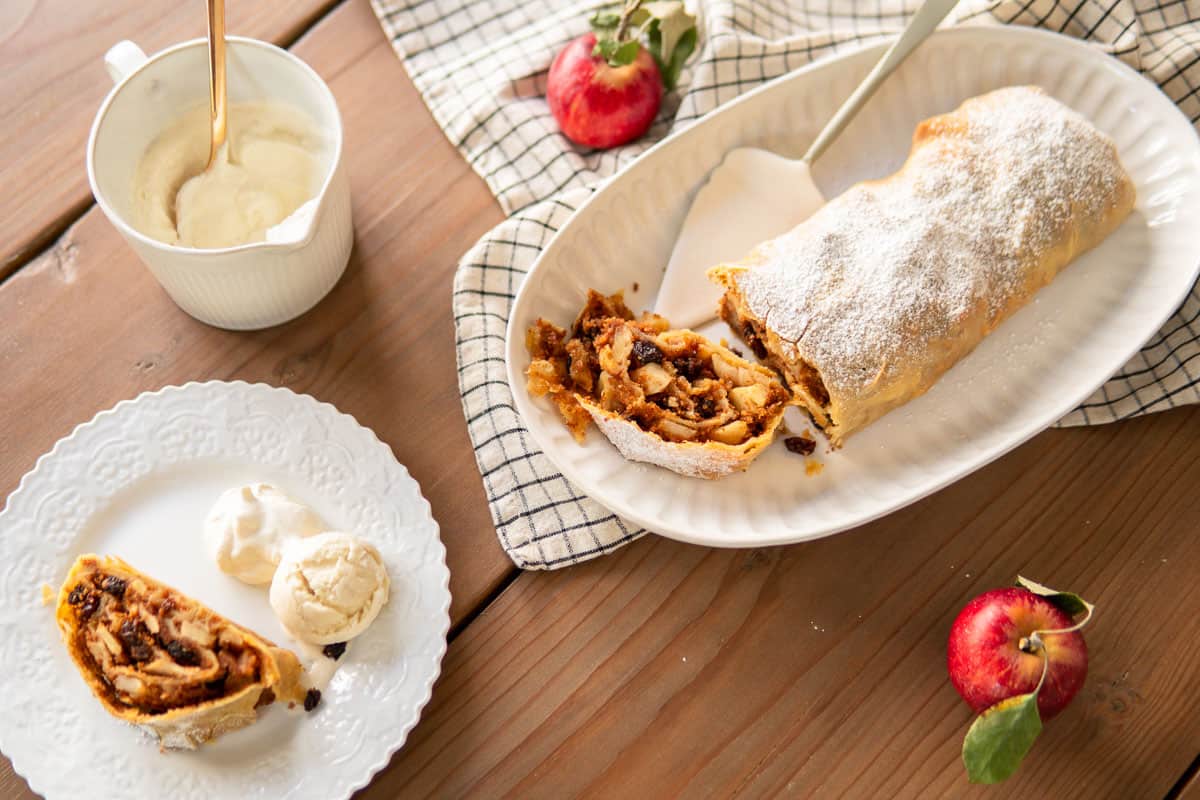 Apfelstrudel is a paper-thin dough filled with apples, spices, and also, rum and raisins. Not a raisin fan? Leave them out. I love serving my Apfelstrudel with vanilla ice cream and whipped cream, but vanilla sauce is more traditional. It would make a great Oktoberfest-style dessert.
Wiesnherzen (the decorated gingerbread hearts)
You can't leave Oktoberfest without a Wiesnherz around your neck. These gingerbread hearts are rarely eaten and usually kept as decorations (they usually taste stale).
The hearts available at all Volksfest events in Germany usually show sayings like 'Ich liebe dich' (I love you in English) or 'Schatzilein' (darling). 'I mog di' (pictured above) is Bavarian German for I like you. You can get so creative with coming up with your own fun sayings (depending on large you make the hearts. It's so fun to make Wiesnherzen at home and gift them as compliments to friends.
This Oktoberfest cake is also great for making for your Oktoberfest-themed party. I made a beer and chocolate cake and decorated it with cream cheese pretzel frosting. Lecker!
Drink pairings for your Oktoberfest party
I'm sure it's no surprise to you that beer (Märzen/Oktoberfest beer or Weissbier/Hefeweizen) is the most common drink served at Oktoberfest. Also check out these wine pairings to go with some of my favorite German foods.
Now put on your Dirndl and Lederhosen (the traditional dress code at Oktoberfest) and make some Oktoberfest food with me! Ein Prosit!