Wine Pairings with German food like Schnitzel, Flammkuchen, Weisswurst and Brezeln with Obatzda are easier to find than you think! I stuck with wines that are easy to find in the United States and are also grown in Germany (with one exception from Austria). Away with the idea that only beer pairs well with German food!
Are Wine Pairings With German Food A Thing?
Many may think of beer when they think of a drink pairing to go with German food. However, having grown up in the Mosel valley in Germany (one of the 13 German wine growing regions), I can assure you that good wine is just as popular in Germany as good beer. The most popular grapes in Germany are Riesling for whites and Spätburgunder (Pinot Noir) for reds. There are certain dishes that pair well with beer. I am specifically thinking of Bavarian meals like Weisswurst and Brezeln. And some Bavarians may scold me for suggesting that wine CAN BE a good pairing to go with their food, especially for those non-beer drinkers (they exist).
Wine Pairing With Schnitzel
Schnitzel actually originated in Austria's capital of Wien and that's exactly where the 'Wiener Schnitzel' came from. Nowadays Schnitzel is just as popular in Germany, but commonly made with pork (Schnitzel Wiener Art) than veal (Wiener Schnitzel). I personally prefer my pork version, thin and crispy, so that's what I made. My first recommendation for a wine pairing will be a Grüner Veltliner sparkling wine (or regular wine), the signature grape of Austria. It's a refreshing and fruity white wine that's well balanced and on the dry side. The bubbles add the much needed lightness to this rustic, fried meal. My second and third wine pairing recommendations are Pinot Noir Rosé (Spätburgunder) and Pinot Noir, respectively. The ladder adds and intruiging smokiness, while being light and fruity. For any wines you want to stay cool, give this wine chiller and pourer a try. It keeps your bottle cold from the INSIDE, all while functioning as a pourer.
Wine Pairing with Flammkuchen
Flammkuchen is a flatbread from the Alsace region in France, formerly known as the Elsass region in Germany. It is popular throughout Germany and the classic version with sour cream, bacon and onion makes the perfect Biergarten snack or meal. But no, get the Bier in Biergarten out of your head! Flammkuchen (or tarte flambée in French) pairs PERFECTLY with wine as well. My number one choice is a smoky and light Pinot Noir or Spätburgunder in German. It complements the smoke in the bacon, and counteracts the richness of the sauce with its balanced acidity. Finding wine pairings with German food is easier than you think! Try this on-demand aerator when pouring your Pinot into your glass. It brings out great flavor, while acting as a pourer and stopper.
Wine Pairing with Weisswurst and Brezeln
Say what? There is a WINE pairing for Weisswurst and pretzels? Any research I have done preparing me for which wine goes well with Weisswurst mainly pointed to the idea that IT DOES NOT. A few adventurous outcasts (and I am assuming non-beer drinkers) pointed out that a sparkling wine should be a first choice. And I agree. I again paired the Grüner Veltliner sparkling wine, which is pleasantly effervescent and on the dry, but fruity side. I may also suggest a white Weinschorle, which is wine mixed half and half with sparkling water. I used a dry Riesling Kabinett for my Weinschorle. Not only does this drink mimic the drinkability factor of beer, but it also adds bubbles and lightness. This is a GREAT pairing with Weisswurst. Add a few ice cubes to your Weinschorle if you would like. Try this wine stopper that also doubles as a pourer. No more bugs in your wine bottle.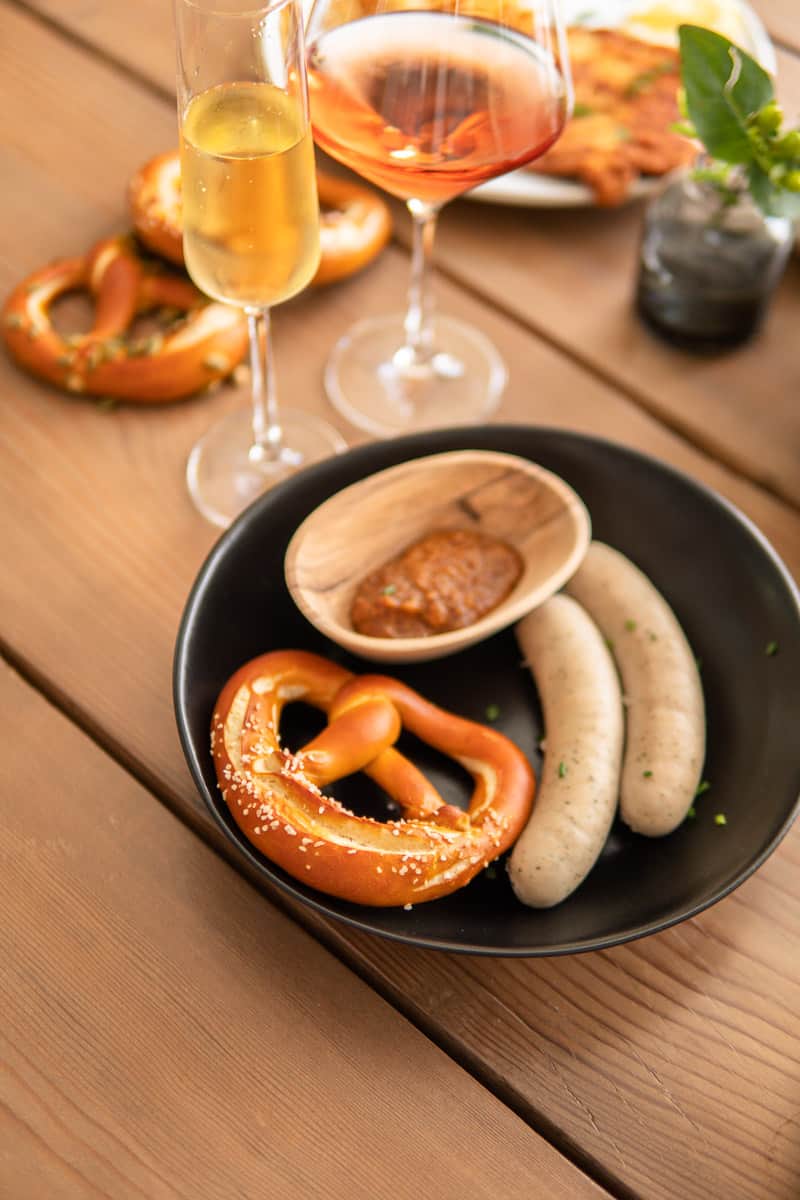 Wine Pairing with Obatzda
Yes, here we go again, trying to pair Bavarian food with wine. Again, beer is GREAT with Obatzda, a Bavarian cheese spread. In fact, I use some Paulaner Lager in my Obatzda recipe. However, for those that want to explore something else, a glass of Riesling Kabinett, which is on the dry side, is actually a surprisingly fantastic choice as well. The acidity helps lighten this rich camembert cheese dip perfectly. My second choice would be some sparkling white wine that's also on the dry side. The bubbles really help carry that cheese into your belly like an elegant horse carriage. Finished with that bottle of bubbles and worried going flat in your fridge? This clamp-secured champagne bottle stopper is genius!
German Wines In The United States
I have loved that more and more German wines are becoming available in the United States, even in the Midwest, making it easier to have German wine pairings with German food. However, many of the lesser-known German grapes like Sylvaner and Blaufränkisch are harder to find, and even German Spätburgunder (Pinot Noir) is not nearly as readily available as the German wine superstar Riesling. Riesling is what I grew up with in the Mosel region of Germany, often choosing to walk home through the vineyards after school. Riesling there is a complex topic, but here it is over-simplified and mysterious. There are important subcategories to Riesling (Kabinett, Spätlese, Eiswein, etc) that tell you much about the character of the wine, such as sweetness levels, but those 'details' often get lost in the United States. When I first moved here in 2009, most Rieslings were sweet and a proclaimed 'Riesling lover' only liked sweet wines. When I told people that my favorite Riesling tends to be on the trocken to halbtrocken (dry to half-dry) side, they looked at me in disbelief. Since then, more and more dry Rieslings have found their way into Americans' glasses and it makes me so happy!
How to Tell That A Wine Is Sweet Or Dry
Because labeling of subcategories of wine (such as the many there are for Riesling) often gets lost in translation during the import process, one sure way to tell if a wine is dry or sweet is to look at the alcohol levels. The higher the alcohol volume, the dryer the wine typically (aka the less residual sugar).
Favorite Wine Tools
Now that you have the wine pairings you need, here some of the wine tools that I just love because they're practical and look sleek. The best part? They're designed in Germany by the company AdHoc. Use code SOPHIE10 at checkout to receive 10% off your order.