Weisswurst is not any Wurst. The most iconic Bavarian sausage comes with its own way of preparing and eating it, times when to eat it, and what to eat it with. Yes, Germans like rules.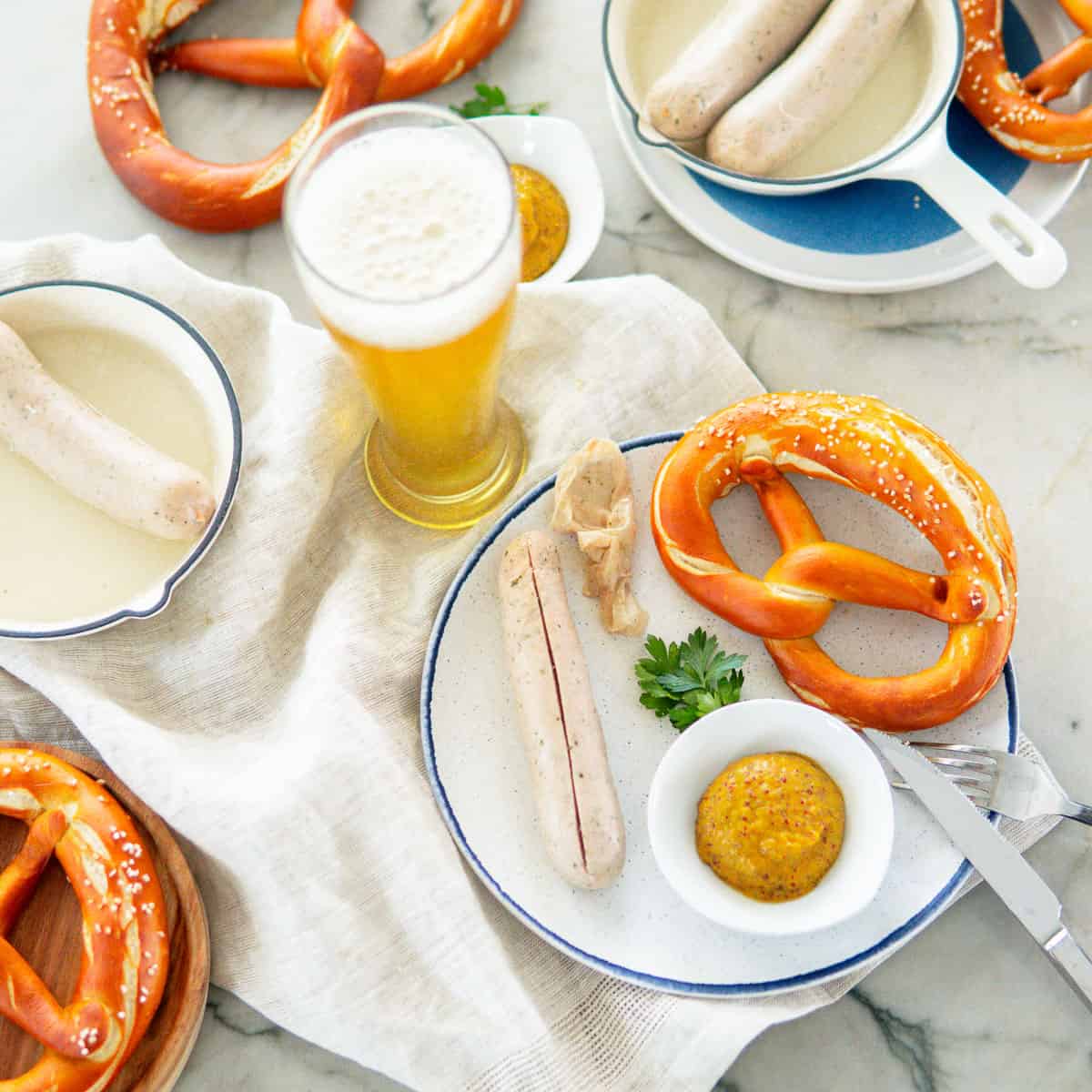 Whether you choose to make Weisswurst for a Bavarian breakfast or brunch at your Oktoberfest party or just want to learn about the whys of Weisswurst, you're in the right spot. Also, check out my Oktoberfest food guide with lots of Oktoberfest recipes including my authentic German pretzels and Obatzda (Bavarian cheese spread) and Bavarian potato salad.
Weisswurstfrühstück (Bavarian Breakfast)
In Bavaria, it's common to have a Weisswurstfrühstück. It consists of typically 2 to 3 Weisswurst links per person, sweet Bavarian mustard (it's its own unique kind and SO GOOD!), pretzels (preferably these authentic ones!), and a glass of Weissbier (also known as Hefeweizen beer).
It's tradition to eat a Bavarian breakfast as a second breakfast around 10 in the morning, and definitely before the clock strikes noon.
The reason for this goes back to times before refrigerators. After the sausage was made, it had to be eaten right away or else it would spoil. Well, despite refrigerators being commonplace, this tradition stuck.
While at Oktoberfest in Munich, you will find Weisswurst mostly in the morning. If you want to eat Weisswurst at a different time, however, you will surely find it somewhere.
How to cook it
Weisswurst is not grilled like other German sausages. Instead, it is slowly warmed in hot, but not boiling water, so the sausages don't break.
Here is a tip that is not traditional. I like heating my Weisswurst in little cast iron skillets or ramekins (larger pots work too) because they retain their heat so well and help keep the water and the sausages warm (please don't scold me for this, Bavaria).
How to eat Weisswurst
Before eating, it's time to remove the skin or casing. Weisswurst is eaten without the casing for one main reason. It's soft from the water-warming process, so not as enjoyable. Whenever I find a place that serves Weisswurst in America, I can always immediately tell when Americans eat it (because they will usually eat it with the casings).
To remove the casings, make a cut alongside the Weisswurst, then pull off the skin. This is not the easiest task to complete only using a fork and knife.
Some Bavarians will also suck the Weisswurst out of its skin. It's not considered to be in style anymore to do so (and I think it looks a little gross), so I hope less and less people will eat it this way.
You then cut off a piece of Weisswurst and dip it in sweet mustard before eating.
Enjoy with some homemade pretzels (Brezeln in German or Brezen in Bavaria) and a glass of Weissbier (also called Hefeweizen and yes, it does ideally get poured in a Weissbier glass).
Where to buy Weisswurst
This is the best Weisswurst I have tried in the United States. Schaller and Weber follow an authentic Bavarian recipe for their Weisswurst, using high-quality products and ingredients. And lucky for you, the German-style butcher Schaller and Weber also sells sweet Bavarian mustard.
Schaller and Weber are based in New York City, but you can order their sausages online. And don't forget to add to the cart their other German specialty meats like Teewurst, amazing Leberwurst, Salami, etc. And their German butcher products make for drool-worthy gifts, too!
Weisswurst Eating Tips Video
Here a helpful video on how to eat Weisswurst. I can't wait for you to try it and have your own Bavarian breakfast at home!
Bavarian Breakfast (Weisswurstfrühstück)
In Bavaria, eating a Weisswurst breakfast or a Bavarian breakfast is a fun tradition that's fairly easy to recreate at home wherever you are! Whether you serve it for brunch at your Oktoberfest party or have one just because, here's what you need and how to do it.
And don't forget to make authentic German pretzels to go with your Weisswurstfrühstück! For more Oktoberfest recipe inspiration, check out my recipe guide.
Equipment
4

Hefeweizen glasses

yes, there are specific glasses you are supposed to use for the Bavarian wheat beer (also called Weissbier in Germany)
Ingredients
8

links

Weisswurst sausage

Schaller & Weber's uses an authentic Bavarian recipe and simple ingredients. They taste just like they do at home in Germany.

4

pretzels I recommend making your own using my super popular authentic pretzel recipe! I promise you'll love them!
sweet Bavarian mustard

Schaller Weber makes a really delicious one that you need to check out!

4

Hefeweizen

also called Weissbier in Germany (a Bavarian-style 'yeast' wheat beer)
Instructions
Heat your Weisswurst sausages in warm water (but not boiling) until the internal temperature is at least 160℉ (71℃).

If serving family-style, place the pot of water with the warmed sausages at the center of the table with a serving fork, so they continue to stay warm.If serving individually, preheat small serving bowls in the oven at 150℉ (65℃) until ready to use. When ready to eat, place 2 links and hot water into each small bowl.

Serve with pretzels (usually 1 per person), Bavarian sweet mustard & a cold glass of Weissbier (Hefeweizen) between the hours of 10 a.m. and noon (that's Bavarian tradition).

To eat your Weisswurst, you remove the casings first.

Make a cut alongside the whole sausage, then pull off the casings off using a knife (but your hands will be fine too).

Cut off a piece of Weisswurst, dip it in the sweet mustard, then eat it. Do not cut up the whole sausage first before eating. Prost!
Notes
In Bavaria, some people will suck the Weisswurst out of its casing. This is called zuzeln (which means sucking in Bavarian German) and doesn't look very appetizing though. This way of eating Weisswurst is not considered to be 'cool' anymore (and typically only older people will still eat it this way).
Nutrition
Calories:
570
kcal
Carbohydrates:
6
g
Protein:
23
g
Fat:
50
g
Saturated Fat:
17
g
Polyunsaturated Fat:
4
g
Monounsaturated Fat:
25
g
Cholesterol:
126
mg
Sodium:
1451
mg
Potassium:
594
mg
Fiber:
0.04
g
Sugar:
0.02
g
Vitamin A:
10
IU
Vitamin C:
0.02
mg
Calcium:
48
mg
Iron:
1
mg