Brezel Bagels are the perfect way to make breakfast special with a German twist on an American classic breakfast item. They would also be a great companion for an Oktoberfest-inspired brunch with the Obatzda cheese spread.
Brezel Bagels
About this Recipe
This Is A Sponsored Post That Contains Affiliate Links
Any other bagel lovers out there?? Growing up in Trier, there is a small bagel restaurant I frequented called 'Bagel Sisters.' I would go back there more often, but it seems like most times I am in Trier, they're on a vacation break, too. 😀 Either way, their bagels have inspired me all my life. Finally I had the idea to turn a Brezel into a bagel. So I took my classic German Brezel recipe and adjusted it to make bagels with it! The results are divine!
Dipping them in lye after boiling and before baking them gives them that signature, sought after pretzel taste. They are perfect and chewy, yet not too heavy. The perfect breakfast treat or brunch treat! I also think these would be perfect to serve for an Oktoberfest-themed brunch!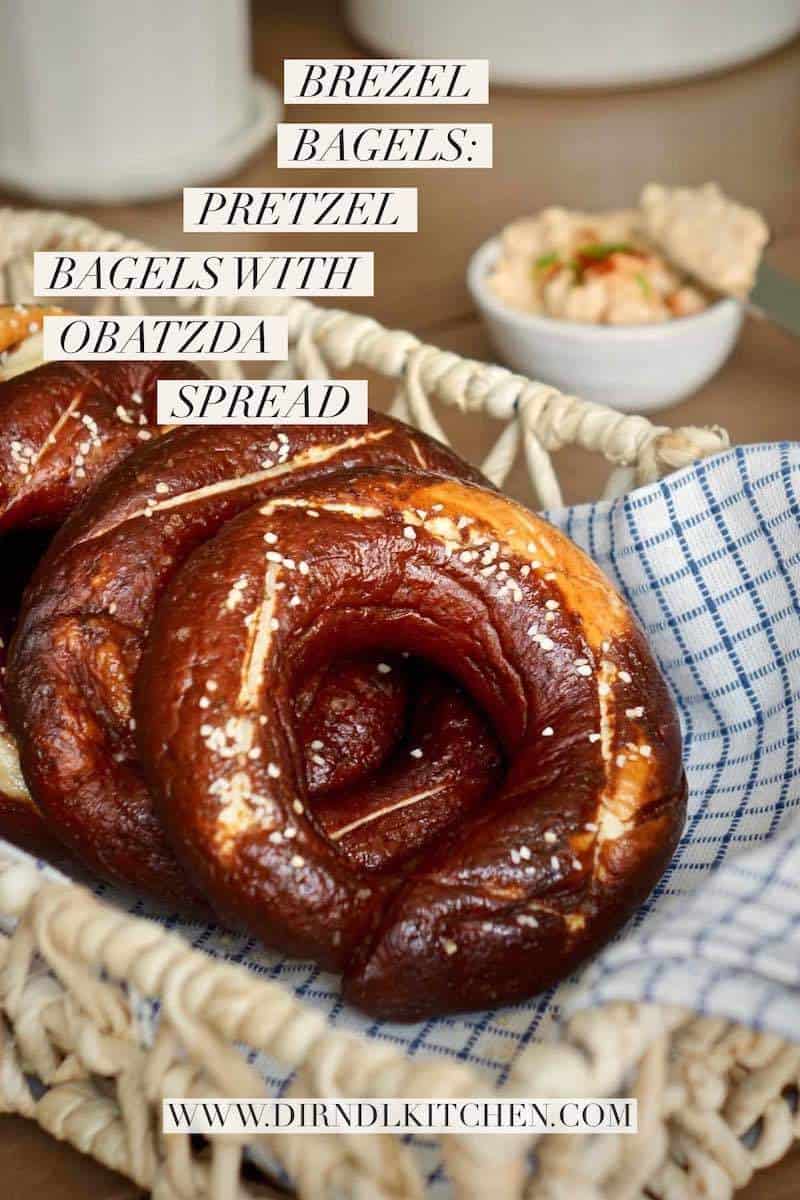 The Obatzda spread sends it over the top! The recipes are authentic, yet adjusted for American ingredients. I hope you'll love it and leave me a comment below once you've had a chance to try it!
Scroll on down for the recipe, now in printable version.
Brezel Bagel Essentials
Drink Pairing:
Pumpkin Spice Martini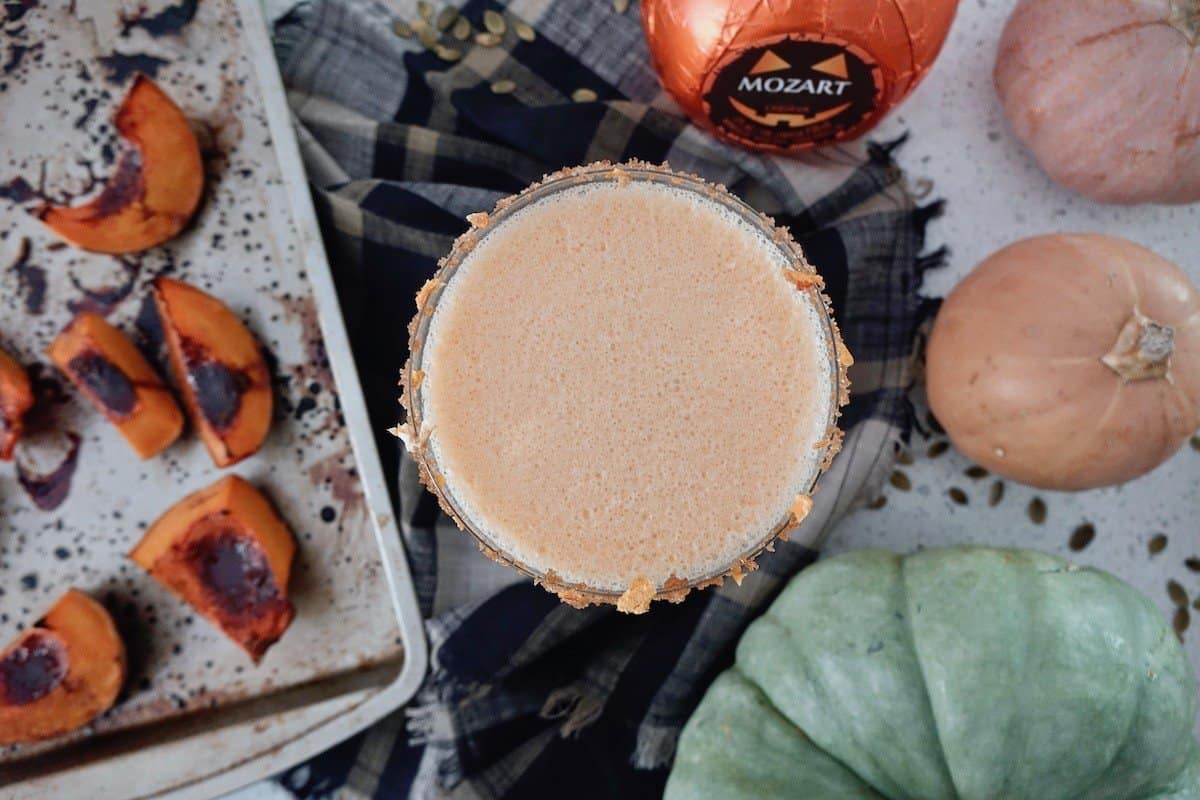 Yup, there is more pumpkin spice because if you're like men then there is no such thing as too much pumpkin spice. 🙂
Here a pumpkin spice martini using one of my all-time favorites: Austrian-made, creamy Pumpkin Spice Liqueur by the Mozart distillery. This simple cocktail will be perfect for dessert for the upcoming holidays and I promise you that every pumpkin spice and pumpkin pie fan will love this!
To make, simply shake together the following ingredients with some ice, then pour into a martini glass:
2 oz good vodka (such as Mamont)
To find out where Mozart Pumpkin Spice Liqueur (also available in Milk, White and Dark Chocolate as well as Strawberry Cream) is available in your area, fill out the short product finder form.
Prost!
more Brezel Recipes
Schinken-Käse Brezelstangen
Pumpkin Pretzel
Next Up:
Rinderrouladen
Love these Brezel Bagels? Then let's make sure you're subscribed to my blog now, so you're not missing out when my next recipe post goes live: Rinderrouladen, simmered, sauced beef roll-ups. I'm going to show you two ways how to make them - both so delicious!
Brezel Bagels
This German-inspired pretzel bagel recipe is the perfect way to change things up for breakfast or brunch. The Obatzda cheese spread puts a Bavarian twist on it.
Ingredients
Instructions
Make the Brezel Bagel Dough
Combine yeast, warm water and brown sugar in a small bowl and allow to sit and bubble up for 5 to 10 minutes.Add remaining ingredients and knead either by hand or using a dough hook attachment of your mixer for about 7 minutes. You should have a smooth and elastic dough. Cover and allow to rest at room temperature until doubled in size about an hour. If your oven has a proofing mode, set it to 100 degrees Fahrenheit, which should reduce the proofing time to 30 minutes.

500 grams all purpose flour,

7 grams active dry yeast,

15 grams brown sugar,

30 grams butter,

10 grams salt,

275 milliliter water
Shape the Bagels
Roll the dough into a log and cut into 8 equal pieces. Roll each piece into a 12 inch log, overlap the ends, and place on a parchment paper covered baking sheet. Cover air tight and allow to rest for either 30 minutes or ideally overnight in your fridge (the ladder helps develop better texture and deeper flavor of the dough).
Boil the Bagels
Bring a large pot of water to a simmering boil. Using a skimmer, lower the bagels into the boiling water and boil for about 1 to 2 minutes per side, using your skimmer to help you flip your bagels (the longer the bagel boils, the chewier the texture will be). Don't boil more bagels than will fit the surface of your pot. You will work in batches. Remove the bagels using a skimmer and place on a baking sheet covered in parchment paper, leaving an inch between the bagels, as they will rise some more during the baking process.
Dip the Bagels in Lye
Add the cold water for the lye solution to a stainless steel or glass bowl. Add the lye and whisk until completely dissolved. Carefully, using a skimmer, dip the bagels, one after the other, in the lye solution, for about 10 seconds each. Transfer back to the parchment paper.

500 milliliter cold water,

50 grams lye
Egg Wash & Top Your Bagels
Beat together an egg white with some cold water and brush the surface of the boiled bagels with it. This will help the bagels appear shiny once baked and will double as a glue to hold your toppings. Sprinkle or roll your bagels in the pumpkin seeds (feel free to use any other topping of choice instead or in addition).
Bake Your Bagels
Turn your oven to 430 degrees Fahrenheit on the convection setting and bake for 12 to 15 minutes or until golden brown. Carefully transfer to a cooling rack and allow to sit for 5 to 10 minutes before slicing.
Prepare the Obatzda cheese spread (optional):
For the Obatzda cheese spread, bring all ingredients, except beer, to room temp and whisk together. Slowly add the beer until the desired consistency is reached. I like it to be a little thicker, but a little thinner would be great for dipping if you prefer that. Finally garnish with some more chopped chives.
Nutrition
Calories:
348
kcal
Carbohydrates:
51
g
Protein:
11
g
Fat:
11
g
Saturated Fat:
6
g
Polyunsaturated Fat:
1
g
Monounsaturated Fat:
3
g
Trans Fat:
1
g
Cholesterol:
29
mg
Sodium:
682
mg
Potassium:
134
mg
Fiber:
2
g
Sugar:
2
g
Vitamin A:
416
IU
Vitamin C:
1
mg
Calcium:
83
mg
Iron:
3
mg
I received compensation from Niche Import Co. in exchange for writing this post. Although this post is sponsored, all opinions, thoughts and recipes are my own. This post contains affiliate links, which means that I may be compensated if you click certain links.