Oktoberfest parties have popped up all over the place! If you're looking to host your own, you're in the right spot. Most of them are much smaller than the big Oktoberfest in Munich (we love ours backyard style), but even Kansas City's Oktoberfest is getting big.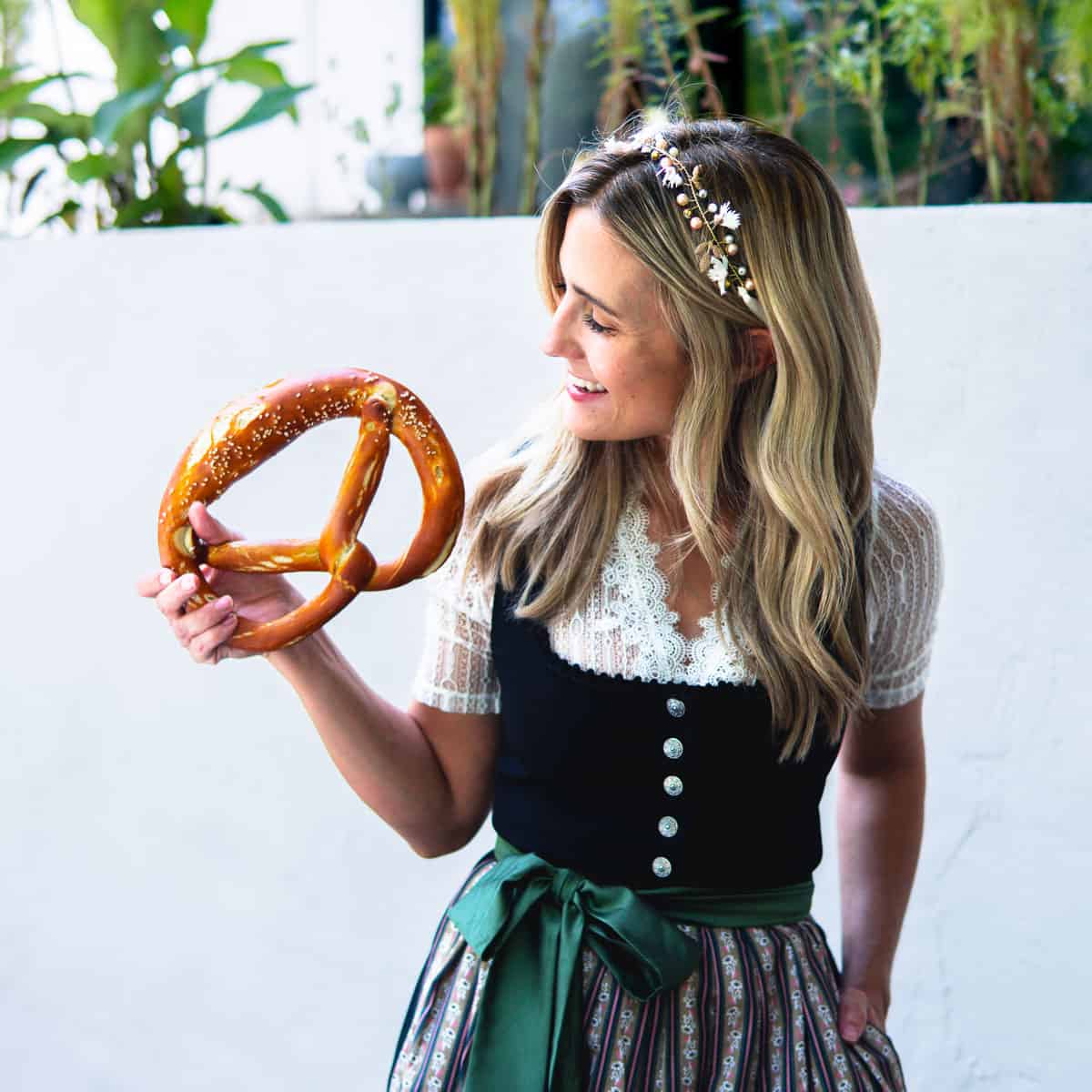 I am sharing some ideas for you starting with Oktoberfest recipe ideas, creating a fun Oktoberfest atmosphere, and finishing with Oktoberfest games. We had the best time celebrating our engagement Oktoberfest-style, and have since had more Oktoberfest themed parties at home.
Oktoberfest party food
When throwing an Oktoberfest party, you have to have some authentic German food such as grilled Bratwurst, sauerkraut, Bavarian potato salad, Brezeln (pretzels), Obatzda (Bavarian cheese spread) and Kaiserschmarrn.
Also check out my Oktoberfood recipe guide, where I add them all up for you.
Recreate an Oktoberfest atmosphere
We played German folk-style Oktoberfest music.
We sat at long tables decorated with Bavaria blue gingham tablecloth decorated with beer confetti and white daisies in mason jars.
I found pretzel balloons that and my now husband of many years Jason even ordered some fun Lederhosen for himself. Of course I had to wear a dirndl dress.
Oktoberfest beer tasting & beer pumpkin
To get the party started, we filled the largest 5 dollar pumpkin we were able to find with local Oktoberfest beer for some homemade pumpkin beer. While the pumpkin taste was not, it made for a pretty unique presentation.
We also asked everyone to be brutally honest (it's the German way) and vote for their favorite of 4 different Bavarian beers. We tried to have all 4 be Oktoberfest beers, but Hofbräu didn't sell one. The other 3 Oktoberfest beers were Paulaner, Weihenstephaner and Spaten. Paulaner won!
Glühwein to keep warm
For the chillier evening hours, Glühwein (German mulled wine) was the grand star. This is a hot spiced wine that can either be prepared with white wine or red wine and is very easy to make. Glühwein is extremely popular at Christmas markets in Germany.
Oktoberfest games
To help our party guests get off their seats and mingle, we installed this balloon dartboard wall in the colors of the German flag. I figured a little German patriotism doesn't hurt in the USA.
We had our party guests pop balloons to win German candy and Maßkrüge (1 liter glass beer mugs) in exchange for money. The collected money went towards our honeymoon.
The morning of the party, Jason and I also had the bright idea inspired by a conversation with a friend to build a life-size jenga game using 2 x 4 inch wood studs. And we got plenty of uses out of this game.
More Oktoberfest inspiration
I hope this gave you some ideas to host your own Oktoberfest party. Here more Oktoberfest recipe inspiration including Weisswurstfrühstück (a Bavarian breakfast), authentic homemade pretzels and Obatzda.