These über fluffy German pancakes are made with a great portion of protein-packed quark. They're great smothered in apple sauce and more quark!
Quark Pfannkuchen
About this Recipe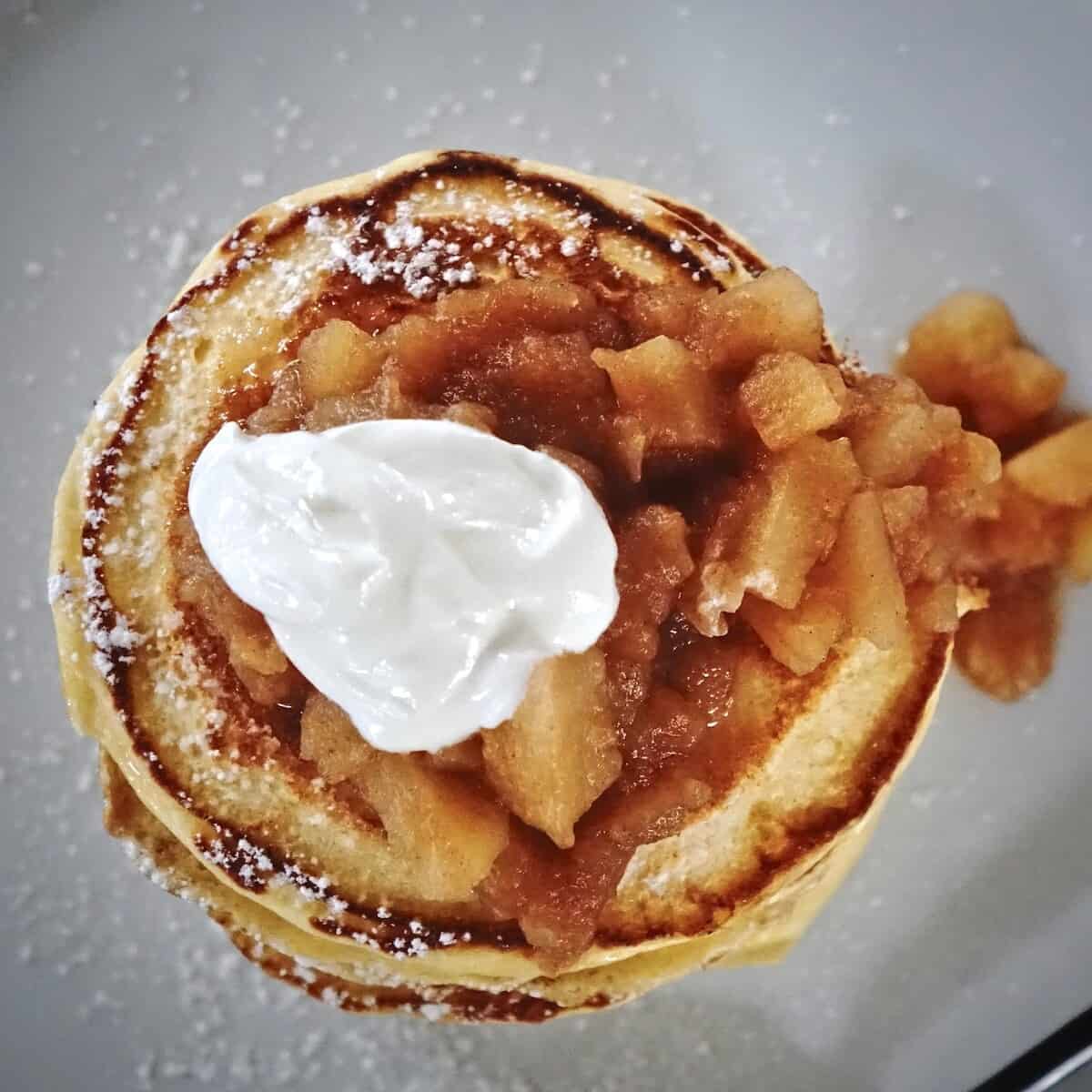 This Is A Sponsored Post That Contains Affiliate Links
These pancakes have it all: the texture is like eating clouds; the flavor hints at Käsekuchen; the recipe is super fast and easy to make; and with 31 grams of protein per serving thanks to Wünder Creamery Quark, they keep you full and satisfied for hours unlike other sugar-packed pancake breakfasts. So dig in, make another batch, dig in again and maybe share that time. 😉 If you have not yet tried Wünder Creamery Quark, it's about time. Order all the quark you want and take 15 percent off your purchase by using code SOPHIE15 at checkout. Their quark is the closest to German quark I have been able to find in the US. Creamy, non-tart and delicious, just as quark should be. I also love their flavored quark as they're just barely sweet, especially the coffee flavor.
If you're wanting to enjoy these pancakes as Germans would, I would also make the super simple and quick, spiced apple sauce that I smothered my pancakes in. It comes together in a matter of 15 minutes including the chopping, coring and dicing. I would suggest an immersion blender (absolutely love mine), which makes things quick and easier to clean up. I used Gala apples in my recipe and just a touch of brown sugar, cinnamon and cardamom. After partially pureeing the apples (I like my apple sauce chunky), I added just a touch of warming vanilla. JUST LECKER!
Finally, finish your stack of pancakes with a spoonful of quark on top. It's the only right way to eat these. So good and will make them again and again! Guten Appetit! Scroll on down for the recipe, now in printable version.
Quark Pfannkuchen Essentials
More German Pancake Recipes
Hefe Pfannkuchen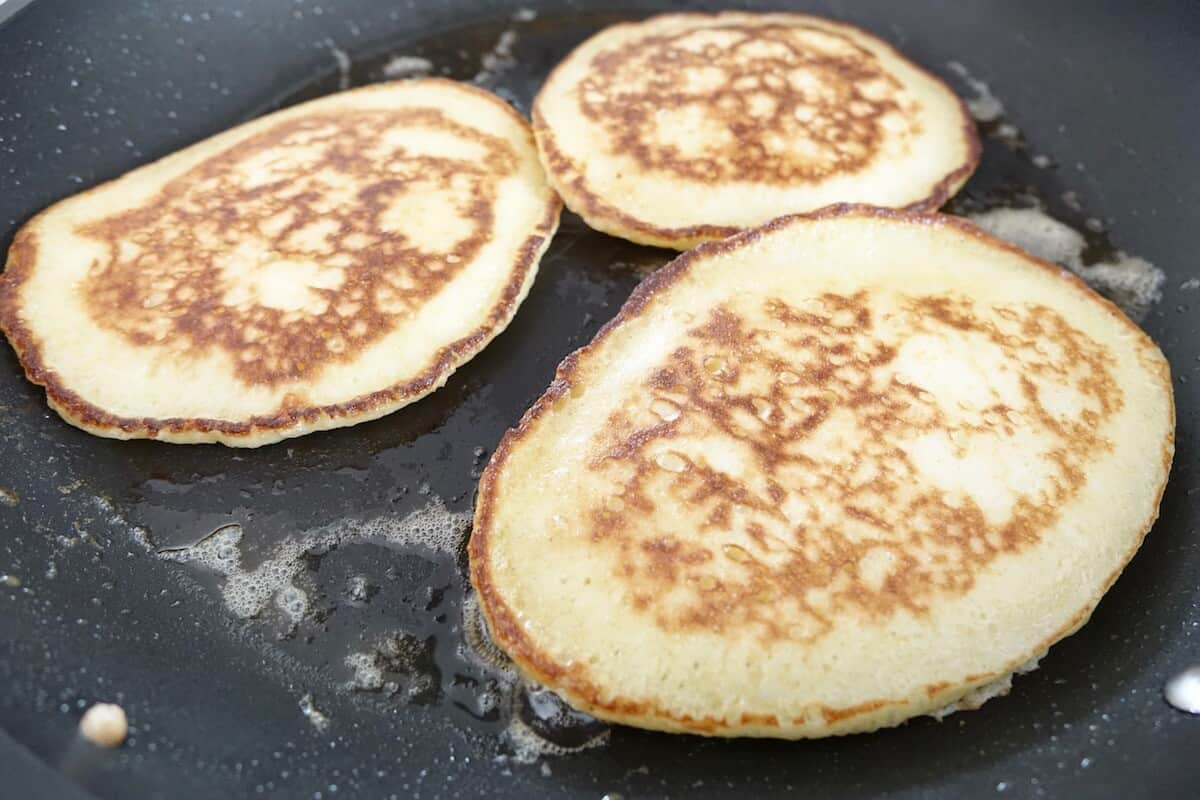 Kaiserschmarrn
Kartoffelpuffer
Make ThisNext Up:
Döner Salat
I've said it before and I'll say it again: Döner to Germans is like Tacos to Americans. It's one of THE fast foods in Germany, invented in Berlin by Turkish immigrants. I have created a Döner recipe for you before, but up next is a salad version of this very popular sandwich. Make sure to subscribe to my blog now, so you're not missing out when this new Döner Salat post goes live!
Quark Pfannkuchen: German Quark Pancakes
These über fluffy German pancakes are made with a great portion of protein-packed quark. They're great smothered in apple sauce and more quark!
Instructions
Quark Pancakes
Whisk together all ingredients and set aside for 5 minutes. Cook pancakes on medium heat (350 degrees Fahrenheit on griddle) for a couple of minutes on each side. Makes about 16 small pancakes.
Apple Sauce
Peel, core and chop apples into medium sized pieces. Immeditely toss in the lemon juice.

Combine with water, spices, salt and syrup in a medium sized pot and bring to a boil. Once boiling, stir, cover with a lid, and cook on medium for 10 minutes.

Remove from heat and puree to your liking (I use an immersion blender and I like some chunks, so I didn't puree all of my apples).

Add vanilla and stir. Serve warm or cold with the pancakes and lastly top with more quark.
Nutrition
Calories:
572
kcal
Carbohydrates:
98
g
Protein:
31
g
Fat:
7
g
Saturated Fat:
3
g
Cholesterol:
169
mg
Sodium:
302
mg
Potassium:
878
mg
Fiber:
7
g
Sugar:
40
g
Vitamin A:
428
IU
Vitamin C:
9
mg
Calcium:
325
mg
Iron:
4
mg
I received compensation from Wünder Creamery in exchange for writing this post. Although this post is sponsored, all opinions, thoughts and recipes are my own. This post contains affiliate links, which means that I may be compensated if you click certain links.