These Berliner or Krapfen are German-style, fried yeast donuts with pumpkin in the batter and more pumpkin butter in the filling. They're perfect for the start of Fastnacht (German carnival) season, Friends- and Thanksgiving!
Pumpkin Berliner
About this Recipe
This Is A Sponsored Post That Contains Affiliate Links
Just when you thought you had seen enough pumpkin for the season, along comes this Pumpkin Berliner or Pumpkin Krapfen just in time for the start of Fastnacht season, the German carnival. Krapfen or Donuts are THE sweet treat during Fastnacht in Germany, and are sold in so many different flavor versions with all sorts of different fillings, although I can't say I have ever seen a pumpkin version in Germany!
I promise that this German pumpkin donut filled with the most delicious pumpkin butter by Grandma Hoerner's is going to be one of the best donuts you have ever had (I realize that's an extremely bold statement, but I'm just going to put that one out there). I am not a biggie on cake donuts, and ALL pumpkin donuts I have had in the US so far were cake donuts! I love the fluffy texture of yeast-raised donuts and Berliner like this one. Combined with the warming flavors of Fall from the pumpkin and pumpkin spice, this fluffy, spiced German donut steals the show!
When you bite into this powdered-sugar dusted fluff-ball, midway through you're greeted by the most delicious, most unique pumpkin butter I've had. Grandma Hoerner's all-natural pumpkin butter is enhanced by fresh orange zest, citrus juices, warming spices and brown sugar to create one fo the best spreads on toast I have ever had (I love using cream cheese underneath it). But just guess where else it wins? Inside this German pumpkin Berliner. Man, it's good! Zoë and I couldn't get enough of it and shared 3 donuts for lunch, then decided to share the rest with some of my clients and my husband, who has been working so hard day-in and day-out on building our beautiful, modern-ish home here in Kansas City (more on that on Instagram!).
But you know what else I love about Grandma Hoerner's? This new collaboration with this very traditional brand very much reminds me of my own grandma (Oma Sieghilde). She was the very reason for why I started this blog – to keep her German recipes alive and pay a tribute to her life that was always so dedicated to taking care of her family. She spent so many of her hours in this world in her kitchen, cooking so many great meals for my sister and I. Grandma Mabel Hoerner only used the ripest, best apples for her chunky apple sauce that she is now famous for, and she believed in only using the best ingredients for the best apple sauce. Grandma Hoerner's products are still made with that same dedication today.
Check out Grandma Hoerner's website (based in Alma, Kansas) for all sorts of natural and organic fruit spreads, jams, pie fillings and sauces.
Scroll on down for the recipe, now also available in a printable version.
PUmpkin Berliner Essentials
Drink Pairing:
Kleiner Feigling
Kleiner Feigling is THE way you should celebrate the start of Fastnacht season!
When I still lived in Germany, Kleiner Feigling often found its way into my purse on my way to the club (I went clubbing and dancing there way more often than here – it's mainly house parties here in the US). This tasty, all-natural German fig liqueur does not contain any artificial colors or flavors like so many other shots.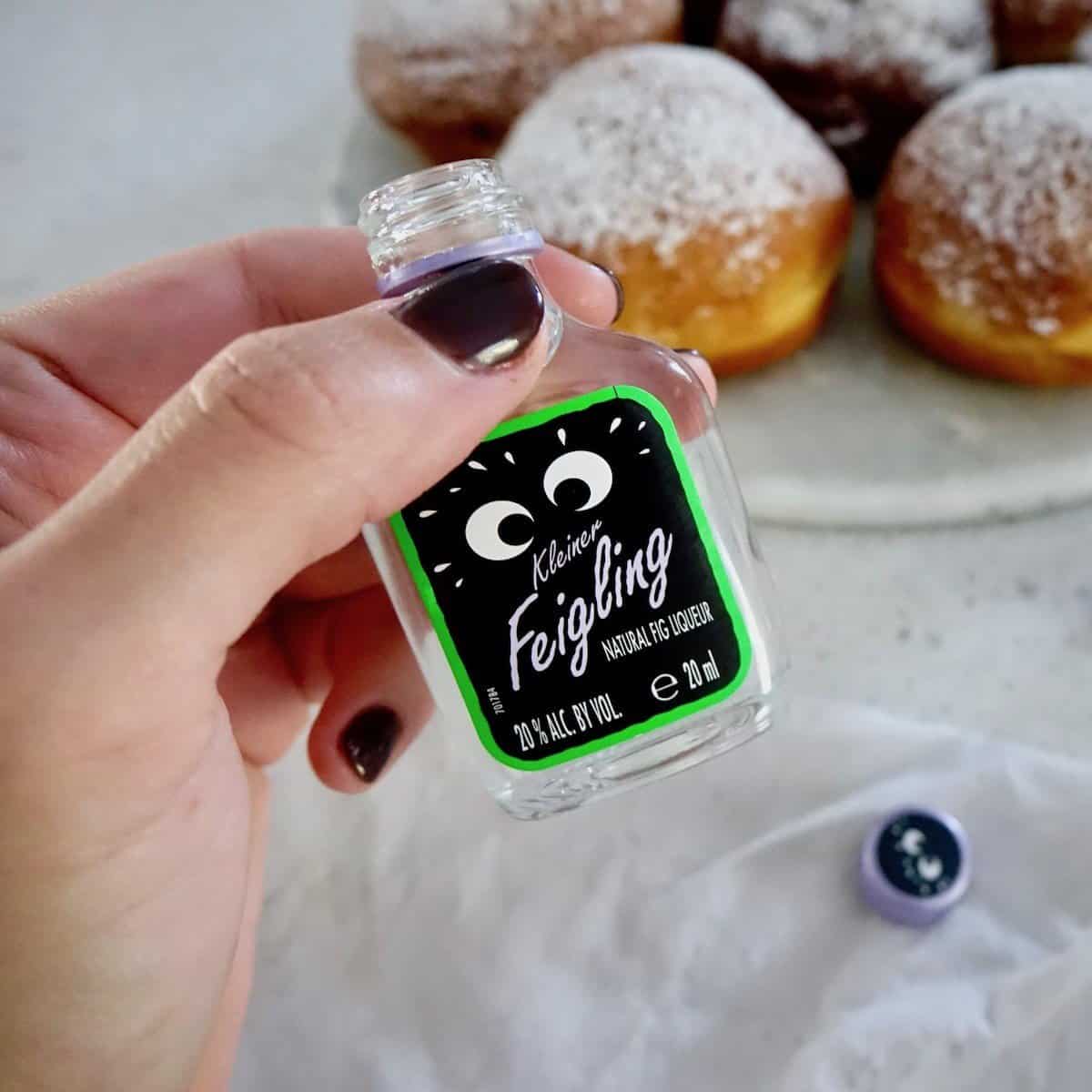 more German PUmpkin Recipes
Next Up:
German Lentil Stew
I revamped one of my Oma Sieghilde's recipe that I posted right after she passed away almost 4 years ago. This German lentil stew is simple and so worth checking back for. Make sure to subscribe to my blog now, so you're not missing out when this new German Lentil Stew post goes live!
Pumpkin Berliner: German Pumpkin Donuts
These Berliner or Krapfen are German-style, fried yeast donuts with pumpkin in the batter and more pumpkin butter in the filling. They're perfect for the start of Fastnacht (German carnival) season, Friends- and Thanksgiving!
Ingredients
Instructions
Combine the luke warm milk and yeast and set aside for 5 minutes. It should be bubbly. If not, start over (your milk may have been too hot or too cold). In the bowl of a standmixer, combine all ingredients for the dough and knead for 10 minutes on the medium-low setting. Cover the bowl and allow to rest in a warm spot until doubled in size, about one hour.

Divide the dough up into equal pieces (50 to 60 grams each - 1.7 to 2.1 ounces each, best to use a kitchen scale), and using flour-dusted hands, shape each portion into a ball. Allow to rest for another 30 minutes (covered up by a clean linen towel).

Preheat frying oil (I used safflower oil) to 160°C/320°F and bake in batches (you will want the donuts to be able to swim on the surface) for about 5 minutes or until golden on the outside (flipping once).

Fill each Berliner with pumpkin butter and dust with powdered sugar. Guten Appetit!
Nutrition
Calories:
340
kcal
|
Carbohydrates:
40
g
|
Protein:
6
g
|
Fat:
7
g
|
Saturated Fat:
3
g
|
Cholesterol:
77
mg
|
Sodium:
70
mg
|
Potassium:
93
mg
|
Fiber:
2
g
|
Sugar:
8
g
|
Vitamin A:
2177
IU
|
Vitamin C:
1
mg
|
Calcium:
34
mg
|
Iron:
2
mg
I received compensation from Grandma Hoerner's in exchange for writing this post. Although this post is sponsored, all opinions, thoughts and recipes are my own. This post contains affiliate links, which means that I may be compensated if you click certain links.