Kokosmakronen are some of my favorite German Christmas cookies that I ate all the time growing up in Germany! These are the best Coconut Macaroons (I learned after 4 trials)! They're soft on the inside and just a little crunchy on the outside.
Kokosmakronen
About this Recipe
This Is A Sponsored Post That Contains Affiliate Links
Growing up in Germany, I have always been a huge fan of everything coconut, such as coconut chocolate candy like Rafaello and Bounty (if anyone here knows them!). So it's no surprise that Kokosmakronen (German Recipe Coconut Macaroons) had to make my Plätzchen baking list eventually! I experimented with 4 (!) different Kokosmakronen recipes before ending up with this one that's pretty much foolproof! They're super lecker (delicious) to say the least and should make it on your cookie plate ASAP.
How to make Coconut Macaroons?
Well, there are so many ways to make German Coconut Macaroons! I tested 4 of them (with the support of our coconut-loving nanny) and ended up with this recipe for Kokosmakronen that
taste amazing
stay moist
keep their shape
These Kokosmakronen using blanched almonds as the topping, remind me a bit of Rafaello chocolates. I would have also dipped or drizzled them with white chocolate to go down the Rafaello route even more, but most Germans like them plain without chocolate (I will try that next time I make them and will keep you posted!). You could also dip or drizzle them with any other chocolate of your liking (milk or dark chocolate are more common than white chocolate).
This recipe has you first beat the egg whites with some of the sugar before gently folding them in (using a rubber spatula) with the shredded unsweetened coconut and remaining sugar. I then use a cookie scoop to place the fluffy egg white batter on small Oblaten (paper wafers) right before baking. The wafers keep the Oblaten from sticking to the parchment paper or baking mat. I tried Oblaten-free recipes, but they didn't turn out for me (the bottom is super sticky), so I recommend using them even though they are pricy here!
How to store Coconut Macaroons (Kokosmakronen)?
Store Kokosmakronen right away (after cooling) in an airtight container to keep them from drying out! In fact, this may just be the most important part of this recipe. This is not the kind of cookie you want hanging out on your cookie plate all day. Store these macaroons right away in an airtight container or else they will dry out FAST and become inedible rocks that smell good.
Are Coconut Macaroons Gluten-Free?
No! Unless you can make them without Oblaten (paper wafers) or can find wheat-free Oblaten, Coconut Macaroons (the German kind) are NOT gluten-free. The ingredients of Oblaten are wheat flour and starch. I tried some recipes that don't use Oblaten, but they didn't work for me! Oblaten are overpriced in the US, but for only needing a pack once a year, it's a cost I will accept.
Kokosmakronen Punch (Puerto Rican Coquito)
What better companion to go with Kokosmakronen than a Puerto Rican Coquito creamy Coconut Cocktail (we're just going to call this a Kokosmakronen Punch)? I used Mezan Chiriquí rum in this drink, which is a delicious bourbon barrel aged rum from Panama, with notes of vanilla, spice and coconut. It works really well in this drink!
For a total of 56 ounces, combine 4 oz raisins and 1 ½ cups Mezan Chiriquí and 2 cinnamon sticks in a bowl and allow to sit for one hour. In the meantime, blend together all other ingredients (1 (14 oz) can sweetened condensed milk, 1 (15 oz) can cream of coconut, 1 (13.5 oz) can coconut milk, 4 oz evaporated milk, ½ teaspoon nutmeg, ½ teaspoon ground cinnamon, ½ teaspoon vanilla extract, 4 tablespoons shredded coconut). Strain the raisins and add the rum. Pour over ice to serve and garnish with ground cinnamon and shredded coconut. 
Kokosmakronen Essentials
More German Christmas Cookie Recipes
Zimtsterne
Spitzbuben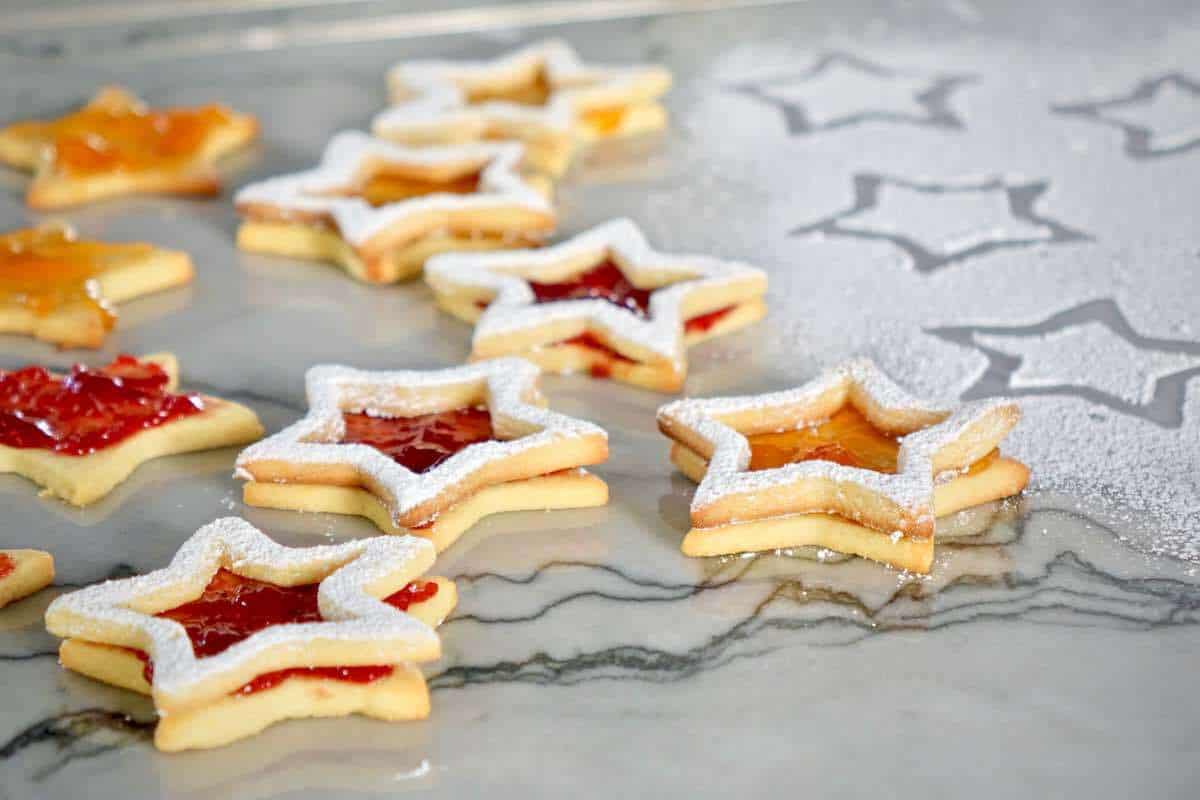 Next Up:
More German Christmas Recipes
Christmas season is around the corner (or maybe it's here for you already!). Make sure to subscribe to my blog now, so you're not missing out when this new German Christmas recipes go live!
Kokosmakronen: The BEST German Recipe Coconut Macaroons
Kokosmakronen are some of my favorite German Christmas cookies that I ate all the time growing up in Germany! These are the best Coconut Macaroons (I learned after 4 trials)! They're soft on the inside and have a little crunch on the outside AND they're easy to make!
Instructions
Preheat oven to 180° C or 355° Fahrenheit.

Distribute 30 Oblaten (paper wafers) on a baking sheet covered with parchment paper or a silicone baking mat.

Beat the egg whites with the vanilla extract and ¼ of the sugar until peaks form.

60 grams egg whites,

120 grams sugar,

1 teaspoon vanilla extract

Combine the shredded coconut and remaining sugar in a bowl, then gently, using a rubber spatula, fold in with the beaten egg whites until just combined (no more chunks).

250 grams shredded, unsweetened coconut,

120 grams sugar

Using a small cookie scoop or 2 small spoons, distribute the cookie mixture onto the 30 Oblaten.

Bake on the middle rack for about 18 to 20 minutes. The cookies should just start to turn a golden color. Allow to cool, then immediately store in an airtight container.
Nutrition
Calories:
72
kcal
Carbohydrates:
6
g
Protein:
1
g
Fat:
5
g
Saturated Fat:
5
g
Polyunsaturated Fat:
1
g
Monounsaturated Fat:
1
g
Sodium:
6
mg
Potassium:
49
mg
Fiber:
1
g
Sugar:
5
g
Vitamin C:
1
mg
Calcium:
2
mg
Iron:
1
mg
I received compensation from Niche Import Co. in exchange for writing this post. Although this post is sponsored, all opinions, thoughts and recipes are my own. This post contains affiliate links, which means that I may be compensated if you click certain links.