Vanillekipferl are by far the BEST German Christmas Cookie! They're super fast and easy to make, so buttery & perfectly sweet!
Vanillekipferl
About this Recipe
This Is A Sponsored Post That Contains Affiliate Links
Why Vanillekipferl are the best German Christmas Cookies
Advent season and the need to be baking German Christmas cookies have officially arrived! I think back to afternoons after school spent with my Oma Sieghilde, baking these Vanillekipferl in her kitchen with my twin sister - those are the best kinds of memories. Sweet scents fill the air, sneaking pieces of raw cookie dough into my mouth here and there, ending up with usually four or so different kinds of cookies every year.
It's hard to pick favorites (I recently posted my Top 5 German Christmas Cookies for you!), but after thoughtful contemplation, I can say that these cookies are the winner! They offer a very satisfying return for the amount of time spent. The soft, crumbly texture with the simple, warming vanilla bean taste is what does it for me. Definitely make sure to try these and comment below to let me know how they turned out! And if you haven't yet subscribed, please do, so that I can keep you posted on new German recipes every week!
What are Vanillekipferl?
Vanillekipferl, pronounced Va-nil-luh-kipp-fuh-l, are vanilla bean crescent-moon-shaped cookies. Kipferl is a word that's commonly used in Austrian German for baked goods shaped like croissants, and means 'little horn.' I loved helping my Oma Sieghilde hand-shape these at her small kitchen table (which is how they're traditionally shaped). My Oma always took special care to make sure the ends weren't too skinny, or else they would burn easily; she really didn't want anything or anyone being too skinny 😉 After baking, the Vanillekipferl get a thick dusting of powdered sugar (Oma Sieghilde used to roll the cookies in the powdered sugar on a plate, but I think the dusting looks prettier, so that's what I do. Sorry, Oma.). You don't need many ingredients to make Vanillekipferl and no special tools or skills are required.
What's in Vanillekipferl?
The ingredient list for these favorite German vanilla bean cookies is thankfully short, which is why it's essential to use the best ingredients!
 Vanilla Bean: The real stuff! Vanilla beans are expensive! I buy mine in bulk for the baking season, then reuse the scraped vanilla bean pods to make homemade vanilla simple syrup and vanilla sugar (the ladder simply by covering the pods in a small canister with cane sugar). Vanilla sugar is great to use in any baking recipes or for sprinkling on top of pancakes, muffins, and more. You can also make homemade vanilla extract with these!
Almond Flour (or Hazelnut Flour): Nut flours can be made at home by grinding nuts yourself. I use my food processor to make my hazelnut flour from whole, shelled nuts, as it tends to be harder to find. For the more traditional version with almond flour (this is how we always ate them growing up), I like grinding blanched and peeled almonds for the color, but almonds with peel will work as well. 
Butter: Using good quality butter in this recipe will pay off! I like using salted butter in this recipe as I like the hint of salt in the cookies.
Flour: Just regular, AP flour will work great in this recipe. I use organic flour that I buy in bulk for all my holiday baking!
Sugar: I use organic cane sugar.
Powdered Sugar: Yes, more sugar! 🙂 This is what the Vanillekipferl are rolled or dusted in after baking.
Enjoy some Blueberry Glühwein with your Vanillekipferl
There are so many different kinds of Glühwein out there, yet Americans are typically only familiar with the red version. This Blueberry Glühwein by Gerstacker from the famous Nürnberger Christkindlesmarkt is made with local German honey and gingerbread spices. It's a top seller for a reason: it's delicious! You can buy it in the United States by visiting this link to find out where Gerstacker is available.
Vanillekipferl Essentials
More German Christmas Cookie Recipes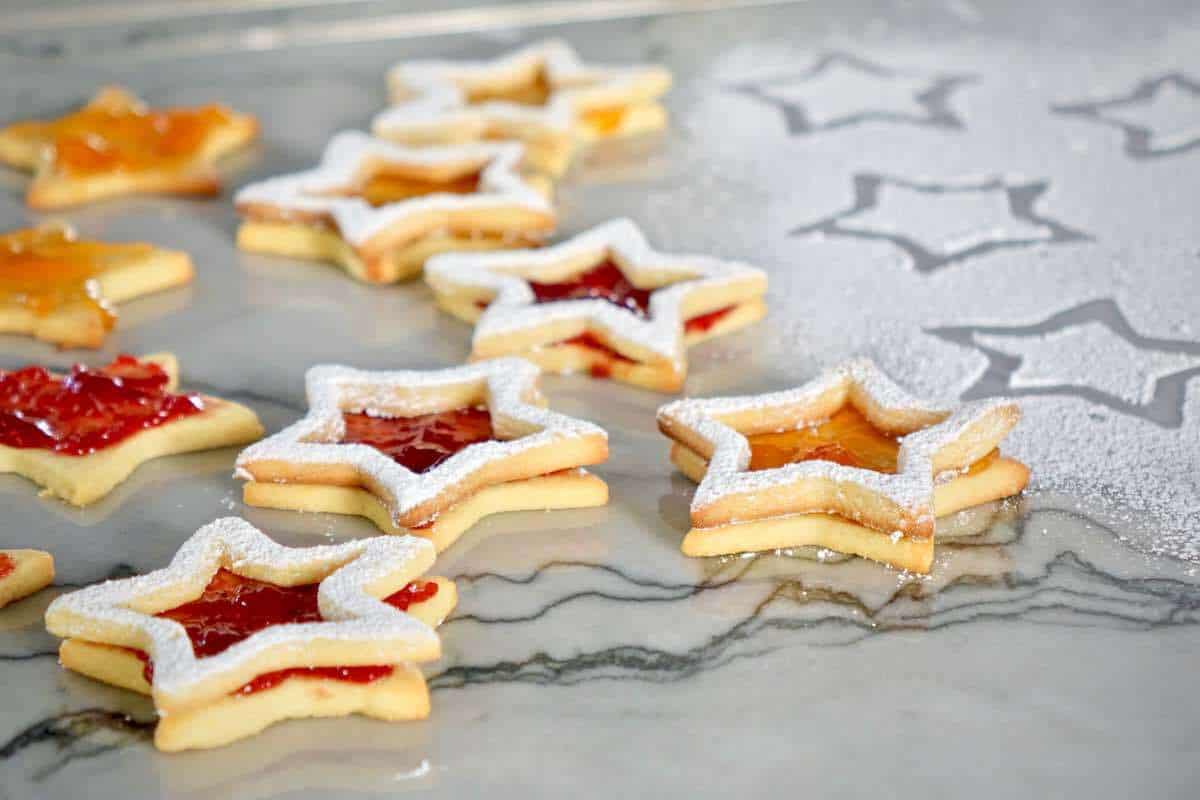 Zimtsterne
Lebkuchen
Next Up:
Even More German Christmas Recipes
Weihnachtszeit is here! Make sure to subscribe to my blog now, so you're not missing out when this new German Christmas recipes go live!
Vanillekipferl: German Vanilla Bean Cookies
Vanillekipferl are by far the BEST German Christmas Cookie! They're super fast and easy to make, so buttery & perfectly sweet!
Instructions
Preheat oven to 390° Fahrenheit (200° Celsius).

Cut vanilla bean open lengthwise, then scrape out the seeds.

Knead together with other ingredients to make a smooth dough. Wrap airtight and chill in the refrigerator for 1 hour.

210 grams butter,

100 grams ground almonds,

70 grams sugar,

250 grams all-purpose flour

Half the dough and shape into 8-inch (20 cm) logs on a lightly floured surface. Cut into 20 slices each (1 cm thick each).

Shape the slices into pencil-thick rolls of about 2-inch length with tapered ends that run towards each other (like a crescent moon shape). Don't make the ends too skinny, or else they can easily burn.

Lay on baking sheets covered with parchment paper and bake on the middle rack for 10 to 12 minutes or until starting to brown at the ends.

Once finished baking, remove from oven and let cool completely. Carefully roll or dust in powdered sugar.
Nutrition
Calories:
82
kcal
Carbohydrates:
7
g
Protein:
1
g
Fat:
6
g
Saturated Fat:
3
g
Polyunsaturated Fat:
1
g
Monounsaturated Fat:
1
g
Trans Fat:
1
g
Cholesterol:
11
mg
Sodium:
38
mg
Potassium:
8
mg
Fiber:
1
g
Sugar:
2
g
Vitamin A:
131
IU
Calcium:
7
mg
Iron:
1
mg
I received compensation from Niche Import Co. in exchange for writing this post. Although this post is sponsored, all opinions, thoughts and recipes are my own. This post contains affiliate links, which means that I may be compensated if you click certain links.