Who knew picking my top 5 German Christmas Cookies (Weihnachtsplätzchen) would be this hard! Especially considering there are hundreds of different kinds of Plätzchen recipes out there! I think number 5 will surprise you!
What Christmas cookies mean to Germans
When I think about my top 5 German Christmas cookies, I think about the German Christmas cookies I bake year after year here in America. Without them, Christmas time has not arrived for me!
I remember with a smile on my face, the baking marathons with my Oma Sieghilde in her little kitchen in Kasel. She would relentlessly baking batch after batch and immersing the whole neighborhood in a cloud of the sweetest scents.
Those thoughts and memories allow me to have a little easier time wiggling down the selection to just my top 5! And because I had the hardest time deciding on number 5, I threw in a little surprise for you!
I hope you decide to start baking with me this Christmas season, whether you keep all the cookies or give them away! What are your favorite German Christmas cookies? Did I mention any fo them? I'm curious and I'd love it if you want to share below in the comments!
Number 1: Vanillekipferl (vanilla bean cookies)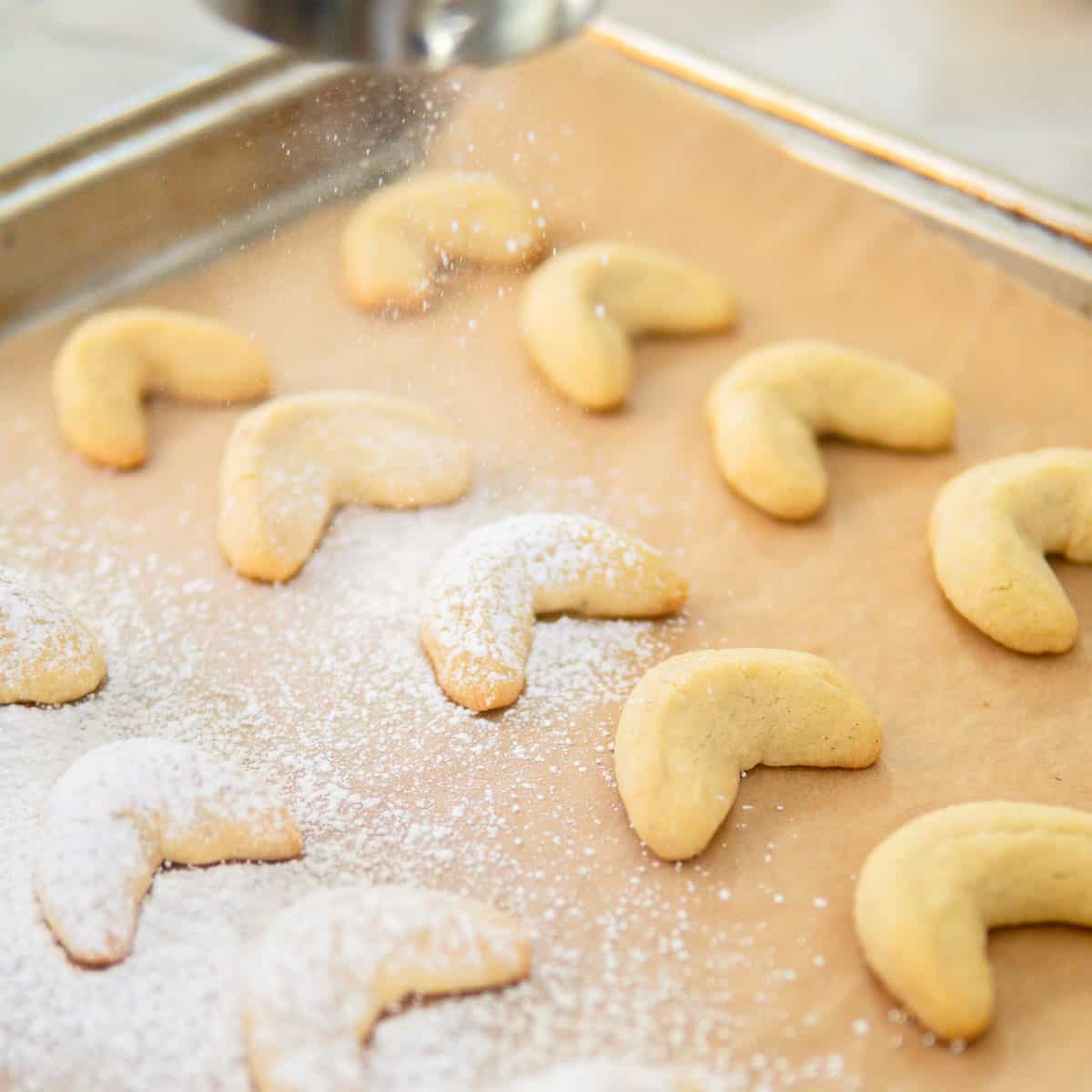 These buttery, half-moon-shaped German vanilla bean cookies aka Vanillekipferl are addictive! I just love them and they score in every aspect! They're easy to make using just a few ingredients and they're delicate and buttery! I am pretty sure they were my Oma Sieghilde's favorite, too. Traditionally, Vanillekipferl are made using almond flour.
The hardest-to-find ingredient in Vanillekipferl, BUT also the most essential, must be the vanilla bean. And man, they can be expensive! I suggest buying a handful (I love these sustainably farmed, Grade A beans), then storing them in a small glass jar after opening the package to keep them from drying out.
You can then even make your own vanilla extract by pouring vodka over scraped vanilla beans (I keep mine in little glass bottles in a dark spot), which also runs on the pricy side!
Vanilla sugar is also a staple in German baking, which can easily be made at home using scraped-out vanilla bean pods that are simply mingled with sugar in a jar for at least a few days to infuse the aromas. I just keep them in there until I have used up the sugar, then I reuse the bean pods AGAIN to make vanilla sauce for Dampfnudeln or vanilla pudding.
Number 2:
These jam-filled, German Christmas cookie sandwiches named Spitzbuben (or Linzer Cookies) are a close second for me! The jam peeks through the holes you create in the cookie, and the holes can take on whichever shape you desire.
Spitzbuben are fun to look at and I love the combination of buttery cookies sandwiched with my favorite apricot jam by Bonne Maman (you can use whichever jam you like!).
They're easy to make and they involve cookie cutters (Linzer cookie cutters sure help to make things easier). And cookie cutters mean kids want to help, so this is a fun one to do with kids!
The only 'different' step in this recipe is the boiled egg yolk that goes into the dough. I am not entirely sure why it's used, but some suspect it acts in keeping the cookie more delicate. So just do it. Then boil a few extra eggs and use the egg whites from your Spitzbuben eggs to make my Curry Eiersalat - my favorite, light egg salad recipe with curry and apple. It's so good!
Number 3: Zimtsterne (cinnamon stars)
The placement of this German 'cinnamon star' cookie aka Zimtsterne in my Top 5 kind of surprises me because they were definitely NOT my favorite growing up! But that's only because my Oma Sieghilde did not bake them herself (and I am not sure why!).
They are AMAZING homemade and underwhelming when store-bought. The secret is to make sure you're slightly underbaking them (and definitely not overbaking them). Because if they're in the oven for too long, they will end up harder than rocks!
However, if they're in the oven for just the right amount of time, they will be delicate, fluffy little things that are so addictive! Zimtsterne are surprisingly simple to make (just follow my tips and tricks) while looking rewardingly difficult to make, and I hope you will LOVE them just as much as I do! And they're gluten-free!
Number 4: Lebkuchen (German gingerbread cookies)
We did not make Lebkuchen or German gingerbread cookies often growing up, probably because they are a bit more involved than many of the other German cookie recipes out there. But they are worth it!
My Oma, when making them, would make them well in advance and let them soften over a week or two before allowing anyone to sneak a hand in that cookie tin. That patience-teaching lesson is not necessary with my recipe as you can enjoy them right away!
You will find Lebkuchen is hard to escape in stores and supermarkets everywhere you go starting in October each year (or even earlier!).
The store-bought version to me (not handmade or small-batch made) tastes much different and not as flavorful. Meaning that making your own Lebkuchen for the first time may be a life-changing experience! They are SO GOOD!
You can either glaze them in a sugar glaze (add rum for a special something) or chocolate glaze. My heart is big enough to have places for both versions.
I grind my own spices for Lebkuchen because I couldn't find the exact combination of spices to add to my gingerbread cookie recipe. And because I am that particular and wanted all the right flavors to come through.
If you don't want to make your own German gingerbread, buy Leckerlee Lebkuchen. These are small-batch made by Sandy Lee in Colorado after she moved away from Berlin and missed Lebkuchen way too much! They come in the most beautiful tins and also make amazing Christmas gifts for family, friends, and clients!
Into decorative Lebkuchen? Check out my Lebkuchenherz recipe for German gingerbread hearts like the ones sold at Christmas markets and gingerbread houses (this recipe is really just for decorative Lebkuchen).
Number 5: Nussecken (German nut bars)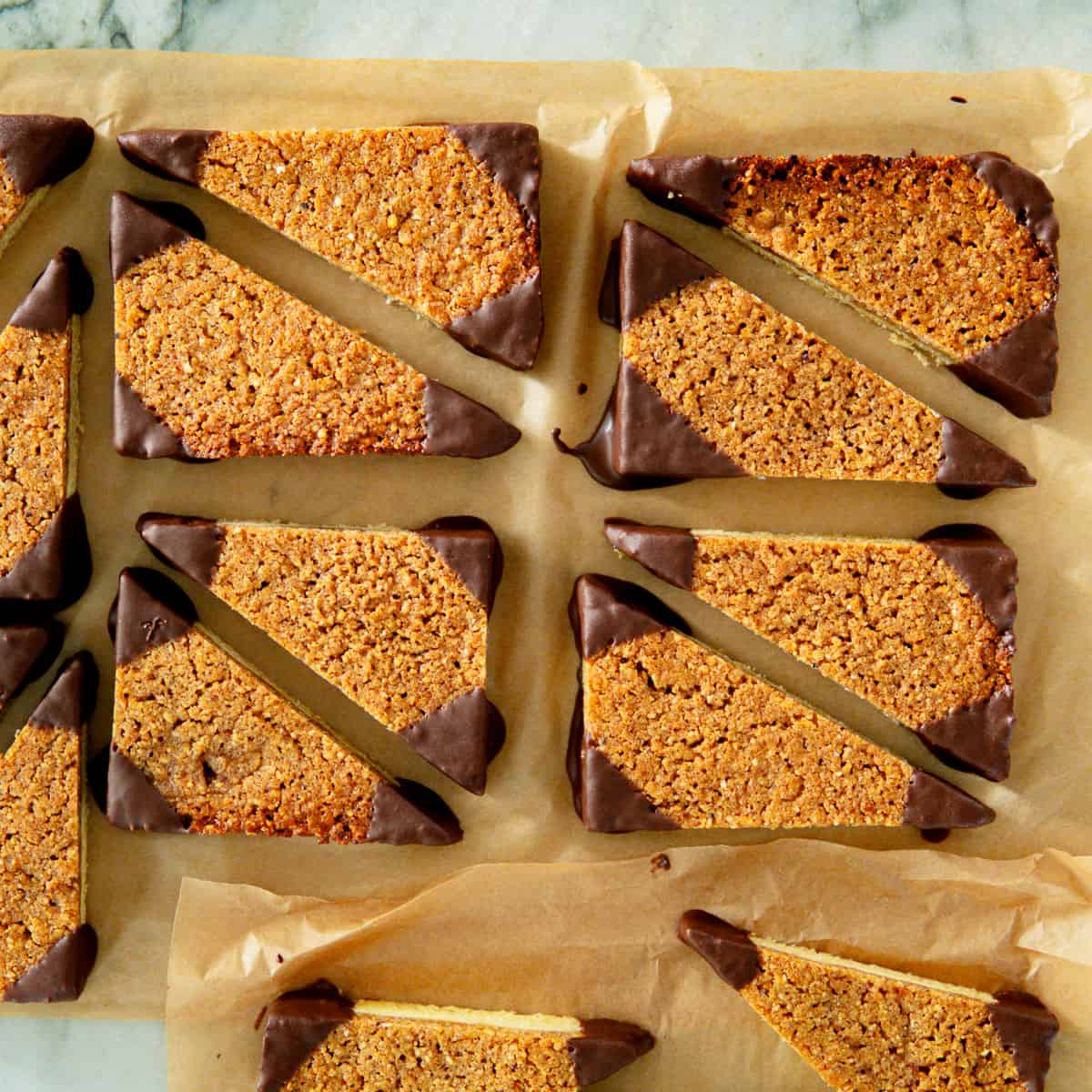 Now you could scold me for this one because technically Nussecken would be considered a pastry. But when it came to number 5, and Spritzgebäck and Spekulatius were battling for this spot, this nutty, triangle-shaped, chocolate-dipped Christmas-time favorite entered my mind immediately!
And Nussecken took Spot 5! Think of Nussecken as cookie bars more than pastries, glued with the help of jam, to a layer of nutty perfection. For the nut layer, I often use a mixture of ground almonds, hazelnuts, and peanuts, the ladder being non-traditional, but oh so good and more affordable! I think I will make a mini version of this German staple for our holiday party because they would be so cute!
So what do you think? Are your top German Christmas cookies the same as mine? Did you find a cookie or two that intrigued you? (Leave me a comment below.) I hope so and that you'll join me in the Christmas baking frenzy soon! Also, I'd so love it if you subscribed to my blog, so you never miss a German recipe via my weekly email newsletter. Happy baking!