Gingerbread is traditionally German and goes back to the medieval ages. To make it, you need a good gingerbread spice. This authentic Nuremberg-inspired gingerbread spice helps give those unique, warming gingerbread flavors to your cookies, German Lebkuchen, cakes, and more.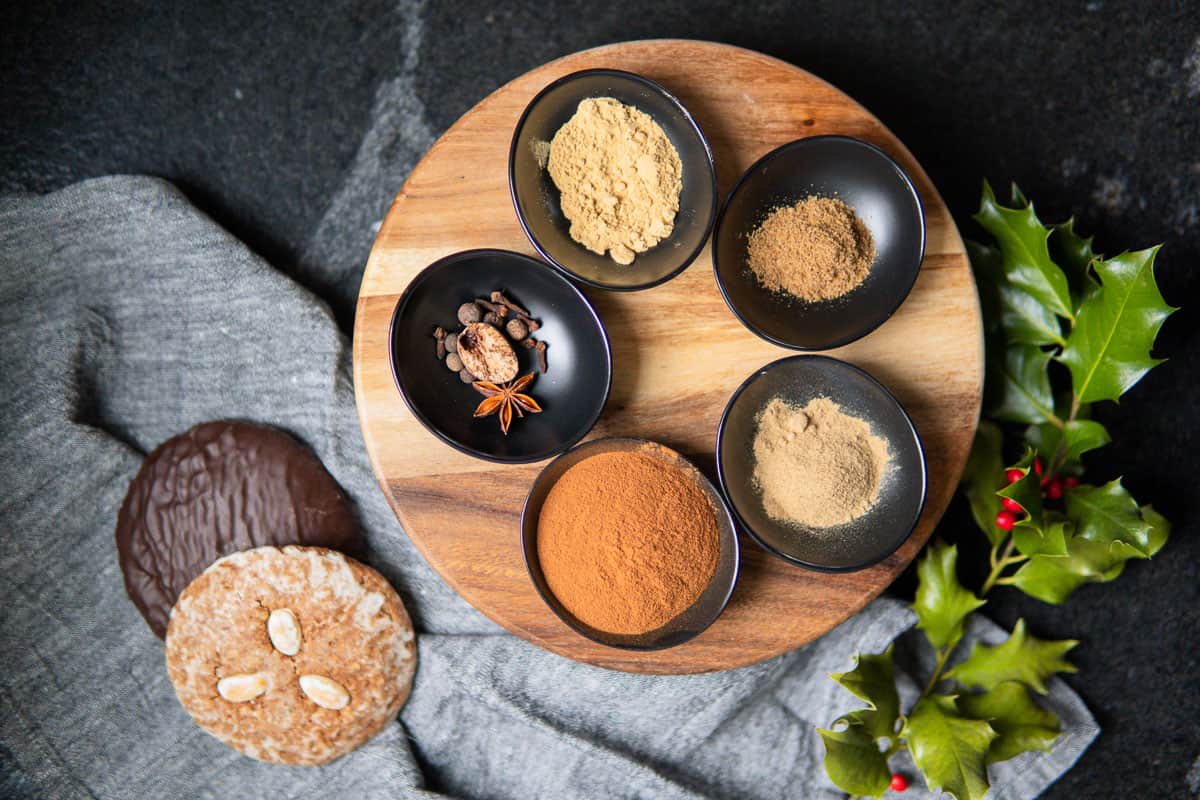 What's in Gingerbread Spice?
Most gingerbread spices I have been able to find in the US lack the depth of flavor and ingredients to make gingerbread taste authentic. After some research, I narrowed my ingredients down to the following to make authentic German-style gingerbread or Lebkuchen.
Cinnamon. This is the main ingredient of gingerbread. I use Ceylon Cinnamon, but you can use whichever you have on hand.
Cardamom. Use green cardamom (it's the most common kind).
Ginger. It's where gingerbread gets its name, although not when Lebkuchen is translated from German. A bit goes a long way.
Coriander. Just a touch of this spice is used in this gingerbread spice mix.
Allspice. One of the essential ingredients as it brings so much flavor.
Cloves. I always have cloves whole ready to use or Glühwein (German mulled wine).
Nutmeg. I love using whole nutmeg in general (we have a nutmeg mill sitting on our countertop ready to use in homemade spätzle, scrambled eggs, and cheese fondue) because it quickly loses its fragrance fast once it's ground.
Star Anise. I use whole star anise and grind it using a coffee and spice grinder.
Tips
Just a few tips for making your spice making journey more worthwhile.
Whole Spices
If you're not using certain spices often, it makes sense to buy them as a whole spice as they will stay fragrant longer. I then use a coffee/spice grinder to grind the whole spices (I tried the food processor and it did not work).
Storing
To maximize how long the life of your gingerbread spice mix, store it in an airtight container. I love these little glass jars and also store my Pommesgewürz (German French fry seasoning) in them and any other spices I buy in bulk.
It's also important to store in a dark spot that's protected from heat.
Homemade German Gingerbread Spice (Lebkuchengewürz)
I have been trying SO HARD to find an authentic German gingerbread spice for years now without the best of luck. I eventually made my own. So here is my Nürnberger Lebkuchen inspired version using a blend of cinnamon, cardamom, ginger, coriander, anise, cloves, allspice and nutmeg.
This German homemade gingerbread spice blend smells like a German Christmas market and is essential when making German gingerbread (Lebkuchen). I also love it for adding spice to Apfelkuchen (apple cake), and sprinkled on top of pancakes or muffins when blended with equal parts of sugar. My decorated gingerbread hearts, It keeps for up to 2 years at room temperature, stored in an airtight container and kept in a dark spot.
Instructions
30 grams ground cinnamon,

4 grams ground cardamom,

2 grams ground coriander,

2 grams ground ginger,

6 pieces whole cloves,

6 pieces whole allspice,

1 piece whole star anise,

½ piece whole nutmeg

Shake the spice jar and seal airtight.

Store in a dark spot at room temperature for up to 2 years. It will keep longer, but that's when the spice will taste the best.
Nutrition
Calories:
140
kcal
Carbohydrates:
39
g
Protein:
3
g
Fat:
3
g
Saturated Fat:
1
g
Polyunsaturated Fat:
1
g
Monounsaturated Fat:
1
g
Trans Fat:
0.02
g
Sodium:
27
mg
Potassium:
368
mg
Fiber:
22
g
Sugar:
1
g
Vitamin A:
135
IU
Vitamin C:
5
mg
Calcium:
418
mg
Iron:
5
mg