Lentils are a power food packed with plant-based protein, fiber, and iron. My Oma Sieghilde knew what's good! Honoring her German cooking and the reason for why my blog exists, here is one of my very favorite recipes from her: Linsen mit Spätzle (Lentils with German Egg Noodles).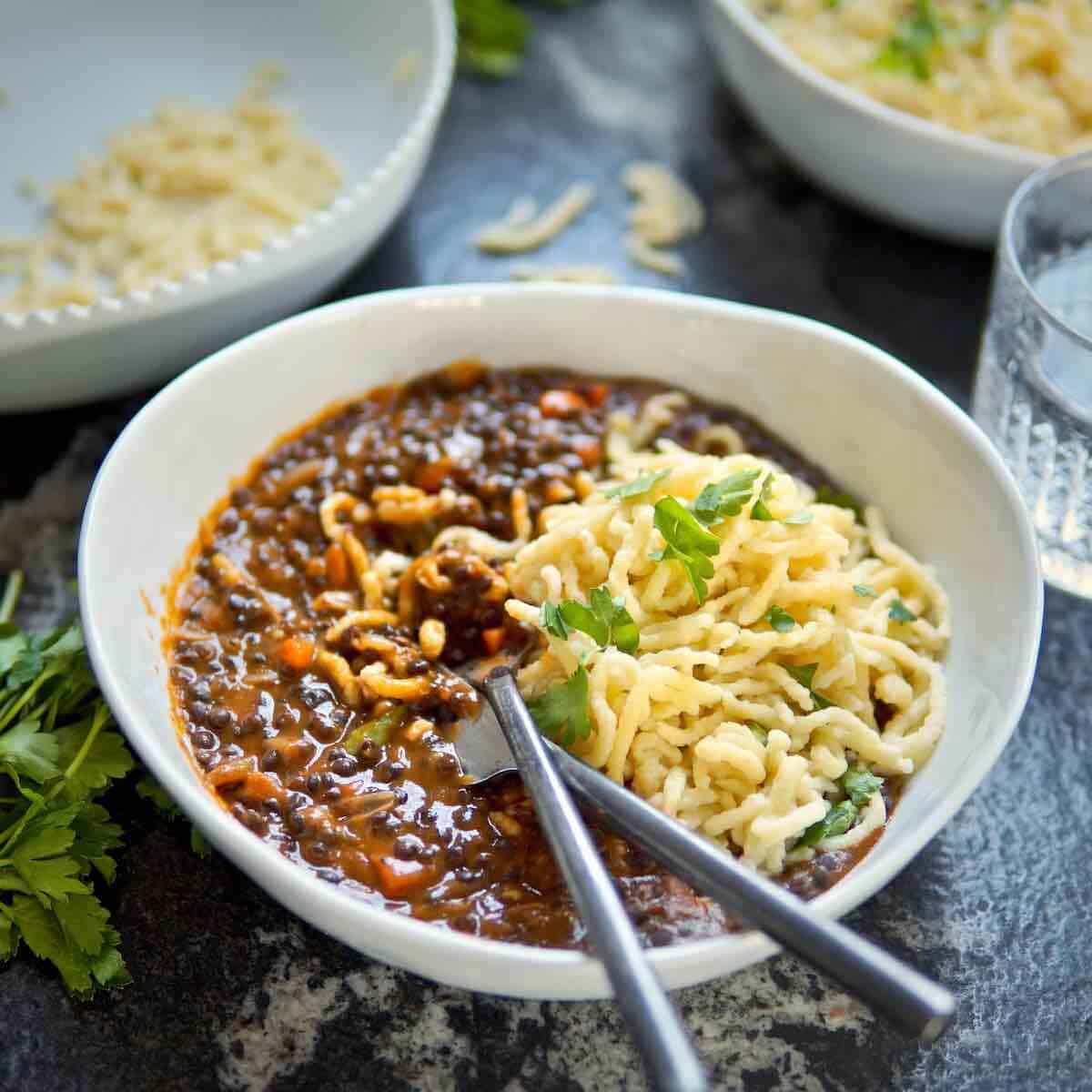 What's in This German Lentils Dish?
Today is all about a German dish that my grandma used to prepare: Linsen mit Spätzle or Lentils with Spätzle. Spätzle are THE German noodle, made from fresh eggs, milk, flour, salt, and a hint of nutmeg. Spätzle are just the side for today's dish, however.
The star in this dish is black lentils cooked with a variety of ingredients such as bay leaf, onion, tomato paste, and red wine vinegar to make them extra tender, juicy and yummy. The beef franks (or turkey, chicken, or pork, whichever is your preference) are completely optional, as I think this otherwise vegetarian dish is already hearty, flavorful and filling enough on its own.
Also try my German lentil soup recipe (Linsensuppe), which is another delicious way to eat lentils! It's similar to this dish with added potatoes in the soup and buttered bread on the side!
What Are Lentils?
Lentils are a legume such as beans, but they're tiny and so tasty! Their small size also means they're fast to cook and require no soaking like other dried legumes. Lentils are a nutrient powerhouse and also packed with fiber and iron! And with 30 grams of protein per serving even without the meat in this German lentil recipe, I promise you won't be feeling hungry anytime soon! Our kids love their Linsen und Spätzle as well, which came as a complete surprise to me! And then again, it really shouldn't. They are half German after all. 🙂 I prefer black or brown lentils for this recipe, as they hold their shape better. Green lentils tend to fall apart more. Red lentils are the least ideal type of lentil for this recipe, as they turn into complete mush when cooking. You could also get away with a lentil blend, but that may be more ideal for a Linsensuppe (lentil soup).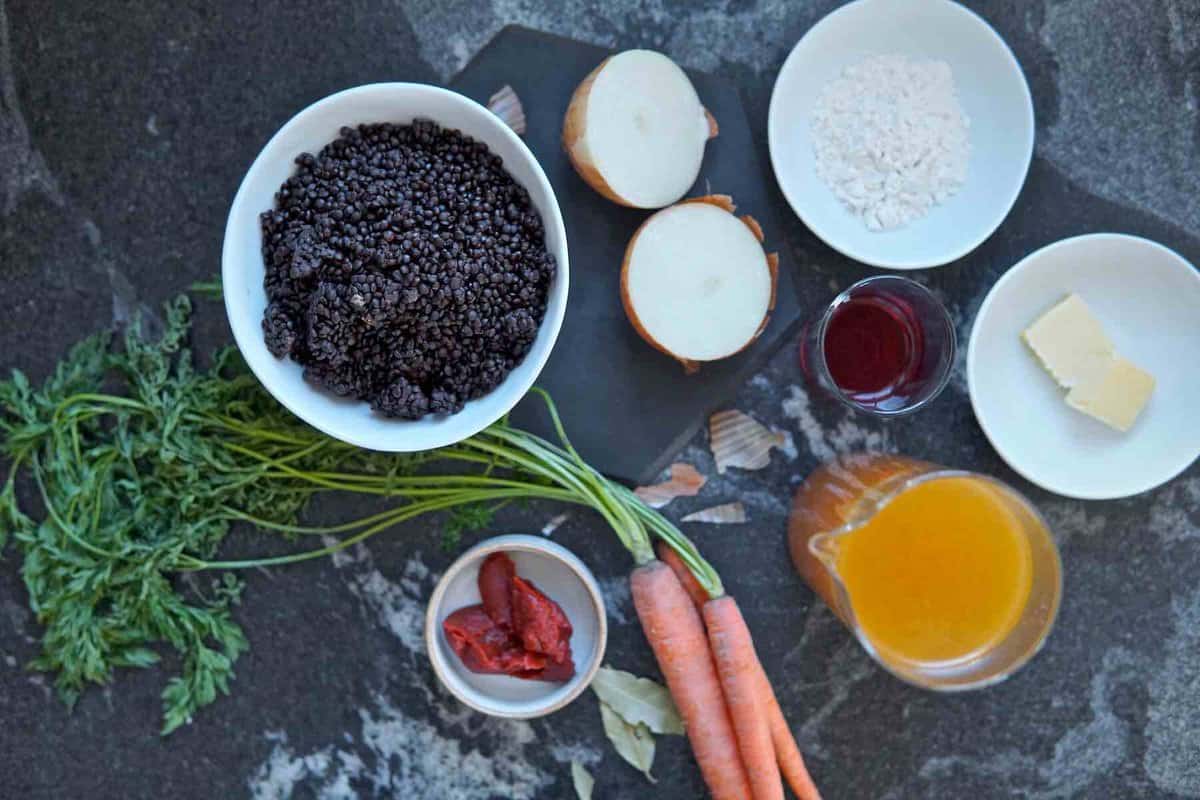 How to Cook Lentils?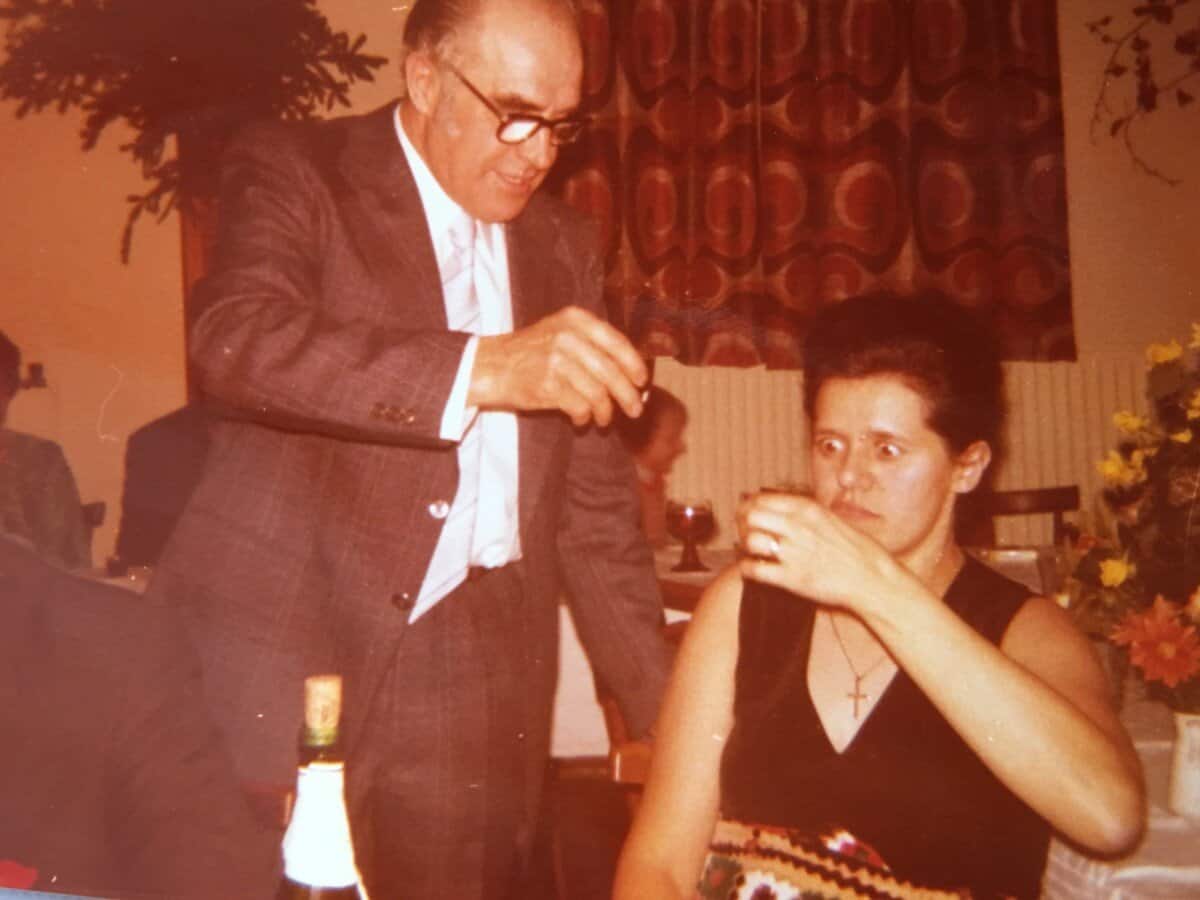 Lentils are so easy to cook! First, you need to rinse them under running, cold water and just pick out any lentils that look off in color (there are usually just a couple). Then you combine them with liquids (water and broth in this case) and simmer them for about 30 to 45 minutes (depending on the type of lentil). I add a few vegetables to my lentils and season them with red wine vinegar, tomato paste, and bay leaf. Lentils are so easy to cook and make a perfect companion for buttery spätzle German egg noodles (whether you choose to make them yourself or buy the storebought version).
Remembering my Oma Sieghilde
Here is a photo of my beloved grandma, Oma Sieghilde, taking a shot, which is a very common German practice to do after dinner to aid in digestion (or just for fun!).
This is the exact photo I also have framed in my kitchen. It's how I like to remember her: having fun and not taking life too seriously. She was an amazing cook, made most everything from scratch, and taught me so many things when it comes to German cooking that I get to share with you on my blog now. I am forever grateful for the time I got to spend with her and for the things she taught me. Here is a little poem (author unknown) that I like to remember her by:
I thought of you with love today, but that is nothing new. I thought about you yesterday, and the days before that, too.
I think of you in silence. I often speak your name. All I have are your memories and your picture in a frame.
Your memory is my keepsake, with which I'll never part. God has you in His keeping, I have you in my heart.
Please make this authentic German lentil and spätzle dish at home now. I hope you love it as much as we do.
MORE GERMAN RECIPES
Next up I am combining some of my very favorites: puff pastry, seeds and pretzels. Make sure to subscribe to my blog now, so you're not missing out when this new post goes live!
German Lentil Recipe (Linsen mit Spätzle)
Lentils are a power food packed with plant-based protein, fiber and iron. My Oma Sieghilde knew where it's at! Honoring her German cooking and the reason for why my blog exists, here an update on one of my very favorite recipes from her: Lentils with Spätzle.
Ingredients
Lentils
1

pound

lentils

I used black lentils this time, and I LOVED them! The taste is more delicate than green or brown lentils and they keep their shape well!

1

yellow onion

on the large side

1.5

tablespoon

tomato paste

salt & pepper

to taste

red wine vinegar

to taste

3

carrots

peeled and cut into ¼ inch thick slices

1

liter

vegetable stock
Roux
2

tablespoon

butter

2

Tbsp

flour
Other
8

beef sausages

can also use pork sausages or a mixture of beef and pork

1

package

dried Spätzle OR (much recommended) two batches of my homemade Spätzle

1

tablespoon

butter
Instructions
Lentils
Drain, rinse and sort the lentils.

In a pot, sauté the onion and carrot in a little bit of butter.

Add the lentils and fill the pot with water until it covers the lentils by about 1 inch. Add the vegetable stock, tomato paste and bay leaves. Cook for about 45 minutes.

Make a roux and add to the lentils to thicken the mixture (find Emeril's recipe for a roux here).
Spätzle
Cook according to package instructions OR make 2 batches of my homemade Spätzle (so worth it!).

Drop some flakes of butter over the hot Spätzle and allow it to melt into the noodles. This will add incredible taste and will keep the noodles from sticking.

If serving with sausages, warm them in hot water (not boiling) and keep them warm until serving them.
Notes
Leftovers: Store in an airtight container in the fridge for 3 to 5 days. To reheat, mix desired amount with a bit of water (the lentils have likely soaked up more water), then either reheat on the stovetop or in the microwave.
Nutrition
Calories:
734
kcal
Carbohydrates:
89
g
Protein:
34
g
Fat:
27
g
Saturated Fat:
12
g
Polyunsaturated Fat:
2
g
Monounsaturated Fat:
11
g
Trans Fat:
0.3
g
Cholesterol:
96
mg
Sodium:
1392
mg
Potassium:
386
mg
Fiber:
18
g
Sugar:
6
g
Vitamin A:
5725
IU
Vitamin C:
7
mg
Calcium:
89
mg
Iron:
8
mg