I found another great way to enjoy the German's favorite seasonal vegetable, white asparagus. Add it to a rustic Flammkuchen (German-style flatbread) with prosciutto, Cambozola cheese, pine nuts, and red onion and it's ready to enjoy in just about 30 minutes!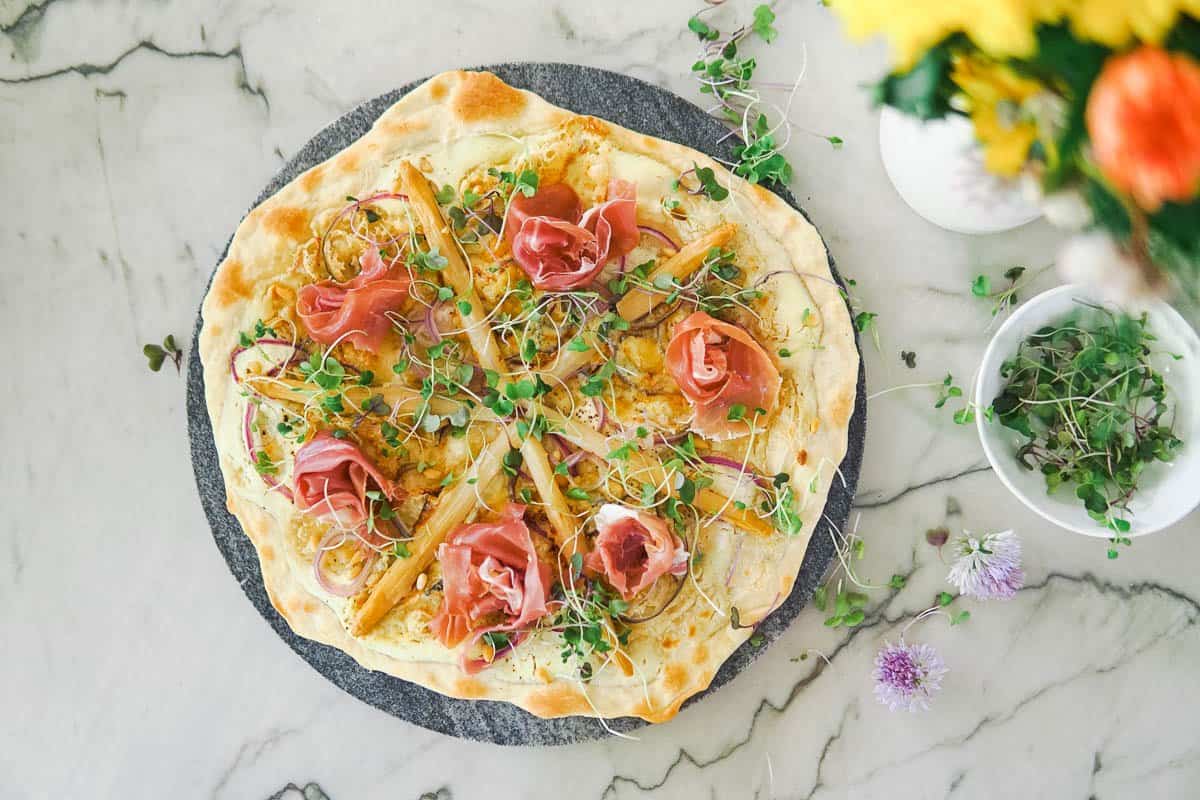 This Is A Sponsored Post That Contains Affiliate Links
A Spring Flatbread
Germans love their Flammkuchen, which is traditionally served Alsace-style with bacon and onions. Don't get me wrong, the classic version is phenomenal and you should grab the recipe right now! But for Spring, when white asparagus is everywhere in Germany, I thought why not add it to a Flammkuchen! Add some creamy Cambozola cheese (a mixture of camembert and gorgonzola cheese), red onion, pine nuts, and some prosciutto after baking, and you got yourself an AH-MAZING meal! The flatbread comes together in about 30 including the baking! Believe me when I say this is one of the most delicious ways to eat Spargel! But just in case you need more white asparagus inspo, please explore the recipes below: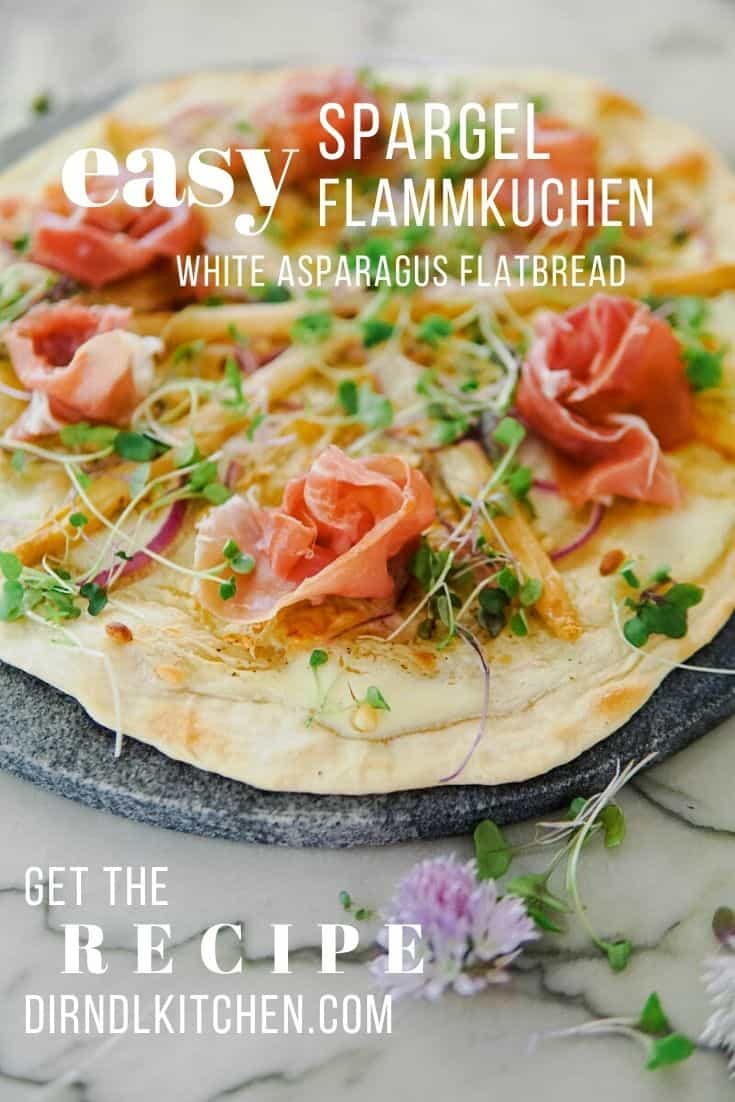 Jarred White Asparagus
Spargel season in Germany is wrapping up this month. While white asparagus is hard to find in America (and it's usually shipped in from Peru), I like to explore other options to participate in the Spargel craze. Such as finding jarred asparagus, which is crazy tender and you'll love it! Another bonus: no peeling or boiling before baking your Flammkuchen! This saves valuable time and money as you're only paying for the net weight of the asparagus after you've lost all the trimmed bits (they're still great to use to make veggie broth by the way!).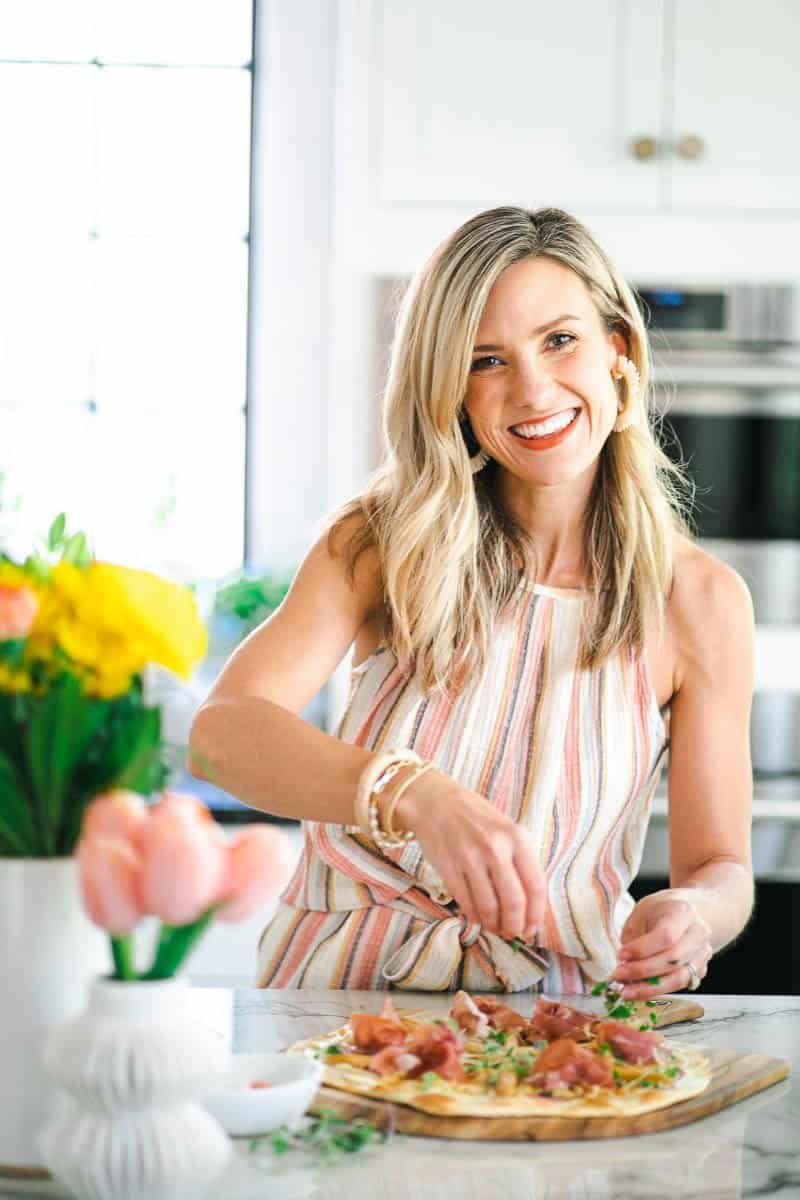 A Note on Ingredients
Flour. Just plain old all-purpose flour. I buy mine in bulk and organic. 
Olive Oil. Just a bit to add some elasticity to the dough.
Sour Cream. Whole fat our light works.
White Asparagus. It has a mild and delicate flavor compared to the common green asparagus. A negative is that you have the peel it. Jarred asparagus is already peeled and much easier to find than the green kind. It also keeps a lot longer than green asparagus, so if you even want Spargel in fall, there you have it!
Cambozola Cheese. This is a German cheese hybrid of Camembert and Gorgonzola. I added it before baking, so it completely melted all over the Flammkuchen. However, it would also be perfect to add to the warm pizza fresh out of the oven along with the prosciutto. It will still melt a little, but it won't run all over your flatbread.
Pine Nuts. They add a delicious creamy-nutty note. They're not cheap, so I don't blame you if you're wanting to substitute. I think chopped walnuts could be great on this flatbread as well.
Red Onion. Feel free to substitute with yellow onion or shallots. I like the red for color mainly.
Prosciutto. I buy the version from Parma (di Parma) from Costco and it's such a great price. The ingredients are simple (pork and salt, no additives). I always add it after baking because I think cooking it, kills the flavor (and that's how Italians do it). I use any leftover ham for sandwiches, on a charcuterie board, or to wrap around honeydew or cantaloupe slices as a light appetizer (something I grew up with in Germany a lot!).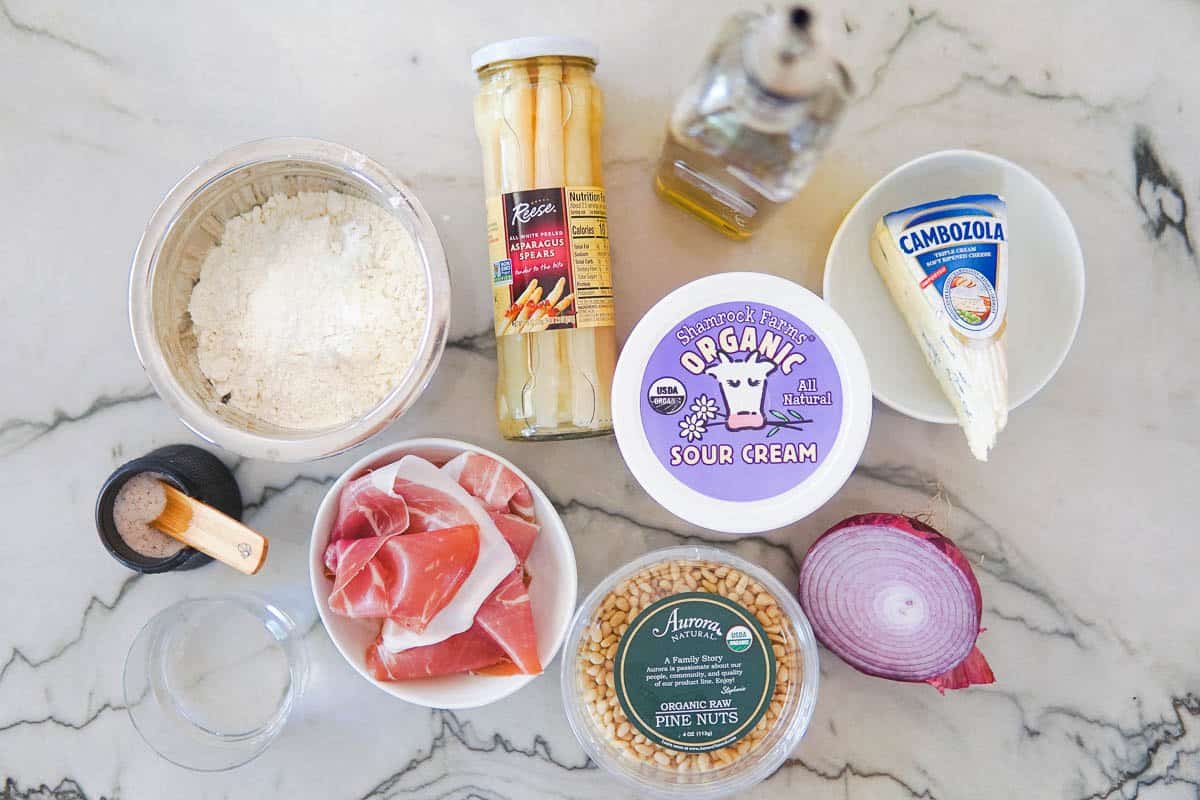 Final words: Make this, kick back, and enjoy a glass of white wine along with some Spring sun and this Flammkuchen. Life is too short.
Sponsored Content and Affiliate Links Disclosure
Although this post is sponsored, all opinions, thoughts and recipes are my own. This post contains affiliate links, which means that I may be compensated if you click certain links.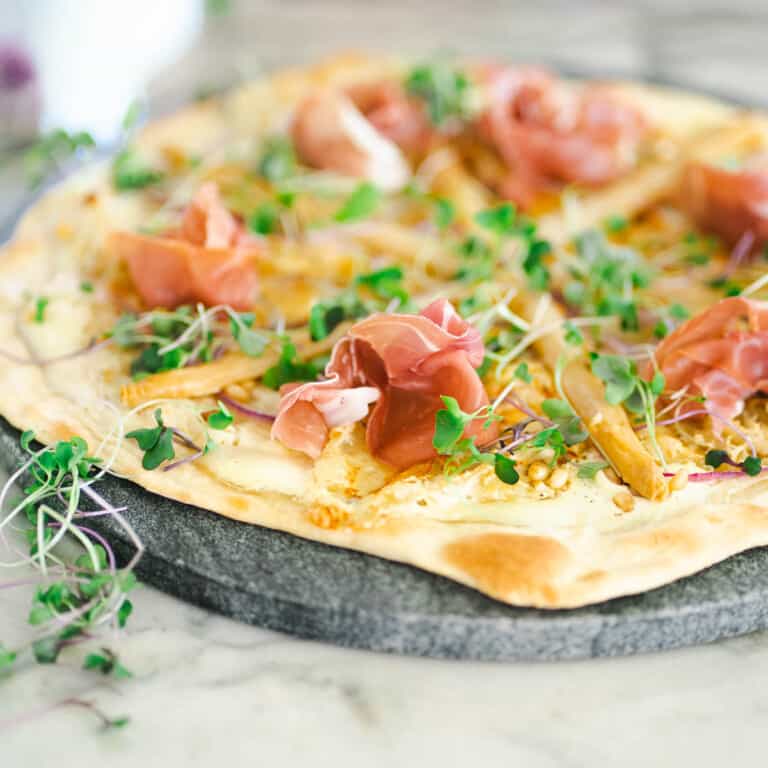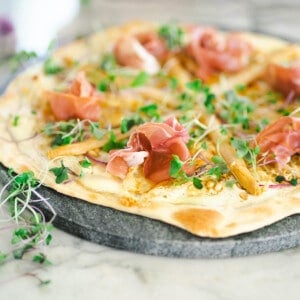 Easy White Asparagus Flatbread (Spargel Flammkuchen)
I found another great way to enjoy the German's favorite seasonal vegetable: white asparagus. Add it to a rustic Flammkuchen (German-style flatbread) with prosciutto, pine nuts, Cambozola cheese and red onion and it's ready to enjoy in just about 30 minutes!
Ingredients
Toppings
3

Tablespoons

sour cream

200

grams

jarred white asparagus

It's easier to find in the US and it saves time not having to peel and cook it before baking it.

100

grams

Cambozola cheese

this is a German cheese and a blend of the Italian Gorgonzola blue cheese and the French Camembert cheese. It's really mild and I love it even though I don't like blue cheese!

1

Tablespoon

pine nuts

½

red onion

peeled and thinly sliced

4

slices

good prosciutto ham

Add it after baking. I buy mine at Costco because it's an amazing price and great quality.

salt and pepper
Instructions
Preheat oven to 500 degrees Fahrenheit.

Combine all ingredients for dough and knead for 5 minutes or until smooth. Add more flour/water to achieve a smooth consistency. Let rest for 10 minutes.

200 grams all-purpose flour,

2 Tablespoons olive oil,

½ teaspoon salt,

120 milliliters water

In the meantime, peel and slice half of an onion into thin rings, cut up the Cambozola into bite-sized chunks.

½ red onion,

100 grams Cambozola cheese

Roll out the dough on a lightly floured surface and transfer to a baking sheet prepped with parchment paper.

Spread on sour cream and season with salt and pepper. Then add asparagus spears, onion, pine nuts and cheese.

3 Tablespoons sour cream,

200 grams jarred white asparagus,

100 grams Cambozola cheese,

½ red onion,

salt and pepper,

1 Tablespoon pine nuts

Bake for about 10 minutes or until the crust is crisp.

Finish with the prosciutto and cut into fourths or little squares (perfect if serving as an appetizer). One Flammkuchen is enough for 1 to 2 people served as entree or 4 people served as an appetizer.

4 slices good prosciutto ham
Notes
Fresh White Asparagus: If you're using fresh asparagus instead of the jarred version, you will first need to peel and boil or steam it. Peel and trim your white asparagus (see note by ingredient list). In a medium sized pot, add water until half full, some salt and about one tablespoon of sugar. Bring to a boil, add the asparagus, reduce heat to medium and let simmer for 5 minutes. Drain and rinse with cold water and transfer to a plate covered in paper towel to allow excess water to run off.
You could also use green or purple asparagus instead, which can be eaten without having to peel it first. I would cover it in olive oil before adding it to the flatbread, but no boiling is necessary.
Dough too dry? Simply add some more water until you achieve a smooth consistency. If it's too wet, add some more flour and knead until you have a smooth, elastic dough. Make sure to let it rest for 10 minutes before rolling it out to help it relax.
Nutrition
Calories:
1610
kcal
Carbohydrates:
169
g
Protein:
52
g
Fat:
81
g
Saturated Fat:
28
g
Polyunsaturated Fat:
10
g
Monounsaturated Fat:
37
g
Trans Fat:
1
g
Cholesterol:
114
mg
Sodium:
2245
mg
Potassium:
1054
mg
Fiber:
11
g
Sugar:
9
g
Vitamin A:
2572
IU
Vitamin C:
16
mg
Calcium:
523
mg
Iron:
15
mg