Here is the recipe for the most luxurious, creamiest German asparagus soup (Spargelsuppe) recipe! Bookmark it now and make it next time you get your hands on some white gold (or use the jarred version).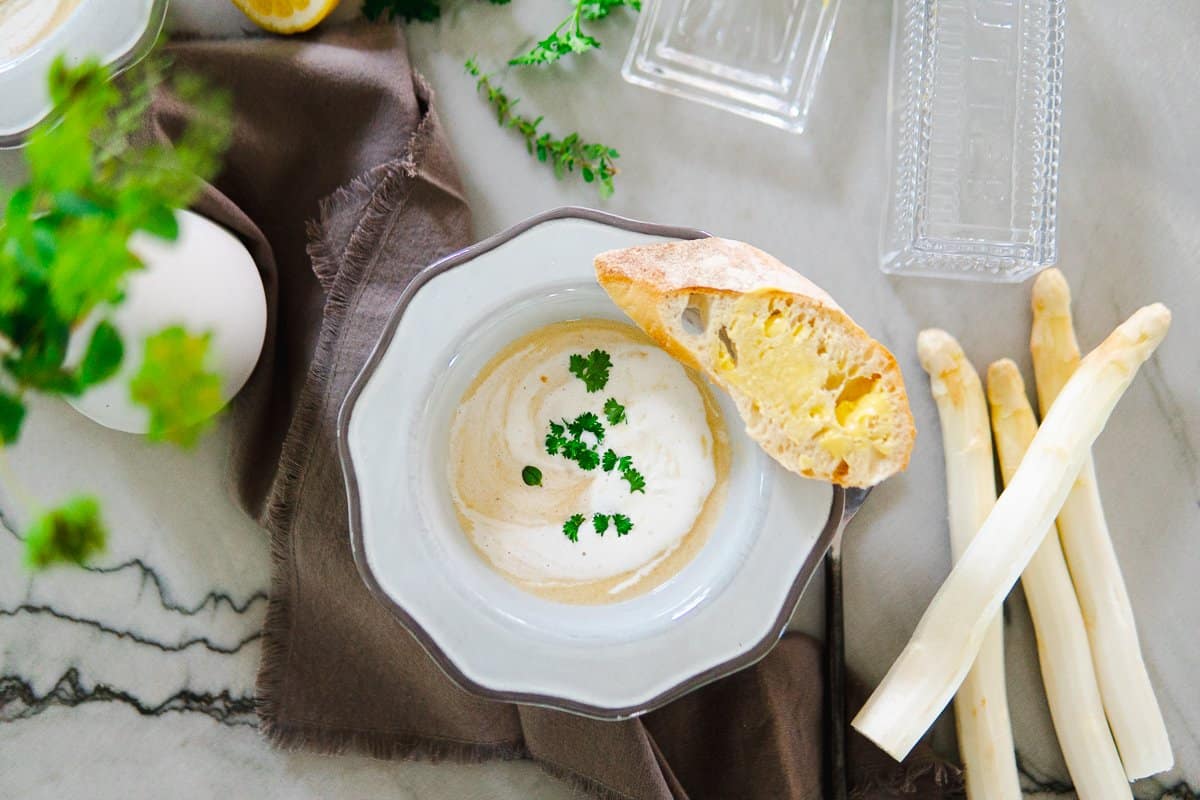 This Is A Sponsored Post That Contains Affiliate Links
A Spargelzeit Soup Recipe
This 'sparkling' Spargelsuppe is the creamiest white asparagus soup you ever had! I used a mixture of fresh and jarred white asparagus to create it (to save money) and it was just foamy, creamy, yet light and so delicious! I add whipped cream (plain and unsweetened) and egg yolk, which is my secret weapon to creating a cloud-like soup experience. The hint of lemon and the nutmeg make this white asparagus soup come together. The kids even went crazy for it.
Here are some more Spargelzeit recipes you should check out:
Get Your White Asparagus Now or Never
Right now is the very end of white asparagus season, so you don't want to wait around for too long or it will be gone! I have never been able to find German white asparagus in the United States, being able to buy the 'white gold' at all has been a luxury! Usually, white asparagus in America is shipped in from Peru. But recently I found some Dutch Spargel at our local German restaurant in Kansas City, Affäre. But Sophie, you paid 60 dollars for two pounds of Spargel? Yes, I did and it was still cheaper than a plane ticket to Germany. And it brings back all the best memories as if I made a mini trip back home. Spargel is worth the extra money (the Peru-grown kind you can find at Whole Foods usually runs around 8 dollars a pound) as it's so delicate and tasty!
What Makes White Asparagus White?
Ever wondered what makes white asparagus white? I wondered the same thing. While I grew up with the white asparagus season coming and going, nobody ever taught me the difference between white asparagus and its green counterpart. The only difference lies in the asparagus being covered with lots of mulch and dark plastic as it grows, allowing for no sunlight to reach it, and thus no photosynthesis to take place. It's the albino version of its green brother and tastes more delicate, mild, and less bitter. One of the other differences is that it is a lot more labor-intensive, from the farming methods to the food prep methods. It requires peeling of wood-like skin of each spear before cooking. But if you haven't had it before, believe me, it's worth it!
A Sparkling White Asparagus Soup
The Austrian sparkling wine I added to this soup works beautifully in tying in all the flavors of the asparagus, cream, lemon juice, and spices. Schlumberger's Brut Classic sparkling wine is prepared using the traditional Champagne method, and it's bright, fruity aromas are perfect in the soup as well as poured in flutes to be enjoyed with the soup. And who doesn't love a bubbly companion? Make sure to check out Marussia's website to find out availability at stores near you.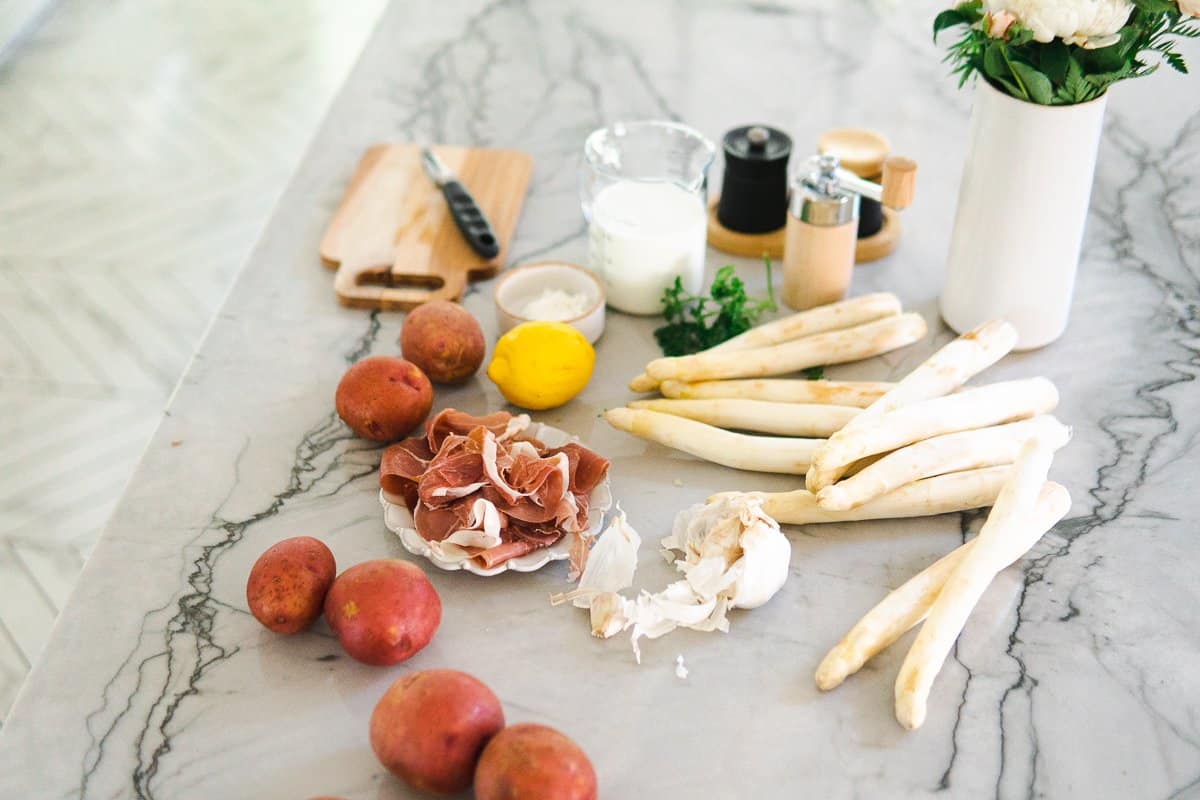 Ingredient Notes
White asparagus. I know this one can be tricky to find fresh. If you're having trouble, use jarred white asparagus for the whole recipe. I used about half fresh and half jarred to save on costs.
Vegetable broth. I buy organic vegetable broth or you can make broth yourself by simply cooking vegetable peelings and end cuts in water for 30ish minutes. I save vegetable peelings in a large freezer bag whenever I remember to do so.
Butter. The real kind. I like to buy Kerrygold or the New Zealand grass-fed butter that Costco sells and use it for baking as well.
Sugar and you'll need just a pinch of it to cook the asparagus. This helps get rid of any remaining bitter notes.
Flour or cornstarch to thicken the sauce.
White sparkling wine. The bubbles help elevate this soup and help make it light and perfect. I used

Schlumberger's Brut Classic

.

Egg yolk for thickness and flavor.
Heavy whipping cream. And quite a bit of it. Nobody said this was a diet soup. You'll whip up half of the cream, making this soup feel like spooning clouds.
Salt, pepper, and nutmeg. The only seasonings that are needed for this soup.
Lemon juice. Buy a fresh lemon and squeeze it. It definitely makes a difference in flavor.
Sponsored Content and Affiliate Links Disclosure
Although this post is sponsored, all opinions, thoughts and recipes are my own. This post contains affiliate links, which means that I may be compensated if you click certain links.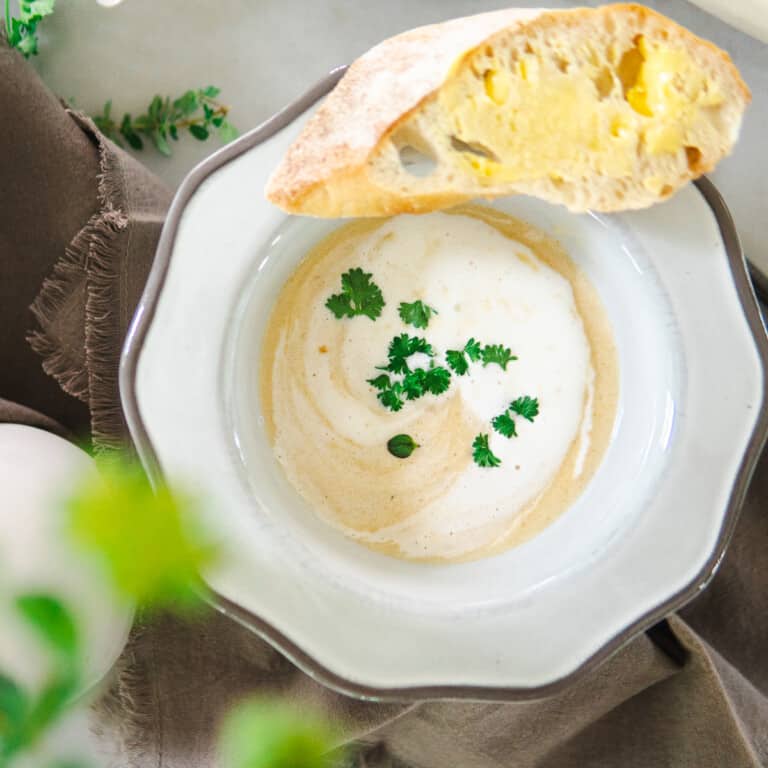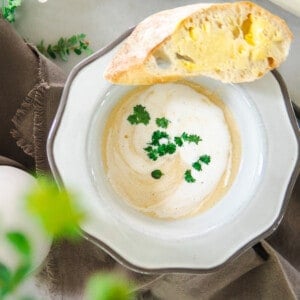 The Creamiest White Asparagus Soup (Spargelsuppe)
This is the creamiest German asparagus soup (Spargelsuppe) recipe! Don't wait too long to get your hands on white asparagus or it will be gone!
Instructions
500 grams white asparagus

Bring the broth to a boil, then add in ½ of the butter (about one tablespoon), salt and a pinch of sugar.

500 milliliters vegetable broth,

30 grams butter,

1 pinch sugar,

1 teaspoon salt

Cut the asparagus into pieces, add to the broth, and allow to gently boil for about 15 minutes. Once the asparagus is soft, remove the soup from the stove.

Puree the soup with an immersion blender until smooth. Over medium low heat, melt the remaining butter in a medium sized pot, then add the flour and, stirring constantly, let it turn a golden yellow color.

30 grams butter,

2 Tablespoons flour

Gradually add in the sparkling wine while stirring and then add in the soup. Bring to a boil, then add the asparagus tips and allow to gently boil for about 12 minutes.

100 milliliters white sparkling wine

Whisk together the egg yolk and ½ of the whipping cream. Whip the remaining cream until stiff.

1 egg yolk,

200 milliliters heavy whipping cream

Carefully stir both the yolk cream mixture and the whipped cream into the soup (reserving some for garnish). Season to taste with the spices and lemon juice.

salt, pepper, nutmeg,

½ lemon

Enjoy with some buttered bread and more sparkling wine!
Notes
Can't find fresh white asparagus? Use the jarred kind! This kind is actually so good, you'll love it! I know it's a lot to commit to 6 jars of it, but I love being able to use it whenever I like and it doesn't expire for a while!
Nutrition
Calories:
301
kcal
Carbohydrates:
13
g
Protein:
6
g
Fat:
26
g
Saturated Fat:
16
g
Polyunsaturated Fat:
1
g
Monounsaturated Fat:
7
g
Trans Fat:
1
g
Cholesterol:
122
mg
Sodium:
1147
mg
Potassium:
352
mg
Fiber:
3
g
Sugar:
6
g
Vitamin A:
2204
IU
Vitamin C:
14
mg
Calcium:
77
mg
Iron:
3
mg