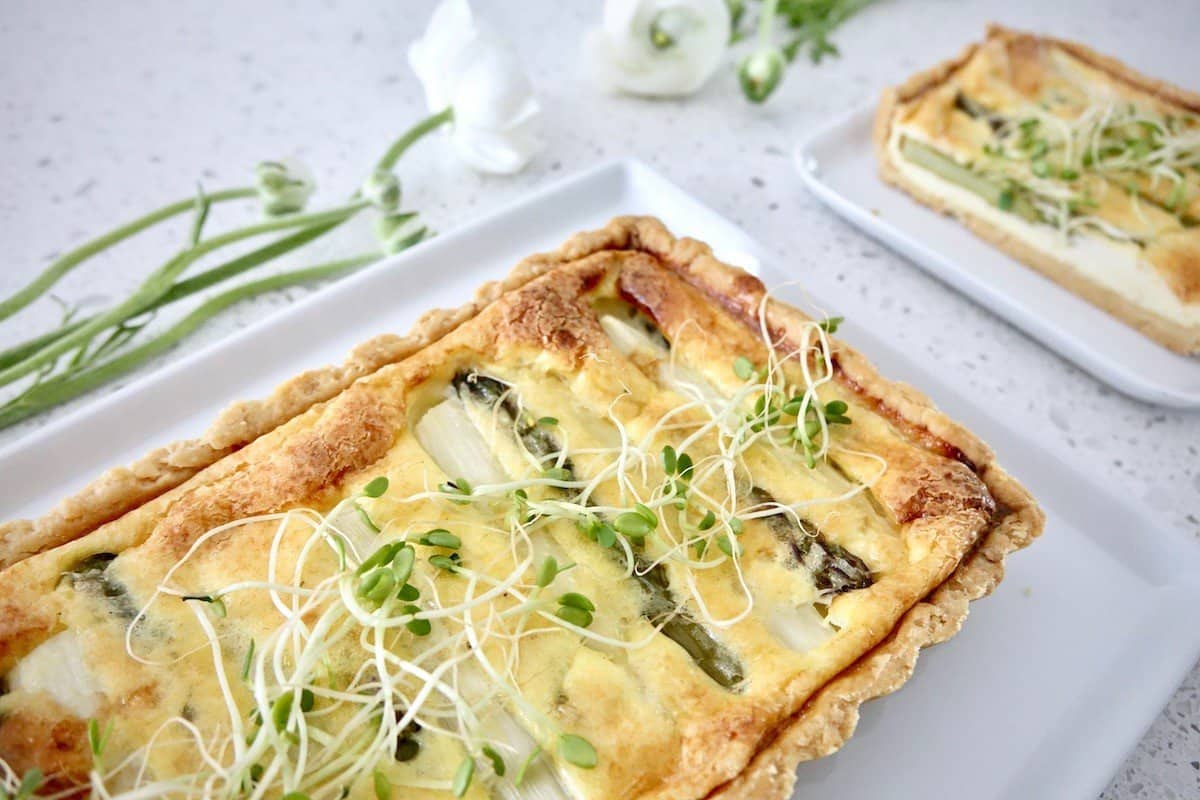 Spargel Quiche: German Quiche with White Asparagus
It's Spargelzeit! That means asparagus is in season again in Germany, and is featured on pretty much all restaurants' menus. White asparagus is what all the Germans are craving right now, but you can find it in the US as well. Try this asparagus quiche and convince yourself.
Servings:
6
Ready In:
2.5 hours
Calories:
580
Good For:
Lunch
Spargel Quiche
About this Recipe
This Is A Sponsored Post That Contains Affiliate Links
Believe it or not, white asparagus is actually more popular in Germany than the green kind you can find in the US all year round, but if you look for it, you can find white asparagus in the US as well. Because you will want to find it. My local Whole Foods here in Kansas City has it, and while their shipments are not from Germany (I believe they get theirs from Peru), it's still great quality asparagus and will help tie you over until you can have "echten, deutschen Spargel" (real German asparagus) next time you're there during Spargelzeit. Typically Spargelzeit (asparagus season in Germany) starts in the middle towards the end of April and ends on the 24th of June (also known as Spargelsilvester or asparagus New Year's Eve - just to help clarify how big of a deal this season is to Germans 😉 ).
For this rectangular quiche, I alternated white and green asparagus in a sour cream parmesan egg custard and topped it with some sprouts after baking. Another delicious option would be to add some bacon on top (if you're in the mood, but of course you can keep this dish vegetarian as well). The white asparagus will need just a little more prep work than the green kind (you will actually need to peel it!), but I love it so much, and I don't mind doing some extra work for the things (and people 😉 ) I love.
If you haven't checked out my other white asparagus recipes that I posted over the year's, it's time! There is delicious white asparagus with potato snow and prosciutto, white asparagus and ham in herb crêpes and a sparkling white asparagus soup that all need to be tested out by you! And once you do, make sure to also leave me a comment on the post or send me a message - I want to know your feedback, please.
Ingredients For Spargel Quiche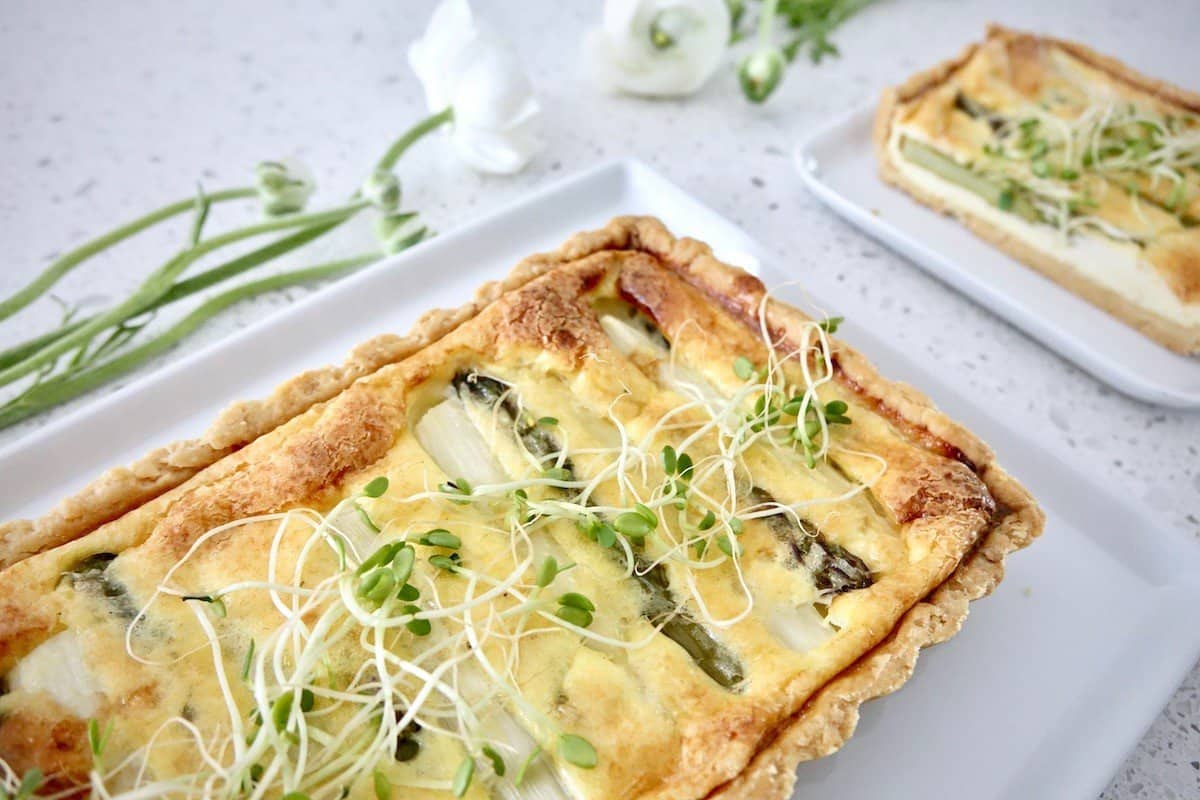 250 g all-purpose flour
125 g butter (room temperature)
6 eggs
500 g white asparagus
500 g green asparagus
1 Tbsp sugar
250 g sour cream
100 g parmesan
handful sprouts (for garnish)

salt & pepper (to taste)

extra flour (for rolling out dough)
HELPFUL TIPS:
Peeling White Asparagus: lay it flat on a surface, so it doesn't break as easily. Only peel the spears from below the tip down and make sure to go all the way around.
Blind baking: I use a bag of whatever beans I have laying around to blind bake my dough and then label the bag as such for future blind baking uses. For the blind baking itself, cover the tart shell in the rolled out dough, and then in aluminum foil, then pour in the beans and pre-bake your dough by itself. This process will help keep it from rising.
German Spargelzeit Recipes
Spargel mit Kartoffelschnee
Spargel Crêpes
Spargel Quiche Essentials
Spargel Quiche Step By Step Instructions
Step 1
Knead together flour, butter, a pinch of salt and 1 egg (by hand or using an electric mixer) until you end up with a smooth dough (about 5 to 8 minutes). Shape into a ball, cover with plastic wrap and allow to rest in the fridge for 1 hour.
Step 2
While the dough is resting in the fridge, trim all the asparagus and peel the white asparagus only. Cut spears to fit your tart pan (I ended up cutting mine in half).
Step 3
Add the white asparagus to a pot of boiling water (a pinch of salt and the sugar added), reduce heat to medium low, and let simmer for 4 minutes before adding the green asparagus. Let simmer for 2 more minutes before draining and rinsing asparagus with cold water. Drain and transfer to a plate covered in paper towel.
Step 4
Roll out the dough on a floured surface to fit your tart pan (make sure it has a removable bottom). Pierce the dough with a fork, then cool for another 20 minutes. Cover the dough in aluminum foil (or parchment paper) and fill with dried beans for blind baking. Bake at 200 Celsius on the second from bottom rack for 15 minutes.
Step 5
Divide one of the eggs, whisk the egg white. Remove the tart shell from the oven after baking, remove the beans and foil and immediately brush on the egg white. Bake for 10 more minutes without covering up.
Step 6
Whisk together sour cream, egg yolk, remaining eggs, ½ teaspoon salt, ½ teaspoon freshly ground pepper and finely grated parmesan. Distribute the asparagus onto the tart shell, then top with the quiche custard. Bake for 35 to 45 minutes on the second from the bottom rack. Remove from oven and let rest for 10 minutes before garnishing with sprouts and serving.
Drink Pairing:
Schlumberger Grüner Veltliner
Make this German asparagus quiche for brunch and serve with a bottle of crisp Grüner Veltliner Austrian sparkling wine by the Schlumberger winery. Check here for availability of Schlumberger.
Schlumberger is prepared after the traditional champagne method, using Austrian Grüner Veltliner grapes, which are Austria's signature grape for wine making. Crisp, citrus forward, not too dry, not too sweet. It's the perfect pairing for this seasonal Spargel quiche.
Next Up:
Nussstangen
Nussstangen or Nussplunder are German nut pastries typically made from hazelnuts and almonds.. a perfect afternoon snack for Kaffee und Kuchen. Make sure to subscribe to my blog now, so you're not missing out when my new Nussstangen post goes live!
I received compensation from Niche Import Co. in exchange for writing this post. Although this post is sponsored, all opinions, thoughts and recipes are my own. This post contains affiliate links, which means that I may be compensated if you click certain links.