Rolled up herbed crêpes are stuffed with cooked, smoked ham, boiled white asparagus and a delicious chive crème fraîche sauce. These easy white asparagus crêpes the perfect way to celebrate Spargelzeit, Germany's 5th season of the year when everything screams Spargel.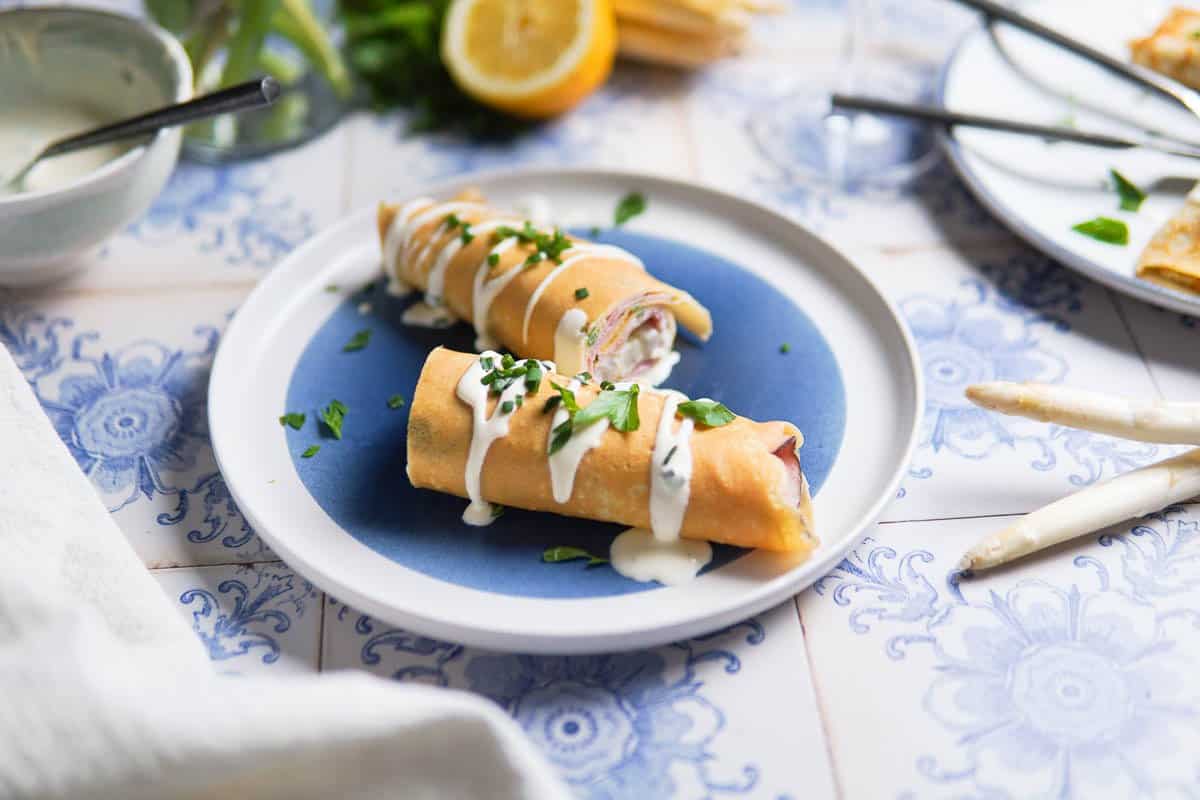 This Is A Sponsored Post That Contains Affiliate Links
Spargel is Everywhere!
White asparagus season is upon us, and these easy white asparagus crêpes with cooked ham and a chive crème fraîche sauce are here to celebrate it! Restaurants all over Germany started putting out their menu boards celebrating this spring vegetable that is only available for a short time. While white asparagus is not as popular in the United States as it is in Germany (simply because it's not typically grown here), it's still one of my favorites for a good reason! And don't we always want those things that are hardest to get! 🙂
Some other Spargel recipes you MUST TRY
White Asparagus Versus Green Asparagus
Like Christie from A Sausage Has Two said in our little Spargel live chat for my new series 'Coffee with Deutschland', white asparagus is worth exploring, especially for people who don't generally love asparagus. Growing it underground and harvesting it before it reaches the surface, helps keep the taste mild. It's not bitter (it's cooked with just a bit of sugar to counteract any leftover bitterness) and it almost has lobster-like, slightly sweet qualities. The spears are also thicker and more fibrous, which is why you have to discard the bottom ends. Christie recommends trimming off thin slices until you see droplets of water coming out. I then peel the bottom 2/3 of each spears before cooking in water with a pinch of sugar and some salt. I know this sounds like a lot of extra work considering you can just cook the green kind as is, but it's definitely worth it!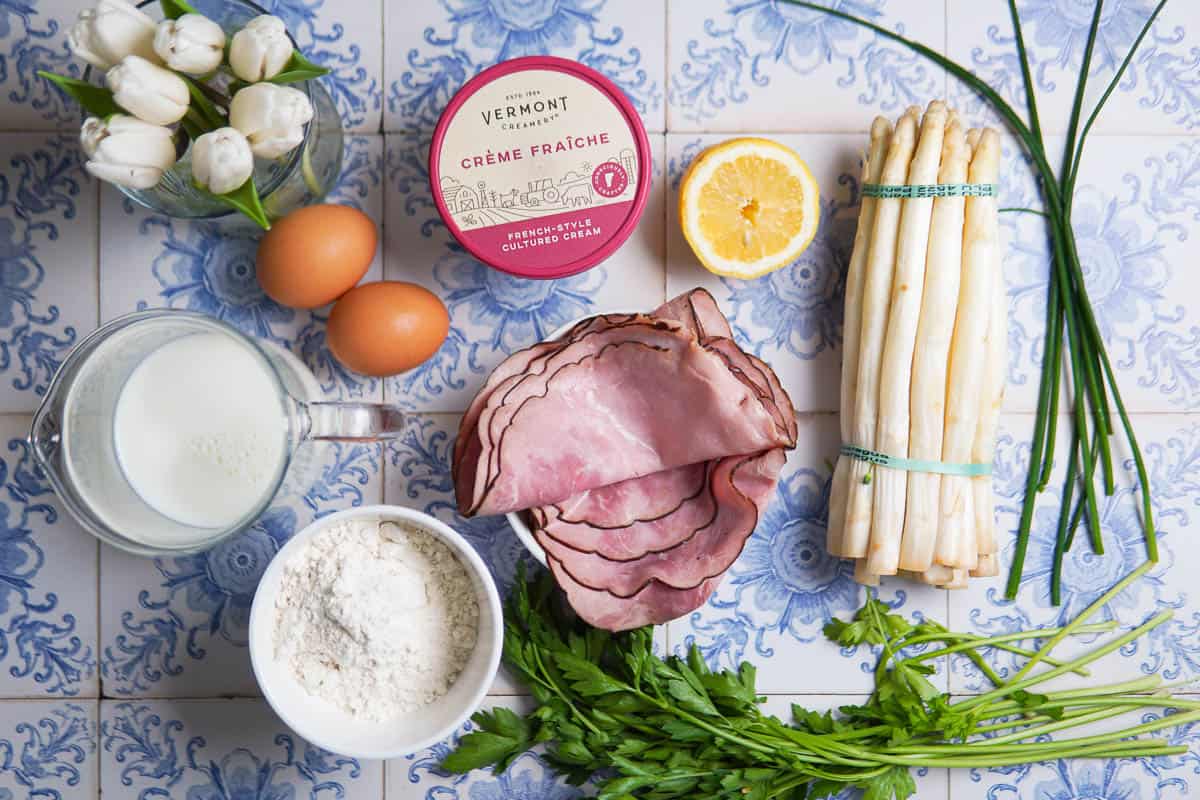 A New Take On White Asparagus
Typically rolled in slices of ham and served with hollandaise and potatoes, today's recipe is quite a bit different from the traditional way to serve this 'white gold.' A parsley crêpe to hold the cooked, white asparagus spears, ham, and a chive crème fraîche sauce was the answer, and the results are stunning and so tasty! Bookmark and make this recipe now and let me know what you think in the comments below. And if you love German cooking and baking as much as I do, PLEASE SUBSCRIBE.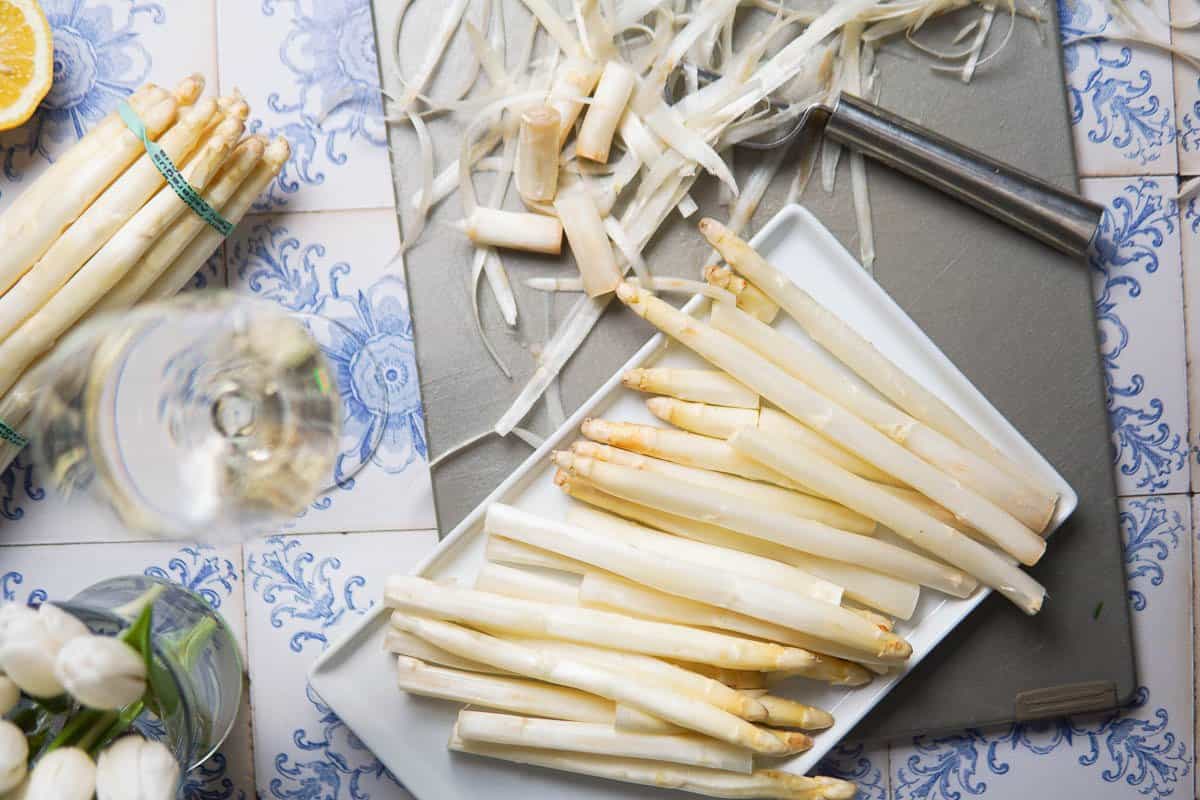 Sponsored Content and Affiliate Links Disclosure
Although this post is sponsored, all opinions, thoughts and recipes are my own. This post contains affiliate links, which means that I may be compensated if you click certain links.
Easy White Asparagus Crêpes
Rolled up herbed crêpes are stuffed with cooked, smoked ham, boiled white asparagus and a delicious chive crème fraîche sauce. It's the perfect way to celebrate Spargelzeit, Germany's 5th season of the year when everything screams Spargel.
Ingredients
Crêpe Batter
Sauce
200

grams

crème fraîche

or sour cream as an alternative

½

lemon

juice only

3

Tbsp

chopped fresh chives

salt and pepper
Crêpe Filling
2

pounds

white asparagus

1 to 2 pounds, depending on how many you prefer per crêpe

1

teaspoon

sugar

1

teaspoon

salt

12

slices

ham

thinly sliced, I love using the Black Forest smoked and cooked ham from Whole Foods
Instructions
Wash and dry the asparagus. Cut off the "woody" ends and peel from the tip down.

In a small bowl, combine crème fraîche, chives and lemon juice. Season with salt and pepper and keep in the refrigerator until ready to serve.

200 grams crème fraîche,

½ lemon,

3 Tbsp chopped fresh chives,

salt and pepper

Fill a large pot about 2 inches high with water. Bring water to a boil.

Add the peeled asparagus, 1 tsp of salt and 1 tsp of sugar. Let simmer for about 10 minutes or until the asparagus is soft.

2 pounds white asparagus,

1 teaspoon sugar,

1 teaspoon salt

Drain the asparagus and cover to keep warm.

For the crêpe batter, In a medium sized bowl, add milk, pinch of salt and sugar. Whisk in the eggs and then slowly add the flour and whisk until it's a smooth batter.

250 milliliters milk,

2 eggs,

1 pinch sugar,

125 grams flour

Melt the butter in a large sauté pan (or crêpe pan if you have one), then pour the melted butter into the crêpe batter and mix together.

Stir the chopped parsley in with the batter.

2 Tbsp chopped, fresh parsley

Heat the pan to medium, add a ladle full of batter and tilt the pan to distribute the batter evenly.

When you are able to loosen the pancake on the bottom, turn it over using a spatula. Bake until light golden.

Repeat until there is no batter left.

To assemble your Spargel crêpes, spread some of the crème fraîche mixture onto a crêpe. Roll up 2 to 3 asparagus spears in 2 slices of ham. Then place that roll on the crêpe and roll up the crêpe. Garnish with more crème fraîche and parsley leaves.
Notes
Any leftover crêpes can be stored covered and in the fridge for up to 3 days. Simply reheat in the microwave.
Nutrition
Calories:
391
kcal
|
Carbohydrates:
27
g
|
Protein:
22
g
|
Fat:
22
g
|
Saturated Fat:
10
g
|
Polyunsaturated Fat:
2
g
|
Monounsaturated Fat:
8
g
|
Trans Fat:
1
g
|
Cholesterol:
123
mg
|
Sodium:
1131
mg
|
Potassium:
638
mg
|
Fiber:
4
g
|
Sugar:
7
g
|
Vitamin A:
1781
IU
|
Vitamin C:
16
mg
|
Calcium:
143
mg
|
Iron:
5
mg