Backfisch: Nordsee-Style Beer-Battered Cod
It's hard for me to believe that I used to despise fish! This dish has it all! Wild-caught cod (in German Kabeljau) battered in a fluffy Hefeweizen batter, then fried until perfectly crisp. Drizzle with some fresh lemon juice and enjoy with a simple, homemade remoulade sauce.
Servings:
4
Ready In:
45 mins
Calories:
N/A
Good For:
Dinner
Backfisch
About this Recipe
This Is A Sponsored Post That Contains Affiliate Links
Neither my mom nor grandma were fish fans. I remember my Oma Sieghilde cooking fish for my Opa Elmar every Friday. I absolutely hated the fish smell that seeped through to the outside of their home and greeted me when I walked there after school. Absolutely. Hated. It. My Oma didn't enjoy cooking it for him, which didn't help lift my bad associations. During summer vacations to the Mediterranean, where fish is as abundant and as fresh as can be, I NEVER felt the urge to try it. It wasn't until I started working at restaurants when I was 23 years old that I was finally forced to eat some reeeeeally good fish (yes, even in Kansas!). And I liked it! Now I eat almost every fish and seafood (although I still can't stand the texture of raw oysters), and I am currently looking forward to enjoying lots of fresh fish during our vacation to Greece in July.
Today's Backfisch reminds me of a school trip to Hamburg, where you find TONS of fish food trucks selling fried fish (usually on a crusty bun). For the batter I used Hefeweizen from a local brewery called KC Bier Company, brewing German-style beer after the Reinheitsgebot (German purity law for beer brewing). By the way, they also import near to all of their ingredients from Germany (except the water of course!), making this a really legit German-style brewery! The Hefeweizen really helps the batter out with its naturally occurring citrus and banana notes, making this a perfect combination. The batter also has beaten egg whites in it, totally maximizing the fluff. This is perfect to make when you have family or friends over, as it's simple, impressive and so so tasty! And PLEASE don't be scared of deep-frying foods! It's really simple and all you need is a frying/candy thermometer if you don't have a deep fryer (I don't own one).
Serve with a homemade herb-remoulade sauce and lemon wedges, and either some baked potato wedges or cucumber salad (although you can never go wrong with some pretzels - Trader Joe's sells authentic frozen ones if you don't have time to make your own). Now all that's left to do is imagine yourself at Germany's Nordsee, sitting by the shore, and enjoying some Backfisch while sipping on a cool Hefeweizen (served in a Hefeweizen/Weissbier glas of course!). Heaven. Scroll on down for the recipe.
Ingredients For Backfisch
Backfisch:
2 lbs wild-caught Cod
1 c (250 ml) Hefeweizen
2 c + 1.5 tablespoon (250 g) flour
4 eggs (whites and yolks separated)
⅓ c (80 g) butter
salt & pepper
Remoulade:
HELPFUL TIPS:
Deep Frying Foods: Use an oil with a high smoke point for deep frying and a deep fry/candy thermometer to make sure your oil stays at the right temperature to provide you with crisp results.
Keep It Warm: I don't deep fry often, and don't own a deep fryer, so I use a smaller pot to avoid having to use as much oil. I then end up working in batches. Simply set you oven to 150 degrees and keep the fish warm until you are finished frying all of the fish. This way everyone can eat together.
My Favorite Fried German Foods
Flieten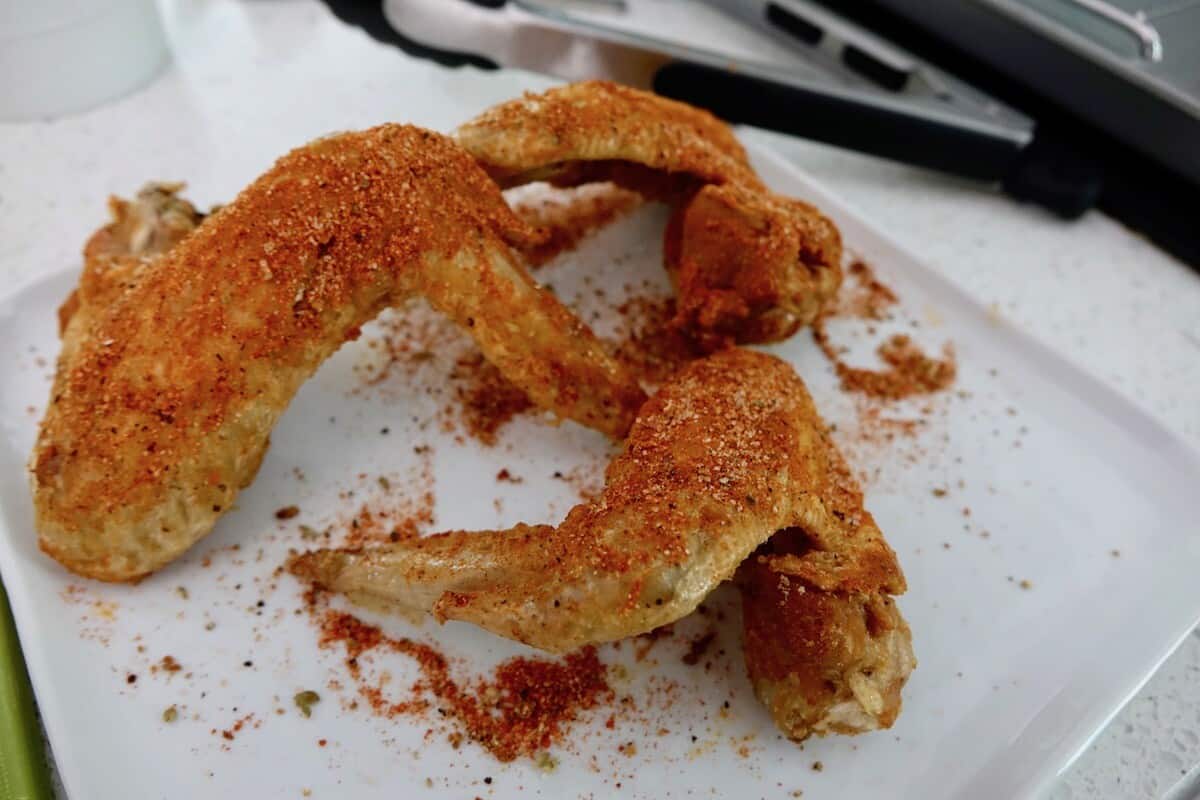 Quarkbällchen
Schnitzel Pretzel Sandwich
Backfisch Essentials
Backfisch Step By Step Instructions
Step 1
Combine the flour, salt, beer and egg yolks, then allow to sit for 15 minutes. Melt the butter and add to the batter. Beat the egg whites until stiff, and fold into the batter.
Step 2
Cut your cod into bite-sized pieces, pat dry with kitchen towel, then season with salt and pepper. Preheat your frying oil to 170 C/340 F to 180 C/355 F. When the oil is ready, dip the cod pieces in the batter, working one at a time, and carefully drop them into the hot oil, working in batches to make sure you never have more pieces in there than what can reach the surface.
Step 3
Turn occasionally to make sure all sides are fried to a golden color. Bake for a total of about 5 minutes, then remove using a skimmer and transfer to a plate prepped with paper towel. Keep warm in the oven until ready to serve.
Step 4
To make the remoulade sauce, boil one egg for 10 minutes until hard (put the cold egg into warm water, then bring to a boil and boil for 10 minutes). Run cold water over it, then peel immediately. Beat the egg yolk with a whisk, slowly adding in the sunflower seed oil, first a few drops at a time, then in an even stream, until all is added and the mixture is thick.
Step 5
Add the mustard (German, medium-spicy mustard is best!) and season to taste with lemon juice and pepper. Finely dice the German pickle. Dice the cooled egg, add in the chopped chives and parsley, then season to taste with salt and pepper and serve with the Backfisch. Guten Appetit!
Next Up:
Donauwelle
There is a chocolate-cherry dessert that's not Schwarzwälder Kirschtorte that you MUST TRY. It's coming up next. Make sure to subscribe to my blog now, so you're not missing out when my Donauwellen post goes live! I promise no spam and only amazing, German recipes!
I received compensation from Niche Import Co. in exchange for writing this post. Although this post is sponsored, all opinions, thoughts and recipes are my own. This post contains affiliate links, which means that I may be compensated if you click certain links.