These super popular, crisp-baked German chicken drumsticks are sure to become a quick, weeknight dinner favorite.
Pumpkin Spice Milchreis
About this Recipe
This Is A Sponsored Post That Contains Affiliate Links
It's always good to have some (German) chicken go-to recipes that are a fail-proof way to get a super delicious dinner on the table. To me, these Hähnchenkeulen or German chicken drumsticks are definitely one of those recipes I fall back to when 1. it's been a week, 2. my creativity has reached its limits, and 3. I still want to eat something yummy and satisfying, but 4. don't want to spend the money on eating out. Add a roasted head of cauliflower and some rosemary baked potatoes and you have a super delicious and easy dinner for 4 for around 20 bucks. That's pretty hard to beat. And if you're just two adults like us, the leftovers reheat well in the oven, too! Making the marinade requires most of everything you should have handy at home like spices, honey and ketchup and the fresh rosemary can be substituted by dried rosemary, although I'd use a bit less if using the dried herb. I love how crisp and juicy the chicken comes out of the oven and our little Zoë likes it, too; I removed some of the skin for her since the hot paprika does give the chicken a slight kick!
This meal reminds me of my Mama marinating and baking chicken in the oven for a quick weeknight meal. The house would smell amazing which would make everyone grow very impatient and hungry, but once the Hähnchenkeulen came out of the oven, everyone was very happy again. What else could one want?? This crowd-pleaser of a baked chicken recipe would also make a pretty fabulous appetizer to serve for the Super Bowl this Sunday! Go Chiefs!
Scroll on down for the recipe, now in printable version.
Hähnchenkeulen Essentials
Drink Pairing:
Heisser Hugo
I am all for hot cocktails in the wintertime! And since winter is still lingering on for a while, I'll probably have a lot of these Heisse Hugos in the next couple of months to come. A 'Heisser Hugo' is a hot version of the very popular German Hugo cocktail. It mixes white wine, Elderflower liqueur, lime (zest and juice) and finally fresh mint for a quick and delicious, warming beverage. For the wine, I like to use one on the dryer side like Affentaler Riesling, which is one of my favorite dry Rieslings from the Baden area in Germany. The liqueur adds quite a bit of sweetness, so using a dryer white helps balance that in the drink.
To make 2 cocktails, simply warm up the wine, liqueur, lime juice and zest until almost boiling (making sure to NOT bring it to a boil), then pour into 2 mugs or heat-resistant glasses and add twigs of fresh mint. Prost!
13.5 oz (400 ml) Affentaler Riesling (or other dry white wine)
3.5 oz (100 ml) Elderflower liqueur
juice of ½ lime
zest of ½ lime
2 twigs of fresh mint
To find out where Affentaler Riesling (Affentaler also makes a great Pinot Noir and Pinot Noir Rosé!) is available in your area, fill out the short product finder form.
Prost!
More German Chicken Recipes
Trierer Flieten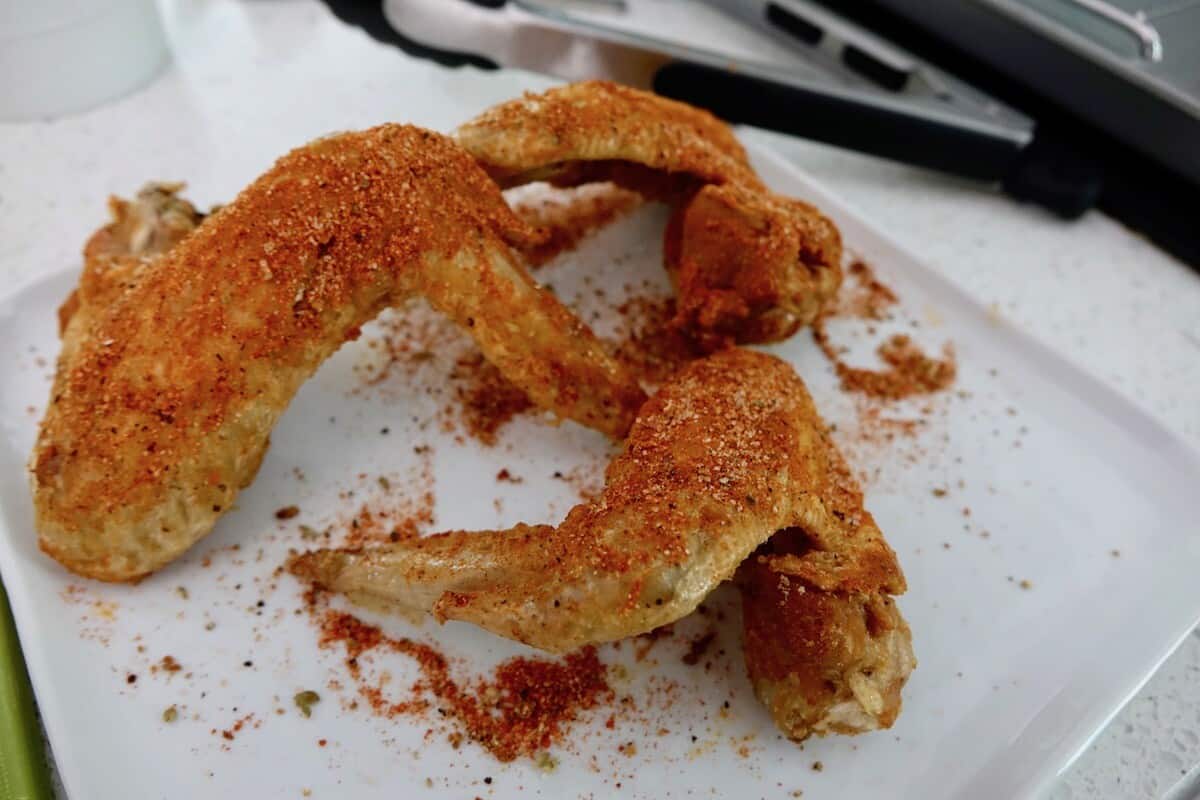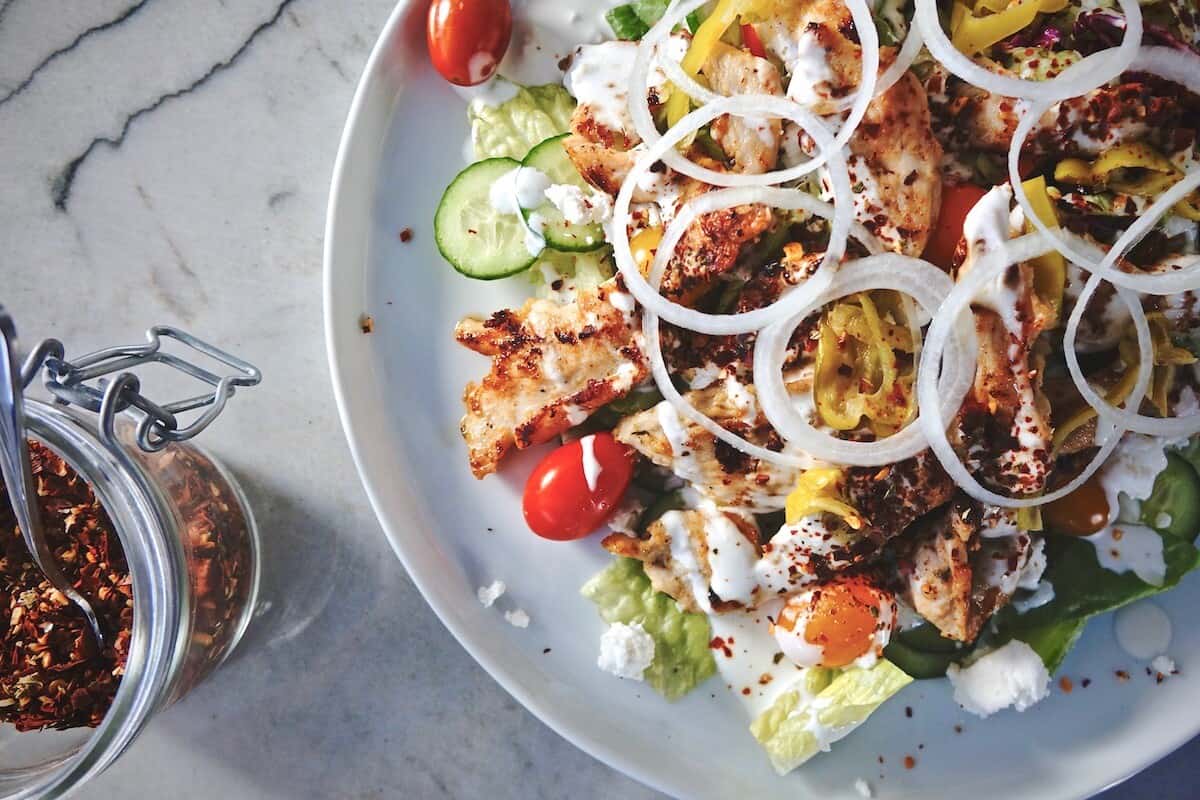 Make ThisMake ThisMake ThisNext Up:
German Ham & Cheese Sliders
The Chiefs are back in the Super Bowl, so German-style ham and cheese sliders were calling my name!  Make sure to subscribe to my blog now, so you're not missing out when my new German recipe post goes live!
Hähnchenkeulen: German Crispy Baked Chicken Drumsticks
These simple and popular German baked chicken drumsticks are sure to become a weeknight dinner favorite.
Instructions
Preheat oven to 425 Fahrenheit (220 Celsius) on convection setting (450 on conventional setting or 230 Celsius).

Combine all above ingredients and rub onto drumsticks.

Bake for 35 to 45 minutes. Internal temperature needs to be at 165 degrees Fahrenheit or above (74 degrees Celsius). Guten Appetit!
Nutrition
Calories:
388
kcal
Carbohydrates:
6
g
Protein:
41
g
Fat:
22
g
Saturated Fat:
6
g
Trans Fat:
1
g
Cholesterol:
209
mg
Sodium:
1124
mg
Potassium:
637
mg
Fiber:
2
g
Sugar:
2
g
Vitamin A:
1996
IU
Vitamin C:
1
mg
Calcium:
50
mg
Iron:
3
mg
I received compensation from Niche Import Co. in exchange for writing this post. Although this post is sponsored, all opinions, thoughts and recipes are my own. This post contains affiliate links, which means that I may be compensated if you click certain links.