Today's recipe comes to you inspired by having a non-functional oven for four weeks during this pandemic AND a really hot summer: the no-bake Schwarzwälder Kirschtorte with a fluffy mousse filling and Oreo crust was born.
No-Bake Schwarzwälder Kirschtorte
About this Recipe
This Is A Sponsored Post That Contains Affiliate Links
Don't get me wrong: I am a HUGE fan of the traditional Schwarzwälder Kirschtorte, but this no-bake version convinced because of its simplicity and the fact that no oven is required to make it, so we can all stay cool this summer. And it's been a hot one in KC! This cake combines a simple Oreo crust (I actually used the gluten free Oreos that Trader Joe's sells for this one!) with a fluffy chocolate mousse filling (spiked with some Schladerer Kirschwasser or Edel-Kirsch brandy of course!), which the cherries are folded into. It's then topped with a simple whipped cream and some shaved chocolate. It's just decadent, simple and LECKER!
If you missed fresh cherry season (they are everywhere right now!), then jarred or frozen dark cherries work well, too. Make sure you drain your cherries well before adding and that you follow the resting times, or else your crust may crumble or your mousse may not set up. Overall, this is a very simple, yet very delicious version of the real Schwarzwälder Kirschtorte and (I believe) a must make!
Leave me a comment below letting me know if you love this recipe and want to see more simple, no bake cakes in the future.
Looking got the recipe? Scroll on down. Now available in printable version.
No-Bake Schwarzwälder Kirschtorte Essentials
Drink Pairing:
Pumpkin Spice Martini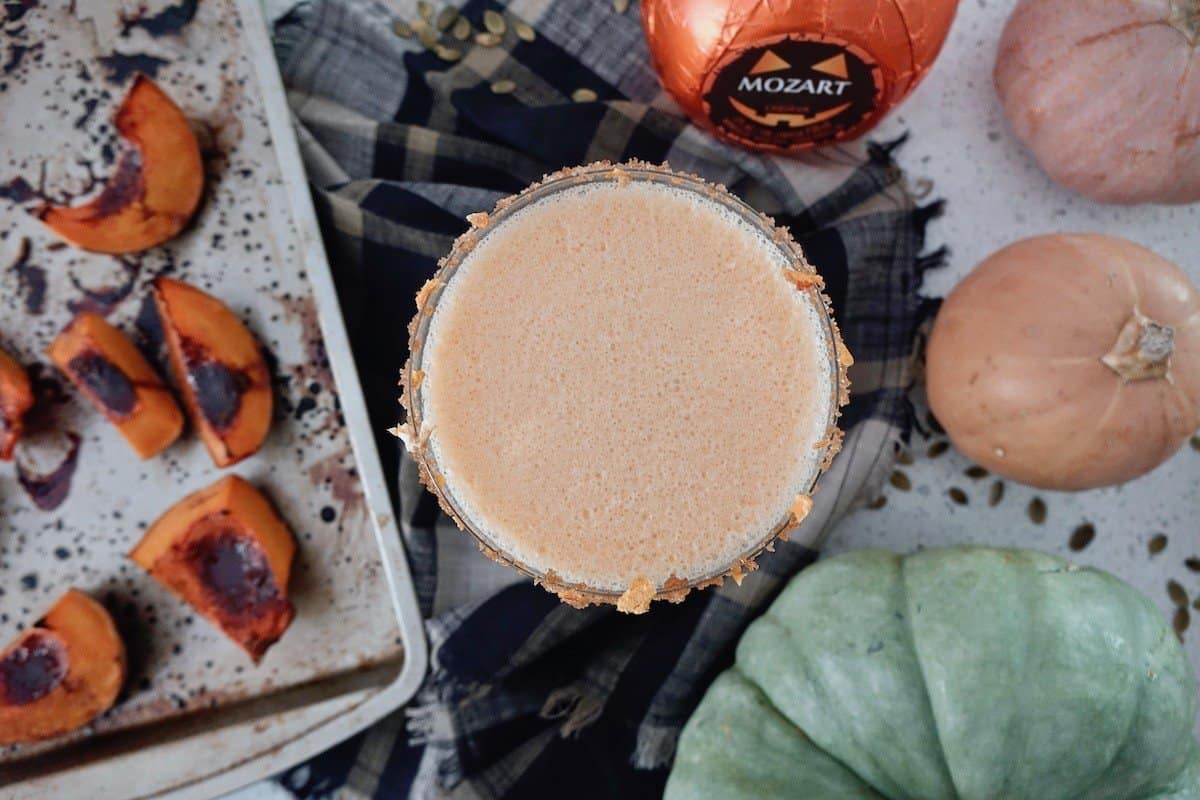 Yup, there is more pumpkin spice because if you're like men then there is no such thing as too much pumpkin spice. 🙂
Here a pumpkin spice martini using one of my all-time favorites: Austrian-made, creamy Pumpkin Spice Liqueur by the Mozart distillery. This simple cocktail will be perfect for dessert for the upcoming holidays and I promise you that every pumpkin spice and pumpkin pie fan will love this!
To make, simply shake together the following ingredients with some ice, then pour into a martini glass:
2 oz good vodka (such as Mamont)
To find out where Mozart Pumpkin Spice Liqueur (also available in Milk, White and Dark Chocolate as well as Strawberry Cream) is available in your area, fill out the short product finder form.
Prost!
more German Cherry Recipes
Schwarzwälder Kirschtorte
Donauwelle
KiBa Muffins
Next Up:
Cod in Mustard Sauce
I am constantly looking for German fish recipes, attempting to add more fish into my diet during pregnancy. This next one is a must try! Make sure to subscribe to my blog now, so you're not missing out when this new Cod recipe post goes live!
No-Bake Schwarzwälder Kirschtorte
There is a keep-your-cool version of the classic German chocolate and cherry cake that requires no baking at all and a very simple use of ingredients. Try this no-bake Schwarzwälder Kirschtorte and never look back.
Instructions
Grease a tarte- or springform with butter. Separate the cookie sandwich bottom from the top and scrape off the filling into a small sauce pan. Add in the butter and allow to barely melt. Either process cookies with a food processor or pack into a bag and using the flat side of a meat tenderizer, turn the cookies into fine crumbs.

Mix together the melted butter-frosting mix and the crumbled cookies and press onto the bottom of your pan and about an inch up on the sides. Move to the fridge and let cool for one hour.

If using fresh cherries, wash them, remove stems and stones and dry off. For the chocolate mousse filling, cut up the chocolate into chunks. Warm the milk and Kirschwasser in a bowl over boiling water, then add in the chocolate and allow it to melt completely. Transfer to a cool bowl and allow to cool at room temperature for 10 minutes.

Beat 400g/14oz of the cream until stiff, then gradually fold in the chocolate mixture and lastly, the cherries. Fill into the crust and level off with a spatula. Transfer to the fridge to set up for 2 hours.

For the topping, beat 200g/7oz cream with vanilla extract. Once almost stiff, sprinkle in a pinch of guar gum to gurantee that it will be stable. Transfer the cake onto a cake platter, then spread on the topping and finish with some shaved dark chocolate.
Nutrition
Calories:
410
kcal
Carbohydrates:
26
g
Protein:
4
g
Fat:
32
g
Saturated Fat:
19
g
Cholesterol:
80
mg
Sodium:
120
mg
Potassium:
257
mg
Fiber:
3
g
Sugar:
16
g
Vitamin A:
895
IU
Vitamin C:
2
mg
Calcium:
60
mg
Iron:
3
mg
I received compensation from Niche Import Co. in exchange for writing this post. Although this post is sponsored, all opinions, thoughts and recipes are my own. This post contains affiliate links, which means that I may be compensated if you click certain links.