You may just become a fan of bee stings with this mouth explosion of a cake: crunchy almond top crust, creamy pudding filling, all nestled with fluffy, yeast-raised cake. It's a German coffee time favorite and needs to make its way onto your list of MUST BAKES.
Bienenstich
About this Recipe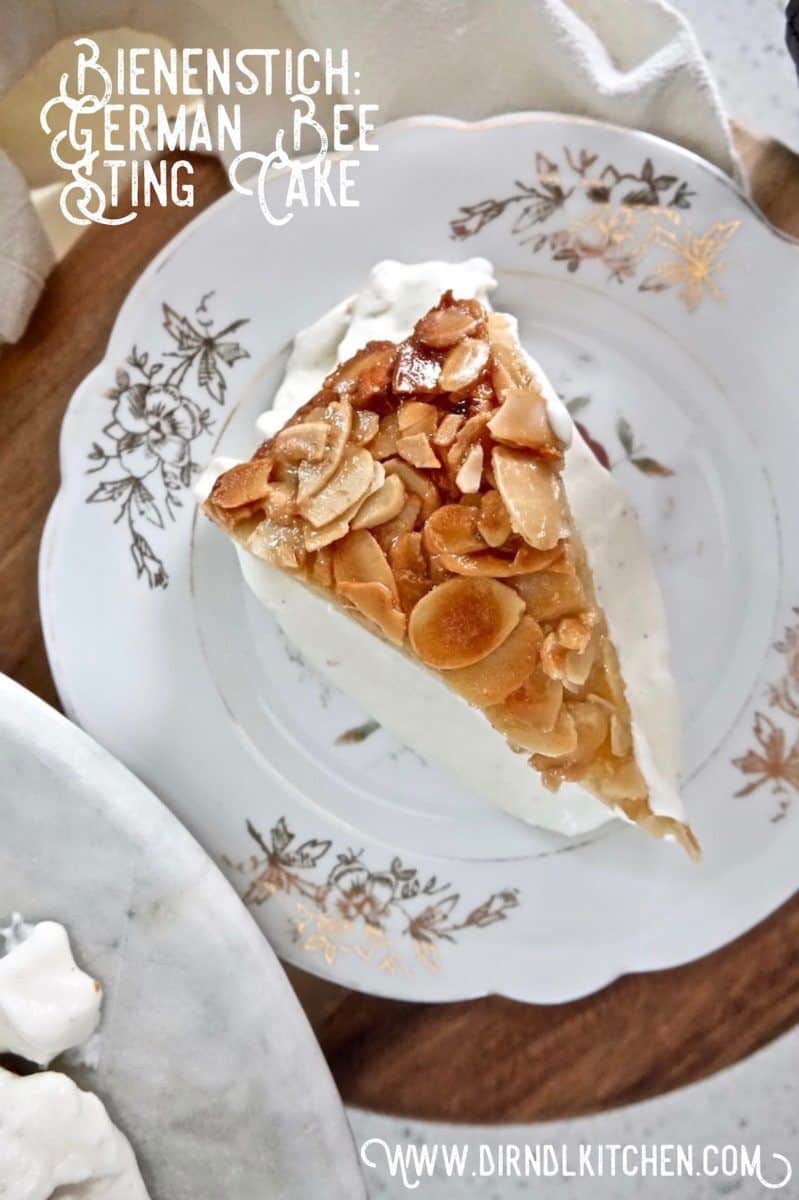 This Is A Sponsored Post That Contains Affiliate Links
The actual bee sting is related to an ancient story of intruders being fought off with bees and the celebratory cake (the one you're looking at) carrying the name Bienenstich (German for bee sting) from then on. Of course nobody knows the amount of truth this story carries... but it's better than no story at all, so let's go with it! 😉
My creamy pudding filling turned out quite a bit on the escapist side, so I decided to add a bit of gelatin into the filling, so you won't have that issue! The yeast-raised cake is baked in one piece with the almond topping, which caramelizes as it bakes and starts hardening immediately after removing it from the oven. It's important to cut around the minute you take it out of the oven to reduce breakage of the almond topping. You will then divide the cake into two layers using a bread knife. Please don't spread the filling on until the cake is completely cooled. Your gelatin won't save you there. The top layer gets cut into slices before adding it on top to help reduce the filling spilling out the sides as you cut the cake. Overall, a fairly simple cake, it just takes some time, but time is all we got in our current quarantine lives, so go ahead and give it a try!
AD: I recently started supporting Sitka Salmon Shares, a small-boat fishermen owned partnership to support Alaskan sustainably sourced fish like salmon and cod. Small-boat fisheries, which are usually family-owned businesses, where hit incredibly hard during the current coronavirus pandemic, given that their primary sources of income (export to China and supplying national and international restaurants) almost completely fell off. They offer seafood subscription services that range in size and content and help provide a stable income. Support them by trying a box now at $25 off when you use code 'DIRNDL' at checkout (Taste of Summer Share is NOT included).
Make this cake for Easter brunch, a friend, a quarantine birthday or just because. Any occasion is appropriate! Guten Appetit!
Scroll on down for the recipe, now in printable version.
Bienenstich Essentials
Drink Pairing:
CoFFEE + Mozart White Chocolate Whip
I never say no to a good cup of Joe. ESPECIALLY when it comes with a side of delicious Bienenstich!
Reserve some of that whipped cream from your Bienenstich filling (or make extra), and add in a bit of Mozart White Chocolate Cream Liqueur to crown your coffee with.
To find out where the Austrian Mozart White Chocolate Cream Liqueur (also available in Milk and Dark Chocolate as well as Strawberry Cream) is available in your area, fill out the short product finder form.
Prost!
more German baking Recipes
Erdbeer kranz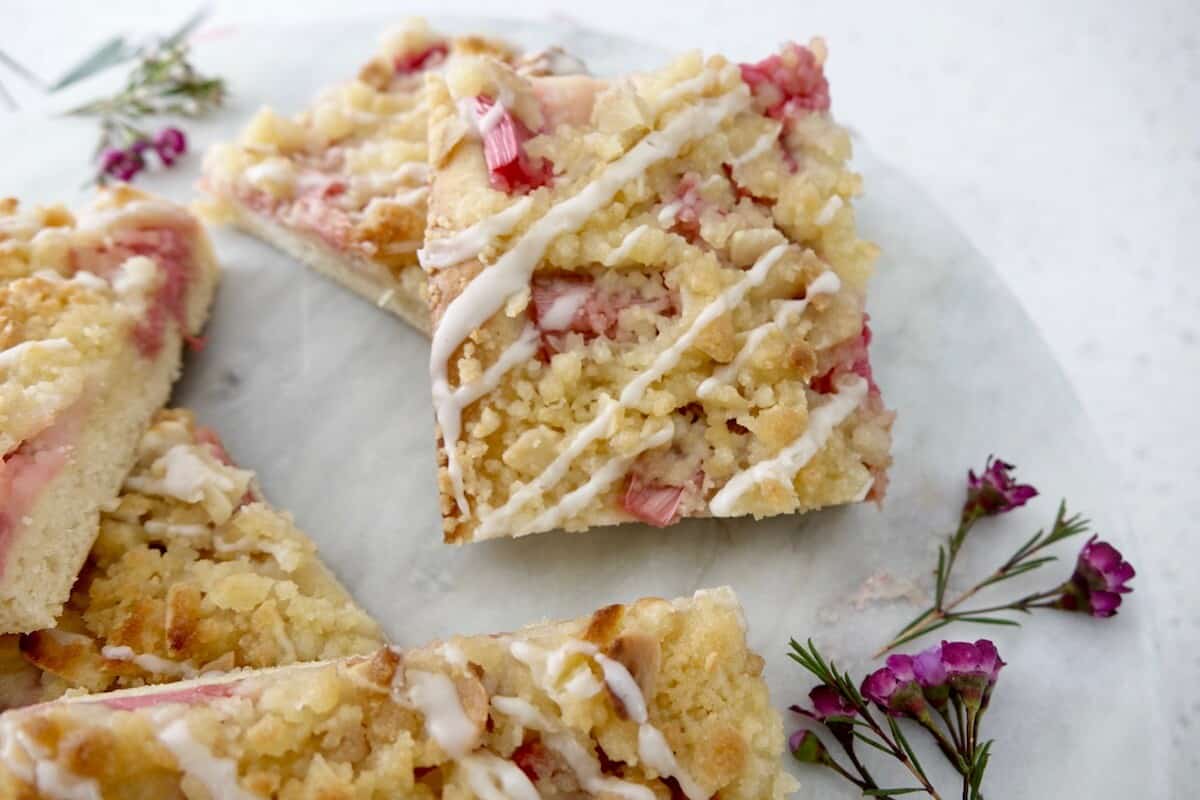 Osterzopf
Next Up:
Chocolate Chip Pretzels
Next up is an experiment. I will need some thinking ahead (make the dough the night before baking), but that means less time messing around for your Easter brunch or breakfast. Chocolate Chip Pretzels are a new go to recipe for me. Make sure to subscribe to my blog now, so you're not missing out when this new Chocolate Chip Pretzel post goes live!
Bienenstich: German Pudding-Cream Filled Cake with Crunchy Almond Topping
Bienenstich is a German yeast-raised cake with a velvety pudding-cream filling and a crunchy almond topping. It's great for afternoon coffee, dessert or just because you feel like baking a delicious German cake!
Instructions
Mix together luke warm milk, yeast and a tablespoon of the sugar. Melt butter. Sift together flour, remaining sugar and salt. Combine all ingredients in a bowl and knead (I use my electric mixer) for 5 minutes until you end up with a smooth dough. Cover bowl and allow to rise in a warm spot for 45 minutes.

In the meantime, warm milk for the pudding filling in a pot until boiling. Remove from heat. Whisk together a few tablespoons of the milk and vanilla with the cornstarch and sugar and whisk in with the milk, and return to heat to bring to a boil again, stirring constantly. Transfer pudding to a bowl and cover the surface with plastic wrap to avoid a skin from forming. Put in the fridge to cool.

Grease a spring form with some butter (I used a 10 inch diameter form), preheat your oven to 350 degrees Fahrenheit. Knead the dough on a floured surface and roll out to a circle to fit the bottom of your spring form. Transfer to the spring form, cover, and allow to rise for 15 more minutes.

For the almond topping, bring butter, cream, sugar and honey to a boil. Reduce heat to low and let simmer for about 2 minutes. Remove from heat and stir in the almonds and distribute evenly onto the surface of the rolled out yeast dough. Bake for 30 minutes, then with the help of a knife, cut away from the sides of the spring form immediately before it cools. Then allow to cool completely.

While the cake is baking, bring half a cup of water to a boil, then add in the gelatin pouches and whisk until dissolved. Whisk together with the pudding mixture to bring down the temperature, then transfer to the fridge to allow it to gel up some.

Cut the cake into 2 layers and place the bottom layer on a cake platter. Secure a cake ring around it (you can also use the ring of your spring form). Beat the whipped cream and fold in the pudding-gelatin mixture (making sure it has cooled down completely). Spread onto the bottom layer and transfer to the fridge for at least 1 hour to set up. Cut the top layer into 10 to 12 slices. Immediately before serving, add the top layer pieces. Guten Hunger!
Nutrition
Calories:
404
kcal
Carbohydrates:
43
g
Protein:
7
g
Fat:
23
g
Saturated Fat:
12
g
Cholesterol:
60
mg
Sodium:
105
mg
Potassium:
167
mg
Fiber:
2
g
Sugar:
18
g
Vitamin A:
692
IU
Vitamin C:
1
mg
Calcium:
97
mg
Iron:
2
mg
I received compensation from Niche Import Co. in exchange for writing this post. Although this post is sponsored, all opinions, thoughts and recipes are my own. This post contains affiliate links, which means that I may be compensated if you click certain links.