This is the best homemade strawberry cake recipe using juicy, fresh strawberries! The recipe is a German original that I perfected over the last 4 years and it's amazing and a summer go-to! it starts with a fluffy, buttery vanilla cake topped with vanilla pudding, fresh strawberries, and a clear fruit glaze. It's the best way to serve a refreshing and easy summer cake.
More strawberry recipes you need to try right now are: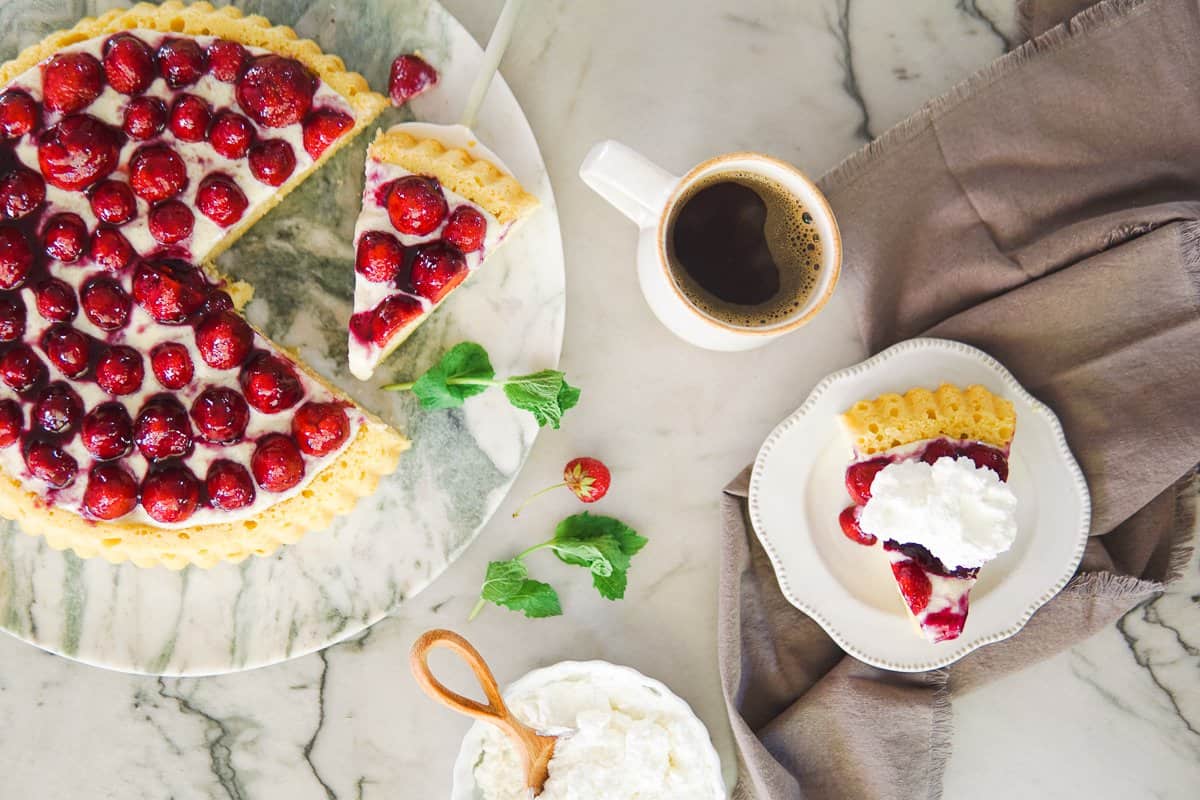 This Is A Sponsored Post That Contains Affiliate Links
A Light Cake For Summer
I love strawberry season! And what better way to celebrate it than serving cold fruit on a fluffy cake? This Erdbeerboden (what Germans call this version of a strawberry cake) reminds me of my Oma's garden in Germany, where she also grew strawberries. They were the littlest strawberries, but so flavorful and juicy! I still think about them and all the wonderful ways we would eat them. Often we just topped them with a little whipped cream, but more often than not, a cake like this homemade strawberry cake would find its way onto a cake platter. It's the perfect, light summer cake, and it's not too sweet unlike most American cakes!

German Strawberry Flan Cake
I think you will love the layer of creamy vanilla pudding or vanilla flan on this homemade strawberry cake! It's creamy without being heavy. It also provides the perfect sticky surface, so your fruit won't tumble around in case you take this beautiful cake to a friend's or family member's house to show it off. Believe me, this cake is so good and so pretty, that you'll want to show it off! To save you time, you could use pudding that's already prepared or use a pudding mix. But when you do have more time, try making your own because it's so simple and tastes so amazing!

Why Is My Cake Soggy?
Whatever you choose to top your cake with, I would recommend topping it with something to create a barrier. Otherwise the fresh fruit will get the cake soggy from the fruit juices. Not a pudding lover? Try brushing with jam or even melted chocolate. And instead of using fresh strawberries as a topping, I also love a mixed berry or tropical fruit combo using kiwi, mango, and pineapple. Mixed fruit cakes are called 'Obstboden' (fruit floor) in German, and are also very popular!

Finish With A Glaze
German fruit cakes are typically topped with a shiny glaze for a few good reasons:
It adds a pretty, shiny look. 

It will keep the fruit from drying out as fast. 

It also adds a touch of sweetness and extra flavor. 
I love a glaze! To save you time, you could also brush on warmed and watered down jam to save you time. Use strawberry jam to go with the strawberry theme or an apricot jam for a more clear-colored version. But for when you're in a hurry, you can skip the glaze if you would like.

Ingredients
Butter. Make sure it's soft or at room temp. If it's still hard, microwave in 10-second increments and turn the butter in between. This helps warm it up without melting it.
Sugar. You'll need a little for the cake and more for the glaze.
Pure vanilla extract. Use the good stuff! It's a vanilla cake after all. Here is where I get mine.
Salt. Just a pinch. Or use salted butter and skip adding more salt.
Eggs. I used large eggs from happy hens for this recipe.
All-purpose flour. You can also substitute with 

gluten-free flour

 if you would like. I have done it before and didn't taste a difference!

Baking powder. This helps the cake get fluffy, so don't forget it!
Milk. I used whole milk, but feel free to use any milk you have on hand. Even plant-based milk works well in this recipe.
Vanilla pudding. The pudding serves as a barrier, so the fruit doesn't make the cake soggy! You could make vanilla pudding from a mix, buy it already made or scroll down to the recipe for the ingredient list to make your own! Not a pudding fan? Use a thin layer of jam instead.
Fresh strawberries. You need enough to cover the entire cake. Instead of standing the strawberries up as I did, you can cut them into slices and layer those from the outside going in. Not a strawberry fan? Use whichever fruit you like!
Frozen strawberries or mixed berries. Fresh berries work too. You'll need these for the glaze. Use strawberries or other berries or even other fruit, depending on what color and flavor you're going for. You can also make a glaze from fruit juice or nectar!
Cornstarch. You'll use it to thicken the glaze. No gelatin is needed!
Lemon Juice. It also goes into the glaze. You'll need just a bit of it and I recommend going fresh.
Whipped cream to serve. This is of course optional, but highly recommended! Bowls of fresh whipped cream were never missing from our Kaffee und Kuchen (coffee and cake) table growing up in Germany!
Kitchen Tools
German Tart Pan. This inexpensive German Tart Pan is different from a traditional tart pan in that it has an indention. So when you flip it over, you'll end up with a cake that's ready to fill! It works like a charm! I just massage mine with butter and dust with flour before filling with the batter, so nothing sticks!
Large Fine Mesh Sieve. This will come in handy when it's time to separate the fruit from the fruit juices for the glaze. I also use it for sifting flour and other cake ingredients, avoiding lumps.
Citrus Press to squeeze out the lemon juice for the glaze.
A Good Spatula. These heat-resistant spatulas have withstood the test of time. I love how sturdy and beautiful they are. I just got more because I use mine all the time!


Sponsored Content and Affiliate Links Disclosure
Although this post is sponsored, all opinions, thoughts and recipes are my own. This post contains affiliate links, which means that I may be compensated if you click certain links.

Best Homemade Strawberry Cake (Erdbeerboden)
This is the best homemade strawberry cake recipe using juicy, fresh strawberries! The recipe is a German original that I perfected over the last 6 years and it's amazing! it starts with a fluffy, buttery vanilla cake topped with vanilla pudding, fresh strawberries and a clear fruit glaze. It's the best way to serve a refreshing and easy summer cake.
Ingredients
Glaze Ingredients
310

grams

strawberries

fresh or frozen, stems removed and halved.

3

Tablespoons

sugar

3

Tablespoons

water

1

teaspoon

lemon juice

1

teaspoon

cornstarch
Other
500

grams

fresh strawberries

for topping, you can also use other fruit if you'd like!

fresh mint

for garnish, optional

whipped cream

to serve, optional
Instructions
Vanilla Cake
Preheat oven to 350 degrees Fahrenheit and prep your German tart pan by rubbing in butter and dusting with flour, so the cake won't stick. You could also use a non-stick baking spray instead and spray your cake pan with it.

In a large bowl, beat the butter until creamy. Gradually add the sugar, vanilla and salt until combined.

Add in one egg at a time, beating on high for about 30 seconds in between.

Sift together flour and baking powder, then alternate with the milk when adding in with the butter-egg mixture.

Using a rubber spatula, evenly spread the batter onto the prepped German tart pan and bake for about 20 minutes, or until golden.

Allow to cool completely, then trim any edges with a serrated knife if necessary. Turn cake pan upside down to release the cake. You're ready to top your cake.
Vanilla Pudding
Add the scraped out vanilla bean or vanilla extract to a small pot with the milk, then bring to a boil.

In the meantime, beat the egg yolk and powdered sugar for 3 minutes until you achieve a thick mixture. When the eggs appear almost white, mix in the cornstarch. This ensures that you won't end up with a bunch of lumps in your pudding.

Add the egg-sugar-cornstarch mixture to the milk while stirring constantly. Return to a boil, then let cool in a bowl until ready to use.
Strawberry Glaze
Combine the water, strawberries, sugar, and lemon juice in a medium saucepan and put over high heat.

Stir thoroughly while bringing it up to a boil. After the mixture begins to boil, reduce the heat to low, and allow to cook for up to ten minutes, occasionally stirring, so it won't burn.

As the strawberries soften, use a wooden spoon to break them in pieces to release the flavors and juices from the strawberries.

Remove the strawberries from heat. Using a strainer, pour liquid into a bowl ensuring to press as much juice as possible through strainer. Dispose any of the solid strawberries leftover from mixture (or eat with vanilla ice cream!), and return liquid to pan on low heat.

Meanwhile, whisk the cornstarch with 1 tablespoon of water in a small bowl. Then, pour into the simmering pan of strawberry juice.Increase heat to high, and continue to whisk the mixture until it thickens into a glaze (approximately 3-5 minutes).

Remove glaze from heat, and pour into separate bowl to cool down. Once the glaze has reached room temperature, place in refrigerator until it is chilled. Use a pastry brush to generously distribute over the fruit.
Assemble
Spread a good amount of vanilla pudding directly onto the cake.

Prep the fresh strawberries by removing the greens. If they're smaller berries, I like leaving them whole and placing them upside down onto the pudding filling. If they're larger, I like slicing them and layering them going from the outside in.

Finally, brush on the glaze onto the berries. If the glaze is too thick, add a little water.

Garnish with fresh mint (optional) and serve with whipped cream (optional). I promise everyone will LOVE THIS!
Notes
Pudding Filling. 

You can substitute with store bought vanilla pudding mix or prepared vanilla pudding to save time. If

you make it yourself and have any left over, pour over frozen raspberries into individual glasses for a quick and super yummy dessert that even kids love!

Use other fruit. In Germany, Erdbeerboden cakes are so popular, but Obstboden cakes are equally as popular. So instead of using just strawberries to top your cake, you could use a mixture of different kinds of fruit. Whichever fruit you would like to use is great!
Play with the glaze! If you don't have extra berries on hand, simply thicken some juice and glaze the cake that way. Even apple juice works well for a glaze, and it makes a more clear glaze, which let's your fruit shine through more. A pineapple fruit glaze would be amazing if you topped your cake with more tropical fruit. For the quickest glaze ever, simply heat up a little jam in the microwave and whisk in a bit of water to make it more workable. Then brush that over the fruit.
Nutrition
Calories:
295
kcal
Carbohydrates:
40
g
Protein:
6
g
Fat:
13
g
Saturated Fat:
7
g
Polyunsaturated Fat:
1
g
Monounsaturated Fat:
3
g
Trans Fat:
1
g
Cholesterol:
117
mg
Sodium:
111
mg
Potassium:
281
mg
Fiber:
2
g
Sugar:
23
g
Vitamin A:
466
IU
Vitamin C:
40
mg
Calcium:
113
mg
Iron:
1
mg