Want a fresh strawberry cake in one hour? Make this light and fluffy German, rolled-up sponge cake filled with strawberry cream and fresh strawberry pieces (Erdbeerrolle)! It's just the right way to celebrate the strawberry season! One of my favorites growing up, this recipe is easy, dangerously delicious and looks impressive! Another must-try strawberry recipe is my German Erdbeerboden recipe. It's a delicious tarte-like fresh strawberry cake with a fluffy cake bottom, a pudding layer and a clear glaze on top.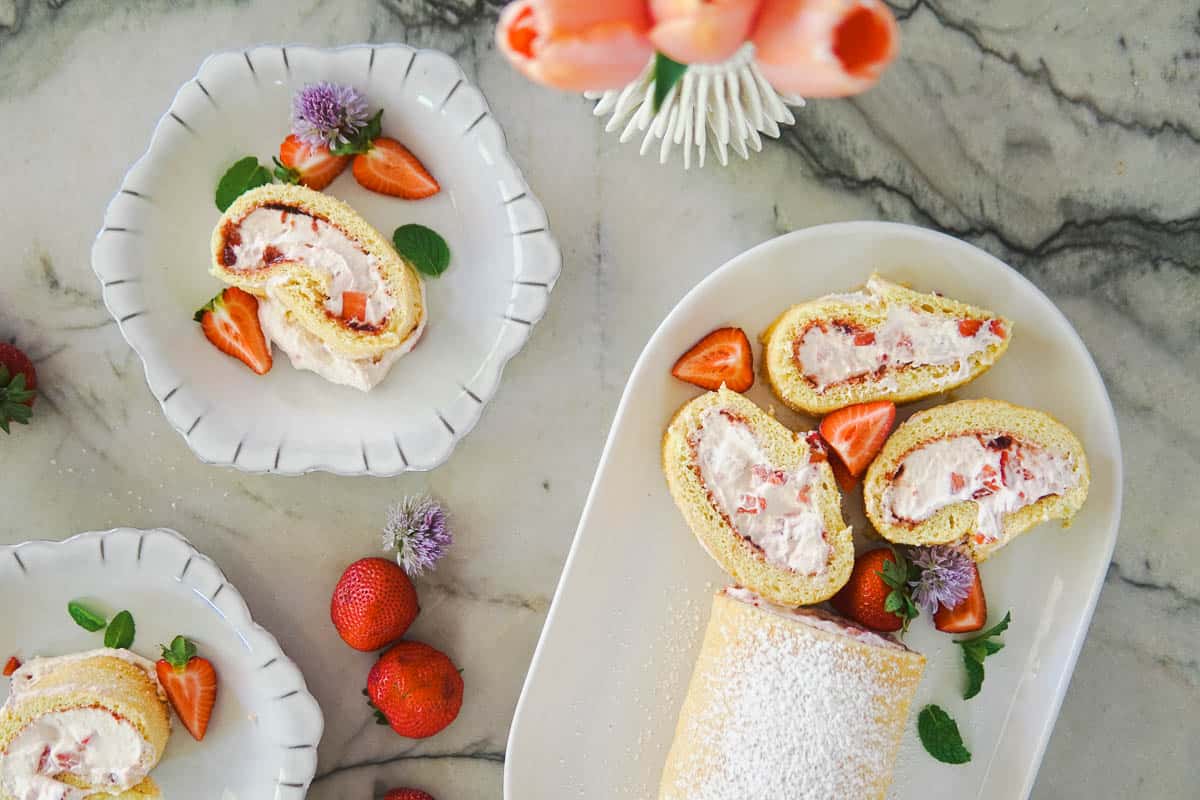 Erdbeerrolle Is The Perfect Strawberry Summer Treat
This quick, dreamy German sponge cake is rolled up and filled with a simple and perfect strawberry whipped cream. It's called Erdbeerrolle in German, meaning Strawberry Roll, and that's really what it is! The lemon flavor in the sponge cake adds a refreshing scent, while the strawberry whipped cream is rich, cool, and fluffy and makes this a great summer treat.
This sponge cake with strawberries and cream would be a perfect cake to serve for Kaffee und Kuchen on a Sunday but would make a divine after-dinner dessert or birthday cake! The best part about this cake is that it's ready in just over an hour, including cooling time!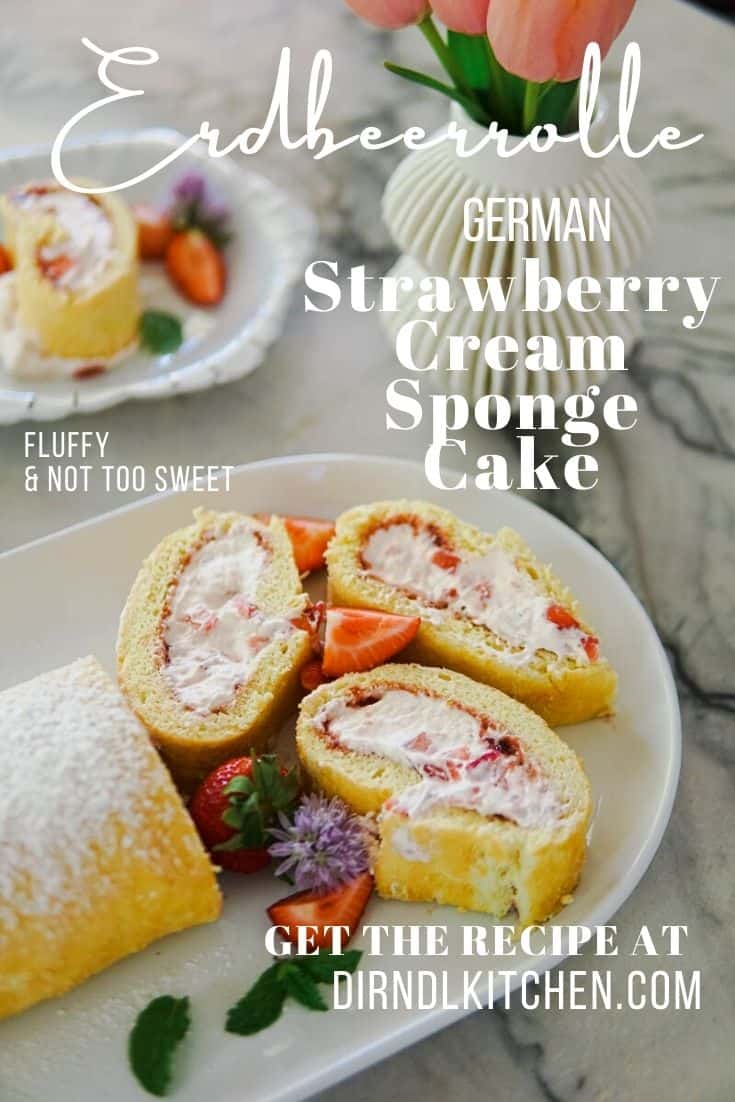 How to Make Sponge Cake At Home
Lucky for you, homemade German sponge cake is easier to make than you think. The fluffy secret is in the eggs. Divide the egg whites and yolks and beat them seperately. Start with whipping the whites, and when they're almost stiff, whip in some of the sugar to make them more stable and get the cake that extra fluff. Then whip the yolks separately, and the rest is easy peasy. Fold it all together, spread it onto a parchment paper covered baking sheet. And the baking time? Only 10 miniutes! Yes, the cake will need to cool before frosting it with the homemade whipped cream and strawberry filling. BUT you'll end up with a start-to-finish cake in just about 1 hour. And I think that's just AMAZING! Plus this cake was so simple, even my 3-year-old was able to help me out a great deal!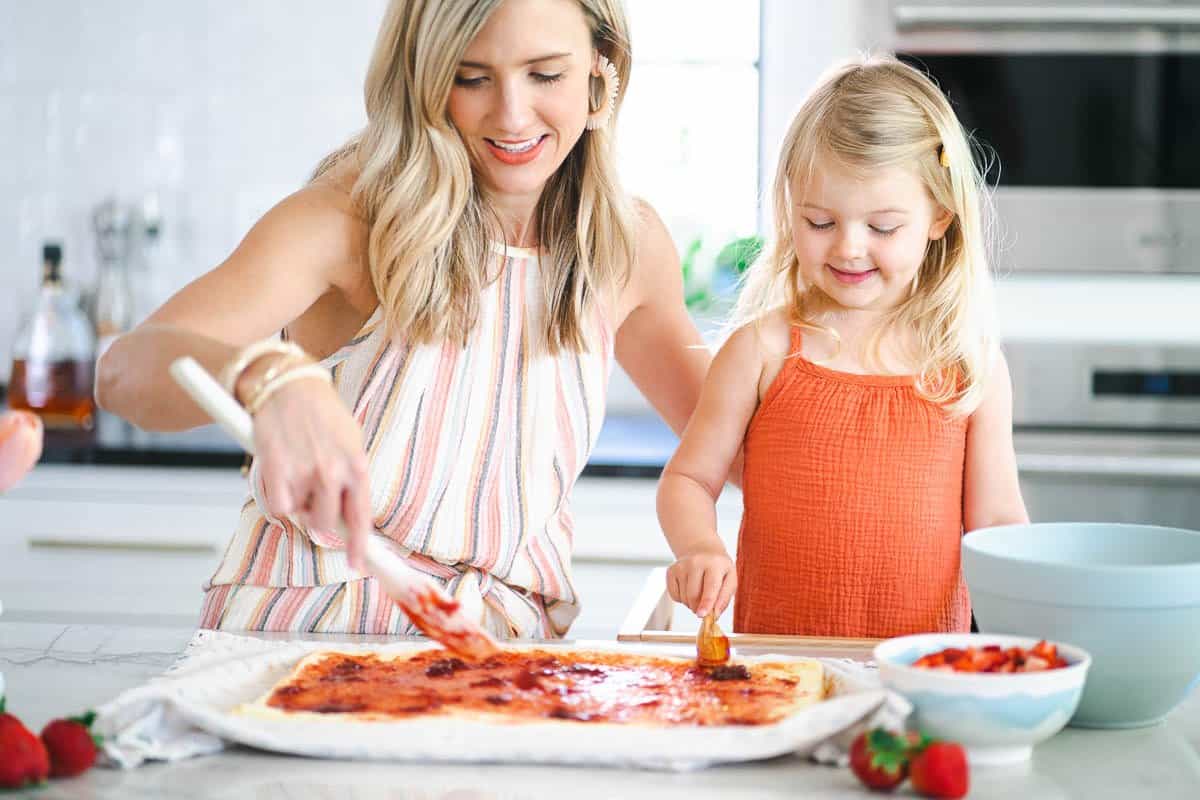 Erdberrrolle in Germany
Cream-filled, rolled up sponge cakes like this Erdbeerrolle are a super common way in Germany to integrate fresh berries into a cake. The cake is sliced and usually eaten in the afternoon alongside a cup of coffee. Eiskaffee (coffee served with vanilla ice cream and whipped cream) would also make a great companion for this cake for those warmer days. This sponge cake with strawberries and cream is the perfect summer treat as it's cool and light and doesn't take much time to make. Don't forget to keep it refrigerated since the filling can spoil at room temperature. It will easily keep for 3 days in the fridge if you're able to keep it around for that long!
A Note On Ingredients
Strawberries. Since year after year, they have topped the dirty dozen list, I always make sure to buy organic whenever I can.
Eggs. 5 of them. You'll use both the whites and yolks.
Sugar. Just plain cane sugar.
Flour. You won't need much of it, but regular AP flour is what you'll use. You could also use AP gluten free flour.
Cornstarch. A little bit to help with the light texture.
Baking Powder. A tiny amount to help the cake rise.
Lemon Zest. I always use organic lemons when using the zest.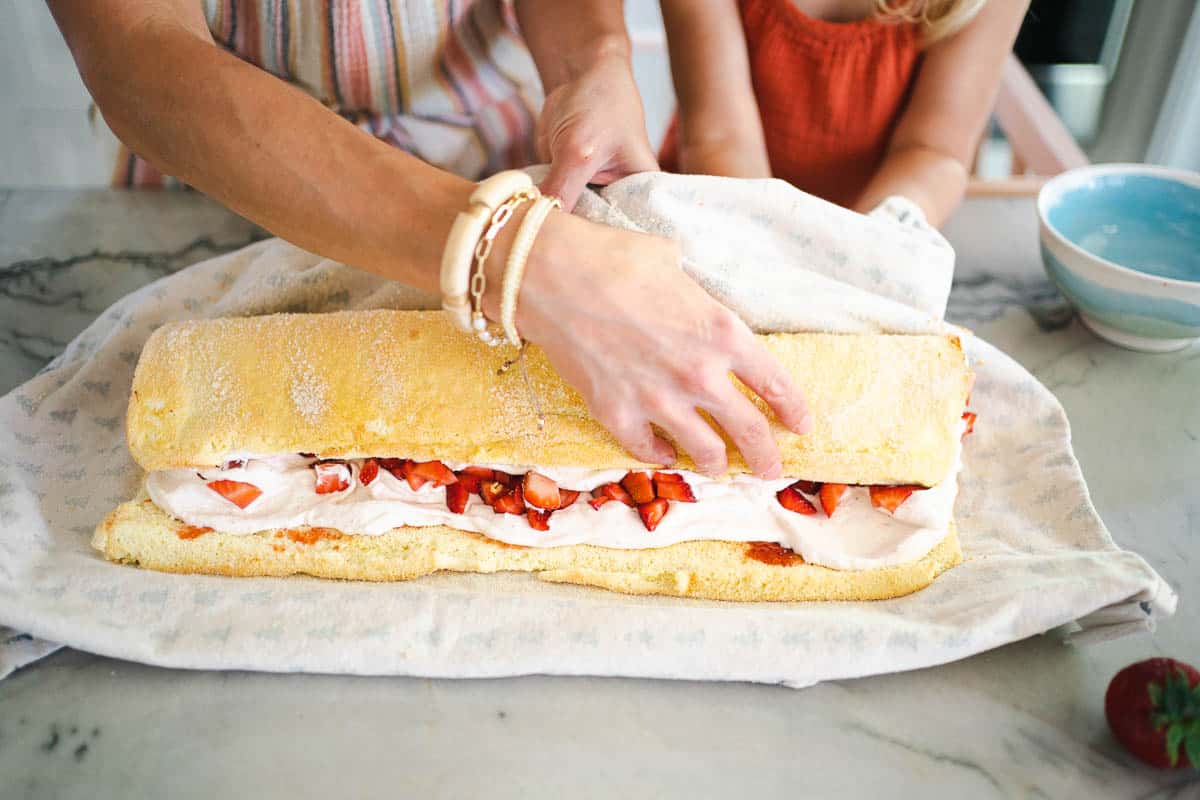 Strawberry Jam. I like using Bonne Maman from France.
Heavy Whipping Cream. You'll need lots of it as it's the main component of the cake filling.
Vanilla Extract. Pure vanilla extract is what I like to use. I am also making my own right now by infusing whole, sliced vanilla beans in vodka. It just takes a while!
Powdered Sugar. You will use some to sweeten the whipped cream and a little more to dust the cake after it's rolled up.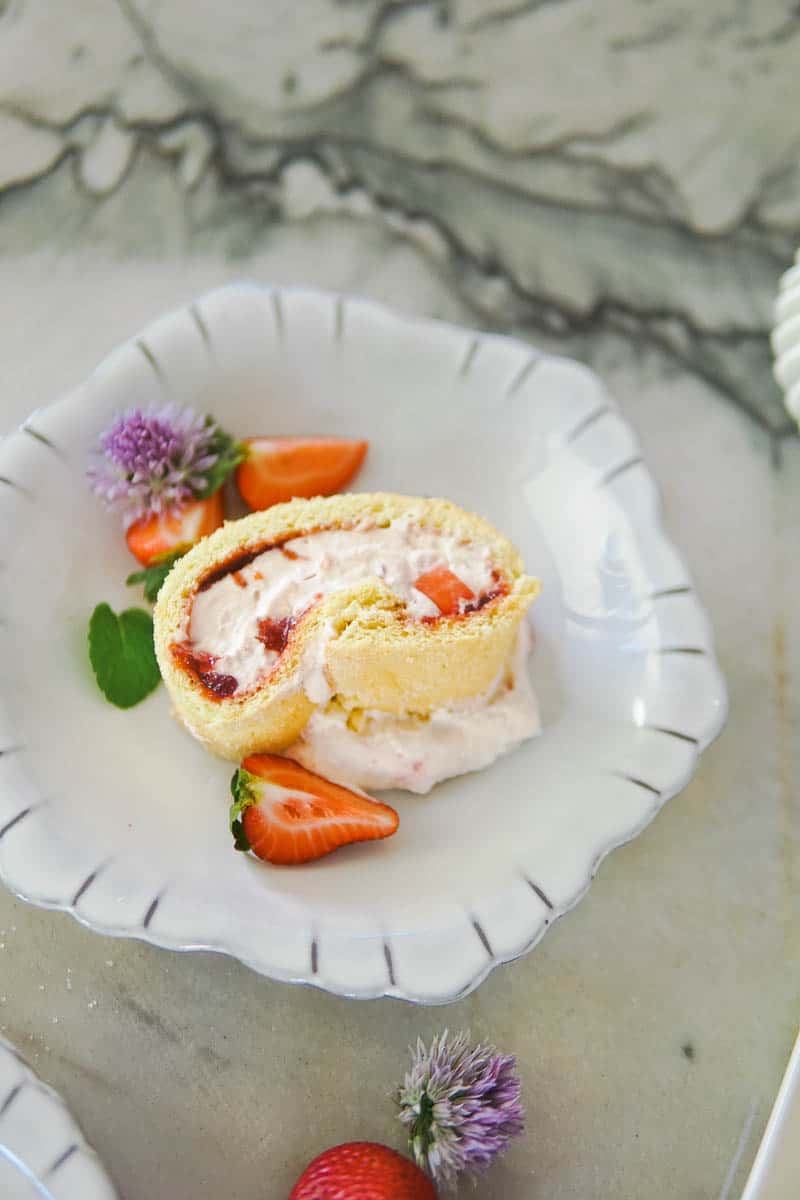 More German Strawberry Recipes
Are you infatuated with strawberries like I am right now? Then try these other German strawberry recipes that I love so much!
Sponge Cake with Strawberries & Cream Filling (Erdbeerrolle)
In a time crunch, yet want a fresh strawberry cake? Make this fluffy German, rolled-up sponge cake filled with strawberry cream and fresh strawberry pieces (Erdbeerrolle) in just about an hour! It's just the right way to celebrate the strawberry season! One of my favorites growing up, this recipe is easy and looks impressive!
Instructions
Preheat oven to 390° Fahrenheit/ 200° Celsius and prep a baking sheet with parchment paper.

Separate the egg whites from the yolks, placing the whites in a large bowl and the yolks in a smaller bowl. Add a pinch of salt to the egg whites and beat until almost stiff.

Add about ¾ of the sugar and continue beating until stiff.

Beat the egg yolks with the remaining sugar and lemon zest until creamy.

Mix together the flour, cornstarch and baking powder and add to the egg whites along with the egg yolk-sugar mixture, folding it carefully into the egg whites.

80 grams all-purpose flour,

30 grams cornstarch,

2 grams baking powder

Spread the batter onto the parchment-lined baking sheet and bake for 10 minutes or until golden yellow. Sprinkle sugar onto a kitchen towel and flip the warm sponge cake onto the sugar-sprinkled kitchen towel, leaving the parchment paper on top. Let cool completely

Wash the strawberries and finely dice ¾, pureeing the remaining ¼.

Add together heavy whipping cream, sugar and vanilla and whip the cream until almost stiff. Add the puree and mix until completely stiff.

400 milliliters heavy whipping cream,

50 grams powdered sugar,

1 teaspoon pure vanilla extract

Fold in the diced berries and move to the fridge to stay cool. If the cake is cooled, carefully remove the parchment paper.

Heat the jam in 20 second increments in the microwave until warm and more workable, then brush onto the cake. Allow to cool.

Spread the strawberry whipped cream onto the jam layer, leaving some room at the top edge, so that the mixture will not squeeze out when rolling the cake.

Using the kitchen towel, carefully roll the sponge cake (the long side should face your body and you'll roll away from you), applying even, light pressure.

The cake can now be garnished with more whipped cream on the outside and more fresh berries or you can dust it with powdered sugar like I did.
Notes
Which baking sheet to use. When selecting a baking sheet, first decide on which serving platter you would like to fit your cake on. The long side of the cake will be how wide the roll will be.
Mixed berry sponge cake. I also love mixing different berries together for this cake instead of using just strawberries. Use whichever berries are your favorite.
Nutrition
Calories:
270
kcal
Carbohydrates:
33
g
Protein:
4
g
Fat:
14
g
Saturated Fat:
8
g
Polyunsaturated Fat:
1
g
Monounsaturated Fat:
4
g
Trans Fat:
1
g
Cholesterol:
106
mg
Sodium:
43
mg
Potassium:
149
mg
Fiber:
1
g
Sugar:
21
g
Vitamin A:
597
IU
Vitamin C:
23
mg
Calcium:
50
mg
Iron:
1
mg