This summery take on a Winter classic bursts in flavor with tart rhubarb, sweet strawberry and buttery streusel in the filling. Strawberry Rhubarb Strudel is just as addictive as the traditional apple version. Serve with ice cream and whipped cream for the ultimate summer refresher!
Rhubarb Strawberry Strudel
About this Recipe
This Is A Sponsored Post That Contains Affiliate Links
Rhubarb, you gotta love it! I must say, growing up, I was never much of a fan, but it really started growing on me in my teenage years, when I started preferring more tart and sour things. My mom's rhubarb streusel cake is the perfect afternoon treat to go along with a cup of coffee and also freezes perfectly if you'd like to enjoy some rhubarb cake in the middle of Winter! Combining rhubarb with fresh strawberry is one way to naturally cut down on tartness and balance with sweetness. It's one of my very favorite combinations out there, and it needed to end up in a strudel! This Strawberry Rhubarb Strudel is a summery take on a classic Apfelstrudel, which just also happens to be one of my favorites. The streusel filling also perfectly complements the refreshing flavors of the fruit inside. The thin strudel crust is simple to make and easy to execute. And since buying strudel dough (no, it's not the same as puff pastry) isn't a thing in the United States, making your own is really the only way to go if you're keeping things authentic.
Rhubarb can be a bit tricky to find in the United States. Before I left for Germany at the end of May, it was nowhere to be found. Now I am back a month later and it's sold out everywhere! I finally found a few stalks at a local grocery store after visiting 3 and calling 3 more. I also picked up some frozen rhubarb, so I can have the luxury of throwing together some quick rhubarb muffins or making a compote for pancakes or waffles whenever I want. Next year, I plan to plant our own in our garden, but were too late this year to make it happen as we don't even have a backyard yet! I love serving my strudel dusted in powdered sugar and with scoops of real vanilla ice cream and fresh, whipped cream. This is so addicting and I am sure you'll love this recipe! No special tools are required other than a good rolling pin. Get to baking now!
Scroll on down for the recipe, now in printable version.
Strudel Essentials
Drink Pairing:
Pumpkin Spice Martini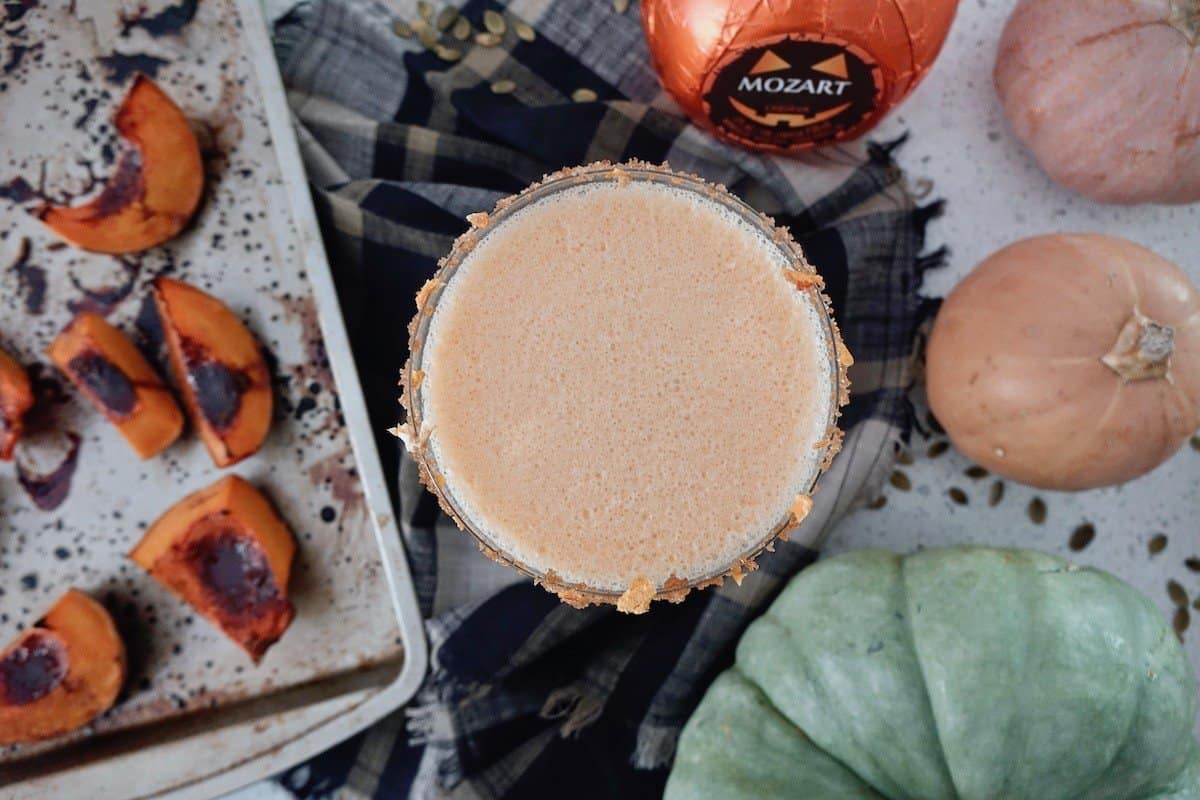 Yup, there is more pumpkin spice because if you're like men then there is no such thing as too much pumpkin spice. 🙂
Here a pumpkin spice martini using one of my all-time favorites: Austrian-made, creamy Pumpkin Spice Liqueur by the Mozart distillery. This simple cocktail will be perfect for dessert for the upcoming holidays and I promise you that every pumpkin spice and pumpkin pie fan will love this!
To make, simply shake together the following ingredients with some ice, then pour into a martini glass:
2 oz good vodka (such as Mamont)
To find out where Mozart Pumpkin Spice Liqueur (also available in Milk, White and Dark Chocolate as well as Strawberry Cream) is available in your area, fill out the short product finder form.
Prost!
more Rhubarb Recipes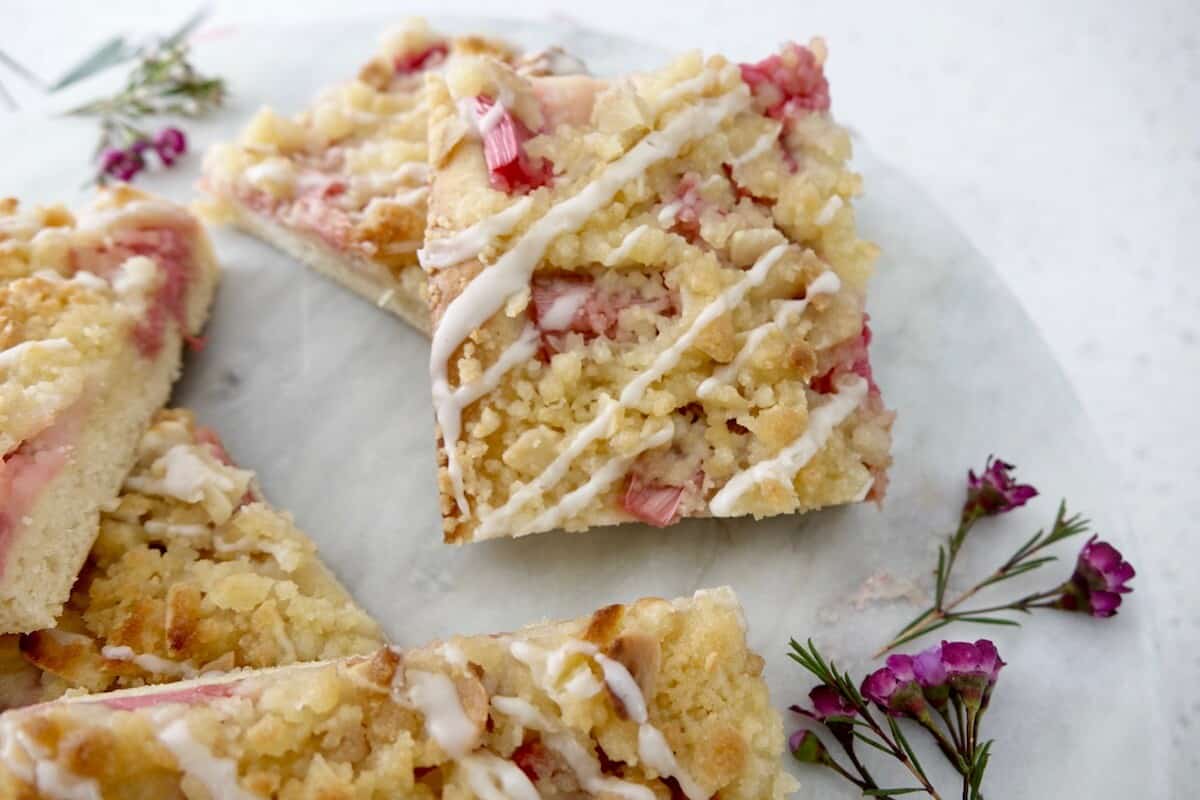 Rhubarb Käsekuchen
Whole Wheat Waffles
Next Up:
Schnitzel Hawaii
This next one is a new creation that came to me when I was in a summery getaway mood and all I wanted to eat was pineapple. If you know the classic German Toast Hawaii, this one's inspired by that. Make sure to subscribe to my blog now, so you're not missing out when this new Schnitzel Hawaii post goes live!
Strawberry Rhubarb Strudel
This summery take on a Winter classic bursts in flavor with tart rhubarb, sweet strawberry and buttery streusel in the filling. Strawberry Rhubarb Strudel is just as addictive as the traditional apple version. Serve with ice cream and whipped cream for the ultimate summer refresher!
Ingredients
Strudel Dough
250

g

all purpose flour

2

g

salt

100

ml

lukewarm water

1

egg

medium size

20

g

oil

flavor neutral oil is best, plus more for soaking dough.
Instructions
Preheat oven to 230° Celsius or 445° Fahrenheit. Prep a baking sheet with parchment paper and set aside.
Prepare the Dough
Combine all dough ingredients and knead by hand or with an electric mixer until a smooth consistency is achieved and it easily peels away from your skin and work surface or the inside of the dough hook and the mixing bowl. Shape the dough into a ball, place in a bowl just big enough to fit it, then pour a neutral tasting oil like sunflower seed or avocado oil until half of the dough is covered, give it a nice oil bath. Cover and let stand for 30 minutes. This helps tremendously with establishing great elasticity for the dough!
Prepare the Streusel Filling
Combine the room temperature butter, sugar and flour and knead into streusel. Set aside.

Combine the cut up rhubarb, strawberries, almond flour and cornstarch. Set aside.
Assemble the Strudel
Remove dough from oil bath and dip in flour from all sides. Reserve oil for other use. Spread out a thin, cotton kitchen towel over your work surface and dust in flour. Transfer dough to the middle of the kitchen towel and, using a rolling pin, roll out to a rectangular shape close to the size of the kitchen towel. Carefully pull the dough using the back of your hands until it's almost see-through.

Brush on ⅔ of the melted butter. Spread on the strawberry jam, leaving room along the edges and through the middle as you will cut the strudel dough into 2 to make 2 smaller strudels. Distribute the strawberry-rhubarb mixture over the same jam-covered areas.

Cut strudel in half, tuck in the sides and roll up away from you. Finish with the seam on the bottom and carefully transfer to the prepped baking sheet, leaving room between the 2 strudels.

Bake on the middle rack for about 25 to 30 minutes. Cut each strudel into 6 pieces and serve warm dusted with powdered sugar, with vanilla ice cream or sauce and fresh, whipped cream.
Nutrition
Calories:
381
kcal
Carbohydrates:
50
g
Protein:
6
g
Fat:
18
g
Saturated Fat:
8
g
Trans Fat:
1
g
Cholesterol:
44
mg
Sodium:
181
mg
Potassium:
146
mg
Fiber:
3
g
Sugar:
18
g
Vitamin A:
398
IU
Vitamin C:
15
mg
Calcium:
52
mg
Iron:
2
mg
I received compensation from Niche Import Co. in exchange for writing this post. Although this post is sponsored, all opinions, thoughts and recipes are my own. This post contains affiliate links, which means that I may be compensated if you click certain links.